Choosing a website host? There is an endless line of website hosts you can find online. Selecting a host is not just about choosing a company you've heard from your peers. A hosting plan should always meet the specific needs of your business.
WordPress is a good example. We have a good idea about the advantages of choosing a managed plan over a shared hosting provider. The reasoning is simple. Managed hosts are better at addressing the specific needs of WordPress websites. From performance to security and maintenance, managed hosting is ahead of any shared hosting plan you can think of.
Besides shared and managed hosts, there's another option you can think of considering. Self-managed hosting is another option often up for consideration. Major companies with a team of server administrators often choose self-managed hosting for most of their online properties.
Your choice of website host doesn't just impact your website. If you're an AppMySite user, a reliable hosting plan also makes your app faster. In effect, when you building an app on AppMySite further amplifies the importance of choosing a decent website host.
So what is self-managed hosting? How does it compare to managed hosting solutions? In this article, we discuss both options in detail and which suits your WordPress website.
In this blog
What is self-managed hosting?
In a self-managed plan, the hosting provider provides a dedicated server for your website. However, no additional maintenance services and guidance is provided by the website host.
The hosting provider is only responsible for delivering hosting space for your websites. Other services like managed security, maintenance, performance issues, and so on, have to be managed by you as the customer.
Self-managed hosting is suitable for big companies that need unfettered access to their servers. These companies generally have a team of site administrators and cloud architects that are tasked with maintaining the speed, security, and performance of the website.
Companies like Digital Ocean are prime examples of self-managed hosting providers. The hosting plans provided by such companies don't generally come with elaborate dashboards like cPanel. Instead, users have to set up FTP servers to manage the files on their servers.
In case you need to troubleshoot your website in case of a site error like internal 500 or WSOD, having a self-managed host can make things difficult. This is because a self-managed host will not provide any direct service to resolve the issue you're facing.
What is managed hosting?
Managed hosting companies offer a full range of maintenance and support services for your website. These plans come packaged with additional services covering website security, management, and performance.
With managed hosting plans, you can rely on your website host to manage technical website issues. You can instead focus on growing your website, and not worry about technical issues related.
This also means you don't need to hire server administrators or an IT team to manage your website. The hosting provider essentially acts as a dedicated support team for your site.
Compared to self-managed hosting, this option is more suitable in case you don't wish to get bogged down with the technical aspects of hosting and managing a site. Companies like WP Engine are known for delivering top-notch managed hosting services for WordPress websites.
Which option suits your website better?
Both self-managed and managed hosts have their own benefits. You should make a call based on the specific needs of your website.
The following table highlights the key differences between the two.
| | | |
| --- | --- | --- |
| Factor | Self-managed | Managed |
| Services | Only provides a dedicated server required to host the website. | Includes additional services covering website maintenance and speed along with providing hosting services for the site. |
| Support | Only covers support requests on hosting issues. | Covers a full range of requests related to the security, speed, and maintenance of your website. |
| Customization | Users can customize their server as much as they like based on their specific needs. | Managed hosts generally have limited customization features because maintenance is not in the hands of the users. |
| Affordability | Costs less compared to managed hosts because of little to no additional services offered. | Costs more because of additional services delivered as part of each hosting plan. |
| Ease of use | Need a fairly technical background to start hosting a WordPress website on a self-managed plan. | Little to no technical know-how is needed to set up a WordPress website on a managed host. |
To understand the difference more deeply, let's take an example. Assume you have a WordPress website and are facing regular technical issues with regard to speed and uptime.
If you have a managed hosting plan, you can explain your technical issue to your provider. Since a managed plan covers add-on services, the hosting company will look for the cause of the technical issues on your website. Furthermore, they will provide guidance on the same.
With a self-managed hosting provider, you will need to troubleshoot these issues on your own. If you don't have the technical expertise to troubleshoot website issues, you will have to learn as you go along.
If you happen to get a lot of traffic, this will mean getting a lot of downtime in case a technical error occurs. Additionally, if you convert your WordPress website to a native app with AppMySite, maintaining uptime becomes all the more important.
This can be a risky proposition. If you don't plan on having a team to manage your site's hosting with a self-managed plan, it is a better idea to switch. Managed hosting is designed for users and companies that wish to simply grow their website, and not get shackled by tech specs and errors.
Companies with various online properties may choose to work with self-managed hosts because they have the resources to hire a dedicated team of server administrators. If you're simply looking for a reliable option for one or a bunch of WordPress websites, managed hosting services are a better choice.
WP Engine: The ultimate hosting service for your WordPress site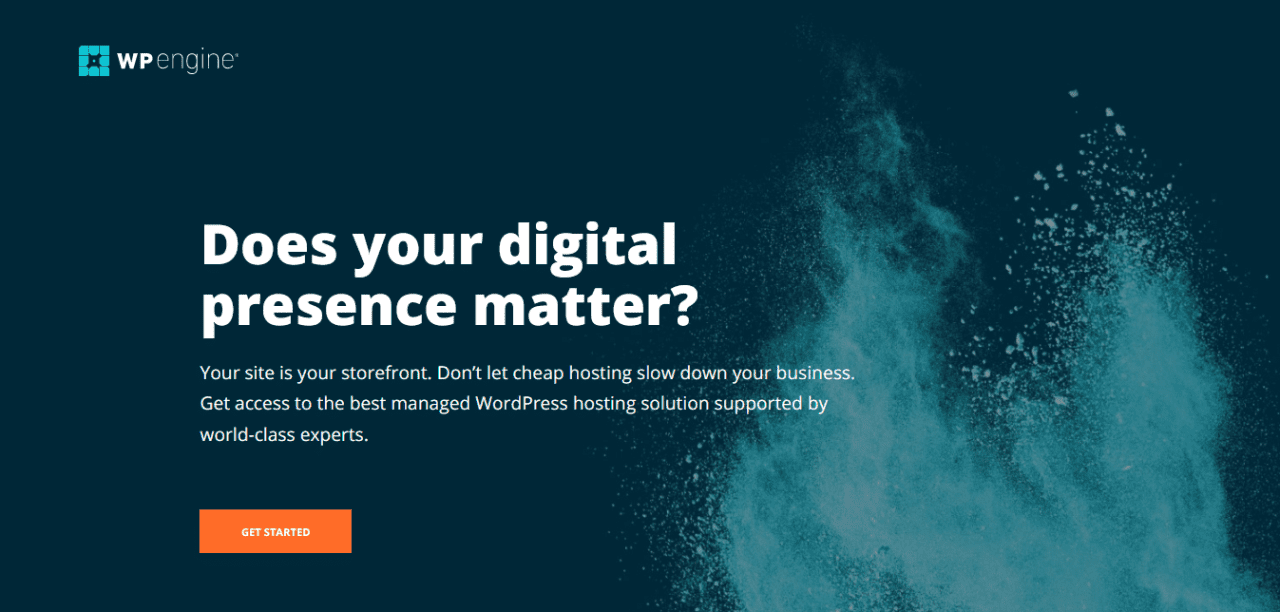 WP Engine is the best-known hosting service for WordPress websites. If you're building a website and need a host that can take on all the burden of management and maintenance, WP Engine is a perfect fit.
What does it do? Besides delivering super-fast speeds for your website, WP Engine also secures your website with managed WordPress updates & patches, SSL certificates, and platform-level protection to detect & block threats.
Every WP Engine hosting plan comes with add-ons like CDNs, free SSL certificates, automated backups, and automatic migrations. With an NPS score of 86, it is the choice of more than 90K customers across 140 countries.
Here are a few highlights of the services it delivers:
Built for WordPress: WP Engine specializes in reliably delivering fast speeds for WordPress websites.
Development tools: Allows one-click staging and development sites.
Expert support: Get round-the-clock support from WordPress experts in case you have technical issues or queries.
Caching and CDNs: Load your website fast anytime and anywhere in the world with WordPress-optimized caching and managed CDNs.
In conclusion
Both self-managed and managed plans are viable options for WordPress hosting. There are benefits to choosing either of the two.
If you have a storied background in WordPress development and server administration, self-managed hosting is a decent choice. However, if your goal is to grow your website and not worry about hosting details, managed plans offer a better path.
In this article, we discussed both options in detail. You can take a call based on your needs and quickly launch your WordPress website.