It is the age of smartphones and mobile apps are shaping our lives, and the world around us. As the demand for apps is constantly rising, more businesses are offering the ease of mobility and remote accessibility to their customers.
The dilemma of how to create an app is being answered by DIY app creators like AppMySite. Eventually, it has become easier to convert WordPress websites to Android and iOS apps without writing a single line of code.
However, you cannot just offer any app to your consumers. The app must fulfill the parameters of speed and security and ensure a frictionless experience for the users.
So, how can that be assured? Stay tuned with us till the end and discover the ultimate tips and solutions to offer fast and robust mobile apps to your customers.
The importance of mobile app speed and security
Mobile apps are an amazing technological tool that can address a lot of our daily needs, concerns, queries, and issues within seconds. However, with so many options in the market, your app must stand out and deliver an amazing experience to the users.
Thus, ensuring high speed performance and premium level security in your apps becomes mandatory for surviving and succeeding in the long run. It is also significant for your brand presence and image.
Studies and statistics show that slow load time and poor performance can lead to app abandonments on a huge scale. People can also abandon the app if it exhibits any threat to data security.
Therefore, it is important to offer a native app to your users, that gets powered by your website. Ensure that they get a frictionless, smooth, intuitive, and safe experience on both the platforms.
Suggested Read: What metrics are used to measure website speed and performance?
Tips to give your app performance a boost
The performance of a mobile app is determined by a number of factors. This includes device performance, server performance, network performance, in-app features and settings, app UI, and more.
Today, we have tried to cover and discuss some basic things that can influence the performance of your app. By rectifying these factors and working on them, you can enhance the experience of your app users.
Three basic ways to optimize your app speed and security are as follows:
#1: Design a comprehensible UI/UX
The app design and layout should be such, that it should intuitively guide the users throughout the process. The app UI/UX should be at par with the global standards of design and quality.
If you are skeptic and unsure about the design, you can create your app with AppMySite. It comes with a few pre-defined formats that help you achieve the standards of a smooth app design.
Do not worry! You get complete control and customizability options to decide the appearance of your mobile app.
#2: Use optimized creative assets
The features you implement in the app and the kind of creative assets and media you use, can also affect the speed, load time and the overall performance of the app. However, if you compromise too much on the size, the quality can get affected.
So, what is the solution? Again, there is no golden rule or absolute answer related to the media optimization. However, as you create apps with AppMySite, you get clear instructions about the most suitable media type and size. You can also preview the app in real-time and chisel it to perfection.
#3: Integrate reliable infrastructure
The technical infrastructure of your mobile app has the biggest role to play in its performance and security. The kind of app building technology you use, and the features, plugins, etc., you integrate in the app, can affect the app performance directly.
Hence, the mobile app builder plugin you use should be bankable and viable. Also, if your app is powered directly by your website, you should ensure that your website is smooth and secure to use.
Suggested Read: Reduce app load time and increase speed – Your ultimate guide to a better UX
Need a simpler solution? Go for AppMySite + WP Engine!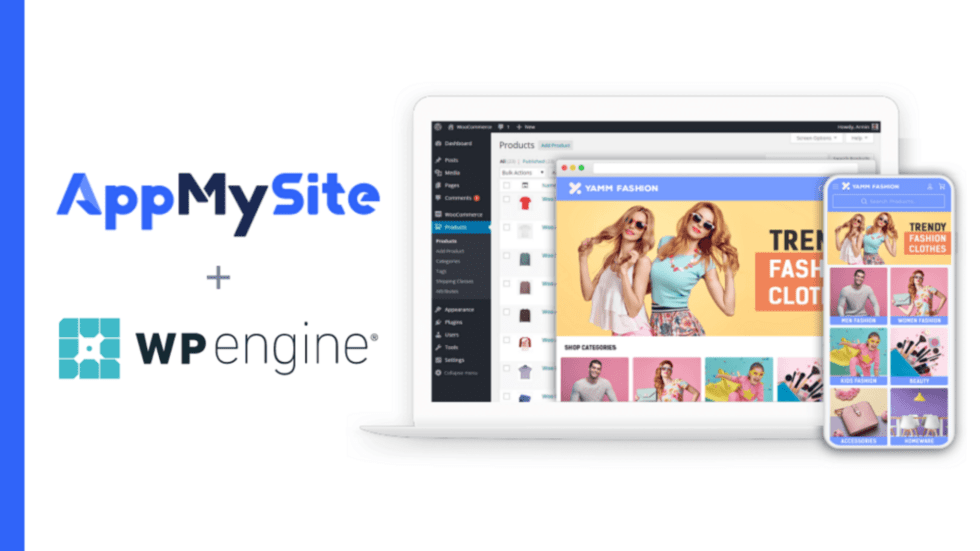 Intimidated by the technical jargon? We totally understand! It is not easy for everyone to create a feature rich app that also adheres to the global standards of speed, security, and performance.
However, what if we tell you that we have made it easy for you? All you need for an amazing website and a fascinating app, is the powerful combination of AppMySite + WP Engine.
AppMySite mobile app creator is the best code-free solution available online. Anyone can sign up for the platform and create premium Android and iOS apps. Whereas WP Engine is the most powerful web hosting solution available for WordPress website owners.
The two have come together to offer super-fast and super-secure mobile apps to you. As you create an app with AppMySite, you integrate and connect the website with the app. As WP Engine gives a boost to your website performance and security, the app reflects the same.
Sounds overwhelming? Do not take our word for it! Try out AppMySite for free and get the perfect app for your business. Be ready for the mobile-friendly future and succeed.