At AppMySite, we are perpetually committed to enhance the experience of our consumers and deliver the best to them. Our no-code mobile app builder is already powering many apps and we are honored to have earned the trust of thousands of subscribers.
As our consumers turn their website to APK, we ensure that they get a seamless experience and build a premium app in the code-free environment.
We keep updating the app builder and launch new features and functionalities every now and then. As we love sharing the news with you and keep you updated, we are here again. So, read further and find out what is brewing today!
What is the new update all about?
Our app builder is no-code, automated, and intuitive, making it easier for users to create and customize the app and view it parallelly as they continue to make changes.
While there were many existing options to help you design the perfect home screen for your app, we have launched one more. This feature will make the app home screen more dynamic and customized.
With this new update, you can now personalize the names of the different headers that you choose to display on your home screen. You can name different headers as per your choice.
For instance, if you own a food blog website and you want to do more than just a vanilla category name in the app like "Recent Blogs", you can switch it to something more enticing link "What is trending", "Freshly Arrived", etc.
This can make your app categories, sections, and screens more appealing and interesting. Now continue reading and find out how you can change the name of the section headers.
How to rename the headers on the dashboard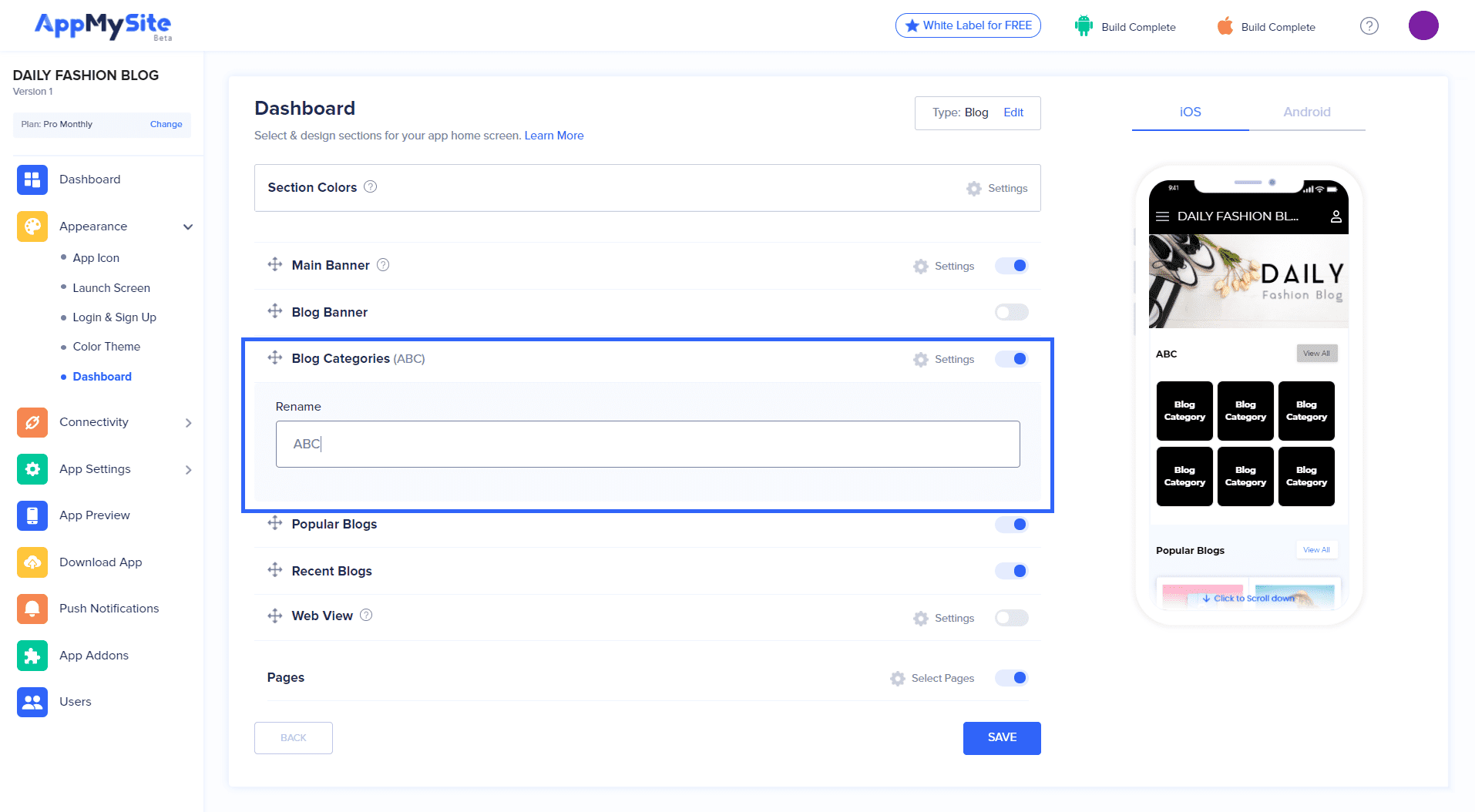 The process of editing the headers is really simple. Go to the "Dashboard" screen located under the "Appearance" section.
Here you can click on the toggle button and mark the sections that you want to display on the app home screen, as on.
Depending upon your website type (blogging website or eCommerce website), you will be able to view the default header names in this section.
You can click on "Settings" and "Rename" the section effortlessly. Check for the spaces, character case, spelling, etc., and save it when convinced.
For example, if you have a blogging website and you want to rename the header "Blog Categories", just click on it, enter your preferred header name, and click on "Save" when you are done.
Be a part of the AppMySite family now!
That was all from our end today. Hope this new feature makes your app building process more dynamic and functional. Log into your AppMySite account and start building your app now!
However, if you have still not subscribed to the app builder, then do it now. This is the best time to turn WordPress to app as you can avail a number of benefits, including hefty discounts, and create affordable Android and iOS apps.
Make your own app without coding and enter the league of mobile-friendly businesses. Sign up for AppMySite and checkout all the latest features and benefits!