Mobile app navigation, menu designs, UI and UX have always been a puzzle for many people. Finding the perfect menu icons, designs, patterns, graphics, and more is nothing short of a challenge. However, most of us have been adopting and aligning with the...
AppMySite now enables you to monitor crucial app data with Analytics. Track app traffic, downloads, and popular screens to understand your app users better and make informed business decisions. You will now be able to see Analytics in the left panel menu of your...
You can now automatically submit your app to the Apple App Store. The new Publish feature enables you to directly deploy iOS apps from within your AppMySite account. With the Publish, you no longer need to login to your App Store Connect account to submit an app every...
AppMySite now enables you to chat with your app users with your preferred chat software. Simply connect the chat software in your website to the app to chat with your users directly. AppMySite supports a number of prominent chat software platforms. In case your chat...
AppMySite now supports custom post types and taxonomies. You can now import custom post types and taxonomies created by third-party plugins to the app. Earlier, AppMySite did not support custom posts and taxonomies created and managed with third-party plugins. The new...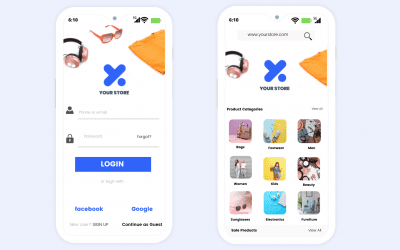 Your app will now maintain the login session of your app users in case they open a web view interface within the app. Earlier, a user who logged in natively would be signed out after opening a webview interface within the app. The new update ensures that users who...
AppMySite has now added support for WordPress Application Passwords. You can now connect your website and app using an application password from your website. Establishing connectivity using WordPress Application Password will enable you to port more functionality...
AppMySite has added some new features and updated the existing ones. The App Settings section on the mobile app builder now offers more customizability and control than ever. A new sub-section "Posts" has been added to the list of App Settings. This means that apart...
You can now add a bottom navigation bar to your mobile app. Streamline movement between the primary destinations of your app with a bottom navigation bar. The new feature enables you to customize the design and buttons of the bottom navigation bar. You can also choose...
AppMySite now supports Arabic and Persian through its Language Support add-on. You can now build apps on AppMySite for Arabic and Persian WordPress websites. Selecting either Arabic or Persian will enable your entire app to provide RTL support. The Language Support...