Communication and support play a key role in strengthening business consumer relationships. Integrating features like live chat support in your app can help you harness and excel in both the realms. With a robust chat software in picture, you will be able to...
AppMySite now supports custom post types and taxonomies. You can now import custom post types and taxonomies created by third-party plugins to the app. Earlier, AppMySite did not support custom posts and taxonomies created and managed with third-party plugins. The new...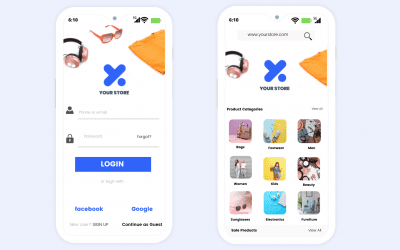 Your app will now maintain the login session of your app users in case they open a web view interface within the app. Earlier, a user who logged in natively would be signed out after opening a webview interface within the app. The new update ensures that users who...
AppMySite has now added support for WordPress Application Passwords. You can now connect your website and app using an application password from your website. Establishing connectivity using WordPress Application Password will enable you to port more functionality...
AppMySite has added some new features and updated the existing ones. The App Settings section on the mobile app builder now offers more customizability and control than ever. A new sub-section "Posts" has been added to the list of App Settings. This means that apart...
You can now add a bottom navigation bar to your mobile app. Streamline movement between the primary destinations of your app with a bottom navigation bar. The new feature enables you to customize the design and buttons of the bottom navigation bar. You can also choose...
AppMySite now supports Arabic and Persian through its Language Support add-on. You can now build apps on AppMySite for Arabic and Persian WordPress websites. Selecting either Arabic or Persian will enable your entire app to provide RTL support. The Language Support...
Image Source: Woocommerce Table Rate Shipping Plugin In the eCommerce realm, shipping charges of products often depend on a number of factors like delivery location, item quantity, product weight, and more. The WooCommerce Table Rate Shipping Plugin enables...
AppMySite has become the choicest solution for businesses willing to build an app for their website. You can join the AppMySite affiliate program and earn rewarding benefits by becoming our brand ambassadors. AppMySite has introduced the affiliate program keeping the...
AppMySite has released the mobile app monetization feature by enabling Google AdMob on the platform. You can now run ads within your mobile apps. You can manage the ad display settings under the mobile app monetization section on your AppMySite dashboard. Currently,...