Mobile app technology has come a long way ever since its inception.
Now apps are so much more than just accomplishing the basic task of computing, calling, messaging, or listening to music.
We can control our electrical appliances, book tickets for our vacation, sell and buy articles from around the world, and command it to help us accomplish our day-to-day tasks to say the least.
As we all know, apps can also help us in expanding our business, earning revenue, bringing in monetary gains, and what not!
Today, we are going to explore this avenue in detail and share some intriguing ideas, facts, statistics, and strategies for the same.
If you have come here with the "how do apps make money" query, we have the right answers for you.
So, let's dive in and unveil all the mystery!
In this blog
Start with building an app that inspires conversions
Before you can start earning from an app, you will need to have an app that is fit to run monetization campaigns, and attracts users and consumers.
(You can scroll down to the next section if you already have a perfect app. Else, continue reading)
After all, every profit requires some sort of investment (monetary or otherwise) at first.
So, how can you build an app without spending months and millions?
The answer is simple: go for a DIY app builder.
These builders will help you convert your website into an app.
For instance, if you own a shopping site built on WordPress, you can make a WooCommerce app with a code-free app builder.
However, just make sure that you can create high-performing native apps that come with all the features and extensive support for various monetization methods that we will discuss in the blog later.
Now that we are at it. Let us also help you with another query that people have when venturing into the mCommerce universe. We have covered it in the following section.
Should I create an Android app or iOS app?
Our answer: Both!
Keep reading and find out why we are saying so.
Let us begin with discovering and comparing the various facts and figures related to Android and iOS apps.
Did you now that the total number of apps downloaded from the iOS App Store is 8 billion. This number is very small when compared to the impressive 21.6 billion downloads from the biggest Android app store.
Android apps are a clear winner in this department.
However, when we look at different metrics like the expense made on registrations, purchases, subscriptions, etc., the numbers keep varying.
You can look at the chart below and get a detailed understanding of the same.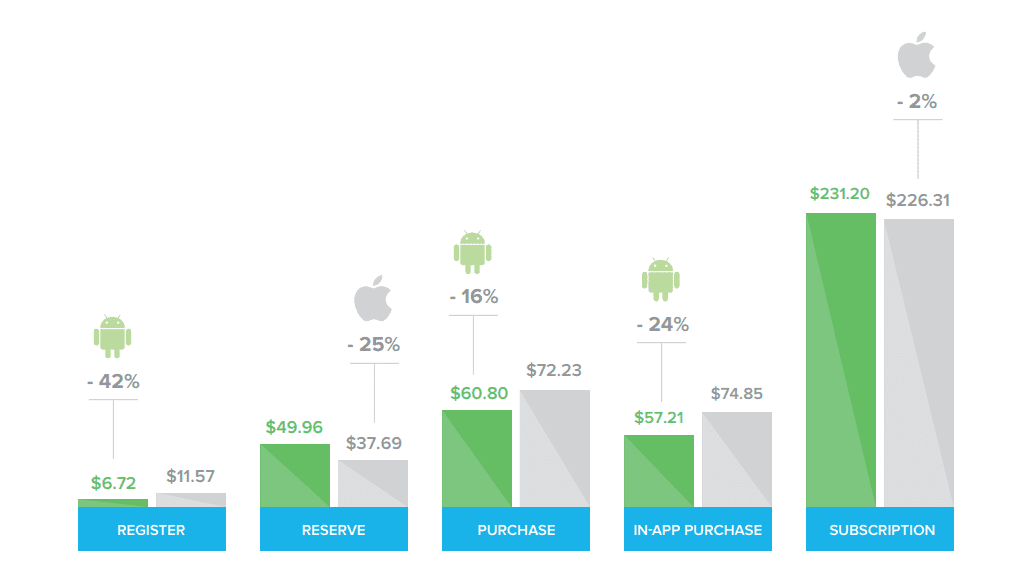 Now let us talk about the other aspects. Of course, Android leads the way when it comes to the number of downloads.
However, when it comes to app store revenue, iOS beats Android, and how!
In other words, we can say that iOS users are more generous and spend more on apps as compared to Android users.
Go through the table and checkout the revenue made through iOS and Android apps in five years.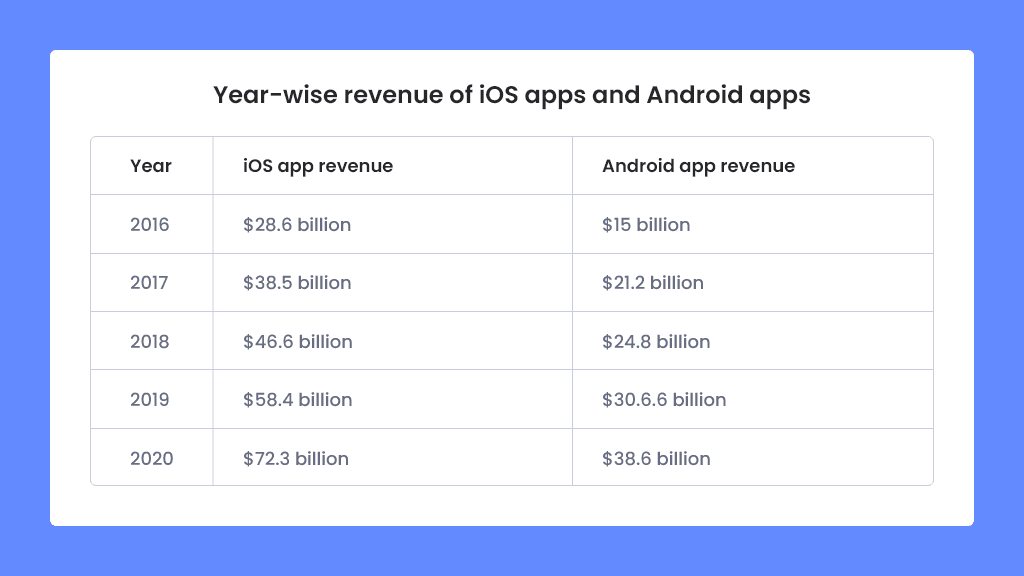 Now this should be quite evident that both Android and iOS are growing at a great pace when it comes to the average annual revenue rate.
However, revenue from iOS apps is almost twice more than that of Android apps for almost every year compared above.
This shows that even though more Android apps are downloaded every year, people spend more money on iOS apps.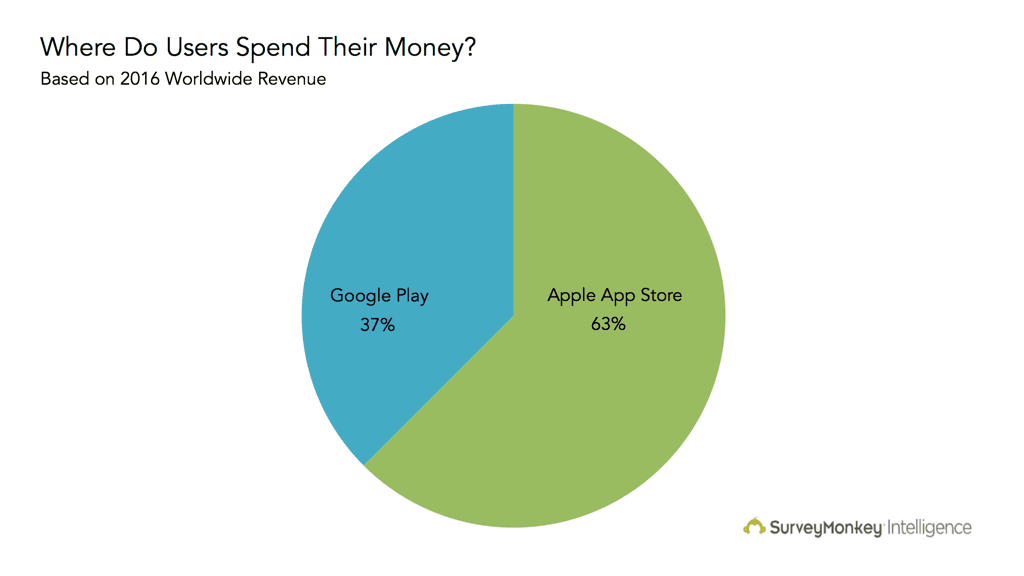 However, with Apple's stricter data privacy and advertisement guidelines, Android gets some leverage when it comes to revenue through ads and other such resources.
Thus, the two are important in their own ways. This is why we recommend that you create both Android and iOS apps, and target the market share for both.
Should I create a paid app or a free app?
We will leave this decision solely on you.
Some apps are created specifically for revenue and thus you can add a price tag to the app before placing it on the stores.
Else, you may offer the app for free and let users pay for specific features or in-app purchases.
You can also offer an app that is absolutely free, and only earn through ads.
The choice will depend upon various factors like your app category, business goals, revenue model, industry, etc.
However, here we must also keep some numbers in mind when making the decisions.
When you look at the statistics, you can see that people are not very fond of paid apps and this is especially the case with Android users.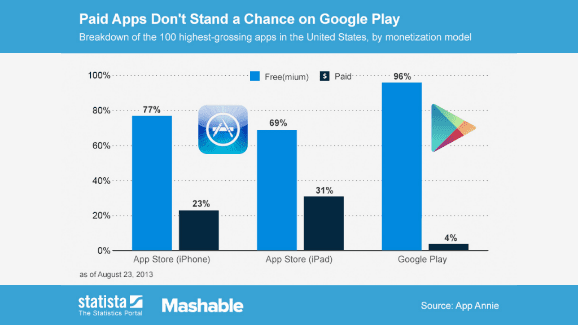 However, Freemium model is quite popular and can be a better choice than asking users to pay upfront while downloading the app or registering for it. (We will tell you about this later.)
Therefore, we can say that free apps with well-though revenue and monetization models can perform better than paid apps.
Some app revenue and monetization statistics to know of
While we are at it, let us level up our number crunching game. Go through some of the facts that can help you understand app monetization more strongly.
Some notable statistics from the app monetization and revenue realm are as follows:
Mobile apps dominate over their web-based alternatives in terms of usage. In fact, users spend nearly 90% of their online time in apps.
There are more than five million apps on the app stores. Google Play Store has around 2.9 million and Apple App Store has around 2.09 million apps.
98% of Google Play revenue comes from free apps.
Users across the globe are spending more than USD 380 billion on in-app purchases.
The total revenue through app ads was USD 581.9 billion in the year 2020.
The overall mobile app market is estimated to reach USD 935 billion in revenue in 2023. According to Statista, the earnings will come from in-app advertising and paid downloads. The sector will experience over 50% growth compared to 2018.
In the first quarter of 2021, Google Play generated USD 36.7 billion, and the Apple App Store generated USD 31.8 billion in sales.
Consumer spending on the App Store will reach nearly USD 200 billion by 2025.
In-app purchases is one of the most common monetization models. Around 50% of non-game and 79% of gaming apps use it.
App sales statistics show 48.2% of all mobile app earnings are in-app purchases. Paid app revenue stands second at 37.8%.
There has been a 31% year-on-year rise in global app revenue in 2021.
Subscription apps cost 26.5x more than registration apps.
9.98% of Google Play revenue comes from "freemium" apps.
Paid apps are expected to decrease in number in the next few years.
Game apps bring in the most revenue. Entertainment and social networking apps rank second.
In 2020, users turned to in-app purchases for entertainment, learning, and communication. The increase in demand led to a collective revenue of $111 billion.
In 2020, China had the highest app revenue with $48 billion. The United States was in second place with $32 billion. Japan did well with $20 billion, and Europe followed with $14 billion. The rest of the world made about $29 billion.
The above graph shows some of the most popular app monetization methods used by top app publishers.
This along with the stats above must have given you a clearer picture of the app revenue trends of the industry.
Most promising ways to make money with apps
If you are not an influencer and people do not want to pay you just because you have an app that they love, earning revenue can get tricky.
However, it is not impossible!
As discussed above, there is more than one way to earn money with apps and this applies to both free and paid apps.
While creating a paid app may seem like a simple option, the statistics show it is not a very lucrative one and might soon go out of practice.
So, what can you do?
Explore the options listed below and earn money with apps in multiple ways.
Create and sell/resell white-label mobile apps
If you have development skills, money, infrastructure, time, workforce, and patience, you can start your own app development agency.
Start building and selling apps in the traditional manner or take the smarter road of "Reselling".
You can partner with a development agency or sign up for a DIY app builder to create and resell apps using their resources and infrastructure.
Selling white-labelled mobile apps created with third-party resources comes with many advantages:
Huge initial investments are not needed and there is a low entry barrier
You get a ready to use infrastructure and do not require a huge workforce
You can create apps on the prices fixed by app builders and sell it at your desired price
The profit margins and ROI (Return on Investment) can be huge
Your branding efforts do not get hampered as the apps are white labelled
Therefore, if you want to create a business out of apps, reselling can be a great option.
Suggested Read: Reseller Programs vs Affiliate Programs: Here's all you need to know
Become an affiliate and endorse app sellers
Becoming an affiliate and endorsing app sellers on your platforms is much like reselling.
Except, you just play a passive role and refer your audiences to the actual app building tool or agency that you partner with.
(The blog suggested above brings out the difference between the two.)
Apps are the future of any and every industry, and the market is ever-expanding.
Therefore, if you feel like you get the kind of traffic that might be interested in creating apps, you can become an affiliate marketer and endorse app sellers on your platform.
You can earn colossal commissions for every sale that goes through you. What an easy-peasy way to make money without huge investments and efforts!
Join an app referral program or advertise third-parties
Let's say you have created an app for your business, and you do not want to develop apps for others per se.
You can still become an affiliate or a promoter and earn money by recommending other apps, websites, tools, platforms, etc., on your mobile app.
For instance, let's assume that you own a bakery app that sells cakes and pastries.
You can partner with a food blogger and endorse them and their WordPress or WooCommerce app or channel on your platform and earn commission in return.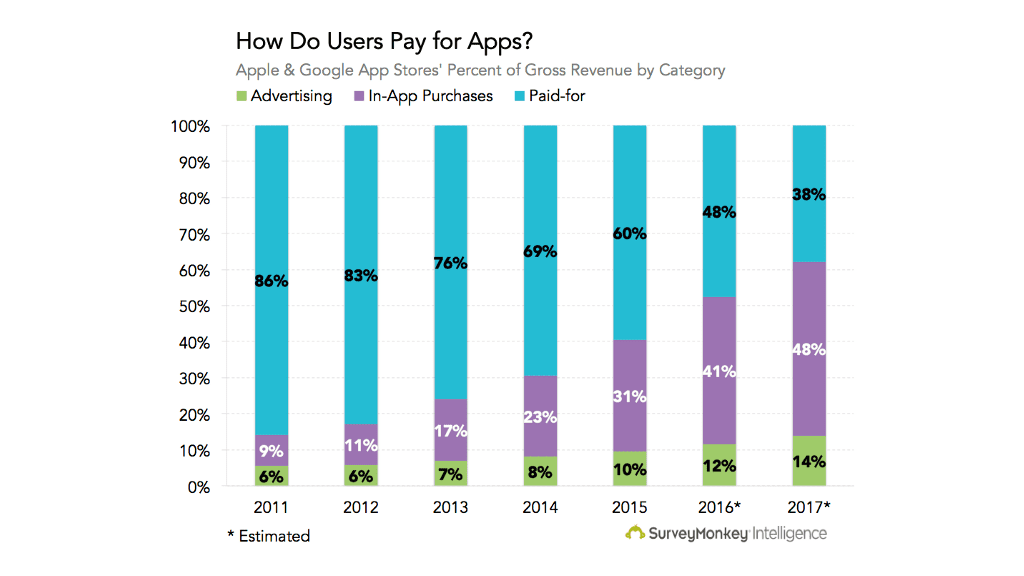 You can also join app referral programs and earn by recommending third-party vendors and sellers to your audience.
Ever seen the pitch or ad for downloading one gaming app while playing the other one? Well, this will be something like that!
Go for the evergreen eCommerce selling & buying
Product sale and purchase is still a popular mode of earning revenue through apps.
If you own an eCommerce store or sell tangible or downloadable products (Example: eBooks), then you can make money through apps by making the most of the mCommerce industry.
You will need to create an eCommerce app that has all the premium features. That's it!
Earn by selling to the mobile-friendly shoppers while exploring the endless other opportunities and monetization avenues.
Implement the freemium model for revenue
Most apps are now following this model of revenue.
As paid apps are not very well-received, developers are avoiding asking for money upfront.
Instead, some features or benefits of the apps are available for free while the other remain locked.
Users get the option on unlocking these "premium" features upon a payment or subscription.
Most gaming, entertainment and video streaming apps now follow this model of monetization and earn amazing profits and revenue.
Earn commission for payments, transactions, etc.
Mobile wallet and banking apps are the best example of such apps. In fact, you can also add some crowdfunding apps to the list.
Here, apps facilitate transaction between two parties and earn commission while doing the same.
If you have an idea for one such app, you can develop it in a full-fledged manner and earn good revenue.
Offer subscriptions and/or in-app purchases
This technique of earning revenue is quite popular among news apps, music apps, entertainment apps, gaming apps, etc.
Some gaming apps require users to buy lives or resources for upgrading to the next levels or staying in the game.
Some apps like Netflix want users to subscribe to a paid plan for unlocking the resources.
Then there are others like YouTube that want you to pay for ad-free experiences.
You can explore all the examples and options listed above and implement whatever works best for you.
While you may not be asking users to pay money directly, you can still inspire them to subscribe, make purchases and stay connected to your app.
Show ads from Google with AdMob and earn
When it comes to ads, there are endless options in today's day and age. This includes native ads, video ads, banner ads, interstitial ads, and more.
It is one of the most straightforward and easy ways to earn money from your apps.
You can partner with a platform like AdMob, and start showing high-quality and relevant Google ads in your app.
Just integrate your app with the platform, select your preferred ad type, find the best location for the ad on your app real estate and start streaming ads in your app.
Things are so advanced and automated that you will not even feel like you are making any effort and revenue will come in easy.
However, you will just need to make sure that your app architecture, aesthetics and quality support ads and do not infuriate your users or mess with their experience.
Suggested Read: Mobile app monetization: The ultimate guide to monetizing mobile apps
Wrapping app!
Which of the above options has left you intrigued?
You can go for more than one option and explore multiple avenues of app monetization. Start making money from your apps and unleash its true potential.
Do not forget to check our other blogs and learn all about mobile app development, marketing, advertisement, latest technological developments, and so much more.
Data and Image Sources