Technology has become a boon for online businesses, marketers, and industry professionals. It has brought the world closer, thereby making it easy to transcend the barriers and boundaries that once posed a challenge in the growth and expansion of any individual or organization.
For instance, mobile app is one such innovation that has made our lives effortless. Ever since it has become easier to build premium native apps with an app creator online, businesses are trying their best to make the most of the ever evolving mCommerce industry.
You can go through our collection of blogs and learn more about code-free app development and app marketing. However, today we are here to tell you about yet another gift of technology that is enabling brands to earn additional revenue and grow their online presence.
Digitalization and the power of online engagement and interactions is powering brands to become resellers and affiliate marketers. The two techniques have emerged as powerful options for earning extra revenue without essentially starting a new business or commercial set up.
Despite being two separate things, reselling and affiliate marketing have many things in common. In fact, the two can sometimes appear similar if you are not aware of all the underlying concepts and details. Sounds confusing?
Do not worry! We are here to help you brush off any such doubts and know all about the two most wonderful earning opportunities. Stay with us till the end and also find out the easiest way to make the most of both the techniques!
Reseller Program vs Affiliate Program: What is the difference
Before we dive deep and discuss the nuances, let us first introduce you to the basics of reseller program and affiliate program. They can be defined as follows:
Reseller Program
A reseller is an individual or an organization that resells products or services originally manufactured or put up by a different seller. They basically amplify the sales for the original vendor by bringing in bulk sales, and earning profits by selling the product at a profitable cost.
For instance, if you have a network of potential customers who could be interested in a software or product that you do not actually manufacture, you can partner with a company that does and purchase the products for your customers from them.
You can go on to sell the purchased product for any amount you want to, thereby making huge profits. If you are someone who does not want to work it all from the ground up, then joining a reseller program can be a rewarding option for you. In fact, you can also sell a white-labelled version of the product or service and endorse it as your own.
Affiliate Program
Affiliate marketing or promotion is a process where you endorse a third party product or service on your platform and drive traffic and sales to the original seller's platform, instead of actually explicitly selling the product yourself.
Becoming an affiliate is actually easier than becoming a reseller. This is so because even as a reseller, you may have certain commitments and responsibilities towards your customers. You may still need to manage the support queries, feedback, complaints, etc., by yourself to a certain extent.
However, unlike reseller program, you do not actually sell a white-labelled product or service, but just limit yourself to advertising or endorsing it. This scenario may actually change under certain circumstances depending upon the industry niche, product and the extend and scope of the affiliate program.
Reseller programs and affiliate programs both have their own set of perks and benefits that can be advantageous for different kinds of marketers and brands under different circumstances. You can make your choice depending upon your goals, preferences, and convenience.
Suggested Read: Discover the A to Z of Affiliate Marketing for mobile apps
A comparative study of Reseller Programs and Affiliate Programs
While reseller and affiliate programs have their differences, they tend to be quite similar when we delve deep into the dynamics of the two. So, we have done a comparative study of the two to help you know better.
We will discuss different aspects of it one by one, and learn how the two techniques stand against each other. Let us begin:
Pros of joining a Reseller Program
A reseller program has many advantages that you can reap and capitalize on. The primary benefits are as discussed below:
#1: Low budget start-up
If you have ever dreamt of starting a business, but had to hold back because of budget or other constraints, a reseller program can be a boon for you. It enables you to actually run a business without having to deal with the added pressure of start-up investments, management, operational nuances, and more.
#2: Scalability and flexibility
Reseller programs usually offer immense scalability and flexibility. It means that depending upon your caliber, you can amplify the amount of profit you generate. This usually works on the principle that the greater number of customers and sales you bring in, the better deal you get. You may also get flexible and customized options, depending upon the nature of the deal.
#3: Brand exclusivity and growth
Some white-labelled reseller programs can also enable you to enjoy brand exclusivity. This implies that you can endorse and sell third party products and services as your own. Hence, you can also give a boost to your business and grow your brand with a reseller program.
Cons of joining a Reseller Program
There are two sides to every coin, and this stands true for reseller programs as well. Some of the disadvantages that a reseller program can have are as discussed below:
#1: Lack of control
The biggest disadvantage of joining a reseller program is the lack of complete control. You do not get much say in how the product or service should be optimized and how it should be offered to the customers. This lack of control can become really tricky sometimes.
#2: Reliant on third party
When signing up for a reseller program, you become completely reliant on the third party for running that part of your business smoothly. For instance, imagine selling a white-labelled product as your own but not being able to get the original seller to provide suitable customer support and order handling. This implies that the shortcomings and flaws in your sellers' operations, can get labelled as your own weaknesses. This can also hamper your own brand image and reliability.
#3: Competitive market
Resellers can face the same industry hurdles and competition as the original sellers. It is a competitive market out there, and sometimes it can become really tough to bring in a good number of sales. Hence, the revenue generation may be unstable and inconsistent.
Pros of joining an Affiliate Program
Affiliate programs are contributing immensely to digital revenue generation. In fact, as per an article by Rodney Gray, approximately 15% of all digital media industry's revenue comes from affiliate marketing.
Sounds intriguing? Let us unravel some benefits of joining an affiliate program and know more:
#1: Effortless passive revenue
Affiliate marketing is hands down the best source of indirect and secondary revenue generation. It is the most effortless technique of getting additional income and monetary profits without actually having to worry about the operational nuances of a business. You can have as many affiliate partners as you want and get benefited from each at the same time.
#2: Easy to set up and start
Affiliate marketing is absolutely easy to set up. In fact, it is easier than joining a reseller program. All you have to do is set up the program, get your affiliate link from your partner and you will be good to go. You can continue to endorse your affiliate partner and get paid for every sale you generate.
#3: Low levels of commitment
The biggest advantage of joining an affiliate program is that you have no liability whatsoever. Your role gets limited to the fact that you are endorsing a third party product on your platform which interested customers can get benefited from. You do not have to deal with the nuances of the product or service, or even the hassles of consumer support and handling.
Cons of joining an Affiliate Program
Despite being an absolute profit-based system of secondary income, affiliate programs have their own challenges too. The common ones are as discussed below:
#1: Commission based profit
This is less like a disadvantage and more like an evident limitation that is true for any affiliate program. The profit you generate is absolutely commission based. This implies that the more conversions you inspire, the more you earn. However, since there is no capital investment or additional infrastructure required, all the income you generate can be classified as pure profit.
#2: Passive participation
If you are a control freak and want to deal with the nuances of the business, an affiliate program can get tedious for you. As an affiliate, you only remain a passive partner in the process. However, this can actually become a boon in the long run as it frees you from any kind of responsibility or liability. Besides, you need not explicitly associate your brand with the affiliate partner's brand, and remain isolated instead.
The similarities between Reseller Program and Affiliate Program
Reseller programs and affiliate programs also have some things in common. This includes the following:
#1: Zero infrastructural and set up cost
Reseller and affiliate programs do not require you set up any additional infrastructure, thereby leading to a zero to negligible set-up cost. In fact, most of the infrastructure needed for manufacturing, packaging, billing, delivery, management, etc., is handled by the seller.
However, in some cases you may need to share some of the load as the reseller. But as an affiliate, you can just sign up for the program, set up an endorsement campaign and then sit back and relax.
#2: Hassle-free revenue generation
Both the programs are a great source of generating an additional income. While for a reseller it can still be the primary source of income, in most cases it is the additional or secondary source of income for the affiliates.
Moreover, the part where you can gain profit without setting up a business, remains the same for both the techniques of revenue generation. Hence, you can choose either of it depending upon your resources, goals, and requirements.
#3: Brand expansion and growth
Reseller program and affiliate program can both help you power your business goals and amplify your brand presence. The revenue you generate, need not get invested in buying the inventory for the business, and hence it is sheer profit.
You can use the revenue to amplify your business and build a robust brand image online. Besides, the networking with your reseller and affiliate partners and customers, can also benefit you in the long term.
Reseller Program vs Affiliate Program: The verdict
Now it is time for the conclusion. As evident from all the discussion and analysis above, an affiliate program can turn out to be more dynamic and hassle-free than a reseller program.
While the two share some common traits and benefits, reseller program requires you to be more involved. Besides, dealing with the actual sellers at one end and customers at the other, can actually become mind-numbing overtime.
Let us get a quick overview of the two:
Reseller Program
Offers more control over the business
Requires more commitment and responsibility
Basic technical and business expertise needed
Demands consumer support and handling
Affiliate Program
Completely passive and profit-based set up
Zero to negligible involvement in the business
Requires no technical or business expertise
No consumer support or handling needed
That was a quick overview of the most significant aspects of a reseller and an affiliate program. Clearly, affiliate program emerges victorious as it is comparatively more hassle-free. If you wish to make profits without getting into the nuances of the business, affiliate marketing is your go to solution.
AppMySite Affiliate Program: The inclusive solution for all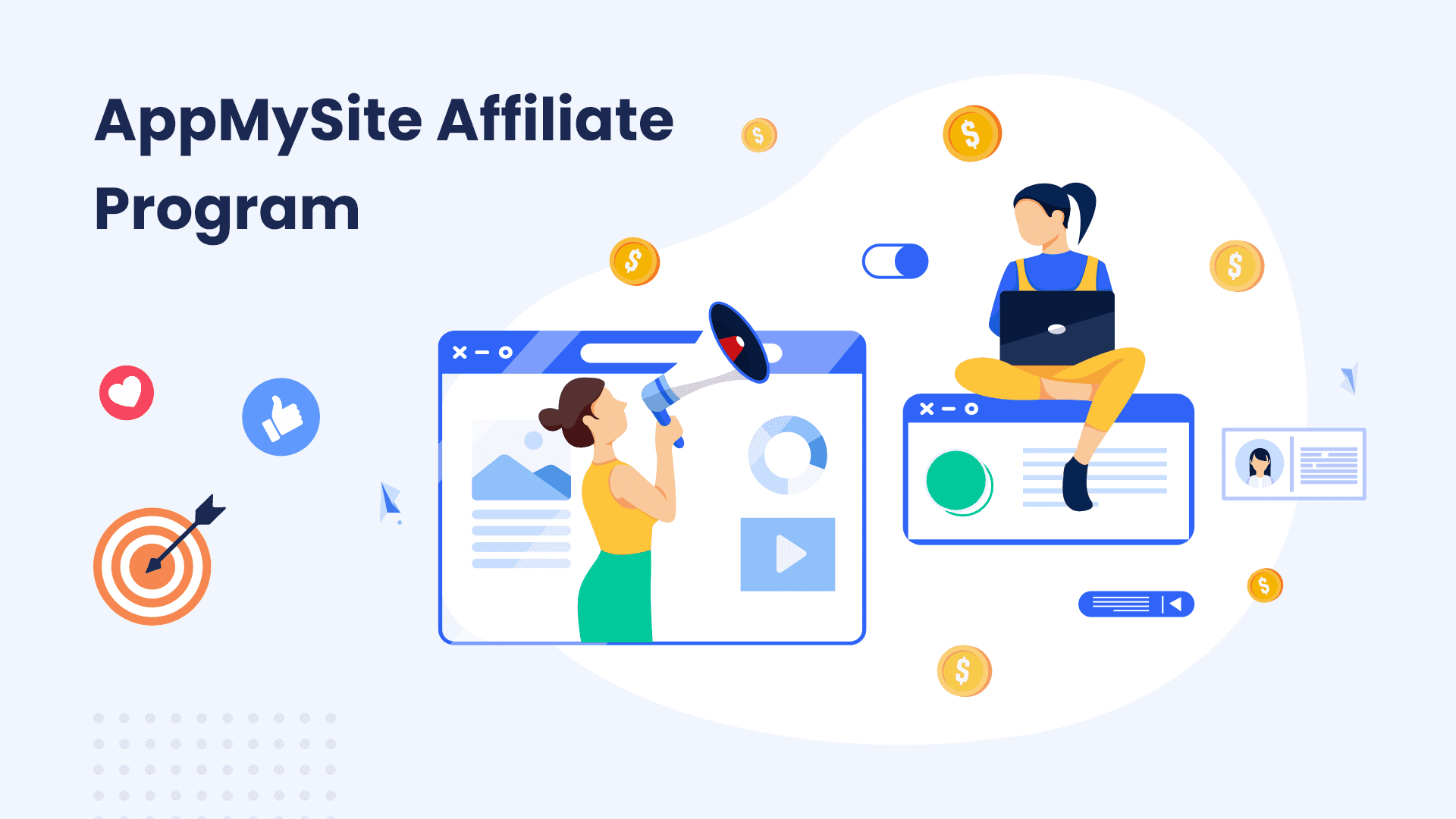 Still confused between the two? Do not worry! AppMySite has made it easier by offering an affiliate program that works well for both, affiliate marketers & resellers. After all, as per our extensive study and conclusion, an affiliate program is less work for you anyway.
All you need is to sign up for the affiliate program and you can get started immediately. Endorse AppMySite app maker on your platform and get paid for every sale you generate. Manage everything with an automated, easy, and frictionless system.
Suggested Read: Discover the easiest way to grow your profits with Affiliate Marketing
You can also go through the blog listed above and get to know more about the AppMySite Affiliate Program in detail. Else, you may first start with exploring the platform for free. You can sign up to create, customize and test your app for free. Go ahead and try now!