Affiliate Marketing is one of the most profitable marketing and revenue earning techniques. It has become exceptionally popular over the years and is now the first choice of many online businesses and brands.
Affiliate Marketing can create an ecosystem that turns out to become a win-win solution for both, the demand side and supply side, i.e., affiliate marketers and their merchant partners.
Affiliate Marketing is also beneficial for the buyers and consumers as it gives them the opportunity to discover new brands, businesses, product and service options, and lot more.
AppMySite, the best DIY app builder has also launched its much awaited affiliate program recently. The program is an amazing initiative for online marketers who aspire to earn revenue through referral promotions.
AppMySite WordPress and WooCommerce Android app builder offers the best apps to its customers at an affordable rate and hence makes the affiliate partnership absolutely viable.
You can also become an AppMySite affiliate partner without much effort, and reap huge benefits. Stay tuned with us till the end and know more!
In this blog
Affiliate Marketing: Introduction, types, and benefits
Before we tell you about the easiest affiliate program to sign up for, let us first introduce you to the nitty-gritty details of affiliate marketing. We will discuss the following:
Introduction to Affiliate Marketing
Types of Affiliate Marketing
Benefits of becoming an Affiliate Marketer
#1: Introduction to Affiliate Marketing
Affiliate Marketing is a technique of referral promotion where the affiliates can endorse a product, service, or brand to earn leads and conversions, and get paid for it.
It is a win-win technique for both, the provider, and the marketer. While the brand owners manage to attract a new stream of traffic from their affiliate's channels (website, social media account, etc.), the affiliate marketers can earn monetary gains and raise capital profits.
The best thing about affiliate marketing is that it is performance based and absolutely straightforward. There is no hustle when it comes to generating and collecting revenue as one does not rely on external and ambiguous factors that are common with other mediums of marketing and promotion.
#2: Types of Affiliate Marketing
Affiliate marketing can have multiple ways of implementation, depending upon the types of brand owners, marketers, channels of endorsement, and more.
Today we will tell you about some popular kinds of affiliate marketing based on the settlement and revenue model. This includes the following: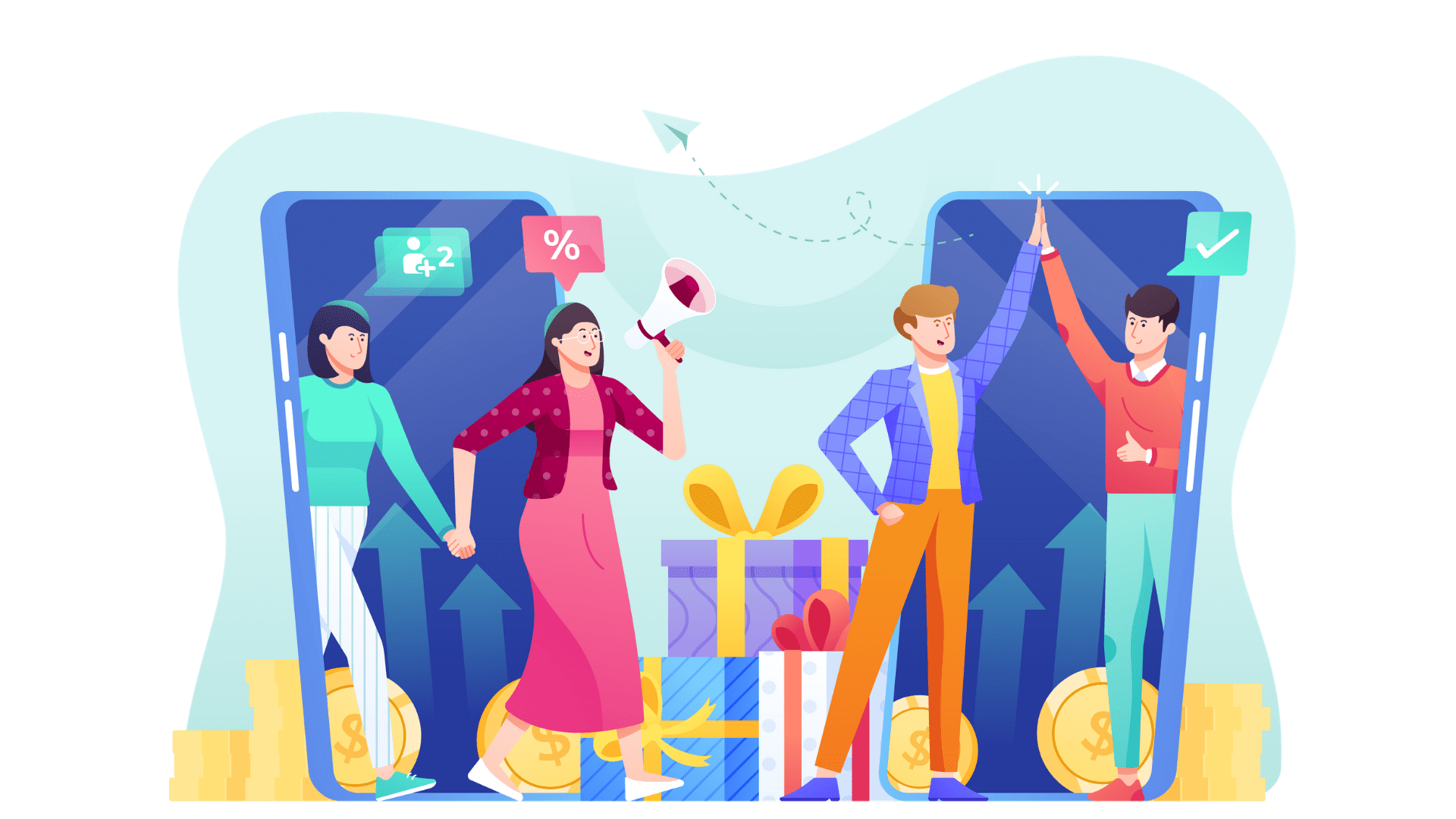 a: Pay Per Click (PPC)
As the name suggests, in this type of affiliate settlement, the marketer gets paid for every click on the merchant's banner, text ads, link, etc., irrespective of the sales or conversions.
b: Pay Per Performance (PPP)
In this type of affiliate marketing, a performance parameter is drawn that becomes the basis of payment. The affiliates receive a payment whenever an action based on the performance parameter is committed by the visitors or potential customers.
c: Pay Per Sale (PPS)
In a Pay-Per-Sale type of set up, the merchant pays the affiliate whenever the referred visitor actually buys something from the merchant.
d: Pay Per Lead (PPL)
There are some brands that focus more on lead generation than actual conversion in terms of revenue. They often go with the Pay Per Lead type of settlement.
e: Multi-tier marketing
Affiliates with multiple marketing channels often opt for the multi-tier marketing system. This type of affiliate marketing may incorporate one or more kinds of the settlements listed above.
In a multi-tier system, apart from getting paid for the direct traffic or sales that they refer to the merchant's site, affiliates also get paid for any traffic or sales referred by other affiliates who joined the program through them.
f: Residual income
In this type of settlement, affiliates get paid for every purchase made by a customer. Additionally, they also get rewarded or paid when the same customer returns to make a repeat purchase.
#3: Benefits of becoming an Affiliate Marketer
Now that you are aware of the types of affiliate marketing based on revenue settlement, let us introduce you to some astounding benefits of becoming an affiliate marketer.
You can reap infinite profit out of affiliate marketing as it is completely performance based. However, in general, it comes with the following benefits:
a: Easy way to generate capital
If you need to raise a good sum for your business without making things complex, you can become an affiliate marketer. It is the easiest technique to make money as you do not need to go through any toilsome process. All you need to do is introduce your merchants' brand, product, or service to your audience. It is as simple as that!
b: Zero infrastructural cost
One does not need any additional infrastructure to become an affiliate marketer. All you need is a website or affiliate channel that already exists and has a good traffic rush.
c: Zero start-up cost
Most merchants offer a free sign up to their affiliate program. Setting up or signing up for an affiliate program often costs little to nothing, making it all the more viable and profitable.
d: Zero risks involved
As discussed above, affiliate marketing is completely performance based making it safe and secure. As an affiliate marketer, you can get paid for all the leads and conversions, but lose nothing, irrespective of the success or failure of the program.
e: Seamless operation
A good affiliate program is often automated and needs minimum manual involvement when it comes to tracking the leads, profits, dues, etc. Hence, affiliate marketing also ensures operational ease, making it a go to solution for earning additional revenue.
Suggested Read: Discover the A to Z of Affiliate Marketing for mobile apps
AppMySite Affiliate Marketing Program: The easiest solution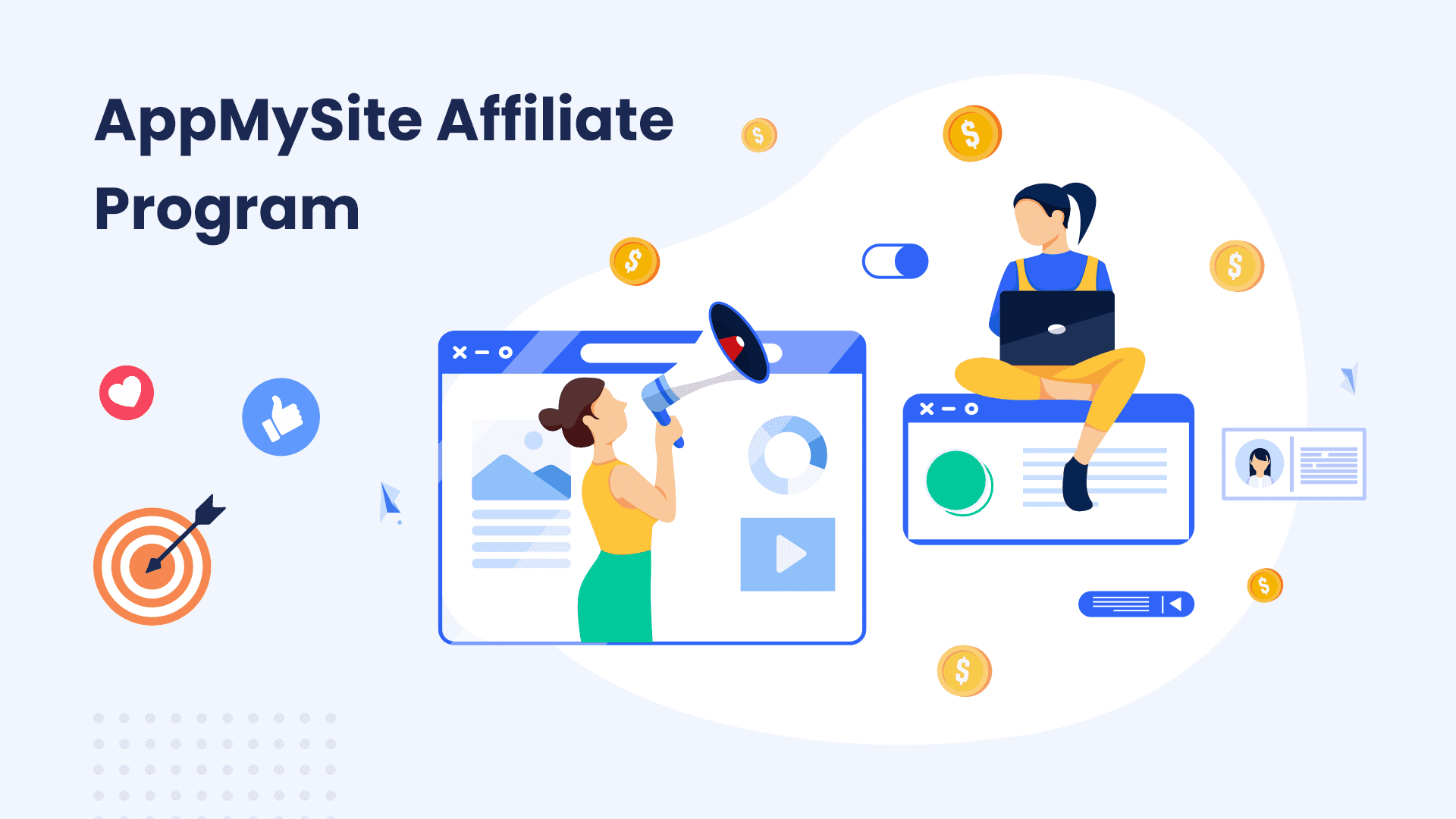 Now as promised, let us introduce you to AppMySite's affiliate program. It is the easiest and the most effortless to sign up for and has immense profit potential for the brand ambassadors.
Mobile apps are the future of all kinds of businesses and brands and almost every website owner aspires to build one. AppMySite enables them to meet this demand by offering a platform where anyone can create their own premium apps without writing a single line of code.
Now that the affiliate program is here, marketers can partner with AppMySite and get an additional channel of income and growth for their business. Moreover, AppMySite's affiliate program is super easy to sign up for and manage. It is simple, straightforward and absolutely seamless to grasp and go on with.
Anyone can join the affiliate program and become a brand ambassador for AppMySite. All you need is to drop a request and then sit back and relax. As soon as your request is approved, you will be provided with a referral link and a dedicated dashboard where you can manage all the details effortlessly.
Become an AppMySite brand ambassador and reap huge profits!
That was all from our end for today! Now that you know all about it, go ahead and sign up for the affiliate program by AppMySite and become a proud brand ambassador of the best mobile app builder in the league.
If you want to create feature-rich native apps for your business, then subscribe to the free app maker by AppMySite and build your own app without coding.
Create, customize, and test premium Android and iOS apps and make the most of the mobile-friendly opportunities in the digital universe. Be ready for the future and get an edge over your competitors. Explore the platform now and grow your business with AppMySite!