Google Ads, formerly known as Google AdWords, is Google's very own online advertising platform. It has several extensions and add-on products that together make it a powerful tool for advertisers, marketers, publishers, and other stakeholders that are involved. Google AdMob is one of those products dedicated to mobile app advertising and monetization.
Unlike Ad Manager and AdSense, AdMob is used only for mobile apps. Developers use the platform to serve advertisements, earn revenue through ads, collect actionable insights, and promote the overall growth of the app. However, over the years, several monetization options have emerged in the online marketplace and publishers are now thinking beyond Google and Google AdMob.
If you are one of them, you have landed in the right place. In today's piece, we will explore different mobile app monetization options and discover the best alternatives of AdMob for mobile app advertisements and monetization. The list will help you weigh the pros and cons of popular platforms and pick the best solution that aligns with your needs. Stay tuned!
In this blog
Best AdMob alternatives for mobile app monetization
Google AdMob is a trusted app monetization solution around the globe. As of March 2023, it was the most popular mobile ad network SDK (Software Development Kit). In fact, AdMob was integrated with 88 percent of Android and around 80 percent of iOS apps that used ad network SDKs.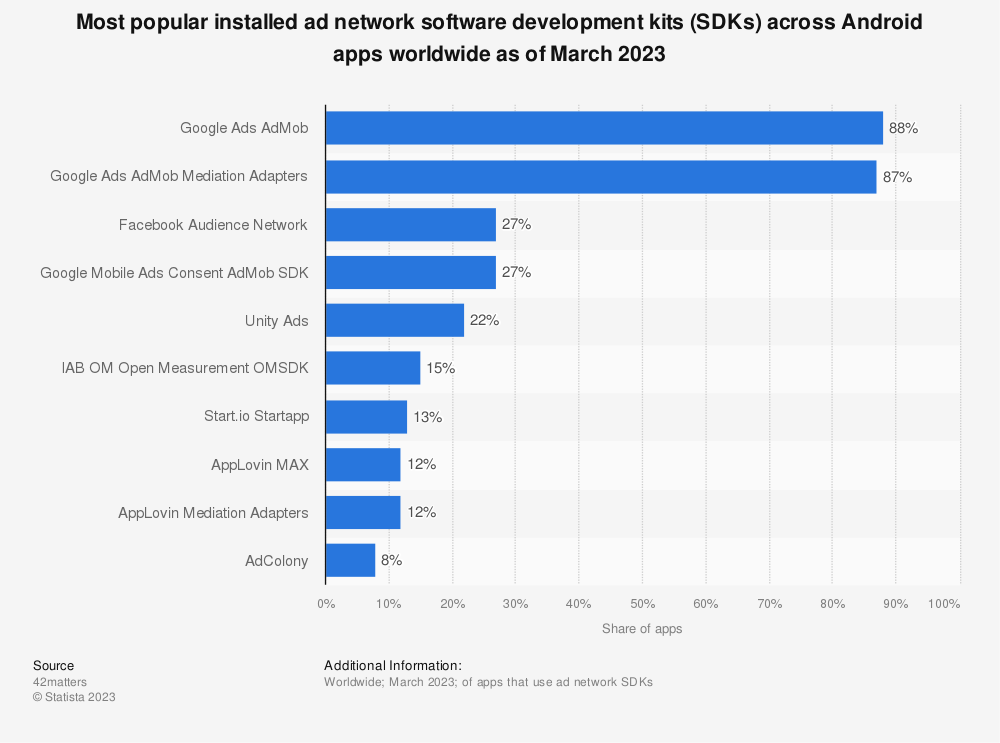 AdMob follows the CPM (Cost-Per-Mile) and CPC (Cost-Per-Click) model and ensures a high revenue-sharing ratio of 60:40. To be precise, 60 percent of the revenue is shared with the publisher while Google keeps the rest 40 percent. It supports multiple formats and is especially suitable for banner ads.
However, it is not the only reliable player in the market. There are several other popular monetization platforms, tools, and SDKs that are being used by publishers and advertisers across the globe. They have been gaining momentum over the years and are becoming popular.
Here's a list of some of those tools with detailed information on how they compare against AdMob:
Meta Audience Network
Audience Network is Meta's (formerly Facebook) very own monetization platform. It is a great platform for both publishers and advertisers. It requires users to follow the bidding model and enables them to place ads in multiple ad formats like rewarded video ads, native ads, banner ads, and interstitial ads.
As far as the revenue is concerned, Meta follows the CPM (Cost-Per-Mile) model of monetization (which equates to cost per 1000 views or impressions). The formula for calculation is as follows:
Daily Ad Revenue ÷ Daily Active Users = ARPDAU (Average Revenue Per Daily Active Users)

Revenue from Audience Network ads:
eCPM x Impressions = Revenue
Publishers will need an Android or iOS app listed on the Google Play Store or Apple App Store respectively, alongside a Facebook or Meta Business Manager account. Publishers or app owners can set up monetization by adding apps and selecting a mediation partner. You can add your own mediation partner or select one from the list offered by the platform itself.
Next, publishers can set up ads with bidding. While the bidding process may be a learning curve for some, Meta endorses it as a viable method of advertisement and monetization. Alternatively, publishers can also simply install their SDK and set up their placements in Monetization Manager. This is a more simple and more straightforward method where publishers can simply monetize their app with Audience Network without getting into competitive auctioning.
Meta has a monthly payment schedule where publishers receive a payout on the 21st of each month. However, payouts are only made when the earning exceeds 100 US dollars, making the payout structure more or less similar to AdMob. However, unlike Google, Meta does not commit to a specific revenue share.
Remarks
The plus side is that publishers get the option of competitive auctioning and choosing a mediation partner that suits their goals. However, unlike AdMob, Meta is not upfront about the revenue share. However, Meta Audience Network is more flexible, and the targeting system is one of the best in the industry.
Amazon Publisher Services
Amazon Publisher Services (APS) is yet another popular name when it comes to in-app advertisement. Initially, Amazon extended this service under the name of 'Amazon Mobile Ads Network' which was later deprecated and replaced with Publisher Services.
It would not be wrong to say that the platform is developer-centric. Moreover, Amazon makes the platform suitable for large-scale as well as small-scale publishers and offers them the following three types of services to choose from:
Transparent Ad Marketplace (TAM): for large-scale publishers
Unified Ad Marketplace (UAM): for mid to small-scale publishers
Connections Marketplace: for publishers who want to browse all vendors in one marketplace
Amazon gives you access to buyers who compete for placement and helps you maximize your revenue. It is extremely easy to set up and offers powerful analytics that gives publishers valuable insights and the means to build and maintain a strategically monetized app.
APS does not follow the traditional waterfall system where buyers are ordered based on historical CPM where each demand source is called once in sequence. Instead, it amplifies your chances of earning money by giving other buyers a chance who might be at the bottom of the list but might be willing to bid more.
Remarks
The best thing about APS is that it automates and simplifies the entire process of monetization. There are no fees for publishers, and they can use TAM to show commission-free ads in their apps without making any major changes to the app infrastructure. It is easy to set up and favorable for small as well as large-scale app developers. However, the customization is limited, and the platform is inclined toward the Amazon advertising ecosystem.
ironSource
Those who know games and monetization know Unity. It largely focuses on the development and monetization of games. However, Unity Technologies is more than that and comprises of several products and solutions that are making business easier for app owners, developers, publishers, etc.
ironSource, a popular Israeli software company, has merged with Unity and is now well known as a powerful tool for in-app monetization. It is a comprehensive solution for publishers who are looking to monetize their mobile apps and maximize their revenue. It connects publishers to industry's leading bidding networks and ensures high ARPDAU.
From Tapjoy to Yahoo, the platform has a range of options for mediation and bidding. In fact, there are around 15 ad networks to choose from. With the SDK, publishers can connect apps to third-party ad servers and technologies. As ironSource centralizes and manages multiple ad networks on one platform, it becomes easier for publishers to manage monetization.
Remarks
ironSource offers a large and high-quality inventory of video ads. The ad mediation process is fully automated, and the quality of support offered by the platform is also a plus. However, the inventory gets lowered beyond Tier 1 countries and it is also a bit on the costlier side of the scale.
MAX by AppLovin
AppLovin is a mobile technology company and MAX is its mobile app monetization platform. It has a 360-degree approach toward mobile advertising and monetization. It has 25+ SDK networks and 20+ in-app bidders and offers support for a range of ad formats including native, rewarded, interstitial, rich media, playable, display, banner, etc.
Just like AdMob, there is no minimum traffic requirement, thereby making the platform suitable for small developers and app owners as well. The minimum payout is 20 US dollars which is not very high. It also helps developers reinvest their revenue to gain more active users. This elevates the process of monetization to make it more meaningful.
MAX has several promising features like advanced reporting tools, network comparison, cohort reporting, user activity reports, customizable waterfall options, and so on. Dedicated developer tools like Test Mode and Mediation Debugger help app publishers launch apps and manage ads with confidence.
Remarks
MAX is not very upfront about revenue split and earnings. However, reports do state that it ensures high earnings. However, it has promising automation features that make management easier for app owners. The platform helps developers organize and optimize the process of monetization and drive their app towards roundabout growth and higher revenue.
Smaato
Smaato, a Verve Group offering, derives its name from the Japanese word for 'smart'. It lives up to its name and offers an intuitive monetization experience to app owners. It is an excellent ad tech and monetization platform for both advertisers and publishers and has dedicated segments and solutions for them.
SPX (Smaato Publisher Platform) is a dedicated space for publishers where they can take advantage of real-time bidding and sell the ad space to the highest paying advertisers. The platform offers a high level of flexibility and control and earns brownie points for emphasizing on privacy and security compliance.
It supports all popular ad formats like video, interstitial, banner, interactive, and rewarded ads, and helps app owners create customized interfaces. Smaato offers a wide variety of integrations viz., Ad Server, Android SDK, iOS SDK, Prebid, Mediation, Ad Tag, and API. The platform specializes in Banner Ads and CPC campaigns and ensures intelligent targeting and high revenue.
Remarks
Smaato offers intelligent ad tech and monetization solutions. It enables publishers to bring their first-party data and manage all the inventory under one roof. Users spread across the web think that Smaato is slightly expensive, but they also vouch for high-converting traffic and matchless exposure. The dashboard offers too many functionalities and features in one place that may appear cluttered to some. Moreover, it is highly focused on Tier 1 countries and may not be very effective beyond that.
Start.io
Start.io, previously known as StartApp, is a simple and smart app monetization solution for publishers. It gives access to premium and diverse advertising campaigns and supports apps across platforms like Android, iOS, Unity, Marmalade, Cordova, and many others.
Start.io comes with a straightforward dashboard that is easy to analyze and manage. It gives publishers access to daily, weekly, and monthly reports. It also emphasizes on offering highly contextual ads to audiences, thereby increasing the chances of converting customers and generating revenue through in-app advertising.
With Start.io, publishers can choose across multiple formats like rich media, video, and native ads. It is one of the best alternatives to AdMob and comes with an advanced mobile SDK. The analytics and reporting are comprehensive, and publishers get access to a free consumer insight and audience hub that can be used to get statistical information and make data-backed decisions.
Remarks
Start.io helps publishers strike a balance between revenue and user experience. The platform is quite transparent when it comes to earnings and commission and ensures a smooth support experience. However, limited inventory and lack of mediation may be a downside for some publishers.
InMobi
InMobi is one of the biggest independent mobile ad networks and ensures global exposure. It has an impressive list of advertisers and serves high-quality ads of all formats including interstitials, banners, carousels, rewarded videos, and native content ads. Experiential playable ads allow users to experience the content, thereby ensuring more reliable traffic and high conversions.
InMobi also champions audience targeting and segmentation. Here, the target audience can be set based on multiple variables like carrier, time zones, operating system, location, device, and more. It also offers UnifID, a dedicated identity management solution for developers, that helps them overcome the restrictions on mobile advertising identifiers.
The platform gives access to 200+ DSPs (Demand Side Platform) and over 5,000 programmatic buyers from around the globe. InMobi also remains ahead in its tech game and helps its customers stay in tune with the changing demands of the market. Hence, it is trusted by some of the world's largest publishers.
Remarks
InMobi has multiple filters for targeting the most suitable audiences across the globe. It allows publishers to customize native ads and supports auto-updates for banner ads. The lightweight SDK makes it easy to set up monetization for Android and iOS apps. Unlike many premium monetization platforms, it is also suitable for Tier 2 countries. However, limited anti-fraud control and banner customizations might be a downside for some publishers.
Appodeal
Appodeal has made it to our list because we are listing the best tools for monetization and this particular tool is highly inclined towards app publishers and developers. Primarily, it is a mediation platform that lets you manage your monetization goals with one single SDK.
Appodeal has a straightforward approach to monetization and puts it in auto-pilot mode. The SDK sends ad requests to over 70 demand sources and makes them compete in hybrid in-app bidding and waterfall auctions. Those with the highest bid win. Moreover, it ensures added features like growth intelligence, automatic UA (User Acquisition) optimization, fraud protection, and more.
The platform gives access to the top ad networks and ensures profit-centric revenue share which means that Appodeal earns only when publishers make more than what they originally did. It is a holistic supply-side platform that takes into account the profit of publishers and powers them to grow and scale their revenue with intelligent optimizations.
Remarks
Appodeal is an excellent platform for publishers who are looking for a tool that intuitively does all the cognitive weightlifting and segmentation for them and helps them make the best of the top ad networks available out there. This simplifies the monetization process for app owners making it a completely automated tool suitable for all. However, as Appodeal is only a mediation partner, a lot relies on the choice of ad networks. This may influence factors like ad quality, segmentation, etc.
Epom Apps
Epom Apps is an AI-powered mobile app monetization tool that redefines simplification. It automates the process of monetization and helps publishers get access to high demands and attractive rates. It supports several ad formats including video, banner, native, background, and interstitial ads, and has a market in top geo locations like Europe, Canada, US, etc.
The solution is quite scalable and stable and benefits both advertisers and publishers. It delivers data in real-time that helps publishers optimize their campaigns proactively. The mediation process is automated and based on algorithms taking the guesswork out of the process.
The platform claims a 98 percent fill rate and high eCPM rates. It programmatically matches your users' profiles with the highest-priced and the most relevant ads, thereby ensuring high returns. It is free to use for developers and helps them get the most out of their monetization campaigns by connecting them to the best ad networks across the globe.
Remarks
Epom Apps gives you access to 25+ exclusive demand partners alongside the traditional AdMob marketplace. It takes the burden of ad management and mediation off the developer's shoulders and simplifies the process of monetization. The platform offers dedicated support, and this should help developers crack the best practices for their personalized monetization needs. However, it may take some time for developers to stabilize their earnings and get the hang of the interface.
Leadbolt
Leadbolt is an Australia-based mobile advertising platform for user acquisition and in-app monetization. It is especially suitable for indie developers and can serve as a great alternative to AdMob. It matches publishers with premium advertisers and enables monetization with cryptocurrency and blockchain-powered programmatic ads.
The platform lets developers think beyond banner ads. It enables ad publishing in multiple formats including native ads, video ads, and interstitial ads, and supports multiple models like CPM (Cost-Per-Mile), CPI (Cost-Per-Impression), CPC (Cost-Per-Click), and CPV (Cost-Per-View).
Leadbolt has SDKs for Android, iPhone, and iPad and helps publishers ensure monetization without ruining the user experience. The segmentation is decent as targeting can be done based on location, platform, device, interests, operating system, etc. All-in-all Leadbolt is an intuitive, focused, and innovative monetization platform for app developers and publishers.
Remarks
Leadbolt has been a secure and reliable AdMob alternative for publishers and app developers. It offers multiple options when it comes to ad formats and monetization models. It has an array of features like detailed analytics, dynamic ad insertion, and more. However, the platform is not very transparent regarding its offerings and comes with a slight learning curve.
These were some of our top picks. Hope the information helps and you are able to monetize your apps and maximize your revenue. However, you must remember that monetization is a "to each their own" kind of activity. The end results will depend on your geolocation, app type and category, and other varied factors. While some platforms will ensure a high fill rate, others will bring in high eCPMs. So, weigh all the pros and cons and then partner with the best.
Conclusion
Statistics show that mobile apps will continue to rule in every realm and become a potent source of income for most businesses. From mCommerce and on-demand delivery to fitness, education, and other personal and professional goals, apps are being used everywhere and will continue to gain momentum as more businesses will go mobile in the coming time.
This is the best time for turning your website into an app as most advertisers prefer apps for placing ads and targeting users. It is easier to identify and segment the targeted audience and get the most out of every ad campaign, making in-app advertisement a win-win for advertisers, developers, as well as customers who often get free apps for watching ads.
So, go ahead and launch an app of your own or give it a makeover. Stream ads from advertisers across the globe and earn revenue. If you need further guidance with respect to app development, marketing, optimization, monetization, or more, you can refer to our other blogs. Browse AppMySite and its blog space and learn all that you need to know.
Frequently Asked Questions
What is mobile app monetization?
Mobile app monetization, simply put, is a way of earning revenue through mobile apps. While traditional income for apps may come from selling physical and digital products, offering software as a service or through subscriptions, these methods may not be applicable to all apps. However, monetization methods like showing in-app advertisements and running sponsored content in the app can help any app publisher or owner earn additional money. Most app owners prefer showing ads and earning money for the same.
What are mobile app monetization tools?
Monetization is a complex process. From segmenting the suitable ads for a given audience demography to monitoring the metrics that determine the earnings and payout, several steps are involved. It is not possible for advertisers and developers to manage it all on their own. This is where monetization tools come into play. Tools like AdMob, Smaato, and Leadbolt help people set up monetization for their apps and earn by showing relevant ads to their audience.

What are the best alternatives to AdMob?
Meta Audience Network, Amazon Mobile Ads Network, ironSource, and Smaato are some of the best alternatives to Google's AdMob. If you think that AdMob is not suitable for your monetization needs or is no longer enough for your growing mobile-based business, make a switch and go with some other tool. You can refer to the list above and get all the help you need. However, do not forget to do your own research and only finalize a platform that aligns with your goals and requirements.

How do I monetize my mobile app?
The easiest way to monetize a mobile app is to show relevant ads to your users. There are tons of advertisers out there who would like to use your app's real estate and reach customers through you. A mobile app monetization tool can help people mobilize such advertisement campaigns and enable app publishers to earn through ads. You can refer to our holistic guide to mobile app monetization and learn more.
How can I create an app that can be monetized?
AppMySite's no-code app builder software is the easiest way to create apps that can be monetized. Here, you can design, personalize, and build any type of app within minutes. Once you have perfected the design, you can proceed to enable features like push notifications, monetization, and analytics with point-and-click options. AppMySite has a cutting-edge technology stack and enables monetization with some of the best ad networks available out there.