WordPress is the king!
It is the most popular CMS across the globe and is loved by all due to its simplicity, affordability, and state-of-the-art technical infrastructure and expanse. We love WordPress too! You can browse our app maker platform and scroll through our blogs to learn more about the same.
However, today we are here to share some interesting facts and statistics about WordPress. It has grown immensely over the years and is now powering almost half of the web. Let us crunch some numbers related to WordPress market share and learn all about it.
In this blog
WordPress history: Where it all began
Before we get to the facts and statistics, let us take a peek into the history. It was the year 2001 when WordPress came into play with WordPress 0.5 (then known as B2/Cafelog) which was written in PHP for use with MySQL by Michel Valdrighi. (If you are wondering, PHP is a programming language and MySQL is a database management system.)
Then in 2003, Matt Mullenweg took over the platform and officially launched WordPress 0.7. In fact, the name "WordPress" was originally suggested by Matt Mullenweg's friend Christine Selleck Tremoulet. Ever since then, there has been no looking back for WordPress and today it is the most popular and widely used CMS platform by one and all.
Almost half of the web is WordPress
Wondering what percentage of the web is WordPress? Essentially, WordPress powers 43% of all the websites on the Internet. This demonstrates that almost half of the entire web is being powered by WordPress. If we are to put the data in numbers, then there are currently around 708 million sites that use WordPress.
The percentage rises higher when we consider the CMS (Content Management System) market share of WordPress. As far as the websites with known content management systems are considered, a whopping 65.2% of websites are built with WordPress.It also maintains about one-third of the market share, both for all websites across the internet and in the most popular worldwide category. It has also been awarded the "most popular" in the "open source" category in many countries like USA, United Kingdom, Canada, India, among others.
World's top-ranking websites are on WordPress
WordPress is not just the top platform for creating websites, it is also home to most of the top-ranking websites in the world. For instance:
30% of the world's top 10 million websites are powered by WordPress.
As per BuiltWith, WordPress holds a 38.03% market share among top 10 thousand sites and a 35.94% market share among top 100 thousand sites.
Around 1/3rd (33.72%) of the top 1 million sites in the world use WordPress.
14.7% of the world's top 100 websites are powered by WordPress. This includes several Fortune 500 companies as well.
62% of the top 100 fastest growing companies in the US use WordPress.
WordPress powers 359,760 of the world's top 1 million websites, making its market share 17.5 times more than Drupal.
These statistics just go on to underline the fact that WordPress is also the best CMS from SEO (Search Engine Optimization) point of view, and it includes more than just blogging websites, extending to eCommerce, social sites and more. In fact, WordPress is used by the top brands of the world.
This proves that WordPress is optimized for SEO and ensures a good chance for your website to rank on SERPs (Search Engine Result Pages). In fact, as evident, most of the top-ranking websites are built on WordPress and Google loves it.
WordPress earns a lot of user-engagement
Additionally, the WordPress community is one of the most active ones on the web. Not just that, WordPress also inspires a lot of activity on the web and a lot happens around it everyday. Let us go through some facts that assert the same:
Clearly, WordPress is also one of those websites that attract huge traffic. Impressed already? Well, these numbers were just an overview. There is more to unveil as discussed in the sections below.
Suggested Read: WordPress.com vs WordPress.org: Here's all that you need to know
WordPress is growing by the second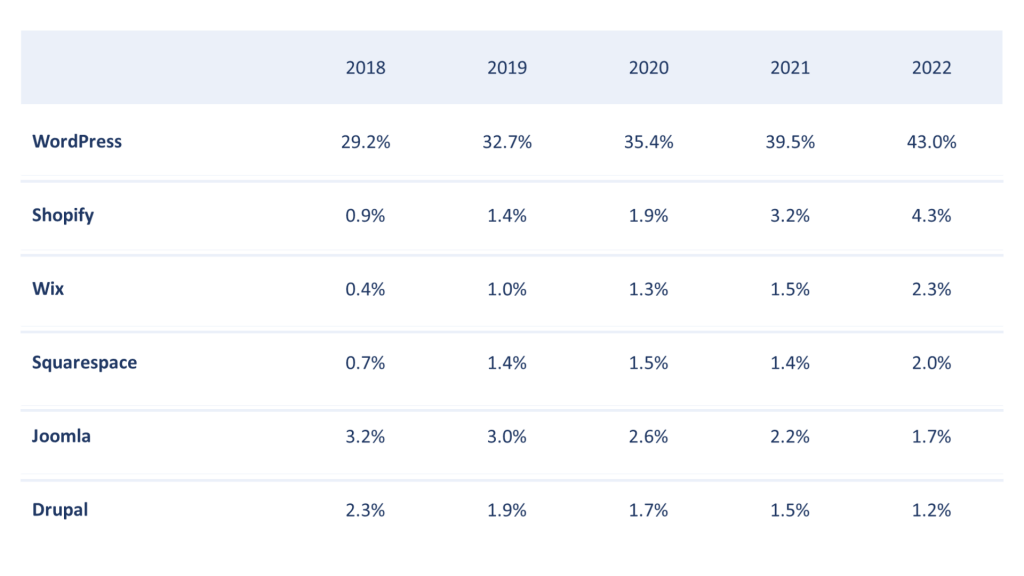 WordPress is big, WordPress is popular, and WordPress is ever-growing.
Checkout this download counter for WordPress. The numbers are changing with the blink of eyelids. At the time of writing this, the download counter stands at 96 million+. So, we are not exaggerating when we say that WordPress is growing by the second. It has been more than 20 years since its inception and the popularity is only increasing. In fact, it is one of the most consistently growing platforms.
There are several statistics derived from multiple studies that highlight its phenomenal success. For instance, in the last 10 years, WordPress has grown by around 30%. Each year, WordPress grows by at least 1 to 4% which far exceeds its competitors like Wix, Squarespace etc., who despite showing good growth, make up less than 3% of the market. In fact, some competitors like Joomla and Drupal have also shown negative growth, dropping by 6.4% and 13.6% respectively.
In fact, at the start of 2017, WordPress was powering 27.3% of all websites and now it captures more than one-third of the market (43% websites) indicating a massive year-on-year growth. On the other hand, when we look at the CMS share of WordPress which is a huge 65% (approximately), the numbers indicate a growth of more than 10% over the recent couple of years. If WordPress continues to grow at this rate, it will soon capture more than half of all the web.
Clearly, it stands unrivalled in the world of websites, and it totally owns and deserves all the applause. From development to maintenance, everything is a breeze with this platform and that is what makes it the ultimate champion!
WordPress takes lead among its competitors
WordPress is the industry leader!
The mere comparison of the platform's market share and expansion with its competitors is sufficient to show how WordPress takes a lead and is ahead of its competitors by huge margins. The next most popular CMS Shopify only has a market share of 4.3%. That's right. WordPress stands at 43% and the next best Shopify stands at 4.3%. The difference is HUGE! On the other hand, as discussed above, most of the WordPress contenders like Joomla and Drupal are also losing market share year after year.
For instance, in the year 2011 WordPress was at 13.1% and Joomla and Drupal were at 2.6% and 1.4% respectively. Whereas, in the year 2022, WordPress is at 43% and Joomla and Drupal are at 1.7% and 1.2% respectively. Now, what is noteworthy here is that more and more people are opting for Content Management Systems every year. In fact, the share of websites with no CMS in the year 2011 was 76.4% and the share now is 33.1%.
However, most of the people opting for CMS are going with WordPress. At least that is what the statistics show. Even the web hosting platforms like Shopify, which are highly eCommerce centric, are far behind in the race. WooCommerce, the eCommerce plugin for WordPress, takes a lead here as well.
Market share of WordPress and its contenders: A comparison
Statistical trends show that WordPress is far ahead of its competitors in almost every category. Some facts that underline the trend are as follows:
WordPress has increased by more than 27% in ten years. (From 15.8% in 2012 to 43% in 2022)
Shopify came into play in 2014 and has grown from 0.1% to 4.3% since then.
Squarespace has grown from 0.1% to 2% in the last ten years.
Wix came into existence in 2013. In almost a decade, it has risen from a share of 0.1%
2.3%. Joomla has gone down from 2.8% to 1.7% in the last ten years, showing a negative growth.
In light of these trends, we can say that WordPress is the absolute and unparalleled leader. Let us go through some more statistical data and understand where WordPress stands against its contenders in several categories.
Overall share of popular CMS platforms on the web
As far as the overall usage is considered, WordPress dominates 43% of the market. The next best platform, Shopify is at 4.3%. Here's a share of all the popular platforms:
WordPress: 43%
Shopify: 4.3%
Wix: 2.3%
Squarespace: 2%
Joomla: 1.7%
Drupal: 1.2%
Adobe: 0.1%
Blogger: 0.9%
Bitrix: 0.8%
Open Cart: 0.5%
Weebly: 0.4%
Webflow: 0.6%
Market share distribution for websites using a CMS
The number of websites using CMS is growing every year. WordPress takes a lead here as well. In fact, most of the users are opting for WordPress. Here's the CMS share of the top platforms.:
WordPress: 64.2%
Shopify: 6.5%
Wix: 3.4%
Squarespace: 3%
Joomla: 2.5%
Drupal: 1.9%
Adobe: 0.2%
Blogger: 1.3%
Bitrix: 1.2%
Open Cart: 0.8%
Weebly: 0.6%
Webflow: 0.8%
Market share distribution among the top 1,000,000 websites
WordPress is not just at the top itself. Even the websites built with WordPress rank higher on the ladder. Here's the share of the popular CMS platforms when we take into account the top 1 million websites:
WordPress: 64%
Shopify: 8%
Wix: 1%
Squarespace: 0.9%
Joomla: 1.8%
Drupal: 3.2%
Adobe: 0.5%
Blogger: 1.5%
Bitrix: 1.1%
Open Cart: 0.6%
Weebly: 0.1%
Webflow: 1.2%
Market share distribution among the top 100,000 websites
The share of WordPress takes a slight dip when we put on our magnifying glasses and look at only the top hundred thousand websites of the world. However, WordPress still remains undefeated by large numbers. Here's the statistical evidence:
WordPress: 59.1%
Shopify: 4.5%
Wix: 0.3%
Squarespace: 0.4%
Joomla: 1.4%
Drupal: 5.9%
Adobe: 2.1%
Blogger: 0.9%
Bitrix: 0.9%
Open Cart: 0.4%
Weebly: 0.0%
Webflow: 1.6%
Market share distribution among the top 10,000 websites
Drupal outdoes Shopify when it comes to holding the share among the top 10,000 websites. However, WordPress wins in this category as well. Here are the detailed numbers for the same:
WordPress: 52.4%
Shopify: 3.2%
Wix: 0.3%
Squarespace: 0.5%
Joomla: 0.8%
Drupal: 7.2%
Adobe: 4.9%
Blogger: 0.5%
Bitrix: 0.5%
Open Cart: 0.2%
Weebly: 0.1%
Webflow: 1.8%
Market share distribution among the top 1,000 Websites
It is now time to get to the top-order list of the absolute winners. Yes, we are talking about the top 1,000 out of the billion websites out there. Even in that stringent and competitive category, WordPress emerges the winner hands-down! Here's the share of all the platforms in this category:
WordPress: 50.9%
Shopify: 4.5%
Wix: 0.3%
Squarespace: 0.9%
Joomla: 0.6%
Drupal: 7.5%
Adobe: 7.2%
Blogger: 0.0%
Bitrix: 0.0%
Open Cart: 0.3%
Weebly: 0.3%
Webflow: 1.5%
If all the number crunching is too much for you, then let us just sum it up for you. It all boils down to the fact that WordPress remains the winner and holds a much larger share than its other contenders in any and every category.
WordPress goes way beyond blogging
WordPress is not the industry leader for nothing! It has come far from just being a blogging platform. In fact, it is now a full-fledged and super-rich platform that is capable of handling all kinds of websites. This includes eCommerce websites that must facilitate sales and purchases, social media sites that must be able to handle a lot of traffic and engagement and news websites that must have adaptive media, among others.
As a matter of fact, WordPress powers over 19% of all eCommerce websites with one of its most popular plugins – WooCommerce that makes up for 7% of all online sales and has more than 25% market share when compared to other eCommerce platforms. In fact, there are at least six million websites that are using the WooCommerce plugin and it has been downloaded over 135 million times, a number that grows day by day.
While these numbers may not sound huge in isolation, they are actually pretty enormous when compared against other platforms. In fact, WordPress is pretty diverse and versatile and hosts some of the best eCommerce sites, business websites, news, and broadcast platforms, and many more. It ensures low entry-barrier and a super user-friendly technology that makes it suitable for everyone.
Clearly, WordPress is crowd-favorite and has a certain mass-appeal that gives it an edge over its competitors and makes it more relevant than any other platform. You can create almost any kind of website with WordPress including eCommerce websites, educational websites, community websites, and more, and take your brand, business or organization online in no time.
WordPress brings in revenue and growth
As discussed above, WordPress websites are the most SEO friendly. This means that your website will have a high-ranking potential if it is built on WordPress. This in turn, ensures good revenue and growth for people entrusting the platform. In fact, studies show that WordPress drove global revenue of USD 596.7 billion in the year 2020.
The projections for the year 2021 were placed at a whopping USD 635 billion. By the end of this year, the numbers may increase manifold. This is when we consider the entire WordPress economy. However, WordPress does pretty good for itself even as an isolated platform. It has alone managed to cross the billion-dollar mark in 2021 despite being a non-profit organization.
Automattic, the company behind WordPress, managed to generate USD 1.3 billion in revenue. The WordPress enterprises Envato and WP Engine brought in revenue of USD 95 million and USD 74 million respectively.
Clearly, WordPress is amazing even for revenue-generating websites as it has an enterprise-appeal and is optimized for SEO. The platform makes it easy to manage SEO related factors like customized permalink, metadata, image optimization, mobile optimization, etc., thereby ensuring good chances for a website to rank higher.
Better ranks, stability and optimization ensure good traffic and engagement, that in turn brings in revenue and ensures growth for any platform. Therefore, if you create your website on WordPress, you can be rest assured of its revenue-potential as far as the technical infrastructure for it is concerned.
The top players across the globe use WordPress
We might be reiterating when we say that unlike what some of the less-informed people believe, WordPress is not just for bloggers. In fact, it is the top favorite of many diverse brands and entities and calling WordPress a blogging platform would be like calling Amazon just a bookstore. Many top brands, organizations and even individuals trust WordPress. This includes bloggers, small to mid-size businesses, country-sized corporations, multinational brands and even the governments around the globe.
Some of the high-profile and top-notch websites using WordPress include some of the biggest names like The White House, Disney, Microsoft, Facebook, and more, are as depicted here: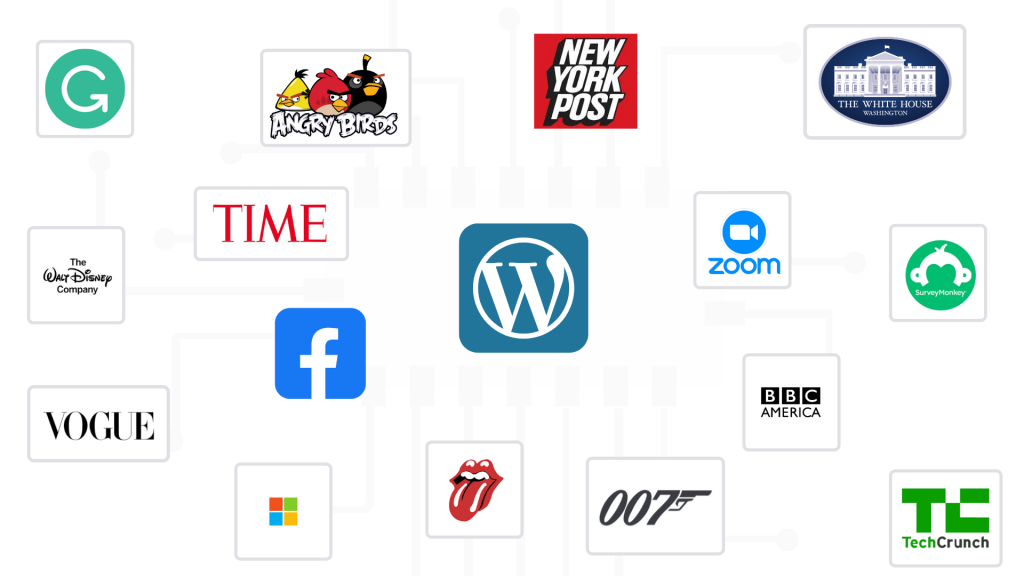 The list is endless…
Yes, you read the above names right. But that is not all. Like we said earlier, there are thousands of big names that have websites powered by WordPress. Some others include:
Clearly, the biggest brands in the world are using WordPress. However, the list is quite diverse and includes even institutions and government bodies. Infinite number of universities, colleges, and schools all over the world also use WordPress to power their websites. Clearly, it is also contributing to academics and learning all over the globe.
In fact, the list above just goes on to prove that WordPress is the home to the top websites of the world and that it is not just about blogging, but a diverse range of many other things.
Suggested Read: 10+ Reasons why WordPress is the best for creating websites
Choose from thousands of plugins
WordPress is an open-source platform and there are thousands of plugins and themes available online, that power the platform and add a range of functionalities and features to it. They together make WordPress the best! To be precise, WordPress has over 59,000 plugins that make content management a breeze and help visitors achieve endless desired functionalities on their websites, and otherwise. In fact, the combined download count of WordPress plugins would be in billions.
On the other hand, Joomla offers only around 7,000 plugins, which is far less than WordPress. Drupal offers around 40,000 plugins or modules but is still not as big as the WordPress plugin bank. The most popular WordPress plugin has to be its eCommerce extension, WooCommerce, and around 20% of all WordPress sites are using it. Gutenberg is just next in line to WooCommerce when it comes to popularity. It has over 67 million active installations. Additionally, there are at least 193 million Gutenberg posts.
Akismet is another widely popular and useful WordPress plugin that is used to block spam comments. It has over 133 million downloads and has blocked over 500 billion spam comments that averages at around seven and a half million per hour. This goes on to show that not just WordPress, but its supporting software and tools are as robust and awesome.
Some other popular WordPress plugins by download would include:
SEO plugins: Yoast SEO (5+ million), All in One SEO Pack (2+ million), RankMath (800,000+)
Speed plugins: JetPack (5+ million), WP-Optimize (1+ million), NitroPack (60,000+)
Page builders: Elementor (5+ million), SiteOrigin Builder (1+ million), Beaver Builder (300,000+)
Security plugins: Wordfence Security (4+ million), iThemes Security (1+ million), Sucuri Security (800,000+)
WordPress app builder plugins: AppMySite (10,000+), Mobiloud (1,000+), AppPresser (3,000+)
Plenty of themes for one and all
As far as themes are concerned, WordPress has more than 31,000 of them. These themes can help you create aesthetic websites and impress your visitors without much effort. In fact, WordPress themes are incredibly popular and there are around 8,000 free themes on WordPress alone. On the other hand, one of the largest WordPress theme repositories, Theme forest, has more than 51 thousand themes for sale.
Popular WordPress themes include Choices, Divi, Popper and Astra Theme. The top among them would be Avada which has sold over 675,000 copies at around USD 60 per copy. It has generated more than USD 25 million in sales and the count continues to grow.
Note: Just like any other platform, security is also a concern on WordPress as it has an open environment. There are around 90 thousand attacks on WordPress sites every minute. The biggest threat with over 50% of hack entry points is plugins. However, this can be curbed if you download plugins from reputable sites only and partner with the right host that takes care of your security checks.
Suggested Read: How many plugins is too many? Here's how plugins can slow your website speed
Location and Language-wise market share of WordPress
WordPress has a huge community of developers, stakeholders, business owners, and others, around the globe. It invests a lot of resources in expansion and customer satisfaction globally. As a result, WordPress marks its presence in the major continents and countries of the world. In fact, the popularity of WordPress runs beyond demographics and geographics.
Broadly speaking, WordPress is present in around almost every country around the world. While the contenders keep changing, the top countries using WordPress would be the United States, the United Kingdom, Iran, Russia, India, Germany Brazil, Canada, etc. The United States leads the list with 9,297,208 websites powered by WordPress present till date. Next in the list are the United Kingdom and India with 802,458 and 393,918 websites respectively.
As far as multilingual capabilities are concerned, WordPress is available in around 205 languages. Though the default language is English, you get to choose between hundreds of languages and translations. Although around 71% of the content published on WordPress is in English, other languages are rapidly catching up.
In fact, in the year 2014, first time since its creation, non-English downloads of WordPress outnumbered English downloads depicting its popularity across geographics and demographics. It might also interest you to know that Spanish ranks second to English with a presence of 4.7% and Indonesian is third with 2.4%.
However, the popularity of WordPress is global, and it attracts audiences, visitors, and contributors from all around the world.
Some more fun facts about WordPress
We saved the quirky treats for the end. In this section we will cover some cool and fun statistics about WordPress. Let us scroll them and learn more fascinating things about WordPress. Here we go:
There have been more than 400 versions and around 40 major WordPress releases till date.
WordPress is searched for 2,940,000 times every month and it dominates Google's SERP with 2.28 billion results.
WordPress is alone responsible for an additional 1.1 million domains generated in every 6 months.
Around 52.5% of WordPress users are on the latest stable version 5.9.
WordPress users publish around 27 new posts every second. It accounts for 70 million new posts and 77 million new comments each month.
WordPress gets 487 billion spam messages every month. In fact, this number is 6,208 times higher than the number of legitimate comments.
WordPress has 501 times fewer employees than Amazon. They are mostly scattered around the world and do their work remotely.
An average WordPress developer earns USD 51,000.
WordPress project includes people with several roles like Release Lead, Lead Developers, Core Developers, and Contributing Developers.
More than 63% of core committers are not employed by Automattic. This just goes on to show how open, free, popular, and engaging WordPress is for people around the world.
By the end of the year 2019, WordPress core had 40,785 commits, 409 releases, and has 58 contributors from around the globe. Till date, 1104 WordCamps have been organized across 6 continents, 65 countries, and 375 cities around the globe. Note that WordCamps are informal, community-organized events that are put together by WordPress users. The first WordCamp was organized in San Francisco by Matt Mullenweg in 2006.
Need some more fun fact? Here's one:
WordPress is known for codenaming new versions after jazz musicians. The version 1.0 was named Davis after Miles Davis. Others include Billie Holiday, Ella Fitzgerald, James Smith, and Nathaniel Adderley. The latest WordPress 5.9 is codenamed Josephine after international jazz singer Joséphine Baker.
The future prospects of WordPress

When COVID-19 enveloped major countries of the world and the economy took a hit, WordPress still continued to grow and expand. Several new and unconventional online businesses sprung up during this time and many of them started with a WordPress website. Clearly, WordPress has been consistently on the growth trajectory, is still relevant in 2022 and will continue to soar high and set new records in the coming years.
Millions of new websites are being created everyday, and the number is only increasing. In fact, with advancements in UI (User Interface) and features, WordPress will become relevant for more and more people in the coming years. All the facts and statistics listed above also indicate growth for WordPress in the coming time.
The future looks bright for WordPress and thus investing in the platform or other related tools and software will definitely ensure high ROIs (Returns on Investment). You can start by setting up a website and then proceed to get an app for the same. By doing so, you will be able to make the most of both worlds and appeal to the web as well as mobile-friendly audience.
Suggested Read: How to develop an app in 2022: A must read for small businesses
The bottom line is…
…that WordPress is the best and the above listed facts testify the same.
We do not love WordPress for nothing! So, we thought we would serve some food for thought for you loved readers as well. We were completely bowled over by the numbers while we were researching and compiling them, and we hope that you enjoyed them too.
However, this might not be all! We will keep updating the list and might add more facts in the coming time. So, keep checking! If you are as astounded as us, then do not forget to subscribe to AppMySite. This app builder has been built for the love of WordPress and best suits the needs of those who own a WordPress website and want to create an app for the same.
It is the best code-free WordPress app builder that enables you to go from web to app in minutes. AppMySite is basically the WordPress for apps and creating apps on this platform is super simple and affordable. So, go ahead and subscribe now. Also stay tuned to this space for more such informative and entertaining posts.