WordPress is the largest CMS platform in the world, and it powers over 60 million websites. If you are planning to launch a WordPress website, then you must go ahead with the decision and make the most of the platform.
WordPress websites and WordPress mobile apps hold an enormous space in the online world and are powering many online brands and businesses. You can also make a start on the platform and launch your business.
However, if you are confused between WordPress.com and WordPress.org, then you have landed at the right place. Today we will discuss their characteristics and the major differences between the two.
So, stay tuned with us till the end and discover the various nuances of WordPress and its two prominent platforms. Also discover some additional tips and tricks for giving your online business the uplift it needs and develop a strong presence online.
In this blog
Some statistics about WordPress worth knowing
Before we dive deep into the comparison between WordPress.com and WordPress.org, let us give you an overview of WordPress as a whole.
Let us go through some facts and statistics and understand the same:
WordPress has more than 60% market share in the CMS realm.
WordPress powers more than 35% of the world's top websites.
500+ sites are built each day using WordPress. On the other hand, the number for platforms like Shopify and Squarespace is less than hundred.
The WordPress Plugin Directory features 55,000+ plugins.
WooCommerce powers more than 22% of the top 1 million eCommerce sites in the world.
There are 3,876,748 eCommerce websites that use the WooCommerce plugin.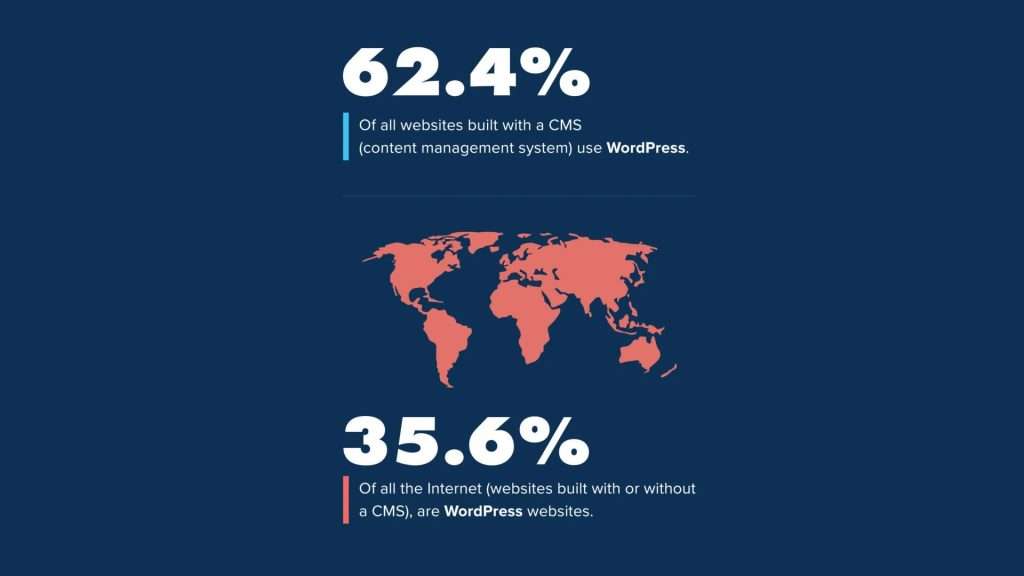 There are more than 27,616,323 blogs on the Internet and around 98% of those have been created with WordPress.
There have been around 420 versions of WordPress to date and around 37 of them are major releases.
Major releases go out every 4 to 5 months and bring with them new user features and developer functionalities.
More than 20% of users have updated to WordPress version 5.2. It has been downloaded over 16 million times. However, roughly a quarter of users are still running on version 4.9.
WordPress.com vs WordPress.org: An introduction to the basics
The term WordPress is ambiguous and somewhat incomplete in its true sense. While people mostly mean CMS when they mention WordPress, there is more to this term. Besides being a CMS, WordPress is also a web hosting platform. With time, it has evolved enormously and has become much more than that.
If you are planning to harness the platform, then you will come across two options, as mentioned above. WordPress.com and WordPress.org serve two different functions and you will have to make your choice accordingly, based on your goals and requirements.
So, let us help you understand the difference between the two so that you can make better decisions for your business and harness the opportunities to the fullest.
WordPress.com vs WordPress.org: The basic difference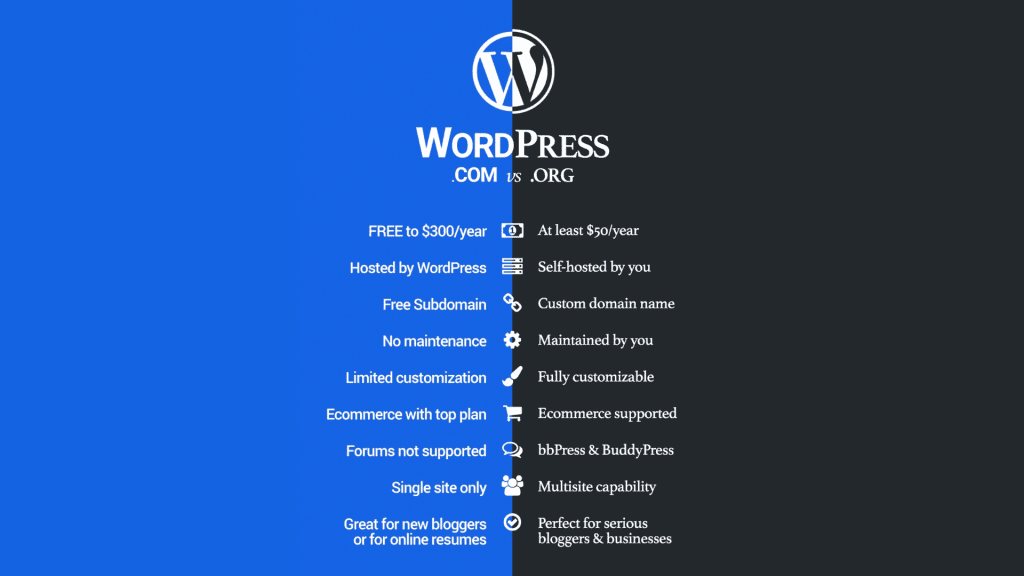 WordPress.org is the platform where you can download WordPress, the open source CMS and use it to build a website for free. It is basically an open-source website builder software or an operating system for a website or blog. The software itself is free of cost but you will need a hosting service to use it, which is usually paid. This is the best option for bloggers and businesses who want to take full control of their websites as you get the freedom to integrate the website with custom themes, plugins, and tools and modify it as per your aesthetical and functional demands and goals.
WordPress.com is not really a software but a commercial service where you can host a website using a highly modified version of the WordPress CMS. This offers less control but is far easier to set up and manage. WordPress.com is free to get started with, and external hosting or external domain name is not needed. One can easily sign up for the platform and get started immediately.
Let us break this down and make it simpler for you. In general, there are two different kinds of hosts when it comes to websites. One of the two includes companies that only take care of the hosting process and customers need to build the website themselves. This includes options like SiteGround, WP Engine, Blue Host, etc. Here, you work with two systems i.e., the web host and the CMS.
The other option includes web hosts that provide a custom CMS. These cost more and are comparatively less flexible but the set up process becomes fast and simple. The options include website builders like Wix, Squarespace, and of course, WordPress.com.
We hope the concept is now much clearer to you with these examples!
Clearly, WordPress.org is an open source content management system. Whereas WordPress.com is a web host that uses the WordPress CMS. It is absolutely possible to migrate from WordPress.com to self-hosted WordPress at any time.
You can also discover the major differences between the two on WordPress' official support page.
Suggested Read: How to identify a secure hosting partner for your WordPress blog?
The Pros & Cons of WordPress.com
WordPress.com is an amazing option if you want everything you need to be available under one roof and if you wish to start easy. However, it comes with certain limitations. Let us discuss the pros and cons of WordPress.com and get a vivid picture.
Pros
#1: Easy to use
If you do not want to get into the nuances of handling complicated set up and management processes and want everything under one roof, then WordPress.com is a boon for you. The platform and its experts take care of all your needs and all you have to do is sign up and create an account. You can launch as many free websites as you want, without worrying about hosting plans, managing servers, etc.
#2: Free basic plan
The basic plan is free, and you can start with it without any complications. You get up to 3GB of space and many appealing features in the free. Thereafter, you can switch or upgrade to a bigger plan as per your need. You can choose from a range of options like Personal Plan, Premium Plan, Business Plan, etc.
#3: Basic customizability
Although WordPress.com offers less control, you get the basic customizability features that you can use to personalize your website. You can pick from hundreds of options when it comes to picking a theme for your website. There are also multiple built-in features that you can handpick depending on your industry, niche, business goals, and more.
#4: Built-in security
WordPress.com functions as a close community that has built-in security infrastructure. Integrating additional security tools and regularly monitoring the website is generally not required. Updates, etc., are also automated and managed by the platform itself, thereby allowing you to focus only on your content creation and distribution.
#5: Minimal maintenance
This is one of the biggest selling points of WordPress.com over WordPress.org. The platform and its experts take care of all the maintenance needs and your website requires minimal involvement as far as maintenance is concerned. Technical aspects like backups and updates are also auto-managed.
#6: Extensive consumer support
WordPress has one of the largest communities in the world. Additionally, there are also many third-party tools, expert forums, etc., where you can get necessary help. You can easily get answers to your technical queries and grievances. Depending upon your plan, you can also avail chat or email support.
#7: Easy migration
Choosing WordPress.com does not mean that you have to be stuck with its limitations forever. As your business grows, you can choose to migrate to a more functional and customizable alternative. If someday you decide to host the website yourself, then you can use the inbuilt WordPress export tool to wrap your website in a file. Thereafter, you can move it yourself or let WordPress migrate it for you.
Cons
#1: Customizability limitations
Even though you get to handpick from the options of many themes and features, WordPress.com lags far behind in customizability as compared to WordPress.org. You cannot upload custom themes and integrate external plugins and tools. Only the built-in features can be harnessed for customizing and personalizing the aesthetics and functions.
#2: Scanty traffic monitoring
Monitoring the website traffic and collecting crucial and critical data is not easy on WordPress.com. You cannot integrate tools like Google Analytics on basic plans and hence, recording and processing data can become complicated. However, it comes with inbuilt reports and statistics page that can be used to get basic data and traffic reports.
#3: Monetization restrictions
If you are creating a website with the aim of monetizing it and making money, then you may face many limitations with WordPress.com. At most, you can use WordPress' own advertising network to earn with ads and you will have to give commissions to the platform. You can opt for Google Adsense on bigger and more premium plans.
#4: Lack of absolute ownership
As you create a free website with WordPress.com you lose say over a majority of things when it comes to making executive decisions. The website address will use a generic subdomain (Example yoursitename.wordpress.com) instead of a custom domain name thereby compromising your professionalism and branding. WordPress.com also has the power to delete your website if they find that it violates their terms and conditions.
#5: Limited SEO & branding
WordPress.com has built-in SEO features, but it cannot assure the level of performance that WordPress.org can offer. If you have a free account, you will only have access to a limited number of free themes. You will be devoid of a custom theme and hence your visitors' navigation experience may not be as smooth and frictionless as you want to. Third-party SEO and branding tools can also not be installed, thereby limiting your meta optimization options. All this can collectively lead to limited branding and expansion prospects.
The Pros & Cons of WordPress.org
WordPress.org is the first choice of many businesses, especially those in the eCommerce realm. It offers the WordPress flexibility in the true sense but can also be demanding accordingly. Scroll through the pros and cons of WordPress.org and make a better decision for your online endeavor.
Pros
#1: Immense customizability & flexibility
WordPress.org enables you to enjoy unlimited customizability where you can have a self-hosted website and shape it the way you want to. You can install any theme of your choice and design the aesthetics as per your required theme. Similarly, you can also integrate multiple plugins to enhance the functionalities. This includes enabling of SEO related extensions, eCommerce features and more.
#2: Easy & free traffic monitoring
As discussed above, you can easily integrate third party tools with WordPress.org. Therefore, you can also use free tools like Google Analytics to monitor the traffic and other critical data and statistics. This can help you in making better business decisions and designing campaigns that appeal to your audience.
#3: Robust security & help infrastructure
Working with WordPress.org usually means having a host to reach out to that can take care of all your security and maintenance related needs. Thus, it becomes easier to keep your site secure. Additionally, WordPress has a pool of experts, communities, etc., where you can seek help regarding any query or complication.
#4: Effortless monetization
Unlike WordPress.com, WordPress.org has no limits or restrictions on monetization. In fact, if you are looking to earn money using your website, then this should be your go to platform. Here, you can seamlessly create a website with eCommerce functionalities, run ads without worrying about sharing commissions, partner with affiliates, run sponsored content, enact a membership model, and do a lot more.
#5: Absolute ownership and control
When it comes to WordPress.org, you are your own boss. The ownership and control of your website remains in your hands, and this gives you a certain level of power that is not as strong in the case of WordPress.com. As long as you are not violating any code of conduct or compromising ethical principles, your website is safe from any kind of threat or suspension.
#6: Leverageable SEO & branding
As discussed above, WordPress.org gives you the authority and power to integrate SEO related plugins and run ads & marketing campaigns. This amplifies your search engine optimization and branding potential. The chances of your website gaining better ranks, visibility, traffic, and momentum increases manifold. Therefore, WordPress.org is best for commercial uses.
Cons
#1: Complicated for beginners
If you are not very tach-savvy or do not have the required knowledge and resources to handle certain technical nuances and aspects of website creation and maintenance, then WordPress.org might not be the best choice for you. This requires a certain level of experience, expert staffing and technical involvement for leveraging the full potential of the platform.
#2: Needs paid infrastructure
WordPress is elementarily free but WordPress.org will require you to invest in several other aspects of website development and maintenance. For instance, you will need to pay for domain name and web hosting services. Additionally, as per your requirement, you may also need paid plugins and themes. However, in the long term, WordPress.org may turn out to be financially more rewarding than WordPress.com.
#3: Demands maintenance
WordPress.org gives you more authority and power and hence demands more involvement and accountability as well. It demands some amount of technical maintenance. While a lot of the maintenance tasks might get covered under the services being offered by your web host, you may still need to supervise things and take charge of any interruptions, updates, changes, security checks, statistical analysis, and more.
Suggested Read: Eight important WordPress maintenance tasks to perform regularly
WordPress.com or WordPress.org: What should you choose?
Now that we have weighed the pros and cons of WordPress.com and WordPress.org, you may have understood the difference between the two clearly. Let us list out some points for you to give a clearer and more concise view of the two options and help you make the best choice.
To sum up, we can say that you can go with WordPress.com if you want the website to be set up quickly. If you are ok with limited customizability and want to shed the strain of maintenance, then you can definitely go with this option.
Depending upon these factors, we can say that WordPress.com can be chosen by people for whom the website is more about building an online image and not really about making money directly. Therefore, it is more suitable for regular bloggers, artists, photographers, small scale service providers, celebrities, influencers, etc. You will have to pay for the wholesome services being offered by WordPress, but you will have fewer responsibilities.
On the other hand, WordPress.org will be best for those who want complete control over their website and wish to customize it as per their specialized requirements, business goals, and more. You will have to work on putting up the best ensemble of your website by hunting for the perfect web hosting partners, themes, third-party plugins, etc.
This should be your go to solution if you are looking forward to monetizing the website and using it for commercial purposes. It works best for eCommerce businesses that are likely to grow and expand in the long run.
To sum up!
Now it is time to sup up the journey for you and help you reach the conclusion as you make your decision between the two platforms.
Here's a chart by WordPress that compares the pricing and packaging of the two platforms and the options available on these platforms. The major features of WordPress.org and WordPress.com have also been summed up in this table:
| | | |
| --- | --- | --- |
| WordPress.com | WordPress.com Business Plan | WordPress.org |
| Focus on your beautiful content, and let us handle the rest. | Get the best of both worlds: the carefree ease of a managed platform while you focus on your content. | Get your hands dirty, and host your website yourself. |
| Premium hosting, security, and backups are included. You can even upgrade to a custom domain, like YourGroovyDomain.com. | Your custom domain, premium hosting, security, and backups are included. As secure as WordPress.com, as versatile as self-hosted. | You'll need to find a host, and perform backups and maintenance yourself. We offer VaultPress for security and backups. |
| Choose from hundreds of beautiful themes. Make it your own with Custom Design. | Choose and customize any of our hundreds of beautiful themes or install your own custom theme. | Install custom themes. Build your own with PHP and CSS. |
| Integrate your site with Facebook, Twitter, Tumblr, and other social networks. | Sharing functionality is included, be it Facebook, Twitter, Instagram, and other social networks. | Install a plugin, like Jetpack, to enable sharing functionality on your site. |
| Popular features like sharing, stats, comments, and polls are included. There's no need to install plugins. | Popular features like sharing, stats, comments, and polls are included. You can install plugins to extend your site's capabilities (e.g., to create your own WooCommerce store). | Install plugins to extend your site's functionality. |
| Personal support and the WordPress.com forums are always available. | A personal setup session, live chat and email support 24/7/360. | Visit the WordPress.org support forums for assistance. |
| You must register for an account on WordPress.com and abide by our Terms of Service. | You must register for an account on WordPress.com and abide by our Terms of Service. | No registration with WordPress.org is required. |
Table Source: WordPress
As evident from the table above, WordPress.com offers both free and commercial plans that can be chosen as per your needs and business goals. WordPress.org has a more uniform approach and customizability can be achieved here by opting for third party tools and plugins.
Go through the points discussed in the table above and use all the information you gained today, to make your choice. Remember, whatever your choice is, it all boils down to the fact that you are getting the WordPress advantage and you can leverage it to build your online brand and taste success in no time if you move strategically.
Suggested Read: Selling on platforms like Amazon vs setting up your own online store
Build an app for any WordPress website with AppMySite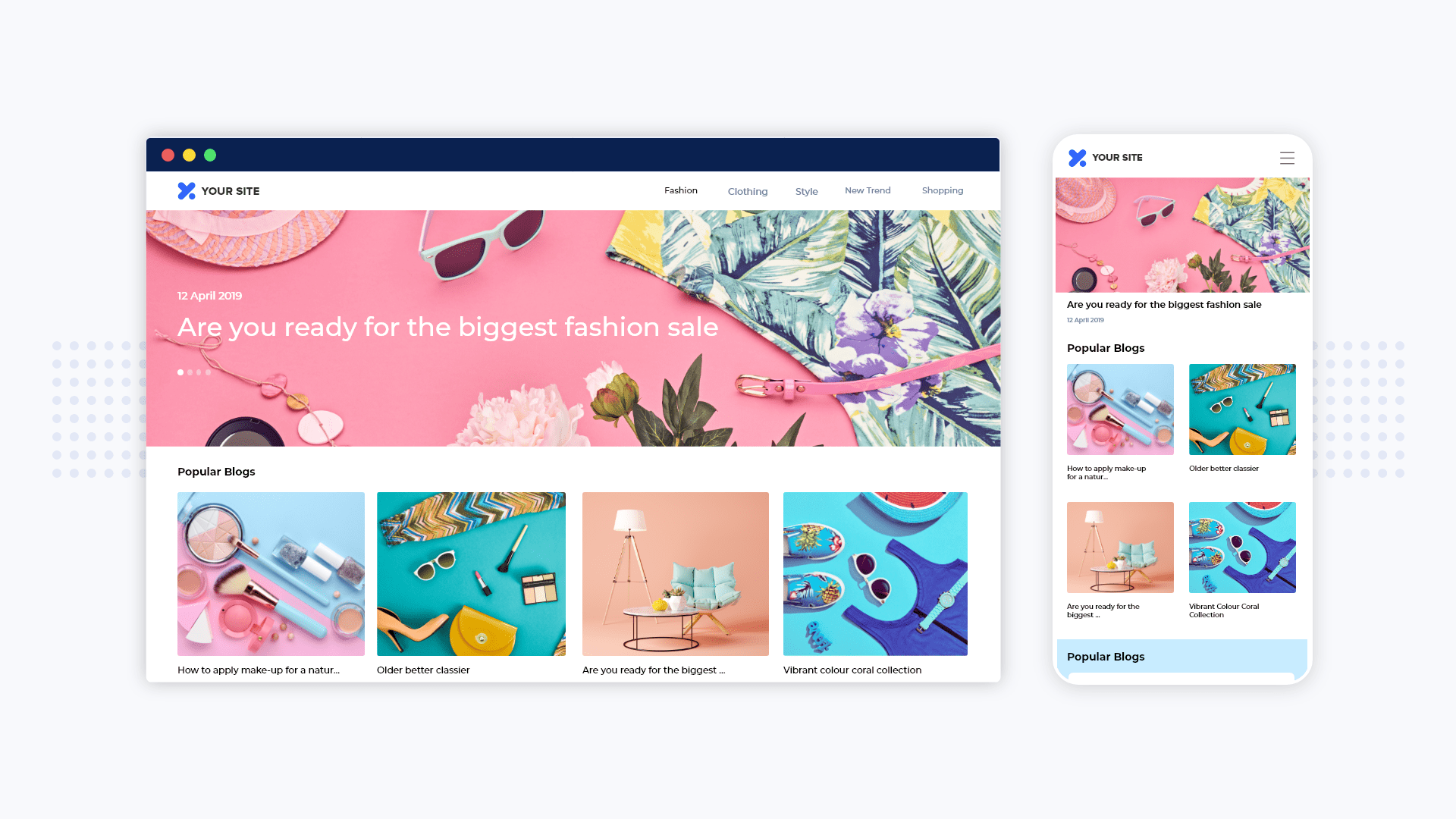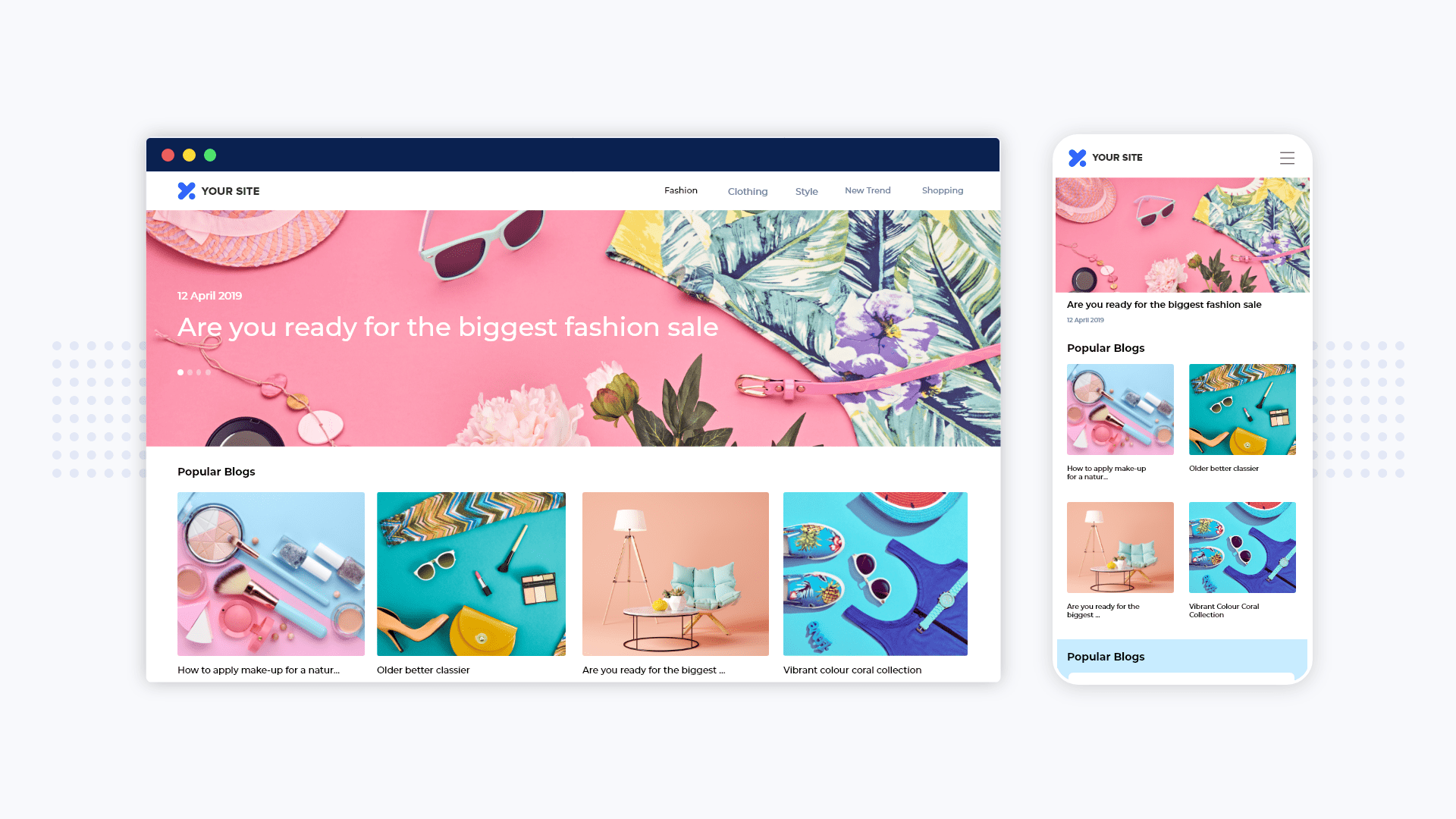 Now that you have cleared all your doubts, go ahead, and make the most of WordPress. Create your own website and shape it as per your business goals. Build a brand online and optimize it to gain better ranks and visibility.
Gain exposure with your website and attract visitors by offering a smooth and frictionless experience. However, do not limit yourself in the online sphere just with a website. Go ahead, and make an app for your business and also tap into the mobile-centric market.
Most of your online customers and shoppers are on mobile phones and you will need an app to reach them and also to inspire your incoming website visitors to turn into loyal consumers. If you are worried about the constraints of budget, time, and other resources, then shed them all.
Go for AppMySite's app builder and create premium apps for your business on an affordable budget. Here, you can create, customize, and test your apps for free without writing a single line of code. It is best suited for WordPress website owners who aspire to give a wholesome experience to their customers.
So, what are you waiting for? Go ahead and sign up for AppMySite's free Android and iOS app maker. Build, design and launch your own apps on Google Play Store or Apple App Store. Enter the mobile industry with a bang and app your way to success.
Images and data from: