Mobile apps have become significant for bringing your potential customers closer and offering them the ease and mobility for effortless access to your products, services, and resources.
In fact, mobile apps have emerged as a full fledged industry. From development to publishing and marketing, there are multiple options available in the market that can help businesses make it big in the mCommerce industry.
However, these options can sometimes get overwhelming and confuse even the experts of the arena. Do not worry! We are here to help you with the same.
As technology is evolving, the mobile app development industry is also changing and becoming advanced and automated. DIY online app builders are challenging the monopoly of custom app development agencies and emerging as the new and modern alternative for code-free app building.
However, different businesses may have different requirements and you must pick the one that incorporates multiple features, benefits and added functionalities. So, stay tuned with us as we will tell you about the best app builder that can address all your concerns and requirements.
Features that make AppMySite the best app creator for all
We understand that the process of getting an app for your business can get really complicated and tedious. Besides, the pandemonium of the market with endless options can only confuse one to an extent of anxiousness.
You may be surrounded with multiple questions and doubts. In fact, different kinds of businesses can have different concerns when it comes to research, planning, budget, implementation, and more.
However, the basic and underlying requirement and goal that remains the same in all cases is a mobile app that complements your website, offers a smooth experience to your users, and also aligns with your varied requirements.
All this can be achieved with just one app builder that has democratized app development and has set new parameters for DIY app builders. Read further and find out how AppMySite offers extensive and dynamic support for all kinds of businesses. Let's begin:
#1: Varied pricing to suit your budget
AppMySite offers the best prices in the industry without compromising in terms of quality and performance. It follows a subscription based pricing model and gives you the freedom to choose between monthly and yearly plans.
Depending upon your targeted audience, you can create apps for only Android users, or both Android and iOS users as per your requirements. The Preview, Starter and Pro plans come with different features and benefits, and you can choose whatever suits you the best.
#2: Easy to use intuitive DIY environment
When we say AppMySite is the easiest and the most suited app builder for all, we absolutely mean it. With this app builder, the power of creating apps comes to your fingertips. The easy to use and intuitive DIY environment makes every step a breeze.
AppMySite is quite dynamic and also comes with an emulator that lets you track every step and every update you make to the app design. As you design and customize the app, you can preview it parallelly. Additionally, it has intensive guides and help resources that you can use and learn how to make an app without coding in an easy and effortless manner.
#3: Web-view to support custom functionalities
AppMySite enables its customers to create native Android and iOS apps as these are the best when it comes to features, functionalities, and performance. You can connect your website and app effortlessly and mirror the data without any hassle.
AppMySite customers can also enable a web-view interface within the app. You can choose to display the entire app or a few sections in web view and render your website within the app. This can also be done to support custom functionalities that may otherwise be limited in native view. In a nutshell, AppMySite supports complete flexibility and customization.
#4: Support for custom post types & taxonomies
In order to facilitate support for different kinds of businesses and brands, AppMySite also supports custom post types and taxonomies that are created by third party plugins. This implies that you can create an app for a website that has custom features. For instance, the list may include apps for dating websites, educational websites, and more.
You can add custom post types to the primary menu of your website and import them to the app. All you have to do is connect your website and app using WordPress Application Password support and add the menu from the website to the app using the setting modules in your account.
#5: Multiple add-ons for more functionalities
We understand that different businesses have different needs and calibers. Some may need assistance with managing apps, some may need help with professional designs, some may need language support while some may have other needs.
Therefore, for such customers, AppMySite has a carefully designed ensemble of the perfect add-ons that serve all such needs and requirements. You can choose from a range of affordable options and add it to your subscription to make it more powerful and dynamic.
#6: Support for your Multisite network
Depending upon the scale, some businesses may have different websites based on the niche, operational location, etc. In this case, one often has to go through the nuances of creating, publishing, and managing different apps for different websites in their WordPress multisite network, but not with AppMySite.
You can create multiple apps and connect them to publish just one app. The multisite feature can be activated as an add-on with your AppMySite account itself. You can read the blog suggested below to learn more about this feature in detail.
Suggested Read: What is multisite: A guide to building a network of websites with WordPress
#7: Affiliate program for all businesses
AppMySite has something in store for all. It is also the perfect platform if you are looking for opportunities to earn some capital for your business development, marketing or otherwise. Apps are the need of the hour and the future of humankind, and you can reap unlimited profits by endorsing the best app builder.
You can join AppMySite's affiliate program and become a brand ambassador. It is absolutely easy to sign up for and manage as you get an automated and dedicated dashboard. Refer AppMySite on your platform and earn endless benefits with the affiliate program.
Bonus: Extensive and ever-evolving Roadmap
AppMySite is highly flexible and evolving to adapt to more & more needs and demands of the customers. It has a promising roadmap that has everything you can ask for in an app builder, and more.
New features and functionalities are being added to the roadmap and pipeline to make AppMySite more adaptable and flexible. You must explore the entire website and make the most of the opportunities coming your way.
Explore it for free now!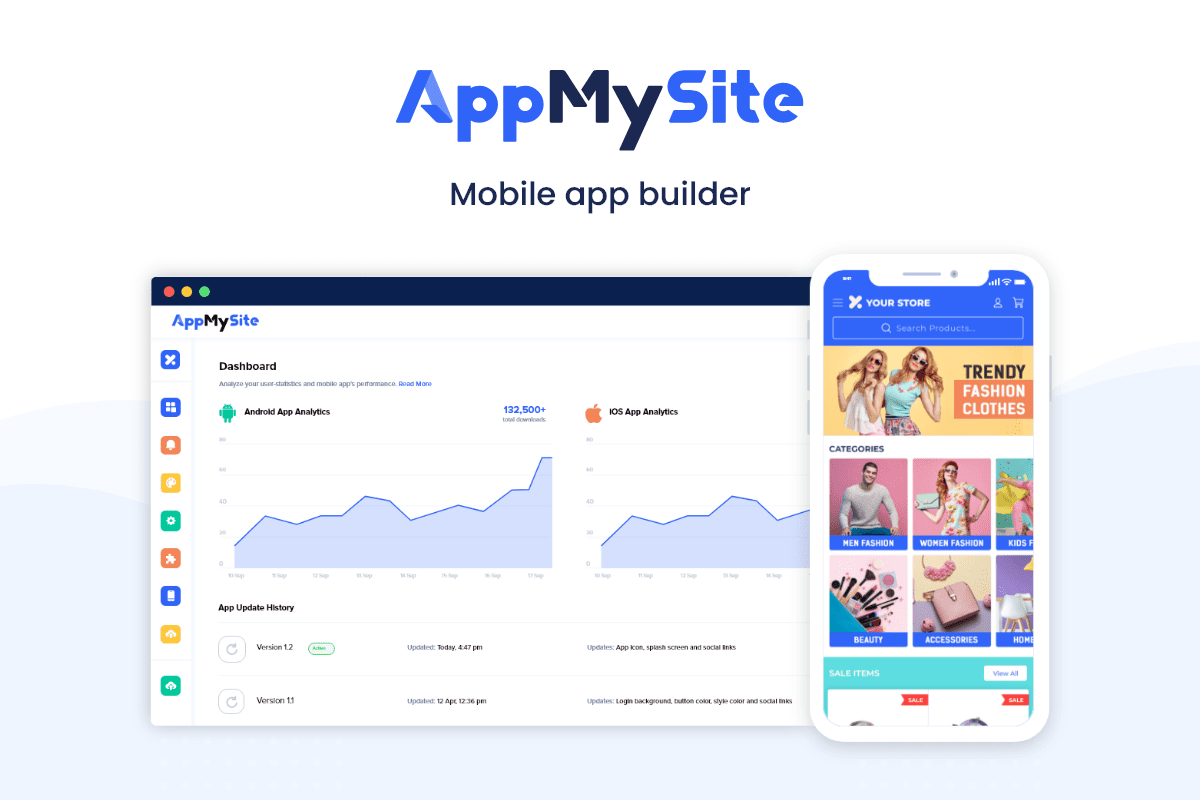 Intrigued with these features? Try our free online app maker and test the waters before you invest in mCommerce. Whether you own a blog, an eCommerce store, or a website merely for your brand discovery, AppMySite's android app maker​ enables you to create an app for the same.
It is the most affordable option available in the market and hence suits all kinds of small stores and businesses as well. It also supports immense scalability and customizability with premium options to take care of your big scale brand and business with a global reach.
Before you invest in your app and launch it on the app stores, you can create and test the app for free. Preview your Android and iOS apps in a real mobile environment and only invest before you publish them on the Google Play Store and Apple App Store.
Go ahead and build a native app and offer the ease and mobility of an app to your customers. Be just a click away from them and increase engagement and conversions. Enter the mCommerce industry with AppMySite and make the most of the opportunities coming your way.