The rise of on demand delivery apps has taken the world of internet by storm. Directly or indirectly, almost all of us have become reliant on these apps.
In fact, ever since it has become easier to convert WooCommerce to mobile apps for Android and iOS, the global approach of businesses towards customers has changed massively.
The technological advancements and proliferation of smartphones have revolutionized the scenario further. People are using their mobile phones for almost every day to day need.
One such increasing consumer tendency is the ordering of essentials like grocery, online. However, just having a website for your grocery store is not enough anymore.
But you do not need to worry! Today, we will tell you how you can build a grocery app to complement your website. Stay tuned and discover the key tricks and tips to success.
Discover what changes with an app
Let us first acquaint you with the benefits of an app like Walmart, as listed below:
Easy order placement: Mobile apps make the process of shopping and order placement more organized, easy and error-free. Customers can order products with the click of an icon and manage it all within the app. E-commerce app development​ is thus a viable option for businesses to grow online.
Better consumer engagement: Apps open many new avenues for businesses and help you with glocalization! It enables you to engage a greater number of customers and also helps in managing and retaining them.
Safer payment and delivery: The onset of the pandemic has made people more cautious and home bound. Apps help you to stay in trend and maintain your growth by enabling safer no-touch payment and delivery options to customers.
Enhanced branding: Building a mobile app also allows you to set up and run a parallel branding and revenue channel. Apps also empower your marketing and customer acquisition initiatives, thereby increasing your revenue and traffic.
Easy data collection: Apps allow brands to gather immediate and accurate data in terms of feedback, ratings, reviews, installations, purchases, etc. Therefore, making data backed decisions becomes easier for businesses.
Suggested Read: Complete Guide on Mobile App Analytics Metrics – Measure your App's Success
List of beneficial features
Scroll through the list of must-have features for your brand and implement them for better performance:
#1: Easy registration and on-boarding
Make the installation and onboarding process simple and hassle-free. Offer multiple registration options including Facebook, Google, Phone and Email.
Endorse your app on your website and also add a prominent app download button. This will help you in harnessing the existing traffic and also earning the new ones.
#2: Product listing & easy search
Add multiple product options with clear images, engaging descriptions, descriptive catalogs, and more. Display each product with accurate details and specifications.
Also add easy search tools and keyword tags. Enable seamless sorting and filtering and help consumers find what they are looking for.
#3: Quick shopping & repeat order
Focus on your USP (Unique Selling Proposition) and build your app around it. Add the features that enable customers to shop easily and quickly on busier days.
Integrate buttons like "Repeat order" and "Checklist" to enable customers to save their grocery shopping list. Let routine buyers retrieve their order history so that they do not miss out on anything.
#4: Personalized recommendations
Personalizing the app experience for your consumers can do wonders for your business. Track their activity and usage pattern to up sell and cross sell other products in your inventory.
Besides suggesting products, you can also curate and customize discounts, deals, offers, reward programs, and more, based on the activity of the users. This will give a boost to your conversions and repeat sales.
#5: Contact less payment
Cash on delivery is certainly a must-have option for any app. But with the changing times, the spectrum of payment for online businesses has also expanded.
So, integrate multiple payment gateways and enable contact less payments for your buyers. Look out for the popular payment methods and list them on your website and app.
#6: Discounts and rewards
Discounts and rewards can turn buyers into loyal customers and increase conversions and basket size. Keep updating your deals and discount strategy from time to time.
Enable customers to apply the discounts, referral rewards, coupons, etc., at the time of checkout. Make the process effortless and enjoyable to keep them coming back for more.
#7: Push notifications and reminders
Communication can strengthen your brand and give a new life to the business-customer relationship. It can also increase the 'Average Order Value' of your regular customers.
Tempt them to shop more frequently with you by staying in regular touch. Send push notifications and reminders telling them about season sales, special deals, discounts, etc.
Suggested Read: How to get 10000+ app downloads in the first month – Launch like a boss!
Build a premium grocery shopping app now!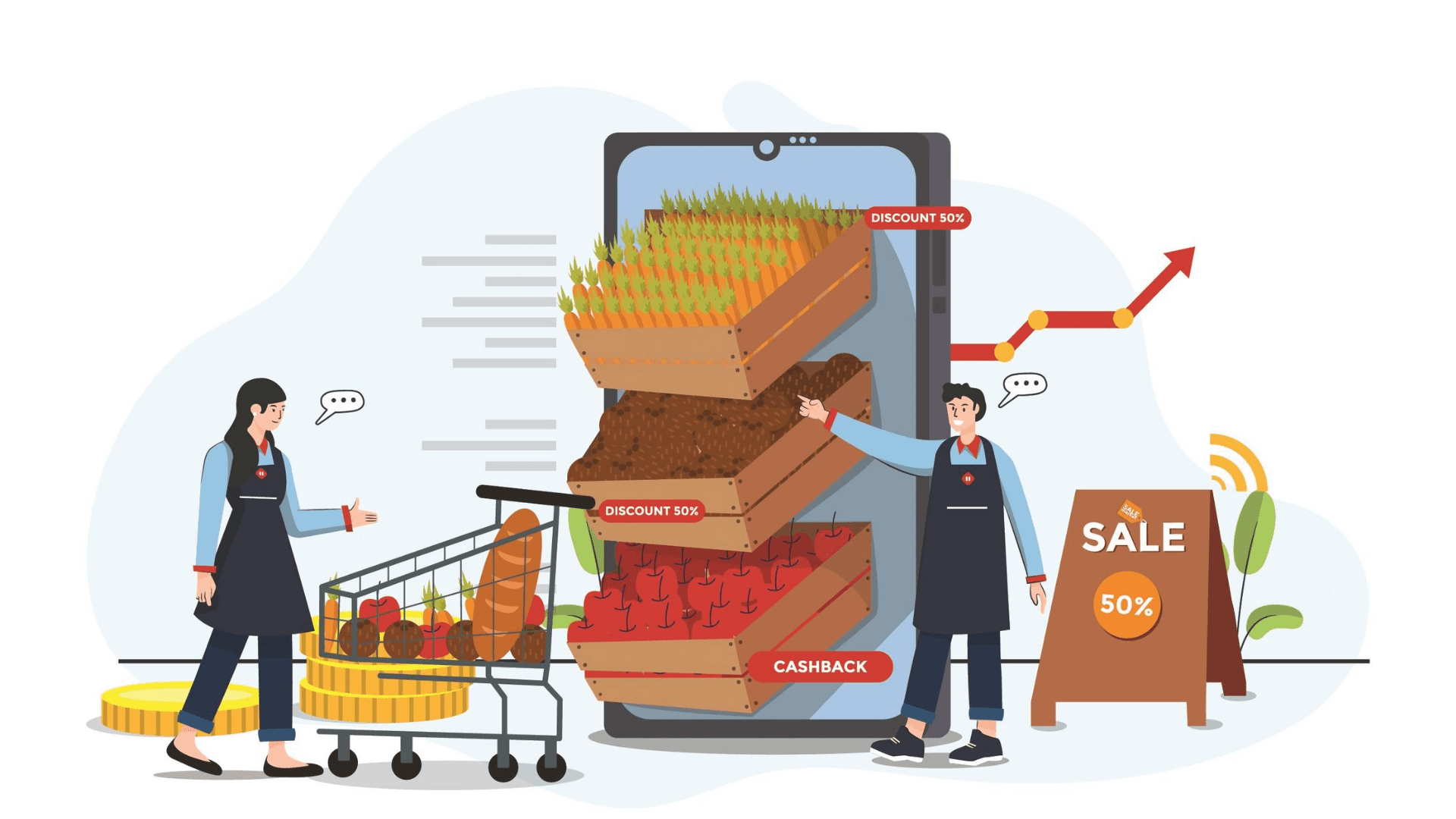 This was our brief guide for grocery business owners who are willing to enter the app market. It is now high time to set your feet in the world of mobile business and grow your online brand manifold.
It has become easier to build apps with online app creators without coding. In the age of DIY app builders one can easily create and customize their own Android and iOS apps without any hassle.
What are you waiting for? Sign up for AppMySite grocery store app builder and create a high performing native app. It is the best app building solution that is also affordable and easy on your pocket.
So, wonder no more! Build an app and set on a new and rewarding journey. Claim your space in the mobile app industry and rule it! Get, set, grow!