Mobile apps have added more panache to the already fascinating world of technical advancements. With the growing number of mobile phone users, e-commerce is getting upgraded to m-commerce as mobile apps are becoming a better alternative to websites.
People all across the globe are gaining more ground for their business by complementing their website with mobile apps. With affordable and convenient WooCommerce mobile app builder tools available online, converting your retail website into a mobile app has become a cakewalk.
It is not just fashion, clothing or grocery stores that are doing well online. People are bringing any and every product they sell to apps, for absolute success. Furniture selling, buying and renting on apps has also gained immense popularity in the recent times. Read further and know how you can reinvent your furniture store with a mobile app.
Mobile apps – the future of furniture stores
Whether you sell furniture for homes or for offices, modern or antique, sectionals or recliners or cater to urban consumers or semi-urban customers, an app can do wonders for your business.
Though the competition is increasing with multiple apps already existing on the app stores, there is ample scope of success for your furniture store as well. The living standards of people is enhancing day by day and more people want to add the elegance of cosy yet stylish furniture to their homes and commercial buildings.
People spend more time and money on apps due to the ease and convenience of access. The conversion rate is better and apps are expected to generate more revenue in the coming years. By getting an app for your customers, you can retain the old ones and also unlock new and potential buyers. However, before proceeding ahead, keep the following things in mind:
Research –

It is the most crucial aspect of any business model. Study the market trends, determine target audience, fathom your budget, discuss ideas and build a plan for step by step execution before investing in an app.
Creation –

Now that you have set your modus operandi, it's time to look for the app builders. You can ditch the conventional methods that make you hire technicians, spend fortunes and yet wait for ages. Instead, create app using DIY app builder tools to save time and money.
Publicity –

Once you are done with app creation, go ahead and promote it well on specified forums. You can opt for App Store Optimization and use the various promotional techniques like Social Media Marketing, Influencer Marketing and more to fetch the initial downloads.
Must-have features for your furniture app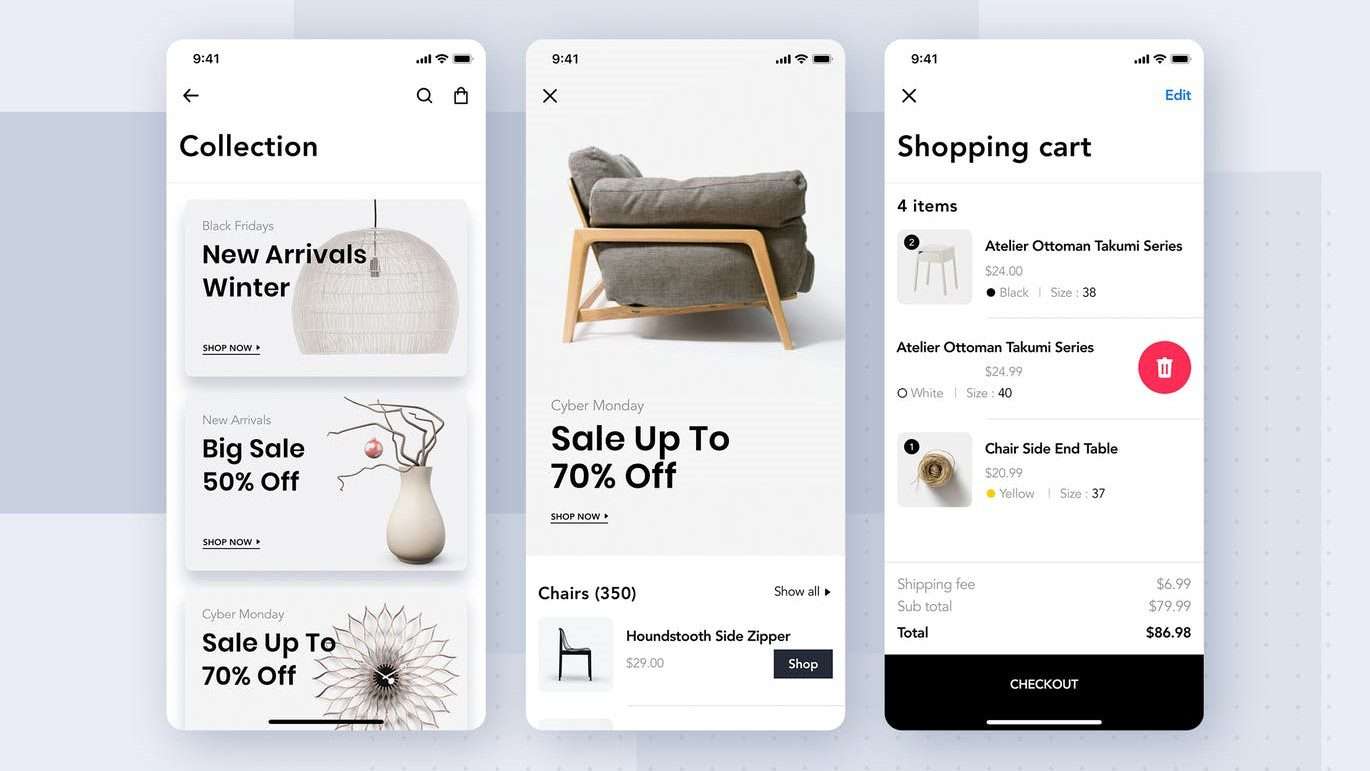 Now that you have the strategy for building your app, you should be aware of the features that you should integrate. Ensure the things discussed below:
1. Native App: Get a native app each for Android & iOS users. Native app is better than the other types of apps in terms of performance and abilities. It can use the resources of the device completely and perform well.
2. UI/UX: Ensure that your app has amazing user interface to offer unrivalled experience to your customers. The colour schemes, app pages, buttons and menus should be easy on the user's senses and custom-fit to suit all devices and backgrounds.
3. Design & Layout: The app should reflect the identity of your brand. The design, layout, graphic and content should all be coherent and have a personalised appeal. It should boost your brand recall value and compel people to shop more.
4. Smart sorting: The app should be brainy & intuitive and facilitate smart searching, sorting and filtering to fetch people what they want. Make their shopping easy and seamless and keep them coming back for more.
5. Easy Checkout: The cart should be efficient and checkout process should be easy. The payment gateways on your websites should be retained to offer multiple payment options.
6. Efficient Dashboard: The app should be easily manageable and productive for you. Get an app with efficient dashboard and smart analytics tools to get a detailed and periodic insight into your app's performance.
7. Content Marketing Support: Good content can help boost your ranking on app stores and fetch more downloads. Get an app builder with CMS integration feature and an in-built dashboard for creating and managing push notifications.
How to create app: Step by step guide
AppMySite WooCommerce mobile app builder offers all the features discussed above. The wide range of add on products like White labelled solution, App Store Migration and App Store Optimization, including thorough consumer support, further enhance and simplify the app building process and make it a cakewalk.
Just go through the following steps to create the best modern furniture app for your store:
1) Sign Up: Open the website and enter your details to register and sign up. Enter the name, basic details and the link of your website. Once you are done with the registration, proceed towards app creation and publishing.
2) Design & Personalize: Design the app icon, splash screen, landing pages and banners. Use the intuitive dashboard to add products, buttons, categories and more. Integrate your social media pages and retain the payment gateways and other data present on your website.
3) Preview & Publish: AppMySite ensures full value for money and lets you preview and test your app on a real device. You can upgrade and publish your app on Google Play Store &/or Apple App Store once you are satisfied with the first-hand experience.
From furniture to grocery ordering app development, AppMySite is the ideal solution for building apps without coding.
Claim your territory now
To conquer your space in the rapidly revolutionizing world of m-commerce, you must complement your website with an app. AppMySite free app maker can help you make the most of this opportunity and add a new dynamic to your business.
It allows you to create a fully functional app that boosts conversions. Create an app from the website for your WooCommerce furniture store and set afoot on the road to success.
Build a consumer-friendly native mobile app and take your furniture business to new heights. Get going now!