Software technologies are evolving at a rapid pace. The development of different kinds of software, especially websites and apps has become more feasible and way easier than what it was a few years ago. This change is happening due to the proliferation of low-code and no-code development platforms.
These platforms are changing the notion that only professional coders and technical experts can achieve development of certain software and one has to rely on them for fulfilling their development projects and building their technical infrastructure. From website builders to free app creators, low-code and no-code development technology is everywhere.
Today, we are here to discuss the market share, scope and statistics of the low-code and no-code development platforms. So, let's discover some essential facts related to the same and understand the market for low-code and no-code better.
In this blog
What are low-code & no-code development platforms?
The terms low-code and no-code are often used together and are abbreviated as LCNC (Low-Code & No-Code). Such tools and platforms running on low-code and no-code technology eliminate the need for intensive technical coding and simplify development.
The LCNC platforms often come with visual development tools and a drag and drop interface, thereby streamlining the process and making it easier, faster, and more affordable while reducing the dependency on IT professionals, companies, and agencies in general.
The demand for business digitization and automation of workflows, increasing demand for websites & apps and other technical resources & infrastructure, and several other related factors are also creating the need for alternatives to custom development which is being sufficed by LCNC platforms.
Differences between low-code & no-code platforms
Despite being used together, low-code and no-code platforms actually differ in their approach. While low-code platforms still require or allow some amount of coding-knowledge and effort, no-code platforms totally eliminate the need for any kind of coding.
Let us understand this with examples. Platforms like WordPress enable you to create a website from scratch. While you can implement endless functionalities and features on WordPress without coding, professional coders can still achieve high levels of customization by using the backend to write and edit codes.
Contrary to the example above, there are tools like AppMySite that offer a completely code-free environment where each and every feature can be accessed and implemented without writing a single line of code. These tools can turn out to be more reliable, more affordable, and faster than custom and even low-code solutions.
For instance, if we consider the price of app development, custom app development may cost somewhere around USD 300,000 per year, low-code app development may cost somewhere around USD 5000 per year and code-free app development may traditionally cost less than USD 1000 per year.
This is just one example. You can read our blog suggested below and learn more about the differences between low-code and no-code platforms. This will help you understand the low-code and no-code market even better.
Read in detail: What are the differences between low-code and no-code platforms?
Note: The terms low-code and no-code are often used together or interchangeably in some reports and studies. Hence, the facts and data represented below may correspond to either or both of the development techniques, technologies, and platforms.
Low-code & No-code development: A market overview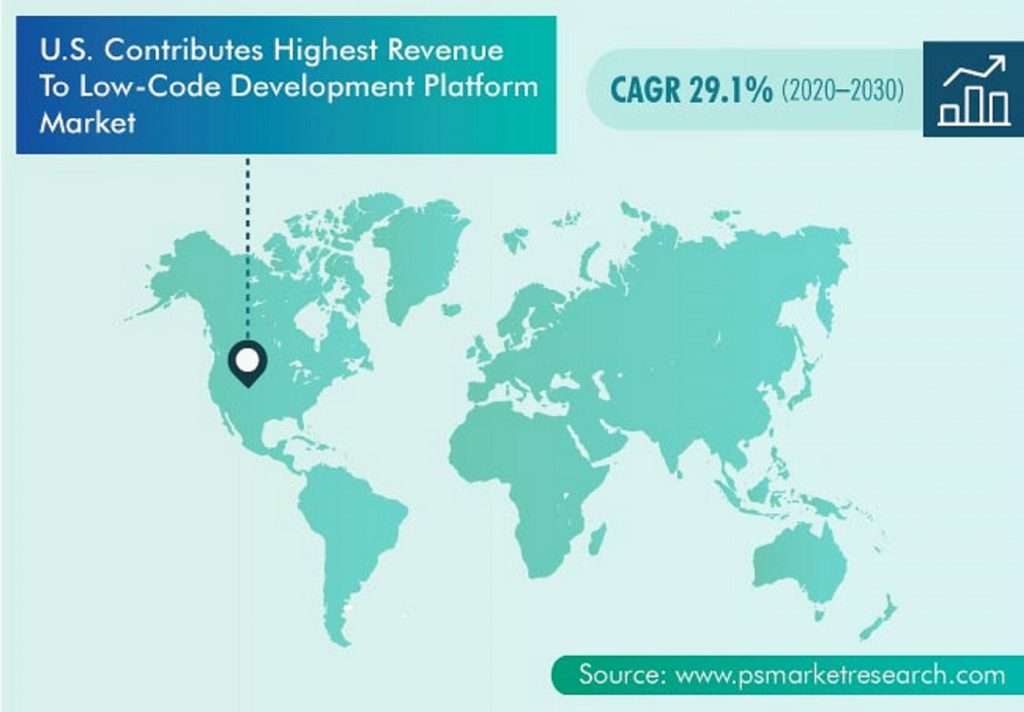 Gartner is a management consulting company based in Connecticut that conducts research on technology under its extension "Gartner Magic Quadrant". According to the firm, "Low-code application platforms will be used for 65% of all application development activity by 2024."
This report alone is enough to highlight the growing influence of low-code and no-code development technologies all across the world. While almost the entire world is adopting the code-free approach, countries like the US and India are doing it more profusely.
It indicates that the world is rapidly moving towards low-code and no-code alternatives and soon around three-fourth of the market will be ruled by such platforms and solutions. This goes on to underline the importance of code-free technologies across verticals.
Low-code & no-code development: Key statistics & facts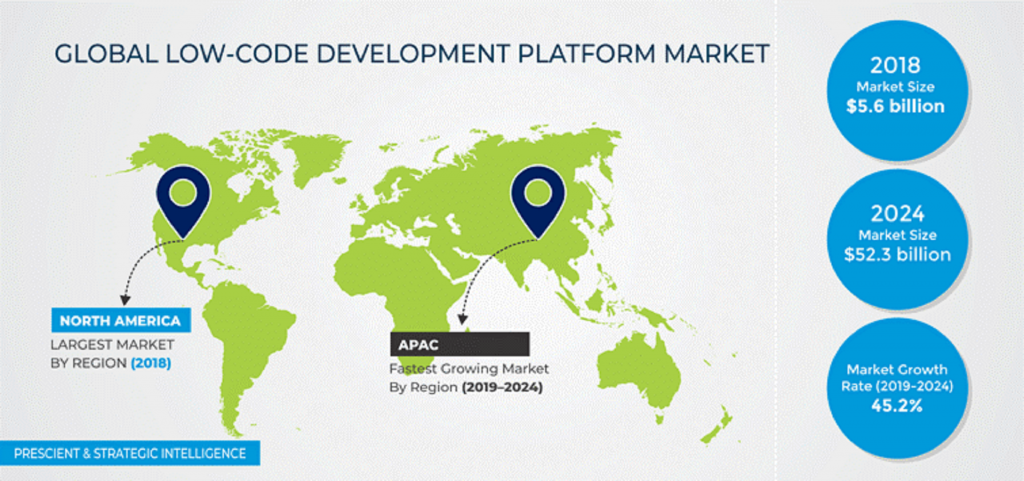 As discussed above, the low-code & no-code industry is expanding at a fast pace. Let us go through some significant facts and statistics that highlight its importance and give us an in-depth understanding of the market:
These are some of the many interesting facts that underline the importance of low-code & no-code development platforms. Explore the below sections and discover some more interesting facts to understand the picture better.
Countries embracing the low-code & no-code technology
While the low-code and no-code technologies are being embraced across the world, the key players happen to be US and APAC countries among the five major classifications viz., North America, South America, Europe, Asia Pacific, Middle East & Africa.
North America earns the highest share as US is the biggest market of LCNC platforms. In fact, reports suggest that 77% of US companies are implementing low-code platforms and three out of five employees are using them to build apps.
Asia Pacific is giving a tough competition to North America as the countries here are rapidly adopting LCNC solutions. As per the 2020 Software Survey of Asia Pacific, more than 50% of the region's top executives are confident in implementing such technologies across their organizations. For instance, as per a Nasscom report, India's low-code & no-code market stands at USD 400 million, and it can reach up to USD 4 billion by 2025.
Other countries like the United Kingdom, Germany, Russia, Canada, Australia, South Africa, Turkey, etc., are also embracing low-code & no-code development technologies and platforms. These facts clearly indicate that the world now wants to break-free from custom app development techniques and adopt alternatives.
Industries adopting the low-code & no-code technology
Almost every industry is adopting low-code & no-code technology. This can be credited to the rise in demand for technical tools and infrastructure like websites, mobile applications, desktop applications, etc.
Whatever the need, goal or requirement may be, businesses across verticals are using platforms and services that are offering low-code or code-free development solutions. This is happening all around the world in almost every major country on the globe.
Besides having a high-demand of the services in the IT (Information Technology) industry that captures the largest market share of the low-code & no-code industry and needs to meet the volatile and rapidly growing demands of technical services, the technology is also being used in other less-technically intensive industries.
This includes sectors like Government & Defense; Banking & Finance; Telecom; eCommerce; Healthcare; Media & PR; Education; Entertainment, among other examples. In fact, industries like Banking & Finance, that deal with data handling, processing & security, are using such services on a huge scale.
Low-code and no-code technology is helping businesses in expediting their services, automating workflows, streamlining customer services, and in reaching several other goals in a faster and more affordable eco-system that facilitates easy development.
Growth projections of the low-code & no-code industry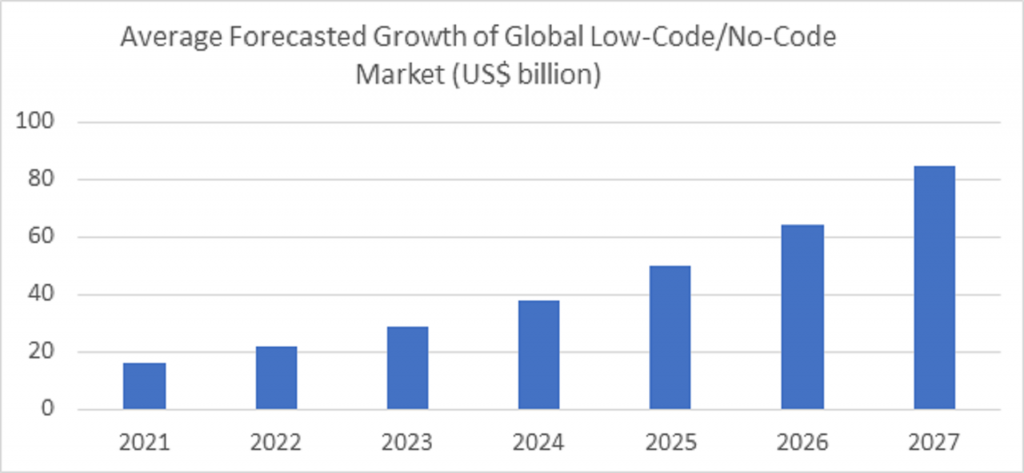 LCNC is a huge industry. Several low-code and no-code platforms have emerged over the years and are revolutionizing and democratizing the industry for the good. It is growing and expanding at a fast and continuous pace and there is ample data to back this growth and projected expansion in the coming years.
As per reports, the global no-code development platforms market was valued at USD 12.17 billion in the year 2020. According to Statista, the global low-code platform market is forecast to amount to approximately USD 65 billion by 2027.
Some research platforms like Fortune Business Insights also placed the low-code development market value at USD 10.82 billion in the year 2020. As per the platform, the global low-code development platform market is projected to grow from USD 13.89 billion in 2021 to USD 94.75 billion by 2028.
This rate of growth indicates a CAGR (Compound Annual Growth Rate) of 20 to 30%, thereby underlining the fact that the low-code and no-code industry is growing at a rapid pace. APAC countries (countries part of the Asia-Pacific region) are recording the fastest growth in the LCNC development sector. The demand for development is also high in these countries and there is a rise in need for faster and more affordable technologies like low-code and no-code.
All these facts collectively indicate that the low-code and no-code industry is constantly growing and expanding, and it will ultimately shape the future of development. In fact, LCNC platforms can widely take over development in the coming years.
AppMySite: The ultimate no-code app development platform
Website and app development are two of the most sought-after solutions in the age of the internet and smartphones. While website development has become easier and affordable with platforms like WordPress, Shopify, Wix, etc., there are platforms like AppMySite that are doing the same for apps.
AppMySite is a code-free app builder that takes care of all your app development needs under one roof. It is not a low-code, but a truly no-code app builder that lets you create your own apps in an absolutely easy and DIY (Do it Yourself) environment.
Here, you can create apps for any website and enrich it with world-class features. You can also enjoy full freedom and customization and design your apps the way you want. You can also get the benefit of deep integration for WordPress & WooCommerce apps and build premium-looking & high-performing mobile apps.
The best thing is that you can experience the platform for free and enjoy building your mobile apps without any upfront payment. You can also preview and test the apps and only pay for them once you fully commit to what you've built.
Suggested Read: Latest WordPress market share data & statistics
FAQs
Let us explore some of the common questions related to low-code & no-code development and get answers to those queries:
Q1: Is no–code development the same as low-code development?
The terms no-code and low-code are often used together and are written as LCNC on many platforms. However, the two can also be used in isolation as they are unique in their approach. Low-code still has some need or scope for coding, whereas a no-code platform should ideally be totally code-free in its approach.
Q2: How is LCNC better than custom development?
Low-code and no-code development platforms can help you attain your development goals faster. As compared to custom development, these platforms are also quite affordable and often utilize fewer resources.
Q3: What are the driving forces leading to the popularity of LCNC platforms?
The demands for less TAT (turnaround time), faster deployment, affordable alternatives, less dependency on IT firms & professionals, etc., are some of the many factors contributing to the rise in demand for low-code and no-code solutions.
Q4: Which are the biggest and the fastest growing markets for LCNC?
North America is the biggest and APAC (Asia-Pacific) region is the fastest-growing low-code & no-code market.
Q5: Can I create websites and apps with LCNC tools?
Yes, you can. You can use a beginner-friendly low-code platform like WordPress and Shopify to create your websites. You can also turn these websites into apps with a code-free app builder like AppMySite.
Q6: Who are the key-players of the LCNC industry?
There are several players in the low-code & no-code industry. This includes names like Appian, Microsoft, Zoho, AppMySite, Salesforce, Oracle, among several others.
Have more doubts & queries? Drop your questions in the comment section below and we will answer them. You can also go through the other blogs by AppMySite and learn a lot about different techniques of mobile app development, marketing, monetization, and more.