Mobile gaming has seen an exponential growth in the recent years. Games like Clash of Clans, PUBG, Candy Crush and so many more, have brought in a revolution in the mobile gaming industry.
Mobile gaming has observed growth in leaps and bounds and has garnered many eyeballs across the globe. This industry is now being heavily funded by giants which further validates that mobile gaming is the next big thing!
Mobile app gaming is multi-billion global business
The global mobile gaming app industry market already touched the $152 billion valuation in 2019 and is expected to reach $166 billion in 2020.
Mobile games revenues are already holding a market share of 57% in 2020 with a 25% share of console games and 24% PC games.
This industry is already the biggest shareholder in the gaming industry and these stats are only expected to grow in the coming future. There has been an exponential increase in openings for game developer jobs, a natural consequence of gaming becoming a huge vertical in itself.
This makes launching a mobile app for your game, or a mobile version of your console game a very intelligent decision for the overall growth and revenue for your gaming studio.
Other monetizable avenues
This growth has brought upon many opportunities for businesses, especially online businesses to bloom. This along with the rapid growth in the mobile app market brings forth unique opportunities.
There are many blogs and news websites that cover this niche market can capitalize on this opportunity by converting their WordPress gaming blogs into a mobile app.
Even the online stores that sell games, gaming consoles and related accessories can also leverage this opportunity to scale their business by launching a WooCommerce mobile app for their brand. The same applies for similar online gaming shops built with Shopify. These businesses can create an app for their Shopify store and benefit the same way.
Some of the many ways how game studios can monetize their mobile games
Organizing game competition and events
In-app advertisements
In-app purchases
Premium versions
Rewarded video
Offer Walls
Are mobile games killing the demand for PC games?
The answer is both yes and no. While mobile app gaming is seeing a major surge in its market, the PC and other platform games are also growing.
While the stats do show us that mobile gaming has acquired more than 50% of the market, but since the growth is being experienced by the complete gaming industry, the market of the PC and other platforms will also grow.
In other words, while mobile app gaming takes up the biggest piece of the pie, but the size of the pie is also growing at a rapid scale.
There will certainly be many new advancements in the PC and platform games, especially with the upcoming launch of the most awaited PlayStation 5.
Upcoming Trends in Mobile Gaming
This decade will see many ground-breaking revolutions in mobile app gaming and will prove to be a game-changer in the industry.
Let us explore some of them below.
Augmented Reality
In 2018 Google launched their ARCore platform, that helps build, launch and play Augmented Reality-powered mobile apps on Android.
On the other hand, Apple is all set to launch the ARKit, the biggest AR platform in the world.
This only means that building and launching AR games on mobile apps has never been easier. This will result in more and more AR games on mobile platforms in the near future.
Pokémon GO is one such Augmented Reality mobile game that went viral on its launch and has set a benchmark in its niche.
Cross-Platform Gaming
You can see many games launching their games on multiple platforms. And this is resulting in massive growths of their market, especially for the games coming from PC and platforms to mobile.
Since the mobile gaming market is the biggest, this will bring in more and more popular games to the mobile platforms.
More Hyper Casual Games
Hyper casual games have seen extreme popularity across the globe in all age groups. These are games like Candy Crush, Flappy Bird, Ludo king, and many more.
2020 will see many more hyper-casual games release on the app stores. With new and improved storylines and gameplays.
Hyper casual games are lightweight and easily accepted by all demographics, which is why they have a higher likelihood of virality and popularity.
Blockchain Games
Blockchain technology has transformed many industries and the gaming industry is no one of them. With Ubisoft, a French gaming giant famous for gaming franchises like Assassin's Creed and Far Cry, adopting blockchain, many more studios are set to follow suit.
Blockchain in video games simply implies that it'll support issuing and transacting cryptocurrencies within the game itself.
This introduces a game token, which is a single currency that is used for trading any items with the game. While we have not seen major mobile games with blockchain technology but it is most likely that we will in the near future.
5G
Finally, the biggest revolution of them all, the 5G technology. 5G has been long-awaited and is finally set to arrive in the market in 2020.
With the enhanced download and upload speeds and better connectivity, people will be able to play even high-end games on their mobile phones easily.
This will not only improve the gameplays but will also bring in more new players into the market and will result in the overall growth of the industry.
Some benefits of mobile gaming for gamers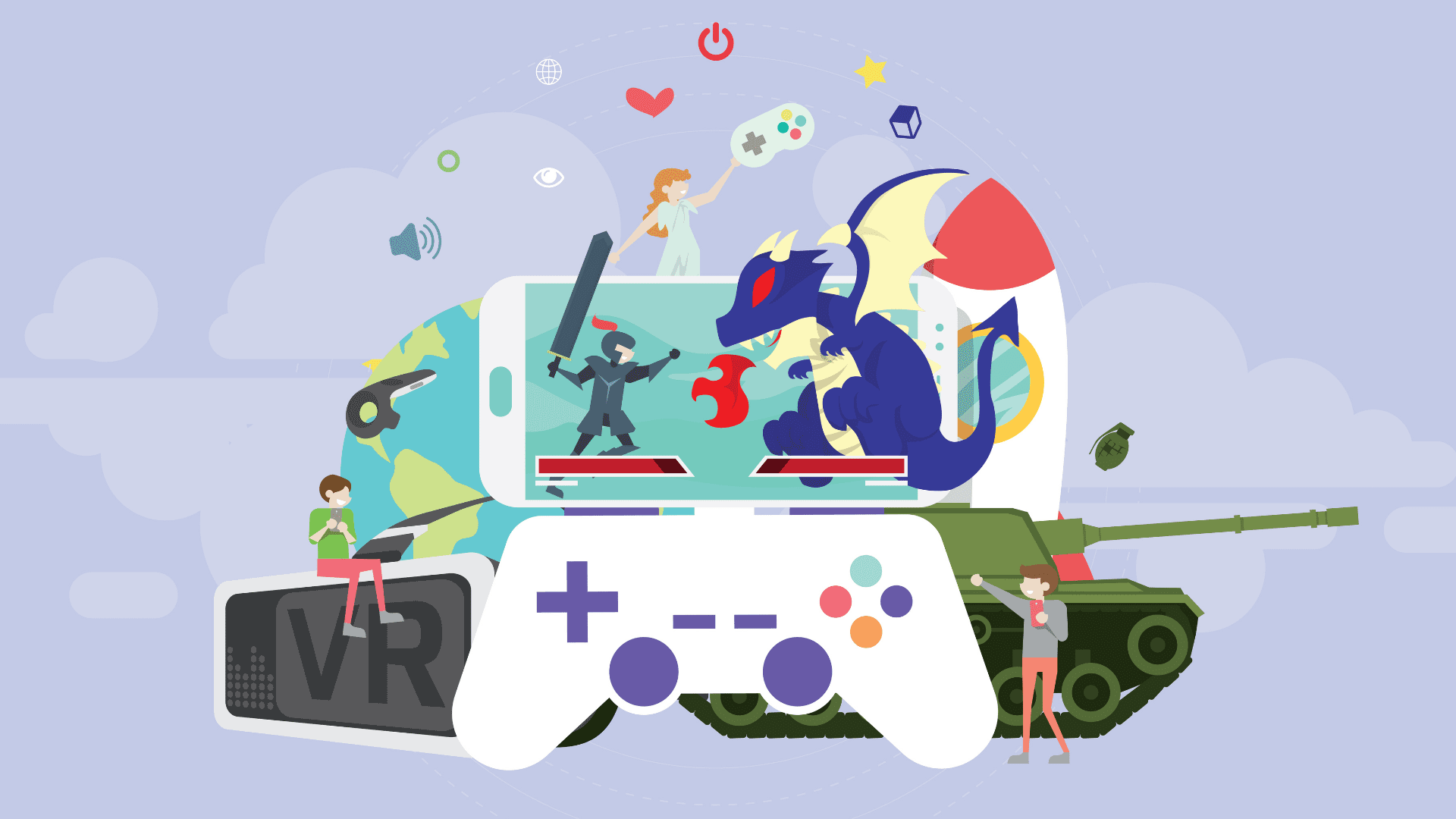 Contrary to popular belief, the advantages of playing video games are immense and the gamers reap many benefits from it. Let us explore a few of the many benefits.
#1 – Convenience & Affordability
The thing with high-end games is that they are neither easily accessible nor are they affordable. There are multiple prerequisites to play a good quality game.
You need a high-performance computer system or a gaming console like the PlayStation or the Xbox connected to a TV or a monitor. Both of which require heavy investments.
On the other hand, mobile gaming is convenient and affordable simultaneously. You can play it anywhere and at any time.
Mostly all games on the mobile platforms are free to play, with some having in-app purchases. With technological advancements, especially in the domain of wireless internet, it has become very easy for anyone to play even online games and engage with other players in multiplayer modes.
#2 – Cognitive Skills
Playing games and sports improves many cognitive skills for humans and the same is applicable to mobile games as well.
Some of the many cognitive skills that mobile games help improve are listed below.
Hand-eye coordination
Problem-solving skills
Effective communication and leadership skills
Creativity and many more
#3 – Community
The mobile gaming community is a very strongly knit community and has been on the rise since the emergence of many revolutionary mobile games like PUBG & Sky Force.
This community not only helps each other out with the gameplay but also in all other fronts, like creating clans, competition opportunities, monetization and much more.
#4 – Monetization
Mobile games are not only easily accessible by players but also have found a huge audience of viewers.
Video games have a cult following, just like sports and mobile games are no exception. Many people have made professional gaming their careers and are quite successful in it.
There are two types of gamers, one who is skilled and compete. Then the others are commentators, who stream their gameplays and their presentation skills get them the monetizable audience that they seek.
Some of the many ways for gamers to earn through mobile games are listed below.
Streaming, commentary, and reporting
Game competitions on regional, national and international levels
Affiliate marketing
Conclusion
To summarize, we discussed various aspects of mobile gaming and why it is a smart choice for any game studio to launch a mobile version for their game.
We also discussed some benefits of mobile gaming for your audience, which can be leveraged to your advantage.
To conclude, we would like to say that mobile app gaming is an up and coming industry and has immense potential for the growth of both studios, game designers and developers, and gamers alike.