The consumerization of technology has opened new horizons for businesses and consumers equally. Easy access and availability of internet has raised the bar for businesses and given ample growth and expansion opportunities to each and every brand, organization and even to individuals.
The internet is full of immense possibilities where there is something for everyone. It is not just eCommerce business owners that have an audience and a market online. Even bloggers, educators, entertainers, and content creators have harnessed the online market to grow their brand.
In fact, websites and apps are the best marketplace for such creators who unlike store owners, cannot sell their commodities in outlets and shops. Therefore, if you have decided to flaunt your skills online and created a website for the same, then kudos for your effort. If not, go to WordPress and get started. Read our blog suggested below to get some help.
Suggested Read: How to make your WordPress blog a success?
Now that you have a website, you should continue to expand and raise the bar. The first step you can take towards this expansion is to turn WordPress to app. Mobile apps are the need of the present and future and in order to be prepared for both, you must have a robust mCommerce infrastructure.
Today, we will tell you all about it in detail. So, stay tuned and discover the importance of building a website for your app. Also learn about some must-have features that you can get included in the app in order to match the trends of this year and beyond. Let's begin!
Know why every blogger needs an app in 2023
Before we tell you about the significant features, let us first find out about the importance of apps for bloggers in the current scenario. Explore the points listed below and learn about it:
#1: Apps offer ease of accessibility & convenience
Are you reading this article on a mobile phone? Would you prefer to read your favorite writers on an easily accessible app over a website? If you have answered even one of the questions with a yes, you have established the importance of apps yourself. Mobile apps ensure more convenience, that makes them a more viable option.
Content and resources remain just a click away on mobile apps. Unlike websites, users do not need to open a search engine and hunt for their desired platform or content every time they need to discover something. This proximity and ease of access inspires more activity and prevents users from abandoning the platform or migrating to competitor platforms.
#2: Mobile apps inspire longer session time
One of the biggest benefits of mobile apps is that people tend to spend more time on them. We launch multiple apps on our phones everyday and look for more convenient options than websites. This leads to longer usage hours on apps as compared to websites.
In fact, statistics also show that most people prefer scrolling through apps over websites. The average session duration of customers on websites is 2 to 3 minutes, whereas the average session duration of mobile phone users is around 5 to 7 minutes. Clearly, your potential readers and customers like to spend more time on mobile phones and apps.
#3: Marketing endeavors get more attention on apps
Ever since the proliferation of mobile apps has taken place, the online marketing and advertisement industry has also evolved a great deal. This is so because apps get more attention and hence every ad has a better chance of conversion on an app.
As bloggers often get the opportunity to boost their revenue with ads and promotions, they must create an app to amplify their profits. You can also run your own campaigns and send push notifications to your users for more impact.
#4: Brand messages create more impact on apps
Mobile apps bridge the gap between you and your targeted audience. This also ensures that the messages that you create for them, gets conveyed more effectively with minimal entropy, noise or loss that are common on websites.
As a result, your branding gets a boost if you have a robust website and an equally powerful mobile app. While the website will gain the exposure and secure rankings and visibility on search engines, the mobile app will give easy access to your regular and returning audience, and build your brand image.
#5: Statistics show that apps are more powerful
Recent research initiatives, studies, surveys and all such similar assessments together hint at the power and impact of mobile apps over websites. Apps stand as the clear winner in most cases leaving websites far behind on many metrics.
In fact, statistics also show that people spend 90 per cent of their time on mobile apps and only ten per cent of their online usage time is spent on other kinds of web platforms. Stats also prove that a greater number of netizens prefer mobile apps over websites. For instance, you can read the blog suggested below and discover some more stats about the importance of apps for any business.
Suggested Read: 10 statistics that show why you should create an app for your business
7 must-have features in your blogging app
Now that you are aware of the significance of mobile apps for your blogging platforms, let us cut to the chase and tell you about some of the features that you should ensure in your app.
The features for a blogging app that can keep you trending in 2023 and beyond are as follows:
#1: Multi-channel login support
Online consumers have become smart, demanding, and evolved with time. They desire ample options, convenience, and security from the platform that they invest their time, effort and resources in.
Therefore, if you want to stay in the industry and claim your space, then you must live up to their expectations while making their end to end experience smooth and frictionless.
This can begin with offering them a smooth and dynamic onboarding experience. One key feature to ensure the same is multi-channel login support. Some users prefer logging in with their email id while others may want to use their social media accounts.
In fact, you may also get some consumers who may desire to browse the app as guest users. Therefore, your app should offer them all of these onboarding methods and they should get the convenience of logging in the way they want to.
#2: Reader-friendly interface
The app interface plays a huge role in captivating the attention of your users and keeping them hooked to the app. Therefore, the interface should be designed in such a manner that users do not feel lost in the app.
The app design, screen aesthetics, buttons, menu, etc., should all paint a coherent picture together. In fact, if you have a website that is already popular among your visitors, then the theme of your app can complement the theme of your website.
This uniformity will impart a sense of ease to your users, and it will be easier for them to grasp the content without any friction. To ensure the same, you can build your app using a tool that enables you to customize the app in the way you want to.
#3: User-friendly navigation
The navigation of your app determines how the users will interact with your app and how easily they will reach from point A to point B in the app. In a nutshell, the rate of conversions and success of your app depends a lot on the navigation experience.
The demand for frictionless, smooth, and dynamic navigation is only going to increase in the second half of this year and the coming years as well. The hamburger menu and bottom navigation bar menu are likely to remain the two most popular styles of navigation menu in the coming days as well.
Therefore, you must have an app that adheres to these qualities and offers a smooth navigable app environment to your users. You can also get an app that has native functionality but also ensures web-view support for selected sections. This will make the in-app navigation more user-friendly and less complex.
Suggested Read: Bottom navigation bar in mobile apps: Here's all you need to know
#4: Multi language support
Language plays a significant role in bridging the gaps between brands and consumers. It makes your platform more user-friendly and gives a boost to your conversions by facilitating easy communication.
Therefore, you must integrate the multi-language feature to your website. You can pick the language based on your location of operation, targeted demography, and more. This should also reflect in your mobile app. An app with multi language support will enhance your app users' experiences and give a boost to your rate of interaction and engagement.
#5: Support for eCommerce
The more dynamic a new age business is, the higher the chance of its success. Therefore, you should not be afraid to venture into eCommerce and think beyond publishing blogs and creating content. You can also sell products and merchandise and earn some extra profits.
For this, you will need an app that is capable of supporting mCommerce features like product search and filtering, checkout, payment gateways, and more. Therefore, you can create a website that supports the same, and then complement it with an equally dynamic app.
#6: Push notifications
Push notifications have become the fastest, easiest and one of the most effective means of communication in the digital age. It becomes especially effective when you have an app, and you want to run a campaign to connect with your customers and keep them engaged.
This mode of communication and marketing is going to become more popular in the coming days. You can build an app that facilitates this feature, allows you to create unique push notifications and schedule them for your app users.
Suggested Read: All you need to know about mobile app Push Notifications – A complete guide
#7: Monetization support
In-app ads are an amazing tool for marketing, promotion and even for earning an extra revenue. Most blog owners get pitched by different brands for endorsing their products and placing their ads on the platform. You can also reap this opportunity if you have monetization support in your app.
Therefore, you can look for an app builder that offers some kind of support for in-app monetization. For instance, you can create a Google AdMob account and use it to show ads in your mobile app.
Get a powerful app and conquer the blogging industry!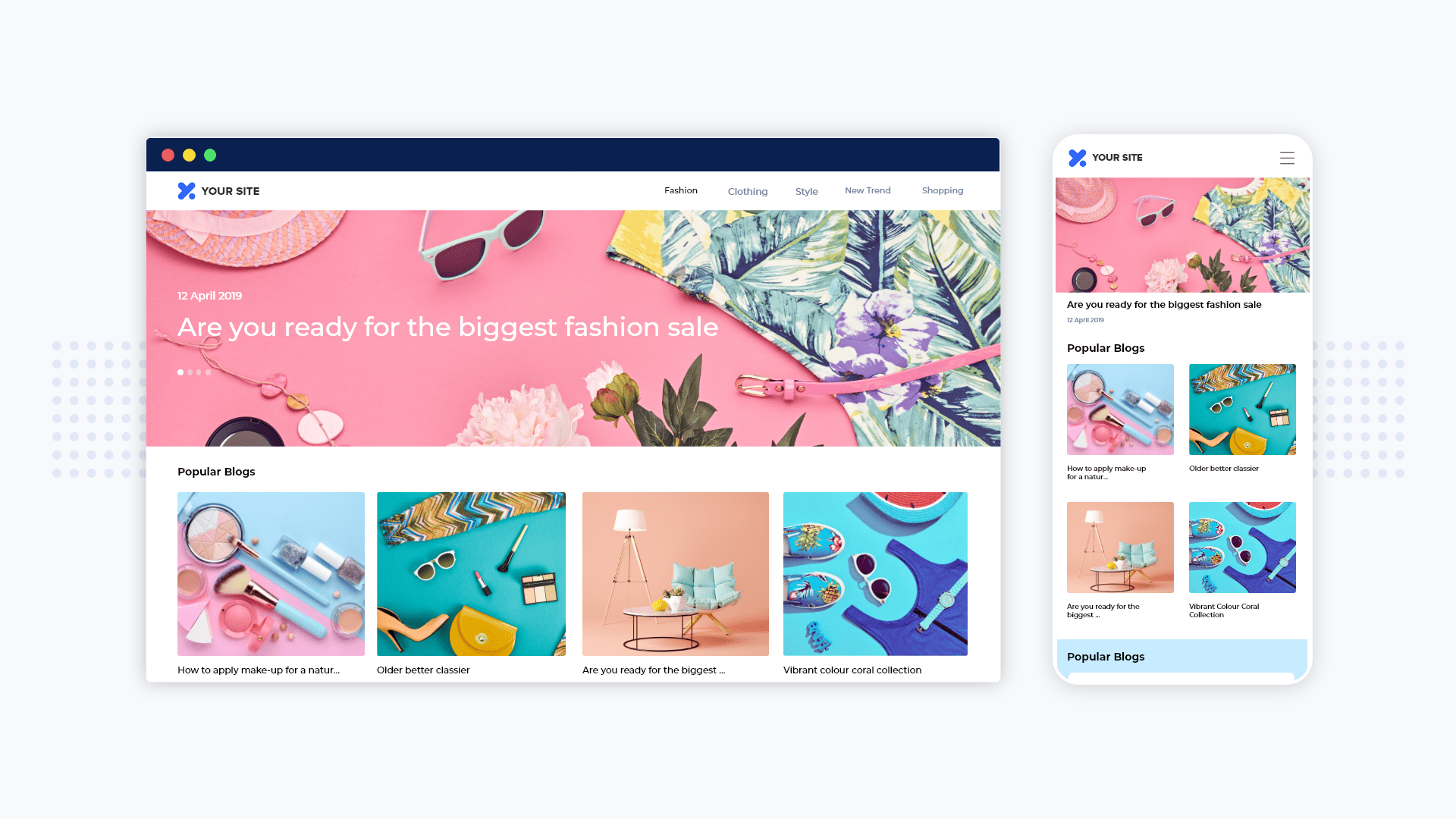 Intrigued? If this list of features has excited you and you are now driven enough, then go ahead and build an app for your website that has it all. You do not need to hunt the internet or spend a fortune for getting an app that has these features and more.
You can sign up for AppMySite app builder and convert your website to apk without writing a single line of code. Here, you can build premium Android and iOS apps for your blog website, blogs with eCommerce website, and more.
AppMySite ensures that your app has all the latest features listed above, and more. In fact, it is the best platform for turning your WordPress and WooCommerce websites into high-performing native mobile apps.
The ever-evolving infrastructure of AppMySite also makes it the most bankable solution if you aspire to be ready for the future and conquer your space in the blogging industry. So, why wait when you can create a powerful and dynamic app now! Go ahead and explore the platform for free!