The competition between brick & mortar stores and online stores is not new.
Whether an entrepreneur or a shopping junkie, this dilemma is more common among all kinds of people than what you could imagine.
So, let us unravel it for you!
Read the blog till the end and understand what differentiates and unites the two. Also, while you are at it, do not forget to checkout the suggested blogs as well. We have written a lot on website management, mobile app development and so much more!
Let's get started!
Retail stores vs eCommerce: A statistical overview
Let us begin with some number crunching! Do not look so bored already! This will be quick!
We just want you to make an informed, empirical, and factual start so that grasping all the detailed facts becomes easier.
When we tried compiling some statistics related to retail stores and eCommerce, we came across many notable points.
To cut the list short and make things simpler, we have listed only the most significant ones here. Let's go through them one by one!
When we saw the eCommerce share of total global retail sales from 2015 to 2020, we noticed that the numbers have been constantly growing.
As per Statista, e-retail sales accounted for 18 percent of all retail sales worldwide in 2020. This number is expected to reach 21.8 percent in 2024.
This simply means that an increasing number of businesses are going online every day!
In fact, online shopping is one of the most popular online activities worldwide. Proof? Well, the global e-retail sales value reached 3.5 trillion U.S. dollars in 2019 and continues to grow.
As per digital commerce 360, ecommerce accounted for around 7% of total retail purchases a decade ago. Whereas today online sales represent nearly 20% of spending through all channels.
In fact, eCommerce now accounts for 19.6% of total retail sales, which is up from 15.8% in 2019 and 14.3% in 2018.
Next, the findings of the report by Retail Leader also gives many interesting insights.
As per the report, 33% of respondents said that they prefer shopping at physical stores.
This is because they like to view, touch, and interact with physical products.
On the other hand, 26% said that they enjoy the overall shopping experience that a physical location provides.
13% agreed that they like the immediacy that in-store shopping provides — as opposed to waiting for delivery.
This report also states that 48% of respondents agreed to have replaced products they typically purchased at physical stores with online alternatives.
25% said that they switch brands more often today than ever before and this flexibility has been achieved with the help of technology.
In a nutshell, all these facts have the same underlying message that even though eCommerce lags behind physical retail stores when it comes to popularity and revenue, it is rapidly catching up and replacing the former in many sectors.
The trend of internet shopping has not reached its zenith yet, and the numbers will only increase in the coming years.
So, having an online store and being available for the web and mobile friendly audience becomes important from a futuristic point of view.
Suggested Read: 10 statistics that show why you should create an app for your business
Retail stores vs eCommerce: Basic differences
Now let us discover the differences between retail stores and eCommerce based on some specific factors.
To customers, it might be just "shopping", but both differ greatly on many parameters. This includes:
Location and availability
The first factor is the most obvious one. A brick and mortar business has physical stores that people can visit. This adds a more human feel to the experience.
On the other hand, an online business may or may not have a physical store. In fact, many businesses are only functional on websites and apps.
While a physical store allows customers to experience the tangible products, accessibility remains limited. it is not as easy to ensure a large scale availability through brick and mortar stores, as it is for e-retail business owners.
In a post pandemic world where more people are shopping online, only having a chain of outlets may not do you much good.
Clearly, online businesses emerge victorious in this department with round the clock accessibility. Remaining available at your buyers' fingertips can unlock many possibilities.
Transactions and sales
With advance POS technologies in the picture, the transactions do not differ much in the virtual or real world.
Most businesses have already started embracing digitalization while some are gradually moving towards it.
Physical stores have started allowing customers to pay with cards, mobile wallets, cash, cheque, and more. However, the transactions and sales still hugely rely on humans and that becomes a barrier in achieving absolute flawlessness and transparency.
As obvious, eCommerce stores are capable of implementing almost all of those payment methods (except cheques). In fact, they can boast of being able to accept other modes like PayPal.
Although there is immense flexibility on either side, setting up new payment methods can be easier for eCommerce stores.
Additionally, long queues is another factor that deducts points from the score card of brick and mortar stores. Online stores do not face this issue at all.
Business-consumer relationships
Business consumer relationships play a vital role in ensuring the success and popularity of a brand.
Physical stores have an advantage over online stores when it comes to building intimate and meaningful business-consumer relationships.
While there are many options for online businesses like email, push notifications, chat, loyalty programs, etc., to connect with customers and make their journey meaningful, the feeling of one on one interaction is missing.
This comes as a huge challenge. However, businesses can get creative and offer a personalized experience. For instance, you can add a live chat feature to offer immediate and interactive assistance to customers.
This can not only power your customer acquisition and conversion goals, but also reduce cart abandonments and bounce rate.
eCommerce stores also get an upper hand when it comes to collecting and analyzing data. It becomes easier for them to personalize the offerings and make data backed decisions accordingly.
Despite all these brownie points, brick and mortar stores remain a winner in this category because of the personal and physical presence.
After all, nothing can replace a human connection. You can drop a hello in your customers' inbox online, but unlike physical store owners, you cannot pet their dog when they visit the store to shop!
Marketing and branding
While the ambitions and cravings for success may remain the same, online, and physical stores differ greatly in their marketing and branding approach.
Despite many strategies and modes of online and offline marketing being common, they cannot be treated in the same manner.
For instance, physical stores may still opt for traditional marketing techniques like billboard advertisements, television, and broadcast media ads, print media ads and pamphlet distributions, and so on.
On the other hand, online stores advertise more on digital mediums because that is where their audiences are.
This may include blogging and content marketing, social media marketing, affiliate marketing, influencer marketing, and lot more.
However, the online or offline stores need not be limited to these options. Any business can harness any advertisement and branding platform as long as it favors them.
However, we can say that eCommerce businesses get an edge over physical stores when it comes to marketing and branding. They get more channels and options and can ensure more accurate and targeted efforts.
Operational expenses
Just a heads up: operational expenses may depend greatly upon your business idea, niche, efficiency, and a number of other factors that are different for every business.
However, we can still discuss the basic underlying factors that affect or shape online and offline businesses.
We do not have to be an economics expert to tell you that eCommerce stores may cost less to setup as compared to brick and mortar stores that need physical infrastructure, construction, interior management, and a lot more.
This is not always the case with online businesses or eCommerce stores. However, this may include other expenses like storing inventory in warehouses, managing, and delivering the products at customers' doorsteps and even facilitating returns.
Basically, as discussed above, the investment and revenue for both online and physical stores vary greatly, and this may also get influenced by their very own goals and activities.
Suggested Read: The unlimited benefits of integrating chat feature in your mobile app
Advantages and drawbacks of brick & mortar stores
You have read the differences between brick & mortar stores and online stores based on different parameters.
Now let us quickly sum up the pros and cons of a brick and mortar store from both buyer and seller point of view.
Pros
Personalized human interactions
Immediate and manual assistance or support
Less cognitive and technical burden and challenges
No wait time, shipping or return periods
More word-of-mouth marketing
Does not rely on internet or technical setups
Easy localization and trust-building
Cons
Time bound availability (limited to fixed working hours)
Needs more infrastructural construction and management
Not very future and technology friendly
Lack of options for customers
Long queues can lead to setbacks
Demands in-person physical involvement
Expansion and scalability is not easy
Lack of remote accessibility and doorstep shipping
There could be many more that we are not able to recall now! Basically, brick and mortar stores are still popular, and one can definitely go for it. However, they will still need to be more tech and digitalization friendly.
Advantages and drawbacks eCommerce & mCommerce
As discussed above, brick & mortar stores have their own advantages and disadvantages, and so do online businesses.
Some of the pros and cons for the buyers and sellers in an online ecosystem are as follows:
Pros
Round the clock availability
Low-barrier entry and easy set up
Can be operated and accessed from anywhere and everywhere
More time to plan every move and rectify mistakes
Less manual intervention and more automation
Enables customers to compare and gives more options
Traffic less and queue-less experience
Products are easier to find
Easier digital payments and marketing
Digital data collection and easy analysis
Effortless scalability and expansion
Future and technology friendly
Cons
Lacks personalized human interactions
Requires website and app management
Demands some amount of technical expertise
Manual assistance or support is absent
More cognitive and technical burden and challenges
Relies on internet or other third party factors
Shipping and returns can get complex
Data privacy and safety concerns
Businesses definitely need websites and apps as our dependency on internet is growing and time is one of the most valuable assets today! The coming generation may not want to spend it on ransacking stores. However, personalization, immediate assistance and user-friendliness will be must for a winning strategy.
Retail stores vs eCommerce: What the future has in store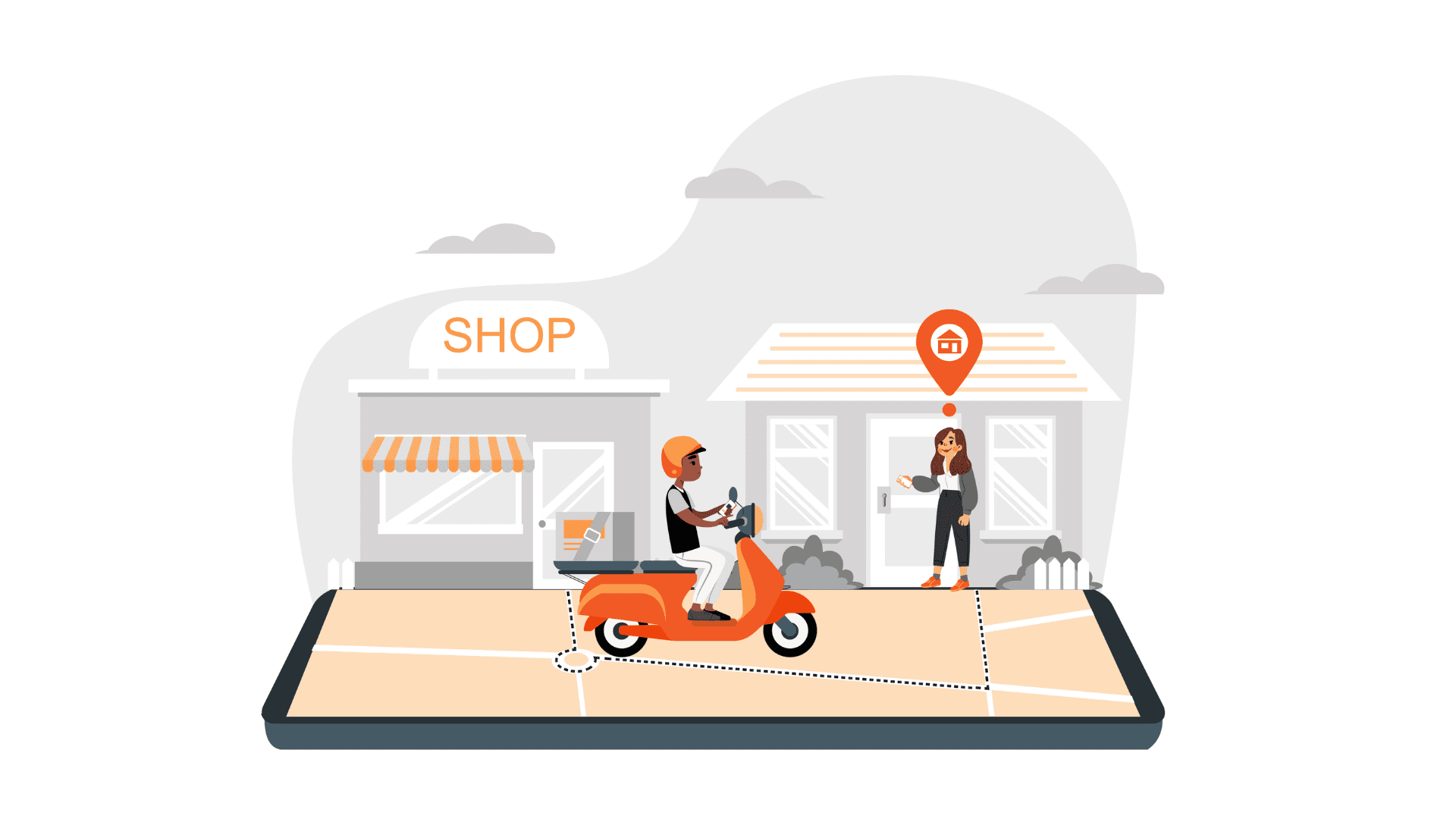 Looks like you have read too much for today. So, we are keeping it short here in this section where we announce the verdict.
As per our conclusion, we would advise you to make the most of both worlds of you can. Set up a store and create a website and app for it. Plus, you can always expand and branch out.
It is true that many people are still inclined to physical stores, but it is mostly due to the privacy concerns or lack of proper digital infrastructure and literacy.
Now that the world is gradually moving towards "digital", complete transformation may be distant but not impossible. So, be completely prepared for that.
Whatever you do, try to keep your consumers content and your carbon footprint to a minimum. Be ready for the future while making the most of the present, and excel!
Wrapping up!
That was all for today folks! Now that you know about the basic differences between physical stores and online retail stores, go ahead and start your business the way you like.
We would suggest that you make the most of both options. Start a brick and mortar store in a location that suits your budget and business goals and then go online to expand your avenues.
What to do if you already have a store? Go online RIGHT NOW!!! Create your own website with WordPress and WooCommerce and then turn the website to APK with AppMySite app creator.
For creating the website, you can refer to our blog, and get a step by step guide. For creating the app, we offer an extensive help portal with numerous guides, but you may not need one.
All you have to do is sign up for AppMySite, and you can start creating your own app immediately without coding and with minimum effort. So, what are you waiting for? Go ahead and go mobile now!