Mobile apps are shaping lives globally. The fascinating features are making our day to day life easier. However, the key features of a successful mobile app are ever-evolving. If you keep upgrading your business according to the demands of the buyer and the market, you can stay in the business for long.
If you are thinking about aiding your business with an app, you might have already planned the launch on major platforms like iOS and Android. Also, you have finalized a mobile app builder that can build your mobile app in the way you want to. You must be thinking of the large number of orders you'll soon attract.
An efficient mobile app with multiple features can help you accomplish this desire. If you have a good list of mobile app features that you aim to include in your mobile app, the only hurdle in your way is budget. All businesses cannot afford to have all exquisite features on their app.
If you are considering applying all the features in your mobile app for absolute success, here is a guide to determine the critical ones. Just go for these salient features and you will be able to cater to a variety of audiences you are working with. Let's understand them all.
Easy Navigation
The design of your mobile app should be simple and exact. Simpler the design of the app is, the easier it will be for your customers to browse. Ensure you respond to your customers' ever-evolving needs, as this plays an essential role in retaining them.
Easy navigation is the key aspect of creating a successful mobile app. No customer likes a feature of the app that is too difficult to understand. To avoid the dread of making a customer run in circles to select a product, build an app that is easy to navigate.
Easy navigation helps in improving the mobile app's success rate. Moreover, an organized and easy-to-understand app navigation is beneficial for enhancing the users' experience.
Rating and Reviews
Creating a mobile app needs extensive research. But, it has become easy with online app creator like AppMySite. You just need a prudent implementation of the key features in the app that support customers' buying process.
Reviews act as a window for the customer and give them a bird's eye view of the reputation of the products. These reviews help your customers to get a sneak peek into the product attributes, without going deep into the details. Product ratings help your customers to choose the best among the huge list of options.
Including ratings and reviews in the app impart convincing power. These features push a customer psychologically to make that purchase. It is one of the few must-have app features.
Order Tracking
The feature of order tracking gives you full control over your logistics. It is one of the primary functions of a successful mobile app that your customers expect from your brand.
Customers want to know things-in-advance rather than waiting for a response to their order. Take off the load from your shoulders by allowing buyers to track their own order packages. You can create daily internal delivery records for future reference. You can also send alerts to your buyers.
Order tracking helps you save the time required to address the lost order complaints and the pain of dealing with them.
Payments
The payment feature of the app is always analysed on the parameters of security and authenticity by buyers. Customers always trust those apps that offer secured multiple payment options.
Payment authentication is a must-have feature of the app. Your mobile app is prone to hacks, and data losses in absence of secured data transferring. Insecure payment gateways affect your app's credibility.
Use reliable and secure multiple payment methods to make your customers' shopping experience safer. Credibility and reliability are significant factors for a successful mobile app. It builds the company's integrity and improves your brand loyalty.
Coupons
Value for money is one of the best features every customer wants in the app. The feature of adding a coupon code is an absolute way to help you outdo sales targets, get new customers without losing money, and moving surplus inventory out of your warehouse.
Adding a coupon code feature in the app encourages your customers to come and make a purchase. This feature of the app is the best among the key features of a successful mobile app.
Push notifications
A mobile app without push notifications is nothing.
Push notifications are the key feature of a successful mobile app that helps in reminding the buyer about daily updates and promotions. These notifications send gentle reminders to customers and prompt them to take action.
Sending push notifications is the best way to stimulate customers to make a purchase. Also, it enhances brand consistency in the buyer's mind.
You can use deep links in your push notifications. It will help your customers directly land onto a page that may hide anywhere in the products menu.
Push notifications are an important marketing strategy to consider for your mobile app. Send the latest updates, new features, and sales through these notifications as your customers want the latest updates.
Consider sending thoughtful, apt, and timely notifications to your existing customers who already have an interest in buying from your brand. It is a comprehensive strategy to make your mobile app more accessible.
Voice Search
Your mobile app's success rate is also affected by mobile app updates.
Voice search is one of the key features of a successful mobile app that your customers expect from your brand. It has become a trend in the marketing and selling sphere.
Augmented reality is already contributing in various aspects of online presence and voice search is an essential part of it.
Voice search is a speech recognition technology that allows your customers to search a product via voice command on a smartphone instead of typing into a search box.
Web-store sync
Synchronization of a web store with the app is also an essential factor in the mobile app success rate. This feature of the app saves a lot of time and effort of manually doing each task. These tasks may include inventory updates, writing product descriptions and adding other content that needs to be shared on both the platforms (website and app).
Syncing a website with the mobile app reduces the possibilities of human error and automates the whole process. This feature reduces flaws in content that happens because of the manual process of data entry.
Chat Service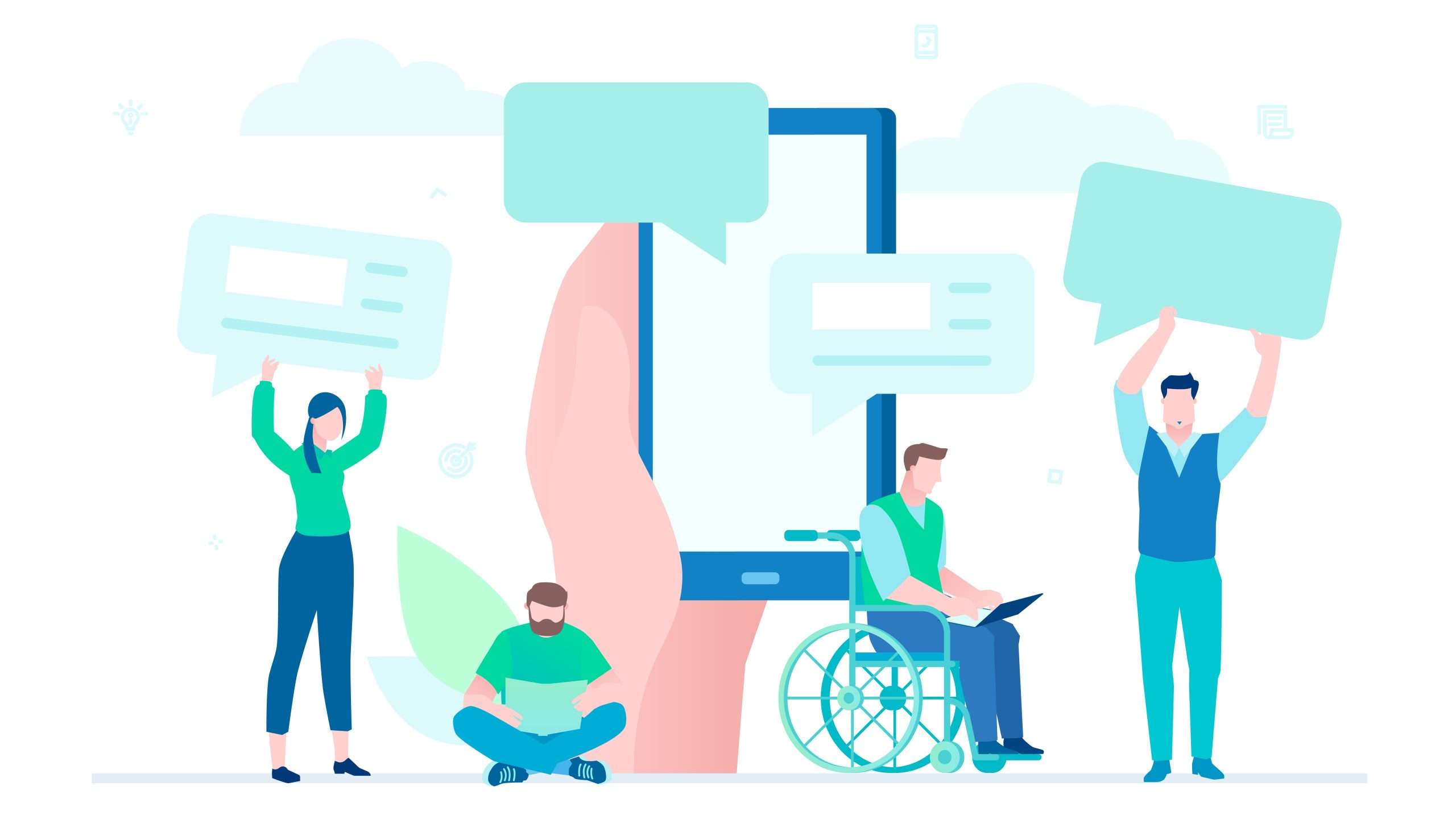 Chat service support provides immediate help to app visitors. This feature of the app is a low-cost alternative for on-call support and reduces cart abandonment cases.
The chat software of the app automatically flows data to your CRM, such as new leads, customer contact details, and customer feedback.
Live chats affect your sales positively and can be helpful for people who have forgotten their passwords. Adding a post-chat feedback form helps you figure out loopholes in the selling process. A careful examination of customer's feedback helps in increasing the mobile app's success rate.
Social Login
App users often use social logins to log-in to various websites, which is generally called a single sign-in process.
Rather than memorizing many passwords for various apps, a single click log-in via social accounts help your customers to use the app immediately.
Social log-ins simplify the registration process for customers and take you a step ahead of your competitors.
Maximum shipping methods
Integrating various shipping methods offer variety to your users.
If you are up to converting your WooCommerce website to a mobile app, the strategy of adding multiple shipping methods can make sure you cover a large area.
Consider offering varied product size and weight, domestic and international shipping, and pricing details to the people looking for different shipping features.
Wishlist
Offering the option of adding favourite products to Wishlist helps you draw the attention of your customers.
Wishlist is like a space where customers can look for the products they have added. They can purchase this shortlisted collection anytime. It is one of the key features of a successful mobile app. This feature allows customers to add products in the space within the app for future purchases.
It is an excellent way of saving your customer's preferences in the app. Later, these preferences help to send them relevant offers, coupons, and discounts. Moreover, adding a feature of Wishlist to the app gives your buyers a personalized feel, promotes conversions and boosts your brand image.
Multi-lingual support
AppMySite online app creator helps you build a multilingual application for your business. It is the most cost-effective marketing tool that enables you to acquire new users by opening up new horizons.
A multilingual app helps you build relationships with your existing and new customers and gives your mobile app an international exposure.
With an efficient mobile app that can change the language as per customer's requirement, you can widen your reach. Non-English-speaking customers feel welcomed with this gesture. Remember: globalization and localization are the keys here. Always consider communicating with your audience in their local language, which is highly crucial for your app to grow.
Simplified checkout
Give your users a streamlined checkout experience. It holds the utmost importance because checkout needs to have a clear sign with a distinct icon. Else, if possible, show the bag total right at the below on the checkout page.
Fathom how much time you are willing to invest in a checkout process. Reduce the number of stages required to place the order. Allow your customers to checkout as a guest without a login process and boost app conversions.
A seamless checkout experience gives your customers a feeling of trust towards your brand. If you make mistakes here, it will cost you significantly.
All devices support
Mobile and tablets are the mobile extensions of a computer. Allow your customers to download your app on any mobile device, be it mobile phones or tablets. It will help you grab the attention of your customers. Moreover, these devices let your customers choose when and how they access your mobile store.
It's always good to have your mobile application supported by all devices. If your mobile app supports maximum devices, it just expands your customer base and showcases your research in terms of what mobile app features your customers want the most.
The endnotes
Adding significant mobile app features simply increases your mobile app success rate.
You must be familiar with the fact that acquiring new customers is costlier than retaining the existing ones. Make your own app with AppMySite and include all the must-have app features mentioned above. Give preference to all those features that your customers want the most in the mobile app.
If it is easier to browse and find products on a mobile app, you can attract more app downloads. The process of getting customers to the mobile app needs careful consideration of many factors. Therefore, give careful attention to all the mobile app features your customers may expect from you.
Always remember that it is wise to consider all necessary app features to get a successful mobile app. The idea behind it is to keep your users engaged and interested in buying more and more products from your brand app.
Key features of a mobile app can make it successful. Making your customers happy should be your priority when determining the features. Think of all the possible aspects that your app users seek in mobile apps. With the above checklist, consider avoiding errors on your app. As the features of a successful mobile app are many, the possibilities are unlimited.
While you are turning your website into an app, ensure your mobile app possesses the maximum key features that help you boost the overall success rate. Compiling all the essential key features of a successful mobile app assures a higher mobile app success rate.
Now, as you are all set to integrate mobile app features that your customers want, build your app with WooCommerce mobile app builder, like AppMySite and launch it for further use.
To know more about elementary app features and app-building, get in touch with us.