Mobile applications have brought upon a revolution in the industry and all online businesses are transitioning from e-Commerce to m-Commerce by building a mobile application for their brand.
They've realized that most of their audience is spending their time on their mobile devices and not on computers. Mobile apps are resulting in 1.5 times more conversions than desktop.
Which is why this is the best time for any online business to turn their website into app and gain unprecedented success in 2020.
However, just building and launching a mobile application is not enough. What you'll also require is an effective mobile app marketing strategy. This will help your app get the visibility that it deserves and the subsequent numerous app downloads to achieve your business objectives.
Here are some of the top app marketing strategies that'll ensure your app becomes a hit.
1. Get the basics right!
Yes, you heard that right! Before venturing into a sophisticated marketing plan to pitch your app, you must clearly define what your product is and who is it exactly servicing.
Thoroughly research your target audience, create customer profiles including who they are, what they do, where they live and everything related.
Depending on who your target audience is, you'll need to design your app marketing plan. This will help you get the best returns on your investments.
2. ASO or App Store Optimization
App Store Optimization (or ASO) is one of the top contributors to any application's success. ASO determines how well your app will rank on the search results in relevant app stores.
Over 63% of mobile apps are discovered via search results. And you must ensure that your app falls in that bracket.
Most of the new mobile applications that are published, do not get the attention they deserve only because they are not optimized correctly.
When you list your mobile application on the Google Play Store and the Android iOS Store, the content that goes on with it must be optimized smartly for the search engine to realize that your mobile is of substance and must be placed higher on search results.
The following are the main elements that contribute to the ASO of any mobile application.
a. Keyword Selection
Conduct thorough keyword research to pitch your app and create a repository of both primary and secondary keywords that are relevant to your audience.
Primary keywords should be those that have the maximum volume and result in maximum traffic to your mobile app.
Similarly, the secondary keywords should be those keywords that do not have a lot of traffic on them but supplement your primary keywords very well.
b. App Icons
The mobile app icon is the first thing that anyone will notice when they come across your app listing page on Play Store or the App Store. It represents your brand and hence, is the face of your mobile app for potential users.
The mobile app icon is usually your brand logo. It should be attractive enough to create a visual impact on anyone looking at it and at the same time, it should be simple enough to be remembered by everyone.
c. App Name
Selecting the right app name is the key.
Make sure that your app name is optimized with the primary keywords in a way that it clearly explains what your app is about while staying within the character limits.
This also greatly improves your chances of higher rankings on the search results.
Pro tip: The name of your mobile app should be attractive yet simple enough to stick in the memory of anyone reading it. This greatly helps increase brand recall value.
d. Description
Curate optimized content for short and long description that explains what your mobile application does. Optimize the content in a way that incorporates the correct keywords that directly target your audience. Include both primary and secondary keywords in the content.
Pro tip: While you include the keywords in your content, make sure that the keywords are not mindlessly stuffed in a way that the content starts losing its meaning. This will do more harm than good for your app listing page as it'll get penalized for this act.
e. Screenshot Designs
App stores allow you to add screenshot designs for your mobile application listing page to make it more interactive and offer visual information to potential app users.
Utilize this opportunity and to add professional and compelling designs. Avoid adding uploading vanilla screenshots from your mobile application
Your designs should be compelling enough to attract a potential customer to install your mobile app.
f. Introductory Video
Along with the designs, app stores also give an option to upload an introductory video.
Create an engaging video that completely explains your product and what the users will get with it. The video should be compelling, yet not too long, keeping the reducing attention spans of everyone worldwide.
g. Reviews and Ratings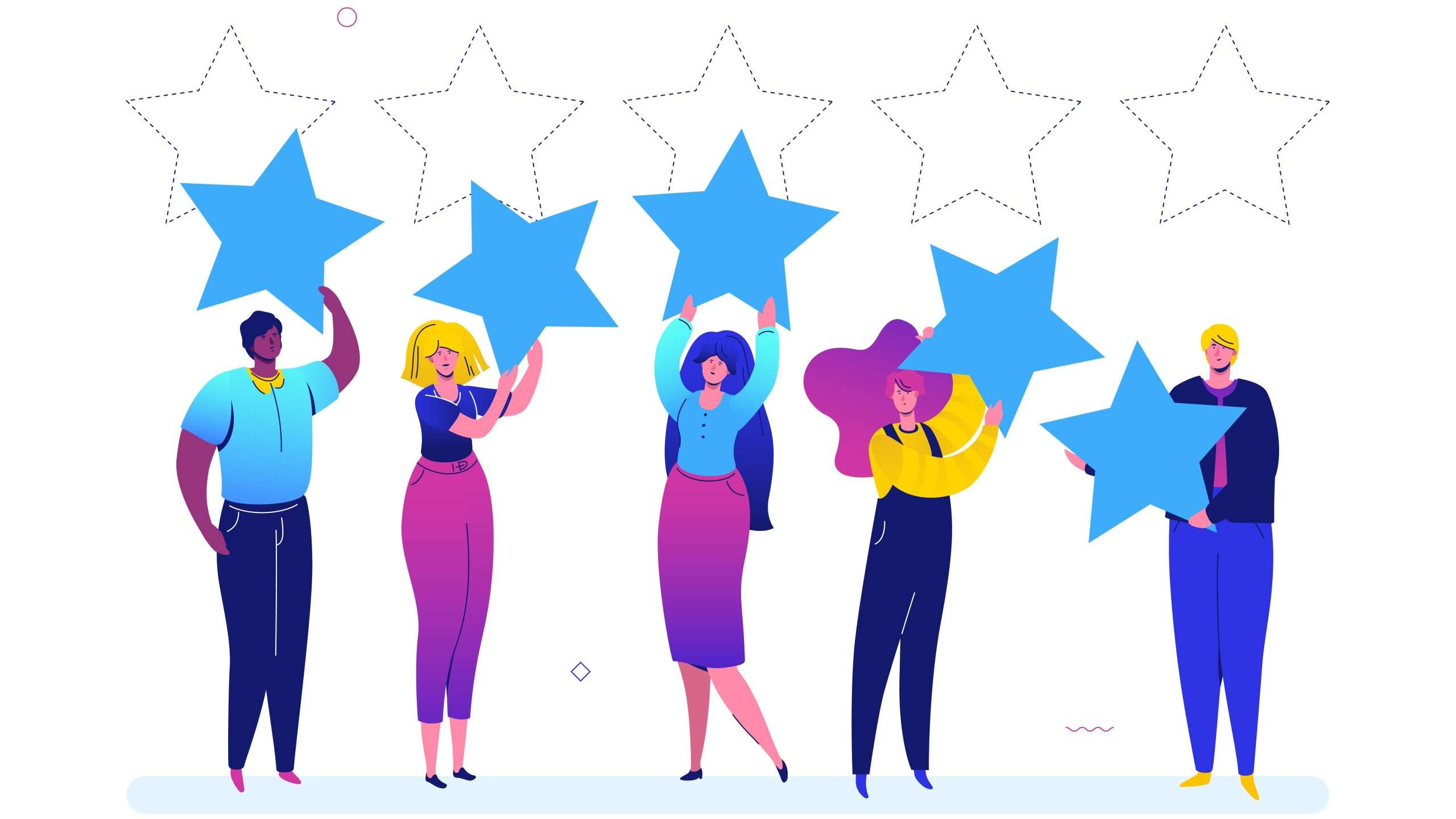 Having a bank of positive reviews and high ratings creates an impact on every visitor on your app listing page. When a visitor reads a positive review for your app, they build greater trust and motivates them to download the app.
Word of mouth is highly overlooked yet an unbeatable marketing strategy that rapidly multiplies further to get an ever-increasing number of mobile downloads.
Motivate your existing clientele to leave a positive remark for your application. You can also introduce incentives to expedite this.
Pro tip: Many brands commit the mistake of not responding to reviews. Ensure that you respond to the reviews you receive, positive or negative.
This builds a deeper connection with your audience and portrays your image as a brand that really takes care of their consumers.
3. Content Marketing
The biggest and most important component of any marketing strategy is content. Be it online or digital marketing, or offline traditional marketing. Every marketing campaign runs on content.
Why is why you must invest in a god content creation strategy for your app. Most of your efforts should be centered around marketing your content.
Publish regular high-quality content in written, images, video, audio or media format. Collaborate with other content creators for app promotion and to create brand awareness.
4. Paid Advertisements
Once your app is live and your product is stable, promote your mobile app with paid advertisements. Run paid ads on multiple platforms like app stores, social media, and traditional marketing spaces.
Make sure that your ad campaigns are optimized and target your audience directly for better return on investments and ultimate success.
5. Press Release
There are multiple news and press publications that can cover your product and run stories on their domain and distribute it amongst their massive networks of readers.
Reach out to such publications to cover stories to promote your app. This one activity will exponentially result in increased traffic to your app and create brand awareness like no other.
6. Social Media Marketing
Social media is the new frontier for brand-consumer communication. In today's day and age, if a brand does not have a presence on social media then it is equal to having no existence.
Find out on what platform your target audience is most active on and run promotions and content publication there.
Connect with them and take direct feedback on your product or services. Promote up-coming products, services, discounts or offers on your wall.
Conclusion
We discussed the top strategies and some tips from the industry experts on how to design a rock-solid marketing plan for your mobile application.
To build a premium native mobile application for your WordPress site, visit AppMySite WordPress mobile app builder.