Blue Robin International is a successful online liquor store in Uganda that offers same day liquor delivery on orders to everyone above the legal drinking age, which is 18 years in Uganda. They offer all kinds of liquor ranging from beer and whiskey to wine, including premium drinks and champagne.
Blue Robin International (BRI) Liquor wanted to turn their website into an app for their customers, and take their business offering up a notch. That's when they approached AppMySite, the best WooCommerce mobile app builder.
BRI Liquor was able to easily convert their WooCommerce website to a mobile app with AppMySite. Building the mobile app was very simple. BRI Liquor selected the plan of their choice and submitted their details for their mobile application.
Customisations & Design Requests
Being a liquor store, they had special requests for a legal confirmation screen which only allows people with over 18 years of age to access the mobile application. This involved custom development on top of their mobile application which was implemented with our Custom Feature Request add-on product.
Custom feature request by AppMySite is an add-on product that enables clients to include special features in their mobile application to enhance their offering. Apart from this custom request, the client also sent their own designs for splash screen which was used as a base design for the complete app design and theme.
Another feature request was made to not integrate any payment gateway with the app as BRI Liquor offers payment on delivery options only.
App Features
The BRI Liquor mobile app has multiple features that come with an AppMySite mobile app.
Native Experience
Now BRI can offer their customers a premium user experience with their WooCommerce native app that is completely dynamic in its features and is in complete sync with the website. Any additions made to the website, any new product or category will automatically reflect on the mobile app.
Efficient Checkout Integration
Now the BRI customers can experience a smooth and seamless cart and checkout experience with their new mobile application. This helps the business grow as it promotes fewer cart abandonments and dropouts.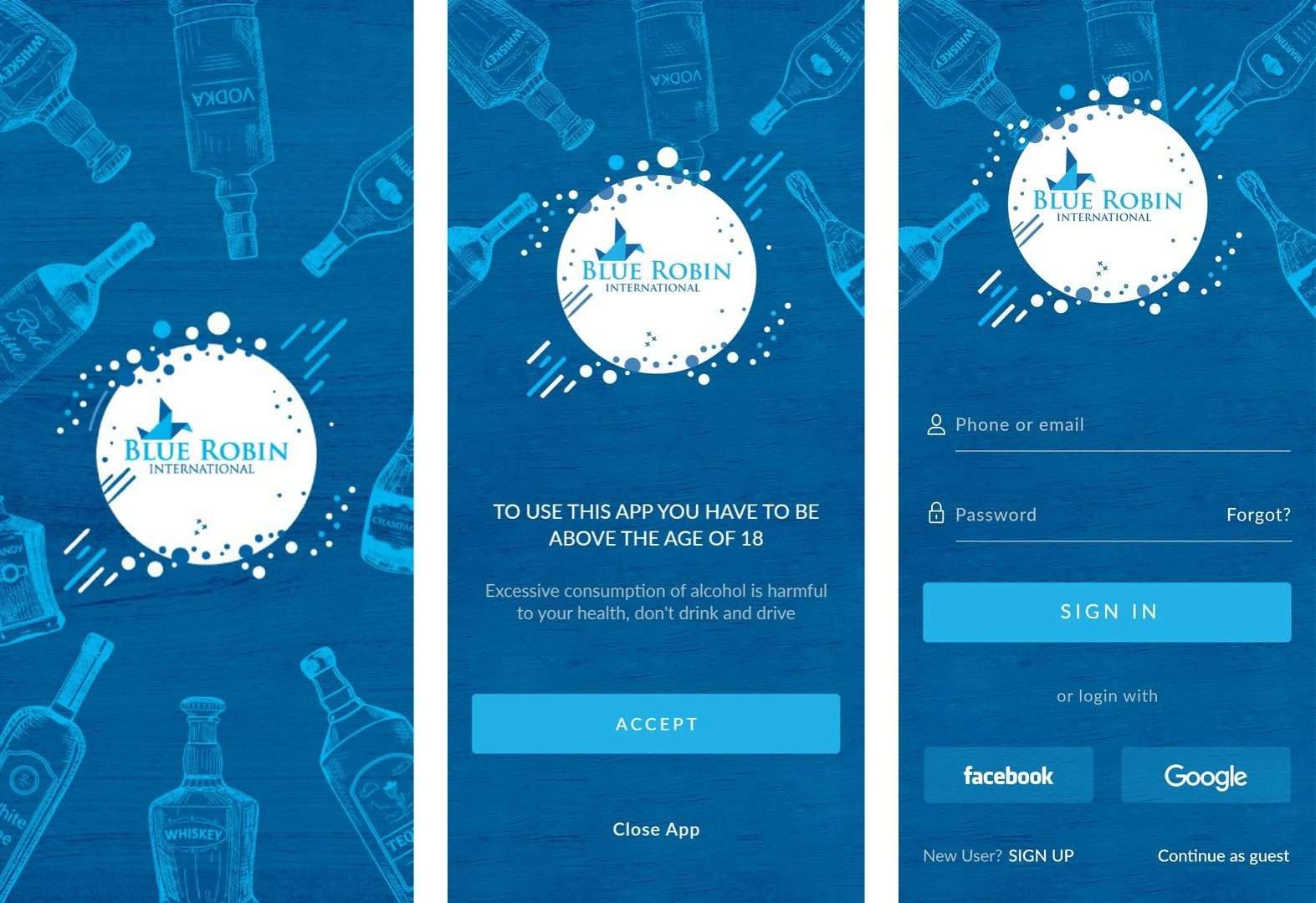 Smart Product Search & Filters
The BRI Liquor app by AppMySite features a state-of-the-art technology of smart product search and filters. This helps the customers easily select the liquor of their choice and proceed with the checkout.
This, coupled with many other premium features of the mobile app, has super-charged the business for Blue Robin International.
Suggested Read : Explore the salient features of AppMySite WooCommerce app builder
Client Feedback
The BRI Liquor app by AppMySite has been received amazingly by the client and his customers. With multiple downloads in the first week itself, the mobile app is taking the Blue Robin International brand to new heights.
This is what BRI Liquor had to say about the mobile app by AppMySite.
"Thanks for the app, it looks great!! Thank you for the good work and we are glad that you have delivered as promised."
The Mobile App
Now ordering liquor online has been made very easy with the BRI Liquor mobile app. One can download it from the Apple App Store, the link for which is below.
BRI Liquor iOS app : https://apps.apple.com/us/app/bri-liquor/id1482590765
Conclusion
Taking your business to the next level with a native mobile application has been made very simple with AppMySite online app creator. Whether you're building an application for grocery delivery or a portfolio app for freelance work, AppMySite is the ideal solution.