AppMySite recently rolled out an affiliate program that basically enables you to make money by recommending its platform.
There is no shortage of businesses that need affordable app development solutions. You can thus realistically create a stable revenue stream as an AppMySite affiliate.
The trick is to present the idea of codeless app development in the best way possible.
Promoting a relatively new technology like no-code app development can be a little tricky. You need to find the right audience and the best format to showcase AppMySite.
Doing this gives you a better chance to convert more people to subscribe to AppMySite, thereby making you money.
First, let's start with the basics. Here's how you can sign up for the AppMySite affiliate program.
How to join the AppMySite affiliate program?
If you wish to recommend a free app maker like AppMySite to your friends and colleagues, you can make money while doing so.
The following steps explain how you can sign up for your affiliate program:
Go to the AppMySite affiliate page. You can find a link to this page from the footer of our website.
Enter your name, email, and password to sign up.
In your dashboard, enter your address, company information, and website URL to complete your affiliate profile.
Next, enter your preferred payout method. enter your Paypal address here, or skip the step. You can add your payout details later as well.
Next, you'll arrive on your affiliate dashboard. Once AppMySite approves your application, you will get a unique referral link. You can use this link to recommend AppMySite across all your channels.
Once you get a referral link, it's time to start promoting AppMySite across all your channels. The following sections discuss the best ways you can promote AppMySite.
How to get started with promoting AppMySite?
AppMySite is a leading development solution for businesses looking for a simple way to create an app. The following steps highlight the steps you should take to promote AppMySite to your audience.
#1: Understand AppMySite
You cannot effectively explain AppMySite to your audience if you don't understand it well. The first step is thus to understand the full functionality of AppMySite.
You can refer to a number of resources on AppMySite to learn how to create an app. Additionally, you can check out our YouTube tutorial discussing the process in detail.
AppMySite is a very intuitive tool and does not involve a steep learning curve. Even still, you can explain the product to your audience in a more refined way by understanding it well..
Here are a few main highlights you can use to give your audience a quick walkthrough on AppMySite:
Convert your website into a mobile app without writing a single line of code.
Publish your app on both the Google Play Store and Apple App Store.
Import your website content in a fully-native mobile environment.
Build apps for simple WordPress blogs, WooCommerce stores, CMS-page websites, and more.
Power your app with features like push notifications, social login, bottom navigation, multisite, and more.
You can use these five points as a good starting point to present AppMySite to your clients.
At the end of the day, the best way to understand AppMySite is to use it. You can sign up for a free account and test the core functionality of AppMySite seamlessly. This way, you can effectively explain AppMySite to your audience after using it yourself.
#2: Look at existing examples of content
A simple Google search for AppMySite would help you see all the different websites we're featured on.
You can study these websites as a good reference point to promote AppMySite to your own audience.
There are a number of blog posts and videos dedicated to AppMySite you can refer to. While you don't need to copy the tone and content of these websites and videos, you can use them as a solid reference point.
Look at specific examples which have greater engagement. This will help you get a clear picture of how you should promote AppMySite to your audience.
Another reason you need to analyze existing content discussing AppMySite is competition analysis. As an affiliate, you'll have to compete with other websites discussing AppMySite.
It is thus crucial to look at the content other platforms are creating related to AppMySite. This will help you analyze your competition and figure out the best way to create content related to AppMySite.
You can visit our homepage to find prominent websites covering AppMySite.
#3: Create a content plan
Next, you can get started with creating content for your audience. You should create a plan for how you plan to promote AppMySite to your audience.
a. Identify the best content format
There are endless content formats you can reach your audience in. As an affiliate, you get a unique referral link which you place across all your outreach channels.
If you're a blogger, it makes a lot of sense to write an informative blog post discussing AppMySite. Similarly, if you have a YouTube channel, telling your viewers and subscribers about AppMySite is an obvious choice.
You should choose a content format you're comfortable with. That is the only rule you really need to follow when choosing the best content format to promote AppMySite as an affiliate.
If you have multiple outreach channels, promoting AppMySite on all your platforms makes sense as well. Consistent messaging across different channels is a good way to inform your audience about a product like AppMySite.
b. Understand your target audience
Every audience is different.
For instance, let's assume you have a WordPress theme & plugin review website. Your audience is already familiar with WordPress as a CMS. It is thus a good idea to explore some of the technical aspects of AppMySite with such an audience, as they are likely to be interested in the details.
On the other hand, if your audience is a little more generic, you should stick with the basic idea of AppMySite. Let your audience take their own course of discovery, persuasion, and purchase.
You can never convert anyone if you don't present information they want to see. Take a close look at your audience and try to gauge their knowledge in the world of WordPress and app development.
c. What's your angle and hook?
In marketing, words like hook and angle are used quite often. These words define a lot of discussion in copywriting and ad campaigns.
Let's first discuss both these terms in detail.
The angle refers to the approach you adopt to promote a product to your audience. In simple words, you need know three things:
What does your audience want?
What is stopping them from getting it?
How can your product help them get it?
Let's take an example and assume you're promoting AppMySite to an audience of WooCommerce website owners.
Your main angle here can be summarized by three points:
Your audience wants to build a mobile app.
They can't build an app because it is tedious and expensive.
AppMySite supports all WooCommerce users to build a native mobile app.
Your angle is thus promoting AppMySite as an easy and affordable solution to build a mobile app.
While thinking about your angle, eliminate all the faff. Just think about your audience and what they need. For example, you don't need to impress upon the need to create a mobile app. WooCommerce website owners are already likely to be aware of the importance of apps. They don't need a lesson from you.
The hook refers to the tagline or slogan you use to explain the functionality of your product. You can think of your hook as a more optimized version of a call-to-action.
There are no fundamental rules involved in creating a hook. You can be creative and craft a hook that speaks to your specific audience.
Generally, you should test the hook you've created to promote your product, which is AppMySite in this case. A/B testing can help you identify the best hook for your audience. You can do this via email marketing or low-budget Google or Facebook ads.
These channels will help you get immediate analytics on a different set of creatives and hooks. You can use this data to choose which hooks work best for you.
An optimized angle and hook will help you maximize conversions and commissions.
#4: Promote your content on different channels
Once you publish your content, it is time to promote it. Simply publishing something and hoping that people would discover it automatically is too passive.
You should promote your content across all the channels available to you. This includes your social media handles, email lists, and so on.
Every impression creates an opportunity for conversion, and every conversion can earn you direct commission. Omnichannel promotion is simply beneficial from a financial perspective. This is the main reason you should aggressively promote your content after publishing it.
#5: Build upon your content
If you simply publish one blog post or video discussing AppMySite, your audience will naturally feel that you don't trust the product enough
In order to enthuse your audience, you should not stop after creating one bit of content. It is important to build upon the content you've created first. This will show your commitment to the niche, if not the product itself.
The most successful affiliates tend to promote their product at every opportune moment. This doesn't mean you need to market your product like telemarketers. Instead, look for the most popular pages on your website and optimally place your affiliate link there.
Don't simply rely on one video or blog post to drive affiliate traffic. Keep creating new real estate for your affiliate links and reinforce your commitment to the functionality that the product represents.
Earn commissions with AppMySite!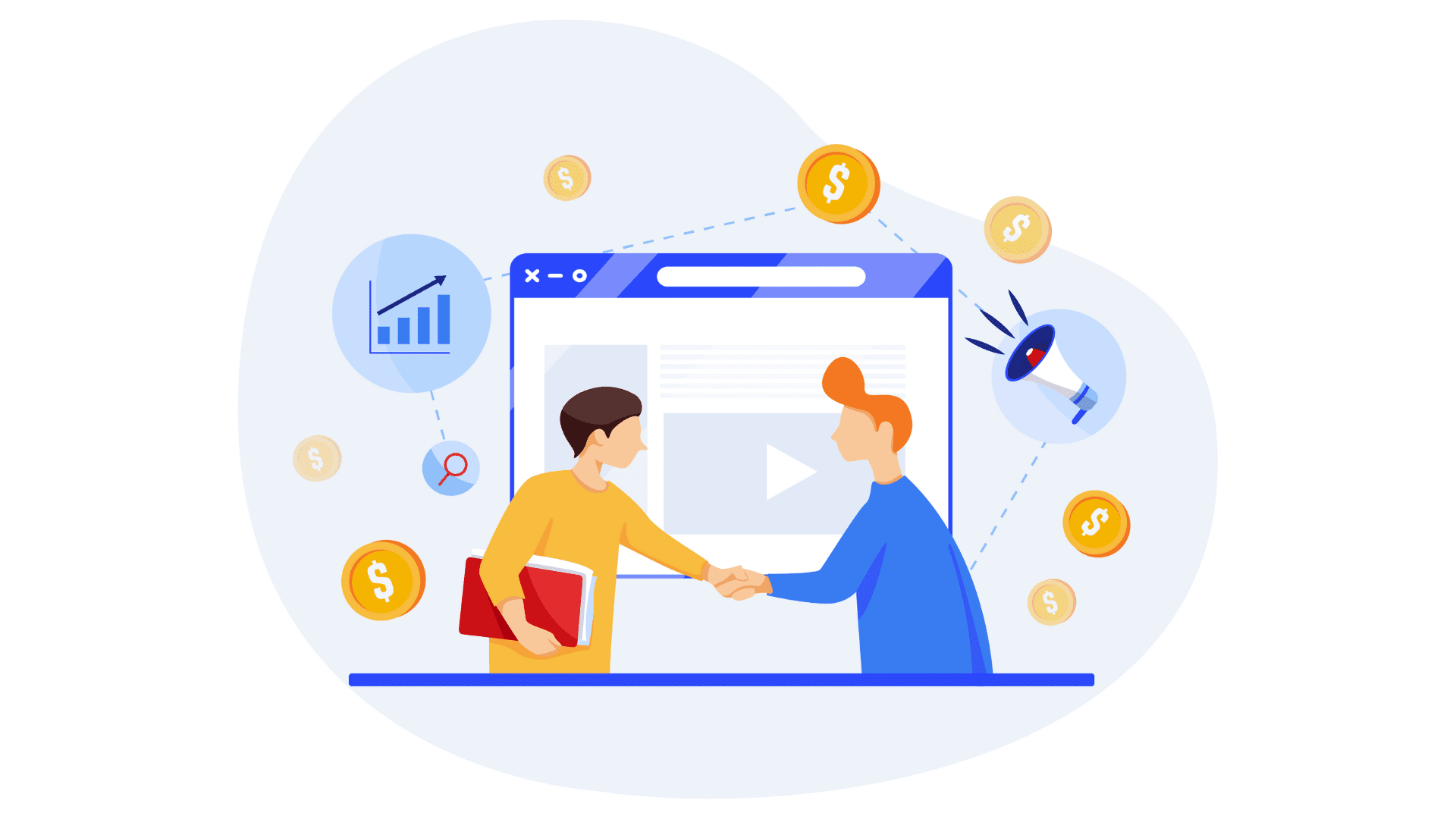 As an AppMySite affiliate, you can make money by reaching a large segment of businesses out there looking for an affordable development solution. With a no-code development tool, it is neither tedious nor expensive to make an app and go live on Google Play and App Store.
This article covers how you can promote AppMySite to your audience. You can refer to the sections discussed here to maximize your commissions as an affiliate partner.