There are more than three billion smartphone users across the globe, and the number is expected to rise in the coming years. This increase in demand for smartphones has also catalysed the growth in demand for mobile apps and its development.
The need for free mobile app builders is at an all-time high. The market is rapidly growing and expanding beyond imagination. There are several custom app development agencies in the market, as well as SaaS platforms that enable DIY and code-free app building.
Today, we will discuss some significant statistics and facts related to the app development industry and understand the forthcoming trends, usage, growth, and other related factors. Let's get started and get answers to various questions related to the app development industry.
In this blog
How big is the mobile app development market?
The mobile app development market is quite enormous. In fact, it is one of the biggest markets that is spread all across the globe. With cloud-based services, the limitations of on-site development have also been mitigated.
This has further propelled the growth of the app development industry. In fact, research shows that the global mobile application market size was valued at USD 187.58 billion in 2021 and is expected to garner USD 206.73 billion in 2022.
As per a report by Technavio, the development market witnessed a YOY (Year-on-Year) growth of 20.45% in 2021 and a CAGR (Compound Annual Growth Rate) of 20.65% during the forecast period. The market is expected to increase by USD 653.91 billion from 2020 to 2025, and the market's growth momentum will accelerate at a CAGR of 20.65%.
As you will read in the next section, these numbers are going to rise in value in the coming years making the app development market stronger and bigger. This is because the demand for apps will continue to rise in the years, especially for apps for wearable and IoT (Internet of Things), among other technological sectors.
How fast is the app development market growing?
Wondering what is the growth forecast for the app development industry? In order to understand the overall growth rate of the mobile app development market, you will have to understand its various segments.
Let us go through some growth reports based on different aspects related to mobile app development and understand the market better.
Based on downloads
As per Statista's report, the number of app downloads has been constantly growing year by year. In the year 2016, the count was around 140.7 billion whereas it reached 230 billion by the end of 2021, thereby indicating a whopping 63% increase in a span of four to five years. This demonstrates that there is a huge demand for apps that is to be met by the development industry.
Based on revenue
Based on the report discussed above, the app download market is expected to grow at a CAGR of 13.4% between 2022 and 2030 and reach an estimated value of USD 565.40 billion by 2030. In fact, mobile apps are projected to generate more than 613 billion U.S. dollars in 2025, with mobile games contributing the biggest to the revenue share among all app categories.
Moreover, as per some studies, the value of app revenue through stores was estimated to be around USD 80 billion in the year 2020. This was mainly split between gaming apps and non-gaming apps. As a matter of fact, gaming apps bring in the most revenue and if trends are to be believed, then the numbers will likely grow in the coming years.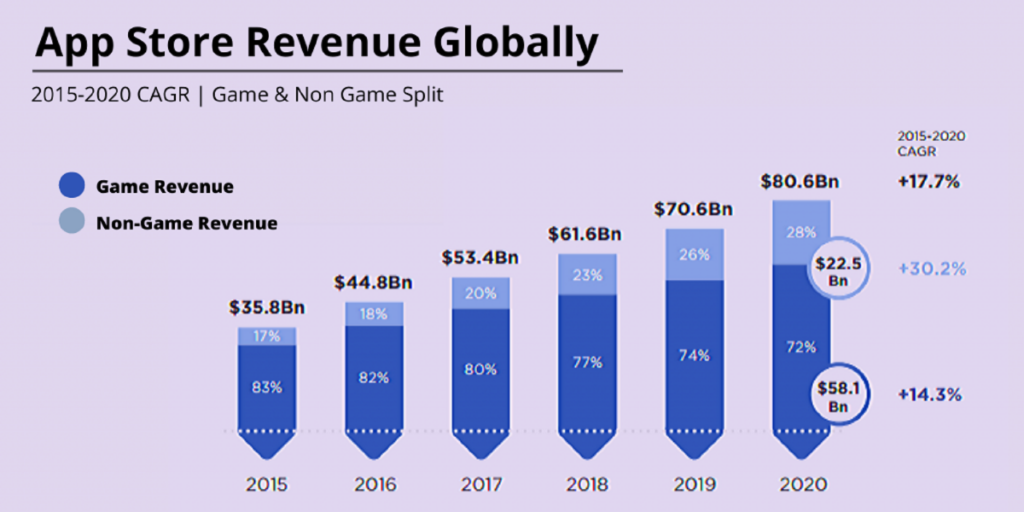 Based on OS (Operating System)
As per Statista's global software developer survey, Android dominated the development market in 2021 with 87% respondents favouring Android development. Whereas the Apple iOS system was the second most popular OS for software development with 60 percent of respondents indicating as such.
Even in the study for January 2022, Android maintained its position with a close to 70 percent share, while iOS accounted for around 25 percent of the mobile operating system market.
It is also notable that Google Play Store is the biggest marketplace with the greatest number of apps whereas Apple App Store takes a lead in terms of revenue. This means that iOS apps bring in more revenue as compared to Android apps, but Android apps are far ahead in terms of usage.
In fact, Apple Store accounted for more than 62.88 percent of global app based revenue in the year 2021. As per Statista, in the first quarter of 2022, the gross app revenue on the Google Play store was almost USD 11 billion. On the contrary, the Apple App Store generated USD 1.8 billion in consumer spending on in-app purchases, subscriptions, and premium apps.
Based on location
In general, countries like the US, China, Japan, Germany, and India are the biggest app development markets of the world. However, North America dominates a large share of the market and it accounted for over 31.83% of the revenue share in 2021.
On the other hand, APAC (Asia Pacific) regions have some of the fastest growing app development markets of the world. It is set to register the highest growth rate of 46% among the other regions. India and China are the two countries that are emerging as a powerful mobile app market.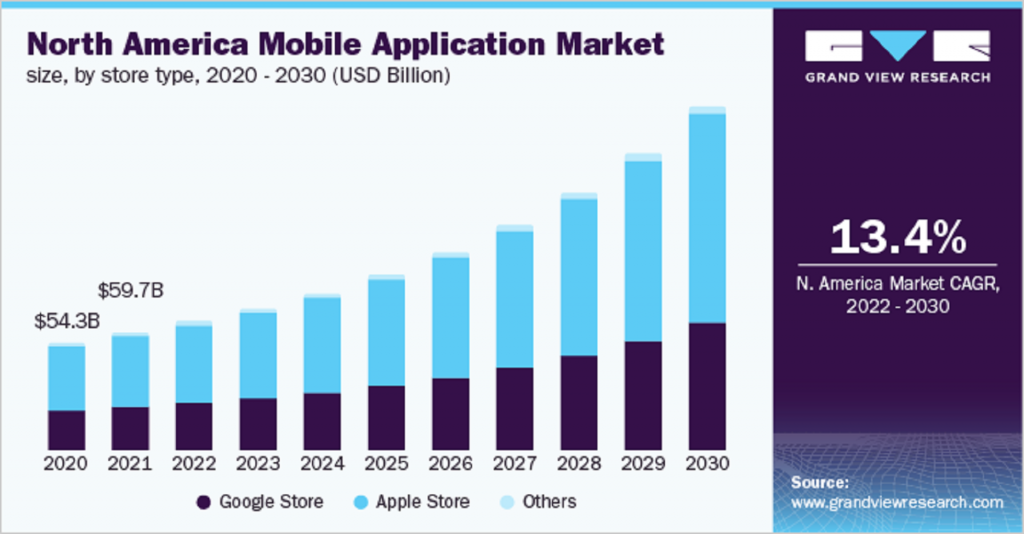 All the various facts and statistics listed above indicate a growth in numbers over the years. This is true for almost every segment related to the mobile app development industry.
What are some notable app development statistics & facts?
Let us go through a list of some interesting facts and statistics at a glance, and understand the mobile app development market even better. Some notable facts are as follows:
The revenue through the Application Development Software segment is projected to reach USD 149.70 billion in 2022.
The revenue in the app development sector is expected to show an annual growth rate of 7.89% resulting in a market volume of USD 218.80 billion by 2027. Most of this revenue will be generated in the United States (USD 74,830 million in 2022).
As of 2022, JavaScript and HTML/CSS were the most commonly used programming languages among software developers around the world, with more than 65 percent of respondents stating that they used JavaScript and around 55 percent using HTML/CSS.
Python, SQL, and TypeScript rank in that order of popularity after the popular programming languages mentioned above.
As of 2021, AWS was the most sought after among all the cloud platforms with 40.35 percent of respondents expressing interest in developing with the technology. Google Cloud Platform ranked second, with 22.56 percent of surveyed software developers wanting to work with it in the next year.
As of January 2022, Apple had paid a total of over USD 260 billion to iOS app developers selling goods and services through the App Store. A year ago, the cumulative payout to developers had amounted to 200 billion U.S. Dollars.
USA and APAC countries are the biggest mobile app development markets of the world.
Which industries are the major contributors to app development?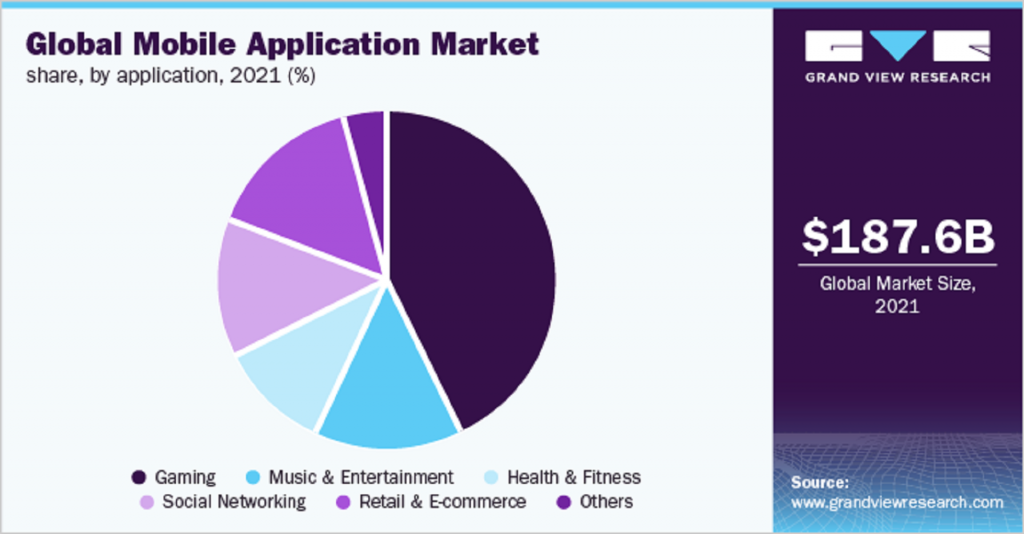 Today almost every industry is being powered by mobile apps. However, the demand for development is particularly high in some sectors as compared to others. For instance, the gaming sector is the biggest in terms of development as well as revenue.
The gaming application segment of the mobile application market accounted for the largest revenue share of more than 42.94% in 2021. This sector will continue to dominate the development market in the coming years as well.
Apart from gaming, there are several other industries that contribute to the development market on a huge level. As per Statista, the top development categories in the Android segment besides Gaming are Education, Business, Entertainment, Music & Audio, Food & Drink, Shopping, Lifestyle, etc.
On the other hand, apart from Games, the most popular categories on the Apple App Store are Business, Education, Utilities, Lifestyle, Food & Drink, and Shopping, among several others. Basically, the app development industry is quite fragmented with the demand for all kinds of apps.
This demand is being met by various players from all across the world. This includes huge multinational corporations, developers, software vendors, etc. However, Apple Inc., Google LLC, Microsoft Corporation, Amazon Inc., and Gameloft SE are believed to be the biggest players of the mobile app market.
What is the best method of app development?
The straightforward answer to this question would be "code-free mobile app builders". While one can also hire an agency or developers or learn coding themselves, these options can turn out to be more complex, time-taking, and costly.
Whereas, even if someone is a coding expert, they can expedite development with code-free solutions. In fact, the low-code and no-code market is constantly expanding and is set to take over a huge share of the custom app development market.
Moreover, mobile app development is the most popular category in the low & no code development industry. If you want more details, ideas and suggestions related to developing an app, then you can also refer to our blog suggested below.
Suggested Read: How to develop an app in 2022: A must read for small businesses
In conclusion!
Mobile app development industry is huge, and it takes a lot of conviction, efforts, time, and resources to make the best of it. However, with tools like AppMySite, you can fast-track and simplify development and make the job easier.
You can create and launch native, or web-view apps based on your budget but make sure that you target both Android and iOS users. Explore the app trends unique to your niche or industry and harness all the opportunities.
In order to understand the app market even better, you can also explore our other blogs on Android app development, iOS app development, marketing, maintenance, and more. If you want us to write on a related topic of your choice, you can let us know in the comment section below. We would love to hear from you!