Mobile apps are emerging as the new marketplace for sellers and buyers. It has given rise to many new opportunities and opened many new dimensions of growth.
The rise of eCommerce and mCommerce has also redefined the ways in which businesses functioned. Android and iOS mobile app builders have made it easier for them to create apps and open up many more avenues.
The consumerization of technology has shaped and influenced many such changes on the domestic and commercial level. One such fine example of this revolution is the dropshipping business.
This concept has been in the market since quite some time now and has evolved over the years. Dropship business companies like Oberlo, SaleHoo and AliExpress have facilitated the growth of this domain furthermore.
You can also set up your own dropship business on app and unlock new opportunities. Stay tuned and discover all about dropship business, and learn how to start.
In this blog
What are the challenges in running a dropshipping business?
It's not always smooth sailing when you're running a dropshipping business. Here are some common challenges that you might face while running a dropshipping business online.
1. Dependence on third-party delivery mechanisms
By definition, dropshipping means you're not directly managing the shipping and delivery of the products. Once an order is placed, you simply let the third-party supplier know all the details needed for delivery.
While this does seem convenient when you're starting a business, having control over shipping is crucial for better delivery rates and time. Too much reliance on third-party suppliers will eventually hurt customer satisfaction.
2. High competition 
Dropshipping is a popular business model adopted by a lot of small businesses and entrepreneurs. It's not as simple as just setting up a website or app and running Facebook ads. Potential customers are bombarded with ads on every possible platform.
It can be near impossible to reach a reliable stream of orders and income if you're not selling a niche product. For example, dropshipping products like T-shirts or watches will not set your business apart, which means you'd need to invest a lot of money in ads and marketing to get any type of visibility.
3 Low-profit margins
Since you don't directly manufacture or distribute products in a dropshipping business model, you're not in full control of the pricing.
In case the manufacturer raises the price, you will need to increase your prices proportionately in order to maintain your margins. If you want to get more orders, it would mean lowering your margins as there's a good chance that customers will find cheaper alternatives otherwise.
It's thus difficult to have high margins if you're in control of the manufacturing or shipping of the product.
4. Tedious customer support
Without actually manufacturing or shipping products, you can't offer bottom-up customer support. This is because you don't control how the product is made or delivered to your customers.
All you can really do is address generic customer queries and resolve payment-related issues. This can be limiting and may actually harm your brand image. After all, customers don't know or care if you're dropshipping products as they placed the order with your business. It can be thus very tedious to manage customer support challenges.
5. Finding the right niche
There are hundreds of thousands of dropshipping businesses and many of them are essentially selling the same type of products. It is crucial to identify the right product niche to negate high competition and sell something unique.
So how do you find the right niche for your business?
This is basically a case of trying to find a product that other competing dropshipping businesses are not actively selling. It requires a lot of market research to find products are under-marketed and have a reasonable demand.
How does a dropshipping business work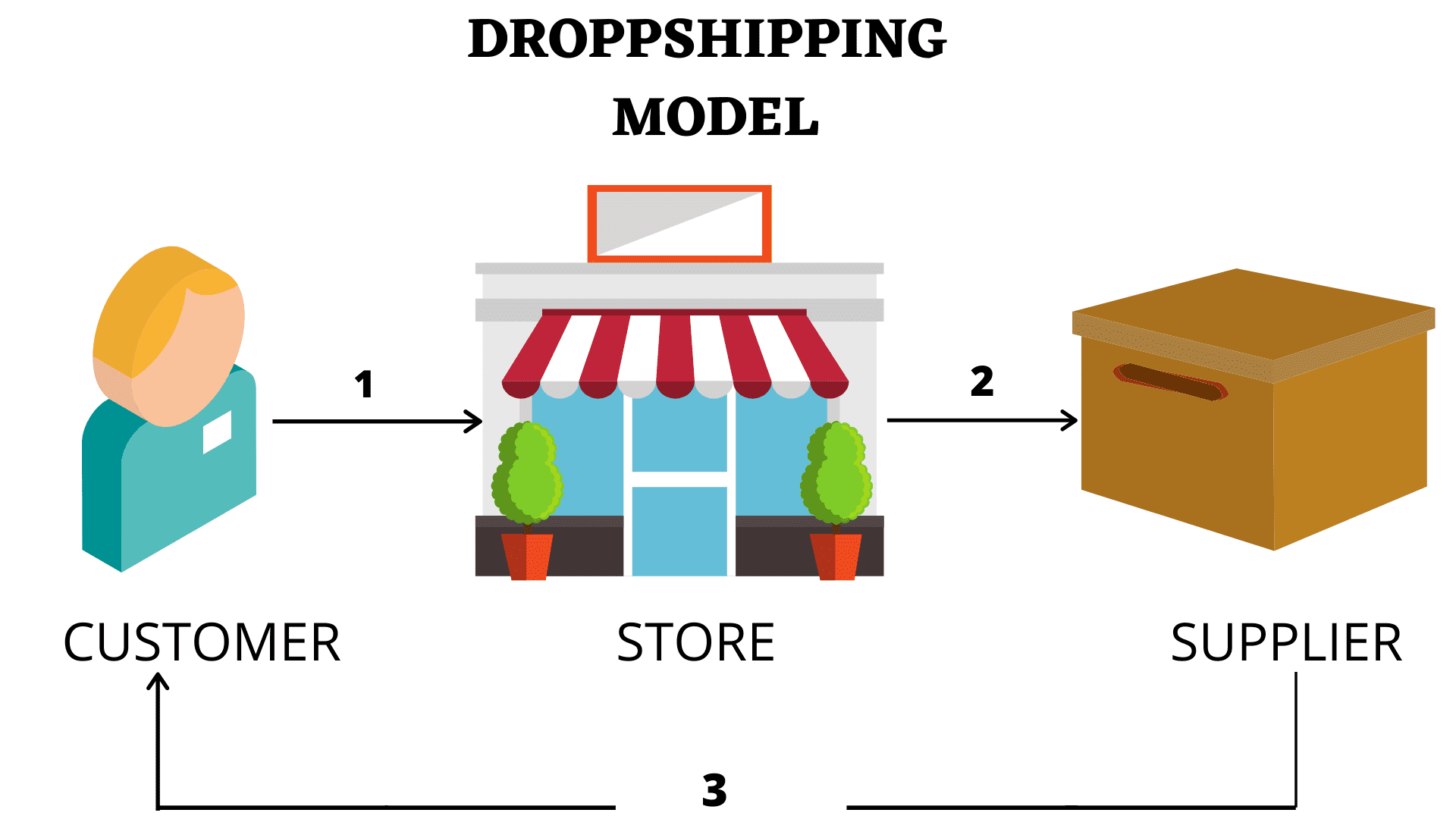 Dropshipping is a hassle-free business model that allows you to earn huge profits with minimum investment. A dropship business owner, or dropshipper, just acts like a bridge between the suppliers and the buyers.
It is well known that there is a huge difference between the market price and the warehouse (manufacturing) price of the product. The retailers charge more for the products as they spend on buying, stocking and managing the inventory.
However, dropshipping model allows you to reap commission-based profit, without going through the hassles listed below:
Spending money on buying goods for sales
Storing, managing and tracking inventory supplies
Dealing with the nuances of shipping goods to customers
In fact, when an order is placed by the customer, it is forwarded to the supplier by the dropshipper. The supplier then ships the order directly to the customer. Hence, it has three main components, which are as discussed below:
#1- Customer
Customers use the dropshipper's website or app to search for their desired products and place orders. As dropshippers often list many suppliers on their platform, customers get a plethora of options.
Many a times, customers interact with both, the dropshipper and the supplier, consecutively at the time of placing and receiving the order. However, the process remains the same for customers, just like any other online purchase.
#2- Dropshipper
Dropshipper is the key that binds the entire business operation together. As a dropshipper, your job is to build a healthy marketplace by finding reliable suppliers and reaching out to customers.
The payment made by the customer goes directly to the dropshipper, a percentage of which is given to the supplier. The profit margins can widely vary depending upon the products, market trends and several other factors.
#3- Supplier
The supplier, upon receiving the request from the dropshipper, packages and delivers the order to the customers. The hassle of marketing and customer acquisition is mitigated, so the profit grows.
It is best for businesses who do not have enough resources or willingness to build their own market and reach out to customers. All one needs is to manage the inventory and ship the orders to the relevant address.
Tips to set-up a successful dropship business
 Any business and marketing endeavor requires ample research and efforts for holistic success.
#1- Find your niche market and reliable suppliers
Every business has its own niche market that turns out to become a profitable investment field in the long run. Therefore, it is important that you carry out research and find your green market. Also determine the types of products you want to sell, and choose your suppliers (or vendors) accordingly.
Ultimately, the products and your service will determine your success. Thus, it is important that all your suppliers and their products are authentic and reliable. Also make sure that they are serious about timely delivery and quality assistance.
#2-  Build a smart store and acquire customers 
Setting up an elegant store and reaching out to customers is an important aspect of your responsibilities as the dropshipper. Therefore, build a smart and customer friendly platform that makes shopping a breeze.
Make efforts to acquire customers through various advertising, marketing and promotional techniques. You can also drive your web traffic towards your app and boost conversions. Find your target audience and rope them in by creating apps for both Android and iOS platforms.
#3-  Enrich with smart features, design and layout 
Build a native app with smart features and ensure frictionless experience for customers. Design the logo, pages, screens, buttons, icons, layout, etc., with acute precision. Focus on every element in detail and make it compelling.
Add a variety of products and make them easily searchable using categories, keywords, etc. Integrate payment methods, social media pages and other features that boost the performance of your app.
#4- Set up a robust communication channel
Customer friendly business operations and a robust communication channel can increase your profits manifold. As you rely upon suppliers for the quality of products and order processing, your grievance redressal system must be strong.
Allow people to drop reviews, ratings, suggestions and feedback, and address the same. You can also send push notifications about offers, updates, deals, parked orders, etc., to customers. Communicate and engage regularly with your customers to make them feel valued.
#5- Analyze your performance and reinvent
It is important that you keep assessing your app's performance based on various metrics. This may include the ratings, reviews, downloads, number of impressions, monetary gains, etc. You can also study your competitor apps and learn from them.
Find your strengths and weaknesses and work on them accordingly. Reinvent your targets and set new milestones according to the market scenario and trends. Be consistent in your efforts to maintain the growth trajectory.
Frequently asked questions
Have questions about starting a dropshipping business? Here are answers to some commonly asked questions about dropshipping.
Can I make my own website for dropshipping?
It is generally advised that you create a website to sell your dropshipped products. This is because a website is a great platform to build high-intent conversion pages that can bring more sales.
Building a website is not complicated thanks to easy CMS solutions like WordPress and website builders like Wix, Shopify, and so on. You can also start your own app by using no-code DIY tools like AppMySite and use your existing dropshipping website to create a native mobile application.
How do I start a dropshipping business website?
You can get started with a website development solution like WooCommerce, Shopify, or any other DIY ecommerce solution.
If you plan to build a WordPress website, WooCommerce is the right solution. The following guide should help you build a WooCommerce store for your business.
Read: Add products to your WooCommerce store
Can I start dropshipping for free?
Technically, you can start dropshipping for free. All you need to do is find a place where you can source products from. You can then start promoting the products on your own website or app. You will only need to pay when a customer actually places an order and you're then required to relay this to the supplier.
In such a case, you can simply use the money you've received from the customer and place an order with the supplier.
What is the best platform to start dropshipping?
Generally, dropshipping businesses use Shopify to sell products. This is because Shopify is a complete out-of-the-box solution, and slightly less complicated than WooCommerce. The main roadblock is that Shopify is not free. WooCommerce is a free plugin that can be loaded on a WordPress website to build an online store.
Basically, any website solution that allows you to build an online store can be used to start dropshipping.
Take your business to mobile within minutes! 
This was all about dropshipping business and its various nuances. If you are intrigued by the idea, then do your research and set up your online dropshipping business.
Proceed to create an app for the store and attract the mobile friendly customers simultaneously. You can sign up for AppMySite WooCommerce App Builder and build your own app without coding.
As evident, there is no reason to wait and waste even a second. Go ahead right now and claim your territory in the dropship industry without much ado! Carpe diem folks!