The fusion of creativity, innovation, business excellence and technology is changing the world around us. From retail to clothing, education to entertainment, every industry is now making efforts in this direction.
The web and mobile traffic is deciding the fate of many businesses. Online app creators have empowered the change and more brands are complementing their websites with apps nowadays.
In fact, the number of smartphone users is increasing rapidly, and it has become mandatory for restaurant, café and bakery owners to create an app and enter the mobile market. Even if you have a coffee shop, you can build a cafe store app with no-code tools like AppMySite.
Today, we will tell you why a foolproof app is important for your bakery business and how you can build it. Let us embark on the journey and learn more.
Benefits of building a bakery app are endless!
Apps are the greatest invention since sliced bread. As we begin, let us first discuss the importance of developing a bakery app for your business!
As evident, more people are using smartphones than ever, thereby increasing and expanding the market for app based businesses and services.
According to Statista, the online food delivery market is growing at a rate of 7.5% and the market value may reach USD 182,327 million by 2024.
Besides increasing operational efficiency, apps are also capable of increasing brand exposure, bringing higher traffic, reducing abandonment rates, and building a loyal consumer base.
Above all, the post COVID-19 world, makes it mandatory for businesses to reduce customer-dependency on outlets and facilitate no-contact home deliveries.
As the bakery industry is an important part of the food industry, it can reap many advantages from the app market. Conclusively, it becomes important for bakery owners to have their own app.
Features that will make the experience rewarding
Now, let us discuss about the aspects that will make your app rewarding and ensure a wholesome experience for your consumers. Consider the following features and enhance your bakery app:
#1: Tempting layout
Design an attractive native app that ensures robust performance. Make the layout appealing and also focus on other visual aspects of the app.
Keep the on-boarding process simple and offer multiple options like Phone, Email, Facebook, Google, etc. Hook the users' attention from their very first encounter with the app.
#2: Order management
Make it easier for your staff to handle and manage orders. Streamline the operations of your bakery by building a fully-functional app.
Make the experience seamless for your customers and your staff by allowing exchange of information within the app. This will help with more efficient and timely fulfilment of orders.
#3: Comprehensive menu
Design a smart menu for your app. Include clear and tempting product pictures and add alluring descriptions and details to each product.
For instance, you can declare the brand details, nutritional values, price, etc. Keep the content concise and clear, and support it with photos, gifs, videos, etc.
#4: Smart categories
Besides displaying a concise menu, also design smart and clear categories. Divide your products in these categories based on their attributions, relevant keywords, search tags, etc.
Allow easy sorting and filtering to help consumers find their desired products. Make their journey easier by recommending products based on their search and purchase activity.
#5: Customization
Customization of products plays a key role in the bakery industry. Allow users to customize their orders based on the ingredients, decoration, presentation, delivery details, etc.
You can also allow them to add customized notes to special products like cakes and other bakes. You may also add pre-defined design and customizable templates for special occasions.
#6: Checkout & payment
Make the checkout process simple and elaborate. Limit it to a few steps and do not over complicate it. Integrate multiple payment options and methods for ease.
Allow consumers to see invoice, check taxes, apply coupons and discount codes, and optimize delivery preferences at the time of checkout.
#7: Order tracking
Order tracking has become a significant tool for on-demand apps. Integrating GPS (Global Positioning System) tools can elevate the performance of your app.
Also add the details of your pick up drivers and allow customers to view the order status. Enable them to monitor the progress and track the order online.
#8: Advance reservations
If you have a sitting area at your outlets or even if you want to enable your customers to place advance orders, you can enable this feature in your app.
Allow customers to schedule orders for a definite time in the future or make advance table reservations. This will also save you from last minute chaos and help you optimize the orders.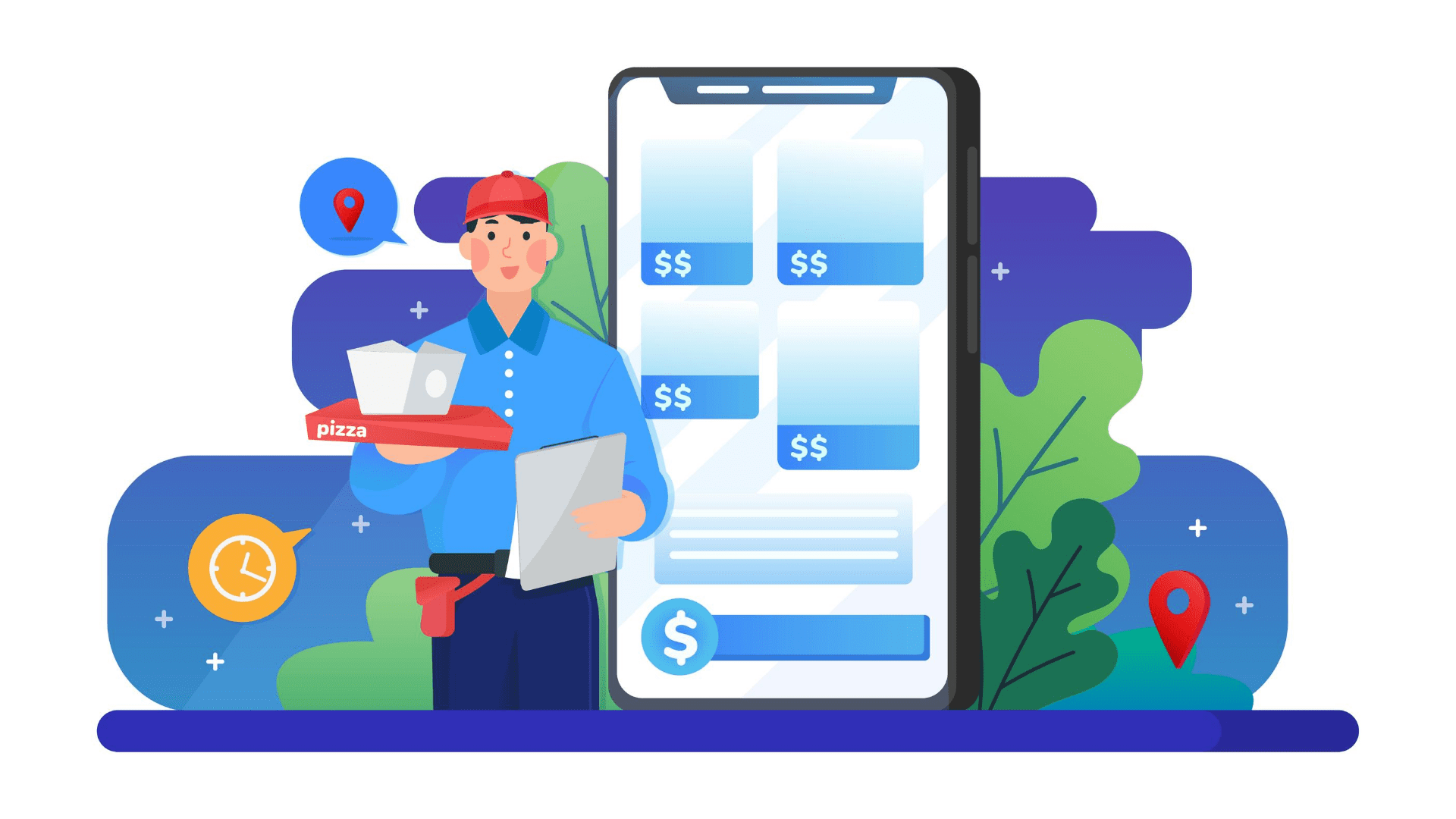 #9: Infotaining catalogs
Make the app fun and entertaining by optimizing the content and presentation style. Add catalogs with high-quality product images describing their exclusive qualities and characteristics.
Think beyond sale and purchase and focus on branding as well. You can also upload recipes, video tutorials, etc., to make the app feed interactive and engaging.
#10: Favorite bookmarking
The customers should be allowed to bookmark their favorite or desired products. It enhances the experience for returning customers and boosts your conversions.
You can also track the purchase activity of your customers and upsell or cross-sell products accordingly. You may also offer occasional discounts on those products for higher engagements.
#11: Geo-targeting
If you have multiple outlets, you must use this feature to target your customers based on their current location and activities.
For instance, if a customer is travelling from one city to the other, you can inform them about the local outlet, operational activities, benefits, etc.
#12: Loyalty benefits
It has been observed that existing customers bring in more revenue than new ones. So, let your loyal and repeat customers feel more welcomed and entertained.
Send them in-app loyalty benefits in form of discounts, coupon codes, special offers, etc. You can also give them credit points for sharing your app in their circle or dropping ratings, reviews and feedback.
#13: Social media sharing
Integrate social media pages, accounts and channels and build your followership on various platforms. Use the power of social media marketing to promote your bakery app.
You can also partner with influencers and use them to drive their social media following towards your app. Also enable your customers to share your brand tales and discuss about it on the platforms.
#14: Push notifications
Communicate with your customers on a regular basis through various medium. Use in-app push notifications to interact with them and engage them.
Hook their attention by sending attractive messages about new product updates, offers, deals, season sales, etc. You can also send courtesy messages on festivals and their special days.
#15: Performance analytics
Keep analyzing the various performance metrics of your app and assess its popularity, rate of growth, relevance, and more.
Check your feedback and reviews, and address them with a positive approach. Also keep a track of your app installations, usage frequency, traction, revenue, etc.
Over to you!
This was our brief guide to make you aware of the qualities of the perfect bakery app. Now it is time to discover the methods you can use to build it.
You can go for the custom app development techniques and hire a team of technicians to build an app for you. This process is complex, laborious, extravagant and requires a lot of time.
Else, you can take the smarter road and build your app with an advanced DIY solution. Just sign up for AppMySite bakery app builder and create your very own app without coding.
This method is foolproof, affordable, quick and enables you to have complete control over the process without any dependency. So, wait no more and build your own app.
Publish your app for Android and iOS users and be just a click away from your potential and existing customers. Get going!