Mobile apps are redefining eCommerce and other spheres and influencing lives globally. With billions of mobile phone users in the world and millions of apps on the app stores, mobile apps are shaping the functioning of our daily activities.
With efficient DIY app builder tools like AppMySite, you can make your own app effortlessly, in a flexible budget. While eCommerce stores opt for WooCommerce mobile apps, bloggers can create a WordPress app for Android & iOS users.
However, just building an app for your store is not enough. You should have a smart post-launch strategy to ensure good number of downloads to enhance your app ranking and visibility on stores.
Social Media can play a significant role in accomplishing this feat. Read and discover, how you can make the most of your Social Media Marketing campaigns to boost the reach and success of your app.
In this blog
Social Media: The most powerful tool of marketing
Social Media has emerged as the most powerful tool amidst all the technical advancements around the globe. All brands and businesses are actively harnessing this potential to expand their reach and turn the netizens into consumers with effective and creative marketing strategies.
The following factors related to Social Media strengthen the success of a business:
There were around 3.2 billion Social Media users in 2019 and the number is constantly growing
Millennials are the largest online consumers of products and are highly active on Social Media
Studies show that users spend most of their casual internet surfing time on Social Media
73% of online marketers agree that social media marketing has been effective for their business growth
More than 2 billion businesses are already using Facebook for promoting their brand
Social Media Platforms are developing customised options for ease of doing business
Social Media advertisements are highly beneficial and usually cost less than the conventional options
Social Media presence increases your online visibility and expands your market reach
Unlock infinite opportunities with a smart strategy
Social Media Marketing, when strategized well, can highly benefit your brand and increase your revenue. It can also help in boosting the rank, reach and visibility of your mobile app for your online store.
Before you proceed to create an app with a WooCommerce or WordPress app builder tool, devise a strong strategy. It will help you in harnessing the full potential of your resources & your investment and also strengthen your road to ROI (Return on Investment.)
Follow the tips discussed below to make the most of your Social Media Marketing:
1.

Get an app builder with Social Media integration feature
Subscribe to an affordable native app maker that comes with a builder-friendly platform. Ensure it has all necessary features, including social media integration. It will help in further simplifying your work.
2.

Carry out ample market research
Research is important to save time and resources. Identify your marketing goals, scope, target audience and also fathom your budget. Ideate your strategies considering all the important factors.
3.

Plan your campaigns creatively
Hire executives who can bring creativity to the table. Even if you are working independently, put your creative skills to work as you proceed to design campaigns for your products, brand or app promotion.
4.

Create interactive & trending content
Align your content according to the on-going trends as it hooks your consumers the most. The content should also be interactive and talk directly to your users.
5.

Personalize the advertisements, posts & comments
You can choose to interact with all your customers or target specific ones, at a time. Customize the advertisements, posts, messages and comments by keeping your targeted audience in mind.
6.

Analyze the feedback
Social Media helps in getting immediate feedback for your campaigns. Take every feedback in good spirit and address as many concerns as possible. Analyze the available data to set new business goals.
7.

Reward consumers for referrals & advocacy
Organize campaigns where you reward your existing consumers for referring your brand in their circle. This will promote publicity & advocacy and help you build a trustworthy bond with your customers.
Make most of the relevant platforms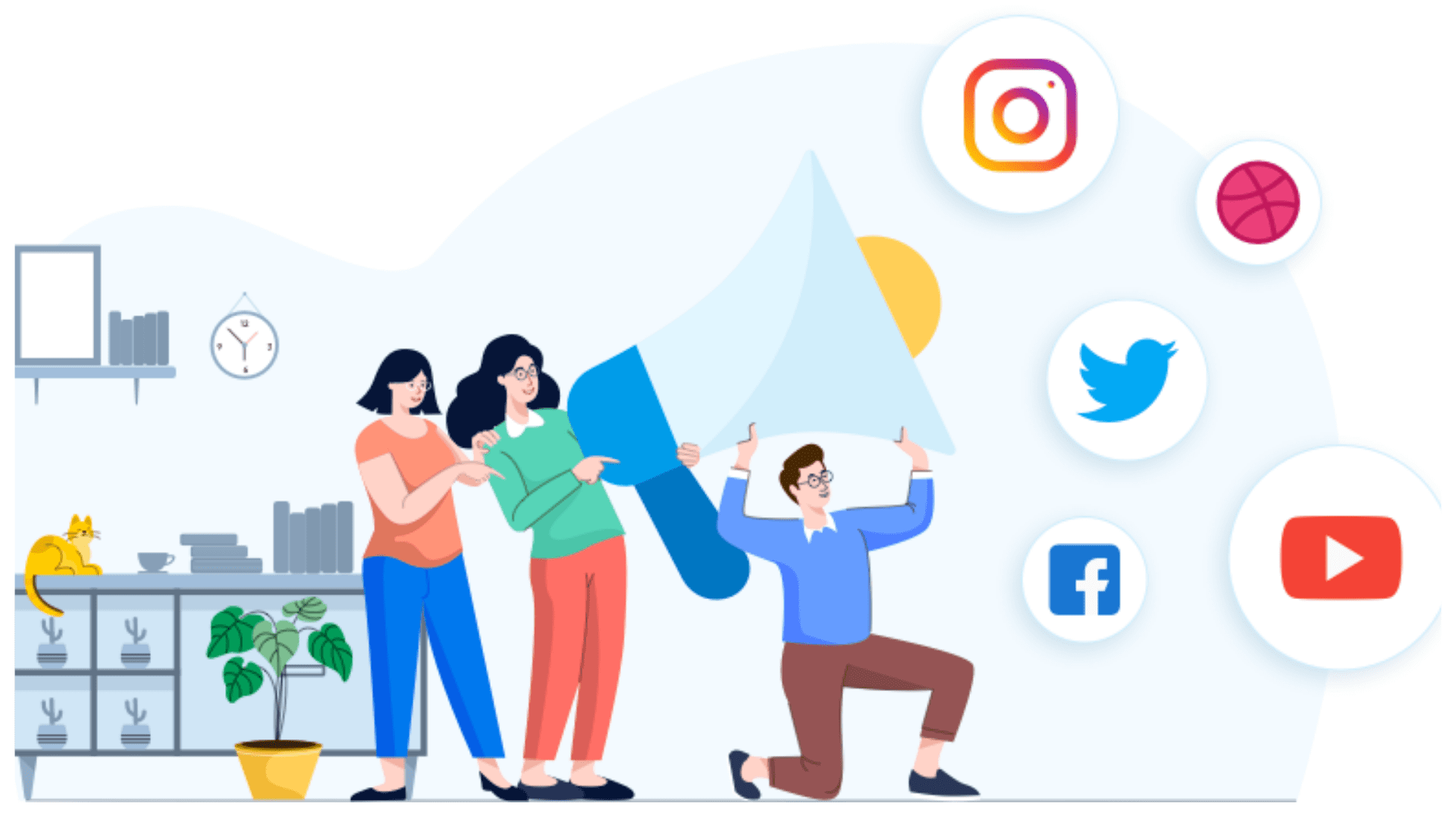 The world of Social Media is expanding more and more every day. It is also turning more amusing, thereby unlocking many opportunities. The different platforms are evolving themselves to cater to the need of various audiences.
The different platforms have special tools and offerings for businesses. Know how you should plan your approach separately for each platform:
1) Facebook: You can create a brand page and also create several communities. Share compelling posts with good content and vibrant images. Do not just focus on brand promotion. Share company stories, wish people on festivals and update content according to trends.
2) Twitter: Align your posts as per the sociopolitical trends around the globe. Generate relevant content, create polls and allow people to interact with your brand with hashtags.
3) Instagram: It is the best platform for influencer marketing. Connect with celebrities and ask them to post pictures with your products. Build trust and generate social proof for your brand to earn the attention of users.
4) YouTube: Videos captivate the buyers and compel them to engage with you. Upload videos here and share it to other platforms. Implement video marketing techniques for best results.
5) Others: Do not limit yourself only to the platforms discussed above. Use other popular platforms like LinkedIn, TikTok and expand more as per your scope and abilities.
You can also interlink the different platforms to amalgamate the content and user base. Also, keep learning from your competitors and other heavy weights of the industry. But, always proceed with an original and innovative strategy of your own.
Act now to reap early
By now, you are certainly aware of the benefits of Social Media Marketing and the various aspects related to it. Now, is the most fruitful time to make the most of this tool and get an advantage over your competitors.
If you still don't have an app that can woo social media users to your brand, then create one soon. Contact AppMySite to make your own app with exquisite features and strengthen your journey to success.