Mobile apps are playing an instrumental role in changing the dynamics of the online market. Any business or service that has invested in an app is reaping more profit than others who have not.
If you are still wondering about how to create an app without coding, you can end your search at AppMySite. It is the easiest and the most convenient way to complement your online business website with an app.
What more? In our blogs, we keep discussing about the various tricks to mobile app creation, design, publishing, and marketing. These tips come in handy for any anyone willing to expand their realm in mCommerce.
For instance, the other day we told you about App Icons: The important but overlooked element of mobile app design. We discussed the various aspects of app icon design and its utility.
Today, we will tell you about another significant but underrated element of mobile app design – the zero state or empty state.
What is zero state in mobile apps
The primary feature of any mobile app is to help users achieve a goal. The goal may vary to a wide range of things like shopping, entertainment, computing, acquiring information, or more.
This is done by putting up an ensemble of various screens, designs, layout, buttons, categories, etc. Each element thereby contributes to the entire journey of the user as a whole.
However, not every screen can be a functional or responsive screen within an app. There may come instances where there might be a data vacuum or error owing to various circumstances.
Such states are known as zero states or empty states in terms of mobile app development and functionality. Although users encounter many empty states during their entire app usage cycle, new users come across it the most.
Being new to the app, when the users are yet to explore the contents, add data or initiate actions, they may encounter many such screens. Hence, it plays a crucial role in enhancing user onboarding experience and making it more interactive.
For instance, if a user opens a chat window in a communication and chat app, it will display an "empty inbox" prompt until the user has added a friend and started a conversation.
Different types and stages of empty state
In this section, we will tell you about the various aspects, stages and types of empty or zero states in a mobile app. It will help you get an in-depth understanding of the same.
Primarily, empty states correspond to the following three situations:
#1: Zero data
It occurs when the user has not entered any data or cleared existing data. For instance, not having any messages in the "Sent Files" folder of your emailing app due to deletion of existing messages, or due to the case of no conversations.
If the users filter for a data range or seek information in a section that has no data, you can design screens that convey the same. For instance, "the file you are searching for does not exist", like message can be put to display.
#2: First use
A user is more likely to encounter the greatest number of zero state screens during first use. As the user is new, most of the features and functionalities are unexplored. For instance, a Dropbox account is empty at first.
In these cases, you can add a tutorial or tell the users what to do in direct words. For instance, an alternative or solution like "Start a conversation now" or "Start adding products to cart now" with "Add (+)" or any other relevant button can be displayed for convenience.
#3: Errors
Errors resulting in zero state screens is a common phenomenon in the world of mobile phones. Errors are more likely to occur when the user inputs a wrong information or when there is a mechanical or technical failure.
For example, if there is a problem with the users' internet connection, some app functions may not load. Even in this case, you must have an explanatory zero state screen ready to convey the same to the users.
Suggested Read: Mobile app navigation: Best practices to enhance your UI and UX
The significance of zero state screens
The significance of empty screens often remains underrated. However, the truth is that it is more significant than what it is usually perceived of.
Zero state screens are incredibly important for the reasons listed below:
#1: Smooth user onboarding and experience
The first time when users encounter the app, they are more likely to make mistakes or face situations of data vacuum. Especially during onboarding, the process should be smooth and frictionless.
In this case, well designed and engaging empty state screens can redirect them on the right path. It will guide them through as they start exploring your app.
#2: Higher user retention and loyalty
According to Statista, 25 per cent apps were abandoned after the first use in the year 2019. In order to keep your first time users tied to the app, you must ensure that their first experience is perfect.
This will also depend upon the fact that how are the states of data vacuum or wrong inputs treated in your app. An informative experience will make them loyal and inspire them to return for more.
#3: Lower abandonment and churn rates
As discussed above, higher user retention will lead to lower abandonment and churn rates. If a user will know that the app is smooth and easy to grasp, they will stay.
Even during instances of chaos or absence of data, they will have something to seek. It will prevent them from uninstalling the app even if there is not much available for them in that instance.
#4: Informed and actionable app usage
Smartly designed zero state screens can also help users take informed decisions. It also cuts on the monotony of the app usage and provides them with actionable options.
For instance, if a person has failed at an attempt due to inaccuracy of data, poor internet connection or any such issue, you can tell them that they can try something else as an alternative or wait until the issue is fixed.
#5: Streamlined actions and conversions
Imagine a new user reaching a stage in an app where they encounter an error. With a well built in-app segments of zero screens, you can redirect them to a productive page or screen.
By doing so, you can lead them to their ultimate desired goals. This will prevent the loss of users and increase conversions that would have been lost otherwise.
Tips to design the best empty state screens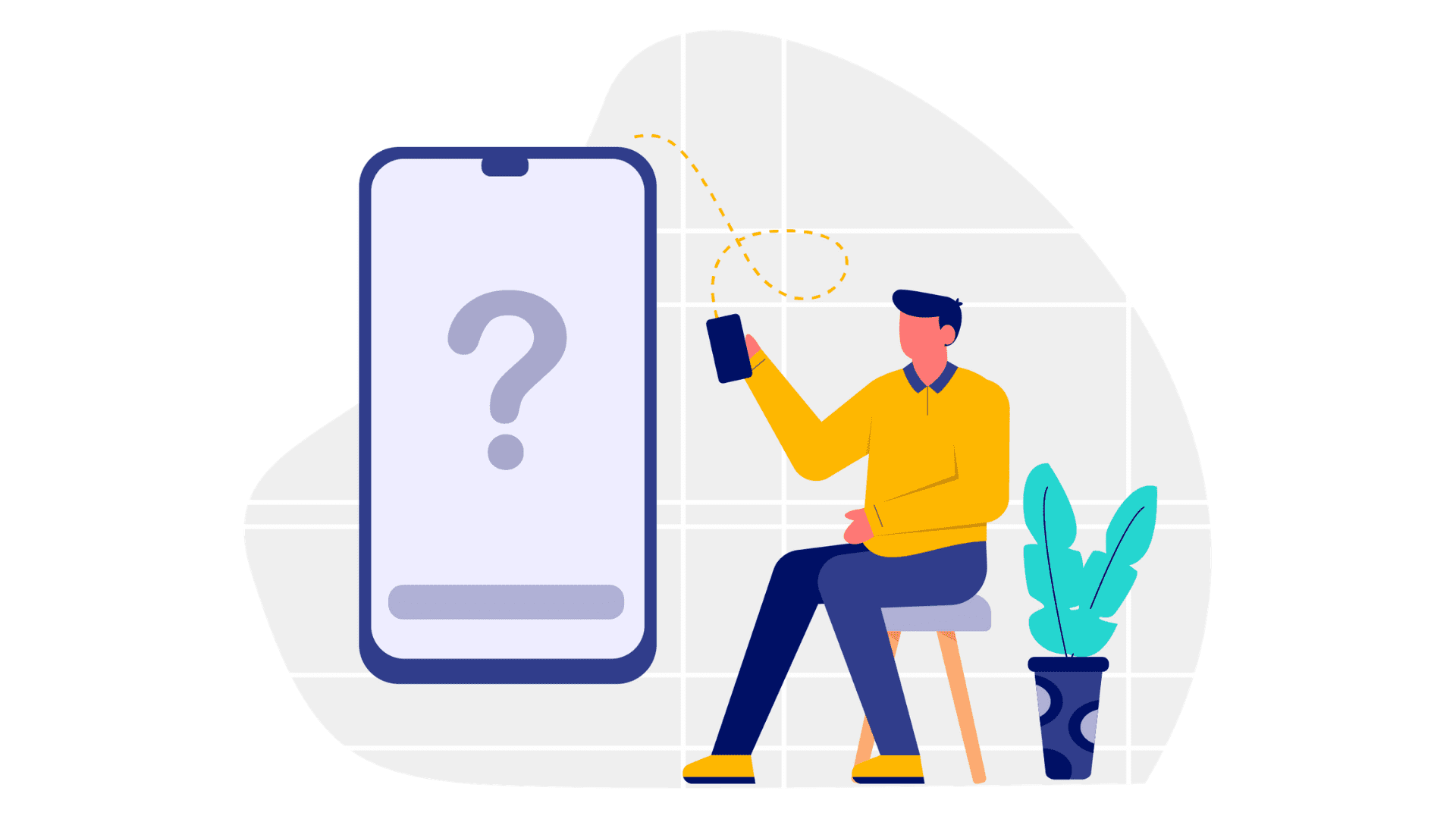 Follow the tips listed below and design your empty state screens like a pro:
#1: Have a problem solving approach:
The primary function of empty screen designing is to help users overcome an existing failure, problem, or vacuum. Hence, it is important that you move ahead with a problem solving approach.
For instance, if a user is in a fix or is stuck at any stage, you can offer productive alternatives and solutions. This may also include a relevant CTA button or a URL redirecting to an FAQ page, Help Centre, etc.
Suggested Read: Call-to-Action buttons – All you need to know about high conversion CTAs
#2: Unleash creativity and elements of fun
Try to get creative with your designs when it comes to empty screens or zero screens. In fact, it should not feel like an empty space at all.
You can use animation, gamification or play with the text in a jovial and fun way to light up the space. You can also use some poetic elements, jokes, phrases, etc., or just add a simple motivational quote to fill the space.
#3: Stay away from dullness and redundancy
Do not design all your zero and empty state screens in the same monotonous way. It can make the app experience boring and gloomy.
A simple "an error occurred" might infuriate your users. Instead, try to tell them what the possible error is and suggest a solution or parallel action. Surprise your users with the unexpected and do not repeat the contents.
#4: Be easy on their cognitive senses
Due not be very wordy or confusing as you design the contents of the screen. The design should be in sync with the other design elements of your website and mobile app.
Use ample self-explanatory visual elements like gifs, images, videos, etc., with a bit of text. Be easy on the senses of the users and try to reduce the cognitive load as you design the aesthetics.
#5: Use it as a branding opportunity
The best thing to do when you run out of ideas, is to use the space and time as a branding opportunity. However, do not over push or exaggerate, but try to have a befriending and conversational tone.
For instance, you can ask users to check out a product description video or add a review while a problem is being fixed. Else you can simply place marketing elements of your brand on the zero state screen.
Some outstanding examples to learn from
Let us discover a few examples of apps with exceptional empty screen designs. You can learn from the following heavy weights in the industry:
#1: Snapchat
Snapchat has a vibrant empty state screen for the "No stories" section. The cute snapchat icon appears with illustrations of other animals. The text tells users that they can add friends and then view their stories to begin all the fun.
#2: Dropbox
Dropbox has many empty state screens that guide and entertain users at every stage. It uses minimal graphics with explanatory texts to explain the same. "Welcome to Folders", "All Done For Now", "Star Your Favorite Files" are some of the inspiring examples.
#3: Google Photos
The empty state screens of Google Photos are the perfect example of the design fusion of minimalism and vibrance. The glass with a straw, showreel, and other images complemented with related text make it a perfect visual treat.
Wrapping Up!
Voila! With this we have reached the culmination of the entertaining and informative journey. We hope that you are now well aware of the significance of zero state or empty state screens.
You can follow our blogs regularly to know more about the nuances of mobile app development, mobile app design, app maintenance, and app marketing.
If you are still looking for a solution to build an app then sign up for AppMySite and convert WordPress site to android app instantly.
You can build, design and publish your own app without coding and also seek expert help with matters related to design and optimization.
So, wait no more. Go ahead and grab the opportunity now. Enter the mobile app industry and claim your space!