Technology is bridging the gaps that once existed between businesses and their consumers. It is filling the chasm that rose due to geographical boundaries, technical restrictions, linguistic barriers, and more.
Today, thousands of eCommerce brands, organizations, institutions, and even eminent individuals have an online presence and more of them are joining the league each day.
Ever since it has become easier to create websites and apps and expand the digital footprint, many businesses and brands are taking the online route and reaching customers at their fingertips.
In fact, the proliferation of smartphones has added a whole new dynamic to the realm of the online business industry and made apps the first choice of many buyers and sellers.
AppMySite addresses this increase in demand of premium quality affordable apps to help such aspiring online businesses. It enables you to make your own app without writing a single line of code.
Today, we are here to tell you about yet another solution by AppMySite that is a boon for online brands and businesses. Stay tuned with us till the end and make the most of it!
Suggested Read: Five ways to make your WordPress website mobile-friendly
WordPress Web Hosting add-on by AppMySite: An introduction
Today, we are here to discuss about an add-on solution by AppMySite that has been especially curated for WordPress website owners. The WordPress Web Hosting add-on is an ideal solution for those looking for a one stop website management solution.
This add-on brings two powerful solutions together: WP Engine web hosting solution for WordPress websites and AppMySite WordPress app builder for WordPress and WooCommerce. It is a powerful partnership between the biggest name in the web hosting industry and the best DIY app maker in the league.
When choosing the best WordPress host for your website, you must seek three factors – simplicity, security, and speed. Fortunately, WP Engine offers it all. Similarly, AppMySite ensures that the apps you build on its platform, replicate your website in terms of speed, performance, and reliability.
As the two come together, you get the best WordPress experience you can imagine. The caliber of your online business grows manifold as the speed, performance and power of your website and app increase. As soon as you purchase this add-on, you can expect and achieve it all!
Suggested Read: How can your choice of website host affect your app performance?
Salient features of the WordPress Web Hosting add-on
The WordPress Web Hosting add-on offers a myriad of benefits to customers. Its outstanding features make it the best solution for businesses aspiring to build their brand online. Some amazing features are as follows:
#1: Fast and Reliable
App usage trends show that most people abandon websites and apps that take too much time to load or respond. Clearly, speed and reliability play a crucial role in the success of your website and app.
This can only be achieved when you have a trusted web hosting partner and a robust app builder. Thank fully, this add-on gets you the same. You can rely on these solutions for a fast, responsive and robust digital infrastructure.
#2: Ideal for WordPress
WordPress is one of the most popular CMSs (Content Management Services). It is the first choice of a great number of customers who wish to create a website and extend their services online. However, every WordPress website owner also needs a great hosting partner.
We recommend WP Engine as it is especially optimized for WordPress. If you choose our WordPress Web Hosting add-on, you will be able to host your website and app in an environment ideal for WordPress.
#3: Free CDN + custom caching
The WordPress Web Hosting Add-on comes with the dual power of WP Engine and AppMySite. As you sign up for this add-on, you get to host your WordPress website with the leading hosting solution provider.
WP Engine ensures multiple benefits and features like fast website setup, easy management, free CDN, custom caching, automated WordPress updates, robust support and much more.
These features collectively ensure a seamless experience for you and your audience, and eliminate any speed barriers, performance issues and bottlenecks.
Suggested Read: What metrics are used to measure website speed and performance?
Get the dual benefit of a powerful partnership
AppMySite and WP Engine have come together to ensure the best for you. This powerful partnership can benefit online brands and businesses in multiple ways. Stay tuned and discover some of the benefits listed below:
#1: Boost speed and performance
The apps built with AppMySite are directly powered by your website that it has been built for. Hence, the speed and performance of the apps also rely on the speed and performance of your website.
The managed WordPress hosting solution by WP Engine imparts powerful speed and smoothens the performance of your website, and irons out any kinks or issues. This gives a boost to the performance of your website as well as your app.
#2: Strengthen cyber security
The internet is an amazing place. But, just like any other sphere, it has its own threats and challenges. Malicious attacks and hackers can harm a website that is not secure enough. Also, cyber security can become especially challenging for businesses with budget restrictions.
However, this add-on enables you to get the shield of robust security and protection for your website without any hassle. It helps you to protect your app from malicious attacks and eliminate the concerns of cybersecurity.
#3: Ensure endless advantages
That is not all! The AppMySite and WP Engine partnership ensures endless benefits for the customers. You can avail a range of free services under one roof and manage your website more efficiently. Some benefits include:
Easy SFTP access: Ensure simple and secure access to all sites from one login.
Staging for every site: Test websites before making changes and work in a secure environment.
Powerful development tools: Expedite site development with easy built-in tools for both individuals and development teams.
Free SSL certificates: Get direct SSL installation from website dashboard and make your website more secure.
Suggested Read: Reduce app load time and increase speed – Your ultimate guide to a better UX
Give your online business the boost it needs!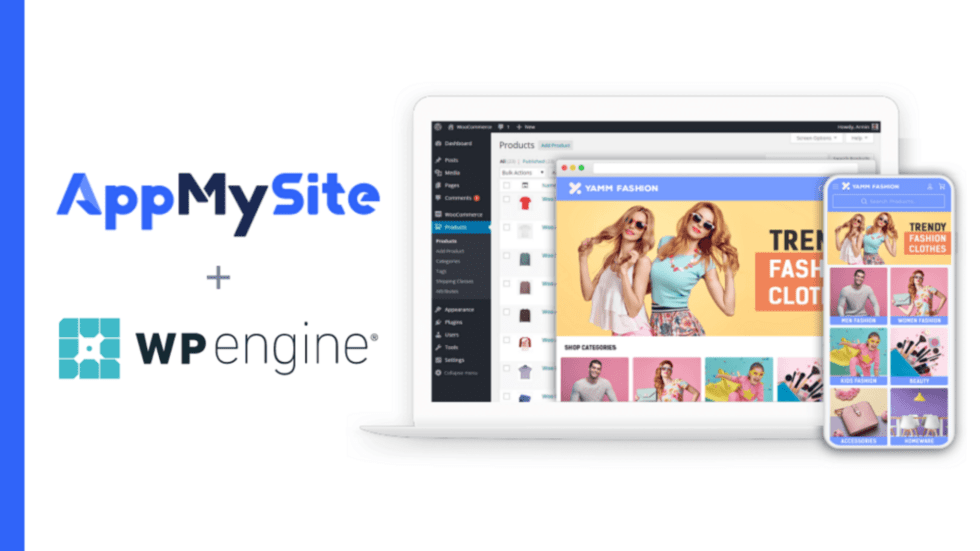 Let your website and app go hand in hand and give your business the boost that it needs. Subscribe to AppMySite app builder software and create your app for free.
Build, customize and test your app without writing a single line of code. Proceed to publish for Android and iOS and reach all kinds of mobile-friendly audiences.
Do not forget to get our WordPress Web Hosting add-on and power your website and app together. Ensure robust speed, performance and security and register unprecedented growth.
Enter the online business industry with complete preparation and make the most of the opportunities coming your way. Wait no more! Go ahead and get an edge over your competitors now!