The Facebook company is now Meta. This rebranding initiative was recently one of the biggest news and made headlines across the globe.
Initially, when we said 'Facebook', most people only thought of the community app that let them add friends and share updates, etc. However, 'Facebook' as a company has been obviously more than that.
This rebranding probably signifies the same. While the social media app is still 'Facebook', the company is now known as 'Meta' and the rebranding denotes new goals, vision, expansion, and other dynamics.
This has caught the attention of brands and consumers equally, and "Rebranding" has become the new buzz word.
Suddenly questions like "What is rebranding", "Should I rebrand?", "Does my business need rebranding", have started resonating on the web.
However, rebranding is not a new thing at all!
So, get onboard with us and learn all that you need to know about rebranding and the nuances attached to it. Let's begin!
What is Rebranding and why is it significant?
Investopedia defines brand as "an intangible marketing or business concept that helps people identify a company, product, or individual."
It further states that "companies can protect their brands by registering trademarks and create a brand by using an identifying symbol, mark, logo, name, word, or sentence and distinguish their product from others."
When a company decides to make changes to any of the above aspects, it leads to a revamp in the brand image and ultimately classifies as 'rebranding'.
Wikipedia defines rebranding as "marketing strategy in which a new name, term, symbol, design, concept or combination thereof is created for an established brand with the intention of developing a new, differentiated identity in the minds of consumers, investors, competitors, and other stakeholders. Often, this involves radical changes to a brand's logo, name, legal names, image, marketing strategy, and advertising themes."
While we agree with the above definition, we believe that rebranding can be more than a marketing strategy.
Rebranding can also be done to establish better and stronger connect with the potential audiences, revamp existing brand image, eliminate existing connotations of the brand's image, give out a new brand message, match up with the changing trends, and more.
Thus, rebranding can be significant for a brand in more than one way and can be considered as a part and parcel of the evolution and growth of a business.
What are the types of rebranding?
Businesses may opt to rebrand in a variety of ways. However, the two major classifications may include 'Partial Rebranding' and 'Total Rebranding'.
Partial rebranding is done when only some aspects of a brand are revamped. For instance, the evolution of Apple's logo can be a great example of partial rebranding done every now and then to keep up with the new goals, demands and trends.
On the other hand, 'Total rebranding' may be done in case of a major change like change in the brand name and strategies, takeover of a brand by other brand, brand mergers, and more.
For instance, the Indian grocery delivery brand Grofers changed its name to blinkit while adding the "10 minute delivery" dynamic to its features and changing its mission statement to "instant commerce indistinguishable from magic".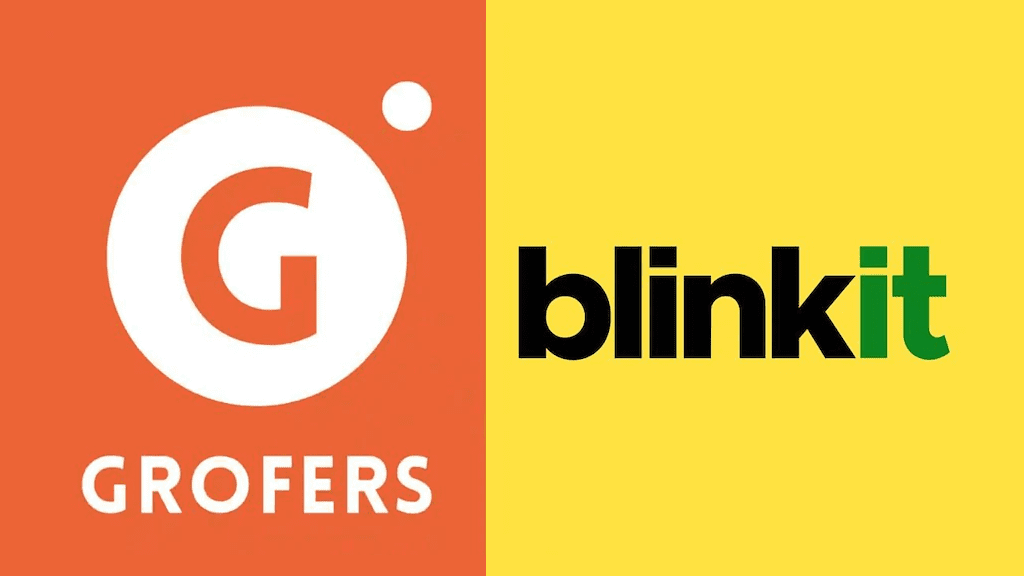 There have also been instances of rebranding done for the sake of inclusivity and, environmental awareness, that has given brands a chance to redeem, change their image, and get better.
What the case may be, rebranding always denotes changes for a brand on many levels and it must reflect in various initiatives and endeavors taken by the brand.
Taking Grofers as an example, developing a restaurant app can be a viable alternative for F&B businesses.
Benefits of rebranding an online business
Now that you know what rebranding is, let us tell you about its outstanding benefits. Read through and find out what rebranding can do for a business.
The benefits include the following:
Enhance the aesthetic & functional appeal of your brand
Connect with a new kind of target audience
Overhaul and enhance your keyword, content, and marketing strategy
Combat negative press or redeem the brand image
Establish your brand in a new location, niche, etc.
Differentiate your brand from your competitors
Overhaul the goals, mission, vision, etc., of the brand
Showcase new values, products, offers and benefits
Remain relevant with the changing times and consumer demands
Stay up to date with the trends in design, technology, marketing, etc.
Signify acquisitions, mergers, growth, and expansion
Communicate the right messages to the stakeholders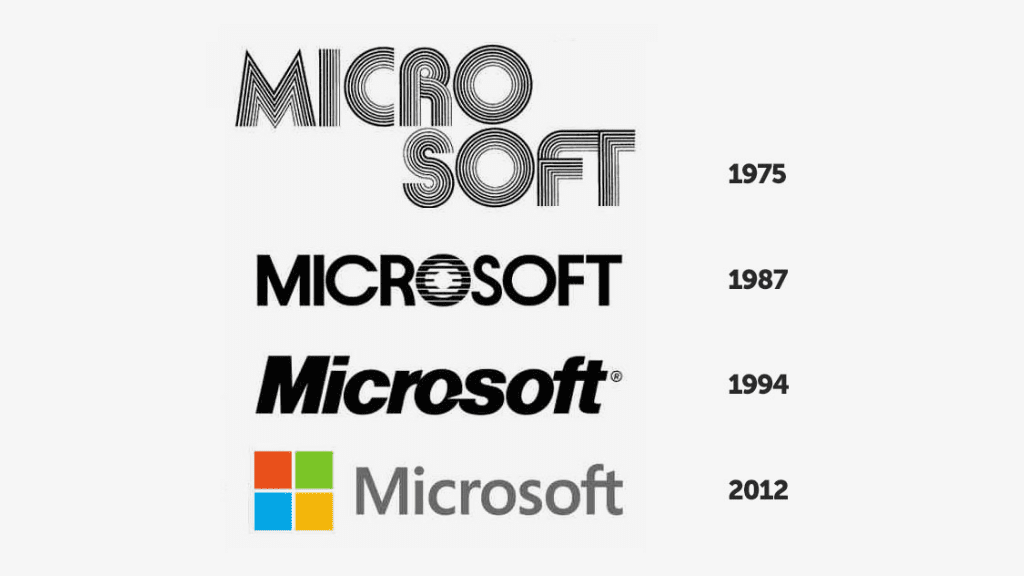 These are just some of the many benefits that rebranding can ensure for your business. The evolution of Microsoft's logo is the perfect example of "updating and keeping up with the trends of the time".
If you want to delve into other examples, then brands going "green' would be a great one.
Environmental changes and issues are a global concern and recently, many brands have taken initiatives to show that they are all aware and in agreement when it comes to sustainable growth and development.
Brands have also started campaigning for inclusivity and equality. While some limit brand activism to an ad campaign or CSR (Corporate Social Responsibility) initiative, others take it a step further and reinvent their brand image to show that they are initiating positive changes.
However, rebranding may not always be needed for a moral cause. As discussed above, your goals can be totally different and brand oriented.
You may need rebranding to align your branding strategies with your growth and developments, change in marketing trends, or for anything under the sun that is viable and vital for your upgrade.
When does a brand need to be rebranded?
Rebranding is important and it especially matters for online businesses and eCommerce brands.
It is so, because online brands constantly remain under the purview of the internet friendly population and the rapidly transforming universe powered by technology.
However, one must know to pick their moment and rebrand only when it is viable.
Frequent rebranding is unnecessary, and can do more bad than good. Thus, identifying and tapping into the right opportunities is important.
We have made a list of instances when rebranding may come as a savior for your brand.
You can take ideas from these examples and decide whether your brand needs revamping or not.
A rebranding may be a good step under the following circumstances:
When you are repositioning your brand or launching a new product
When you feel like your brand assets have turned outdated & irrelevant
When there is a huge dip in metrics that define your success (traffic, app installs, sales, etc.)
When you want to enhance or manage your brand reputation & image
When a merger, acquisition or expansion takes place (like going international)
When there is a change in leadership or brand's goals, mission, etc.
Unilever's logo depicted above is a perfect example of an umbrella brand that incorporates many other brands. While the logo is cluttered, it does not strain our eyes.
Brands that go for mergers or acquisitions can take lessons from it and rebrand to show inclusion and agreement.
There are also ample examples of rebranding done for the sake of repositioning (targeting a new goal or audience base).
For instance, many brands like Gucci went through a stagnation when millennials took over the market and social media became a business exigency. Thus, they had to reposition and consider the needs and demands of the young audience and evolve accordingly.
Additionally, the above portrayed logo evolution of brands like Apple and Microsoft is the perfect example of changes as per the demand of time and the trends prevalent in that time.
Some brands also upgraded when their existing systems failed and turned outdated. It helped them revive and do better in terms of engagement, revenue, brand recognition, and more.
The wrong reasons for rebranding
It is important to understand that you must not rebrand just because you feel like it.
While rebranding can catalyze growth and enhance your brand image, it can also backfire when done for the wrong reasons. This may include:
1. Redundancy
You should not rebrand just because you are bored of the brand assets, logos, initiatives, etc.
Remember, at the end of the day you are rebranding for your customers and to seek their attention. Making an unnecessary shift may actually confuse and detach your customers from your brand.
2. Face-saving
Crises are a part and parcel of business. Sometimes things may go wrong, all hell may break loose, and you might feel the desperate need to distance yourself from everything.
However, responding immediately with a rebranding initiative might not be a very good call. Remember, customers are turning smarter day by day and they will know.
So, negate the wrong and deal with the issues before jumping the gun and going for a complete brand transformation when the demand of the hour might be something else.
3. Experimentation
Like we said above, do not rebrand just because you feel like it. Grabbing your audience's lapsed or diverted attention is a good thing but there are other means to do that.
A slight dip in sales and conversions might also not be a very good reason for rebranding unless supported by other causes. A business may go through such dips many times and rebranding should not be the first step you take to uplift it.
Rebranding success vs Rebranding failures: Flip side of the coin
We have gone through a lot of rebranding examples and learnt about the brands that have done it right.
For some, rebranding played an instrumental role in catalyzing their success and even increased sales, conversions, popularity etc.
This includes brand examples like Old Spice that gained momentum when it decided to change its brand voice to target women and sell the products for "their man".
Another example would be Burberry that was being labelled as "gang wear" and is now being endorsed by celebrities as a luxury clothing brand.
However, as discussed above, when done for the wrong reasons, rebranding can also backfire as it did for many companies like GAP.
When GAP introduced a new logo in 2010, it was not very well received by the people, and the brand had to go back to the previous one.
BP, the petroleum brand, also faced a lot of back-lashing when it tried to show its environmental concern with a logo change.
However, the brand's intent did not agree with its purpose, i.e., drilling and exploiting natural resources like oil, leading to a classic rebranding failure.
All these examples go on to show that rebranding must be done very strategically and should be well-thought of. That is the only way to make the most of it.
Tips to strategize rebranding
We covered many examples of successful rebranding in this blog.
You can derive inspiration, motivation, and direction from all these examples and implement rebranding for your online business (if you need it).
However, when doing so, you must keep a few strategies in mind. Go through the list of these best practices and make better rebranding decisions:
1. Readjust your goals
Redefine your new goals, target audience, market etc., and ensure that all the stakeholders are on the same page. You can also create new consumer personas and carry out competitor researches from a new perspective.
2. Upgrade your brand assets
Create new brand assets and also recourse to new languages, slogan, logo, color theme, typography, etc., if required. Ensure that your brand presence, across all platforms, reflects these changes and clearly conveys your new goals and practices.
3. Redefine your values
Rewrite your mission and vision and also clearly define your new brand values and roadmap. Depending upon your goals, you may also need new SEO (Search Engine Optimization) and marketing strategies to remain visible and relevant.
4. Broadcast and communicate your goals
Market your new brand identity and goals extensively and let people know of the changes. You can also include your audience in the ongoing conversations and make them feel like their opinion and voice matter to you.
5. Analyze the feedback and reinvent
Analyze the effect of the rebranding by assessing various metrics. Scrutinizing the feedback and response is as critical as conducting a strong and strategized research at the beginning. So, follow suit and course correct your measures accordingly.
How to rebrand your mobile app with AppMySite?
Rebranding is cool! Isn't it? Just look at the Instagram icon becoming cooler with every change.
What if we tell you that it is also very easy!
Or at least AppMySite makes it way easier than you think.
With AppMySite, you can give a complete aesthetic and functional makeover to your mobile app, which is the best business, marketing, and communication tool in the age of smartphones.
You can create a new app altogether and update its name, icon, significant screens, etc., anytime you want.
You can build and revamp your app with the click of a few buttons, without any kind of coding or complicated technical exercises.
The best way to ensure that, is to create your app and find it out for yourself. It is free and only requires you to pay to publish the app. Hence you do not need to worry about any undesired investment upfront.
While you take care of other platforms and channels, rebranding of your app can be done solely with AppMySite, and that too in the most simple, affordable, and effortless manner.
Wrapping up
That was all about rebranding from our end. We hope you found this intriguing and informative.
You can also go through our other blogs and learn about a range of topics related to marketing, website and app development, and a lot more. Besides, you can also learn how to build an e-commerce app for your business and make your mark in the mCommerce industry. So, go ahead and claim your space now!