The online music industry has taken giant leaps in recent years. From using basic media player applications to tuning into apps with inbuilt radio and music libraries, we have come a long way. Music apps fall in the category of entertainment apps and contribute heavily to the growth of this sector.
Spotify is considered a pioneer in the league of music apps as it is one of the most popular audio and music streaming platforms across the world. Even with popular and heavyweight contenders like Amazon Music, Apple Music, and others, it has managed to make a mark.
Therefore, if you are planning to launch a music app of your own, then you may be on the right track (pun intended!). In this blog, we have covered all the aspects of music app development to help you build an app like Spotify. Read till the end and get bonus tips and suggestions.
In this blog
Online music industry: Facts & statistics
Music is an indispensable part of our lives. The evolution of mobile phone technology has been in sync with this fact as companies have been building gadgets and accessories that can enhance our music streaming experience. The mobile app industry is not behind in this race.
In fact, the music streaming industry is gaining momentum and mobile apps have a lot to do with its rapid expansion. Before we start discussing the stages of development, let us glance at a few facts and statistics that point at the growth of Spotify and the online music industry at large: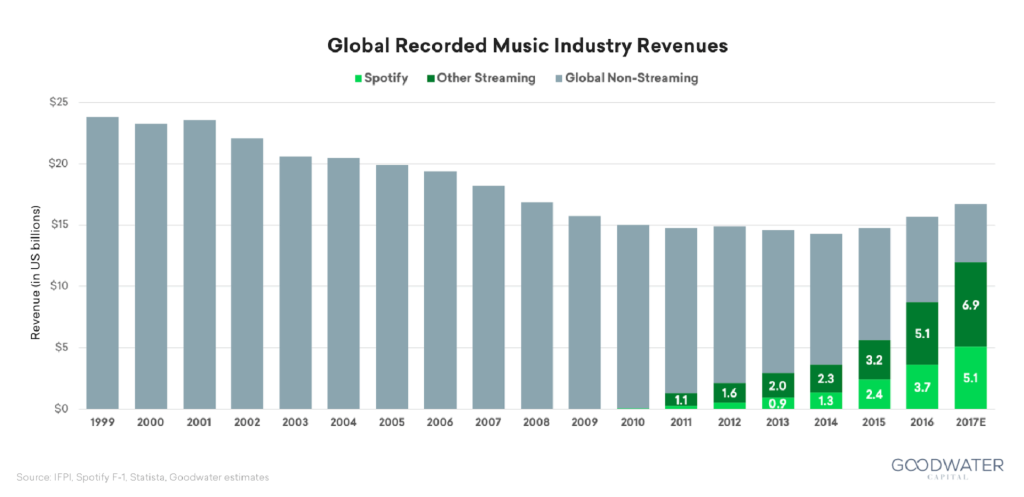 The music industry is worth billions of dollars and there are several apps that have already carved out a name for themselves. However, there is always room for new and fresh ideas, and you can launch your own music app to ride the waves and create a Spotify like brand of your own.
Benefits of creating a music app like Spotify
Is it profitable to launch a music app? Why create a music app at all? In this section, we will address similar questions by highlighting the advantages of owning a music app like Spotify. Launch a music app of your own and ensure multiple benefits, as listed below:
Music app industry is growing
Entertainment is one of the top categories in terms of app downloads and revenue. Additionally, the statistics listed above show that music apps have a huge contribution in the growth and expansion of this category. Therefore, now is a great time to launch an app of your own and fascinate listeners with your unique music streaming app ideas. Create an app like Spotify or use your own creativity to design an outstanding music app and engage listeners.
Apps unify and enhance the experience
Shopping can still be done on websites. However, when it comes to listening to their favorite tracks, listeners prefer apps as it gives them one-click access to endless music. Mobile apps can also easily be connected to IOT (Internet of Things) devices, voice assistants and other systems to stream and broadcast music. Moreover, apps can bring a range of audio, podcasts, and tracks under one organized roof. This makes apps the first choice for streaming music and eventually a viable business idea.
App-based users are more loyal
Most website visitors have a tendency of not returning to the sites they viewed once or moving to the competitor sites soon after. On the other hand, it is easier to hook users to mobile apps as compared to websites. Once your music app is downloaded on a user's device, they will keep launching and using it as long as it offers a smooth and rewarding experience. This ensures user loyalty and better conversion and retention rates.
It is easy to monetize music apps
Monetization is often a breeze for content streaming apps. An app like Spotify can generate revenue through premium account subscriptions as well as in-app advertisements. Music app owners can also charge listeners for audio books, engage in paid partnerships and affiliate marketing, and more. You can implement any monetization technique and make your app successful. All in all, having a music app can open several avenues of earning and income.
Apps give the power of data
Apps can bring businesses closer to their customers. Users launch an app several times a day and interact with it on a regular basis. Unlike websites, apps can also leverage device features and get better access to user data. Moreover, music apps can give access to critical user data points like name, age, location, language preferences, content preferences, etc. Businesses can use these databases to customize their content offering, pick advertisements, and unlock new opportunities.
Key features of a successful music streaming app
Music apps economize music streaming as instead of paying royalty for different tracks repeatedly, listeners only pay for the subscription of one platform and then get access to endless content. Such apps usually have a pay-per-stream arrangement with artists and record companies, and this makes it easier for listeners to get access to a plethora of tracks under one roof.
However, a good music app is not just about endless content. The success or failure of a music app can also be determined by its features. While the final set of features will depend upon your app type, category, niche and goals, here is a list that you can refer to and take inspiration from: 
Easy registration, sign up & login (including login via Email, Google, etc.)
Profile creation, authorization, and management
Stream songs, audiobooks, podcasts, etc.
Intuitive search & filter for finding tracks, albums, & artists
Classification based on artists, genres, languages, etc.
Select preferred language and artists
Personalized content recommendations
Create and categorize playlists
Like, unlike, follow and unfollow artists / songs / playlists
Share songs and artists with friends
Display song lyrics and track details
Download songs for listening offline
Create or upload own music library
In-app advertisement support
Multilingual & localization support
Push notification support
User activity insights and app analytics
These are the features that you can incorporate in your music streaming app. If needed, you can also curate your own unique list using a combination of features present in the apps of your competitors. Focus on features that align with your app goals and make the journey easy for your listeners.
How to build a music streaming app like Spotify?
Now let us cut to the creation part and find out how you can develop a music streaming app like Spotify. Go through the step-by-step guide below and learn about multiple ways of music streaming app development:
Step 1: Brainstorm your idea
Do you want to develop a music streaming app or a radio app? Will the app include tracks from around the globe or will it be dedicated to your regional language and artists? Is the app for your existing listener base or do you want to go global? These are some of the questions that you should address before getting into development.
Conduct detailed research and study your competitors, target audience, potential market, and other related entities. This will help you understand the needs of your listeners and propel your efforts in the right direction. Fix a niche and jot down your ideas. Make your app and business decisions accordingly.
Step 2: Choose the licensing type
To stream music owned by artists, labels, and record companies, you will need to acquire a licence. This is important to save your business from piracy, copyright infringement or any other legal violation. For instance, Spotify runs on following two types of licences for the distribution of music:
Sound Recording License Agreements (covers the rights to recordings)
Musical Composition License Agreement (covers the artists or people who own rights to the song)
Get legal help and authorization that suits your app type and goals. Stream legit content and avoid any conflict. While this may come with a catch as licencing costs can be high, it is mandatory to follow these regulations. Other than that, also focus on aligning with the laws that are centric to your location and jurisdiction.
Step 3: Create app wireframes
Once you are done with the preparatory work, you can start designing blueprints for your app. Having clearly defined app models and architecture will help you streamline your design and development processes and use the resources reasonably. It will also help you share your ideas with the stakeholders and iron out any creases in the initial stages.
Start with creating wireframes to define your app layout and architecture. Then proceed to creating mock-ups to illustrate the design, UI/UX and the overall look and feel of the app. Finally, you can create app prototypes to showcase how your app will function and how users will interact with it. You can refer to our detailed guide and create prototypes for your app like a professional.
Step 4: Build your music app
Once your app design and layout are final, you can proceed to developing the app. Start with finetuning your UI/UX and then add the features, functionalities, and content. Sounds confusing? Well, there are three popular methods that you can use to develop your mobile app. Go through them below and pick the one that suits you best:
No-code DIY music app development
If you have no prior experience in coding and you are looking for an affordable yet advanced solution, then no-code DIY app development is the way to go. Create your music streaming app with a no-code music app maker like AppMySite. Here you can transform your music website into an app in minutes and manage everything from design to development and deployment under one roof. It is suitable for all kinds of budget and businesses and is the most efficient way of building apps.
Low-code app development
If you have some knowledge of programming and a steep learning curve does not bother you or affect your timeline, you can opt for a low-code app development platform. Such platforms enable you to build your app with some amount of coding. However, low-code app building is neither as easy as no-code development nor as flexible as custom app development frameworks. Besides, why work with code widgets when you can go completely code free with no-code app builders.
Custom app development agencies or tools
This is the good old method of app development that has been in practice for years. If you are a developer or have the budget and resources to hire a team of professionals or an agency, then go for the traditional method of app development. However, this will be a time-taking process and may not suit beginners or businesses with limited budget and tight deadlines. Custom app development can also be tricky as app owners do not get complete authority over the process.
Step 5: Test and publish
Locked a development method that suits you? Go ahead and build or get your app built by the developers. Once the app build is ready, put it to test on app testing platforms. Also evaluate your apps in real environments if you can. Get a first-hand experience of your app before getting it on the stores for users. When satisfied, you can go ahead and publish your app on the Google Play Store and Apple App Stores. Start collecting reviews and ratings and promote your app to get more downloads.
In conclusion
Music apps have completely transformed the music industry. In fact, many artists and production houses treat mobile-based listeners as their primary and target consumers. Moreover, the key players in the industry are phenomenally successful and go on to show that music apps are a viable business idea.
If you are fascinated by all the facts that you read here and want to invest in a music app, this might be a suitable time. If you already have a music website, you do not need to begin from zero and then wait a year to take your idea to the app market. Instead, go with AppMySite and turn your existing website into an app in minutes.
Go from website to music app in no time and launch your app on the top app stores for Android and iOS listeners. Either promote your own artists or list tracks and content from national and international performers and put your brand on the map.
Frequently Asked Questions
What are the top music apps?
There are several players in the online music industry. While Spotify takes up the lion's share in the market, several other music apps are also popular among listeners. This includes Apple Music, Amazon Music, Tencent Music, YouTube, NetEase, SoundCloud, Pandora, TuneIn, and Deezer, among others.
What technology stack does Spotify use?
Spotify uses a range of technologies like Python, Java, NGINX, PostgreSQL, Bootstrap, Amazon S3, Kafka, Amazon CloudFront, Cassandra, Hadoop, Google Analytics, Twilio SendGrid, Docker, Pingdom, TestFlight, G Suite and AdRoll, among others. However, if this sounds overwhelming to you, you can refer to our mobile app development guide and learn about the latest tools, technologies, and trends in app development.
What types of music apps can I create?
You can be as creative with music app development as you want. There are several types of music app categories that you can choose from. This includes:
Music streaming app
Radio app
Audio player app
Language & region-based music app
Genre based music app
Dedicated music app for an artist
Music app for artist collaboration
Music video streaming app
Either base your app idea on one of the specific categories listed above or mix and match to create a unique app idea of your own. Develop a premium music app for Android and iOS users and grow your listener base.
How much does it cost to build an app like Spotify?
The mobile app development market is divided when it comes to the cost. It is influenced by a range of factors like the complexity of app design and features, location of development, strength of the development and design team, total billable hours, method of development, and more. Developing a music app can cost you anywhere between 100 to 500 US dollars per hour. However, AppMySite addresses the challenge of high development costs and makes it affordable for all. You can check out our pricing page to know more.
How long does it take to build a music app?
Just like costs, the timeline of app development is also affected by the nature and method of development and the complexity of the app. If you go with traditional methods of app development, it can take more than six months. Integrating even a basic feature like registration and social login can take up to three to four days. On the other hand, a no-code app builder like AppMySite can expedite development and make it super quick and easy.
How do I build a music streaming app without coding?
Building a music streaming app using traditional methods can be costly, time-taking, complicated and, overall, a frustrating experience. Alternatively, with AppMySite you can build your music app without coding. Our no-code music app creator simplifies the process enabling customers to design and build their apps within minutes. Just point and click to add designs and features. Build your app single-handedly or with your teams and launch it on the Google Play and Apple App Stores.