Food blogging has evolved into a viable profession overtime. It has taken the shape of a full-fledged industry that is empowering so many lives with immense prospects of financial and institutional growth.
Innumerable new food bloggers are setting up their own website and also turning website into apps for claiming their space in the online market.
If you are a connoisseur of taste and a master of cuisines, the food blogging industry certainly has a lot to offer and justify your potential.
Read the blog thoroughly and follow our step-by-step guide to set up your own food blog. Also find additional tips for marketing and scaling your blogging business to new heights.
Suggested Read: How to create a restaurant app without coding?
Food bloggers are becoming influencers
The food blogging industry is giving goals to many other online brands and businesses. In fact, what started as a hobby for many people, has now evolved as a full time profession that is quite rewarding.
There are ample statistics that prove the worth of blogs and bloggers in any industry. According to HubSpot, companies that use blogs as a content marketing tool, generate 67 per cent more leads than others.
As per Stella Rising, 89 per cent people go online for recipes while 79 per cent people trust blogs for recipe and information related to food. Also, food bloggers have four times more followers than any other industry.
All the statistics listed above, strengthen the fact that the food industry is on a constant rising curve. Food bloggers are not just limited to being content creators.
In fact, they are becoming influencers who can mold the opinions of people. For the same reason, food bloggers can enjoy the following benefits:
Attract huge followership and build a wide reader or consumer base
Become influencers or affiliates and promote other brands, restaurants, etc.
Earn revenue by doing paid reviews, marketing, promotions, and publicity
Promote ethnic cultures by endorsing its cuisine and food culture
Build a business or brand by selling special recipe books, accessories, and more.
Clearly, food blogging can not only be financially rewarding for the content creators, it can also help them build a full-fledged business empire.
Suggested Read: A to Z of influencer marketing for promoting your mobile app
The ingredients for starting a food blogging business
Before we start unravelling the steps of creating and launching the blog. Let us find out a list of the things that you would need.
#1: A full cup of perfect planning and research
The first requirement is a well-planned and drafted blue-print of your business idea. There are so many food categories, cuisines, and food cultures and you cannot cover them all.
Therefore, it is important that you find your niche and target your readers accordingly. Also plan other aspects of the initiative like budget, scope, USP (Unique Selling Proposition) etc., thoroughly.
#2: The serving plate of platforms for distribution
The next step is to make a list of the platforms you would be using to distribute the content and engage with your users. It is important that you do not just limit yourself to a blogging website.
Explore and assess all possible avenues to ensure a robust head start. Expand your brand's presence to mobile app industry and social media channels as well.
#3: The garnishing of marketing and publicity
The next step is to plan a strategy of execution to endorse and publicize your content. Make a list of all possible marketing channels and plan a launch of your blog.
You must also ensure the implementation of revenue channels. Adopt a monetization strategy for your blog and discover ways of earning monetary gains through your blog.
#4: A heap of patience and perseverance
This is the most important ingredient in the success of any business. So, channelize all your efforts in a fruitful direction and wait for the results to ripen.
As the competition is immense, the blog website may take time to reach its zenith. Keep assessing your success metrics and work on your weaknesses to ensure constant growth.
Suggested Read: How creating mobile apps can power food recipes to make more money?
Start your own food blog: Step-by-step guide
As we have a bigger fish to fry, let us now start discussing the actual steps of setting up a blog. Follow the step-by-step guide listed below and you will be ready to rule:
Step 1: Pick your niche and name
The first step is to find a name and niche for your blog. The name must be unique, catchy, descriptive and short. It must also be easy to remember, spell, type and pronounce.
It is important that you pick a likeable and meaningful name as it will carry the identity of your brand and lay the foundation of all future initiatives. Your domain name should also stem from this name so check its availability as well.
The next step is to pick a niche or areas of the food blogging industry that you can cover. You may include one or more options like recipe blogs, restaurant review blogs, nutrition and diet recommendation blogs, cuisine, and culture specific blogs, and so on and so forth.
Step 2: Set up your domain
Once you have picked the blog name and decided the niche, you can proceed to set up the virtual infrastructure. The first step in this process is picking and registering a domain.
There are several domain service providers like GoDaddy, BigRock, Domain.com, and more. Explore your options and go through their packages and plans.
Register a domain name that is identical to your blog name and sounds good. You can select the most common domain extension ".com" or pick one that suits your geography or business requirement.
Step 3: Find a web hosting partner
If the domain name is the address to your blog, a web hosting partner is the place where your blog dwells online. It is important to find the right web hosting partner that complements your needs.
A web hosting provider's job is to power your blogs and make it accessible. It stores all the blogs, files, folders, etc., and thus should be robust enough. You can look for a bundle that offers free SSL certification and ensures good server speed, bandwidth allocation, and extended support.
Proceed to update your DNS information and connect your website and domain. There are a range of hosting service providers like Bluehost, SiteGround, etc. However, ensure that it provides automatic CMS (WordPress) installation, as it will save time and effort.
Step 4: Install and set up WordPress
The next step is to install your CMS (Content Management System). We are recommending WordPress as it is the best, and the most affordable and trusted service online.
You can also install and set up the WordPress account manually if it is not automated. Open your hosting dashboard and find the "Install WordPress" icon.
Enter the basic details, and start the process of WordPress installation and setup. Explore the admin area to learn the ropes and make necessary changes. Save your username and password as you may need it to access your WordPress dashboard later.
Step 5: Select a theme and customize
The next milestone in this journey is finding and applying the right theme. This is one of the most significant steps as it defines the overall appearance and aesthetic appeal of your website.
Fortunately, WordPress offers thousands of paid and free themes that can suit your food blogging niche. Explore the free options first and then proceed to the paid ones only if you are not satisfied.
Go to the WordPress dashboard and open the "Appearance" section. Click on the "Themes" tab and explore your potions. "Add New" theme that you pick for your website and "Install" and "Activate" it. You can also look for additional options to customize, configure or preview the theme.
Step 6: Install suitable plugins
Once you have adorned your website by improving the aesthetics, you can proceed to enhance and expand the functionalities of your website. This can be done by installing plugins.
As WordPress is highly scalable and customizable, you get a plethora of options. Open the dashboard and navigate the "Plugins" section to find suitable food blog specific plugins for your website. Once the plugin is installed, you can proceed to "Activate" it and modify its settings.
For instance, you can add a recipe plugin like WP Recipe Plugin to easily manage your recipe blogs, or a WooCommerce mobile app plugin to convert your website to a mobile app store and enable sale and purchase.
Step 7: Set up Google Analytics
Measuring the KPIs (Key Performance Indicators) of your website is important to keep a track of your strengths, weaknesses, and the overall performance of your website.
Visit the Google Analytics website and create a Google account if you do not already have one. Enter the information related to your blog website and get access to the free analytics tools.
Open your WordPress dashboard to install and authorize the Google Analytics plugin and get started. Monitor the strength and nature of your traffic on the website and shape your business initiatives accordingly.
Step 8: Start writing and publishing
Your blog set up is now almost complete. You can keep exploring the CMS platform to learn the nuances and make other changes accordingly with time.
Proceed to create and publish your first food blog and embark upon the journey officially. Go to your WordPress dashboard and open the "Posts" section.
Go to "Add New" and launch the WordPress editor. Start composing your blog and add necessary elements like images, videos, URL, etc. Also enhance the formatting of the blog. When done, proceed to publish and make edits in future if needed.
Step 9: Optimize your visibility and traffic
Once the food blogging website has taken full-fledged shape, you can focus on earning leads, traffic, and visibility. This process is known as SEO or System Engine Optimization.
Install plugins like Yoast SEO that leverage your website and optimize it for search engines. Launch other initiatives and implement the techniques to earn good ranking and ultimately increase your traffic.
You can also think of measures to monetize your blog. Besides selling eBooks, recipe books, merchandize, and other commodities, you can also run ads on your website using Google AdSense and earn revenue.
Step 10: Create a mobile app
Today, mobile devices and smartphones have become the go-to source for any online consumer. Once you are all set in the eCommerce industry, tap into the mobile-friendly app market.
Sign up for AppMySite free online app maker and build an app without coding. Complement your website with a premium yet affordable app and make your food blogging business wholesome.
Add a download link for your Android and iOS apps on your website. This way, you will be able to turn your one time visitors into loyal customers if you manage to create a good first impression.
Suggested Read: WordPress to Mobile App: How to Turn a Simple Blog into a Native App?
Market your blogs with the perfect strategy
Now that you have learnt to setup your blogging business, it is time to learn about marketing. As promised, we have listed some marketing tips to help you attract the most fruitful traffic and amplify sales and growth.
Some marketing strategies that you can implement are as listed below:
#1: Turn readers into loyal subscribers
Encourage visitors to become regular readers. Show prompts on your website that enable them to subscribe to the newsletters and download the mobile app.
Add prominent CTA buttons like "Subscribe to Newsletter", or "Download App". Use phrases like "Never miss any article", to reinforce and attract users to commit to your brand.
#2: Harness the social media platforms
Social media marketing is a powerful tool. Besides using email, messages and push notifications, extend your presence to multiple social media channels like Facebook, Instagram, Twitter, etc.
Create accounts, pages and channels and engage in conversations with your existing or potential readers. Post engaging content regularly and also organize creative events and interactions.
#3: Partner with influencers and affiliates
Try new and innovative marketing techniques that have emerged over the years and became a trend in no time. Go for Influencer Marketing and Affiliate Marketing to acquire new leads.
Find your targeted audience niche and choose marketing partners accordingly. Create special and attractive ad campaigns to hook the attention of your targeted audience.
Suggested Read: Popular mobile app marketing techniques – The complete guide to success
Unlock more opportunities with AppMySite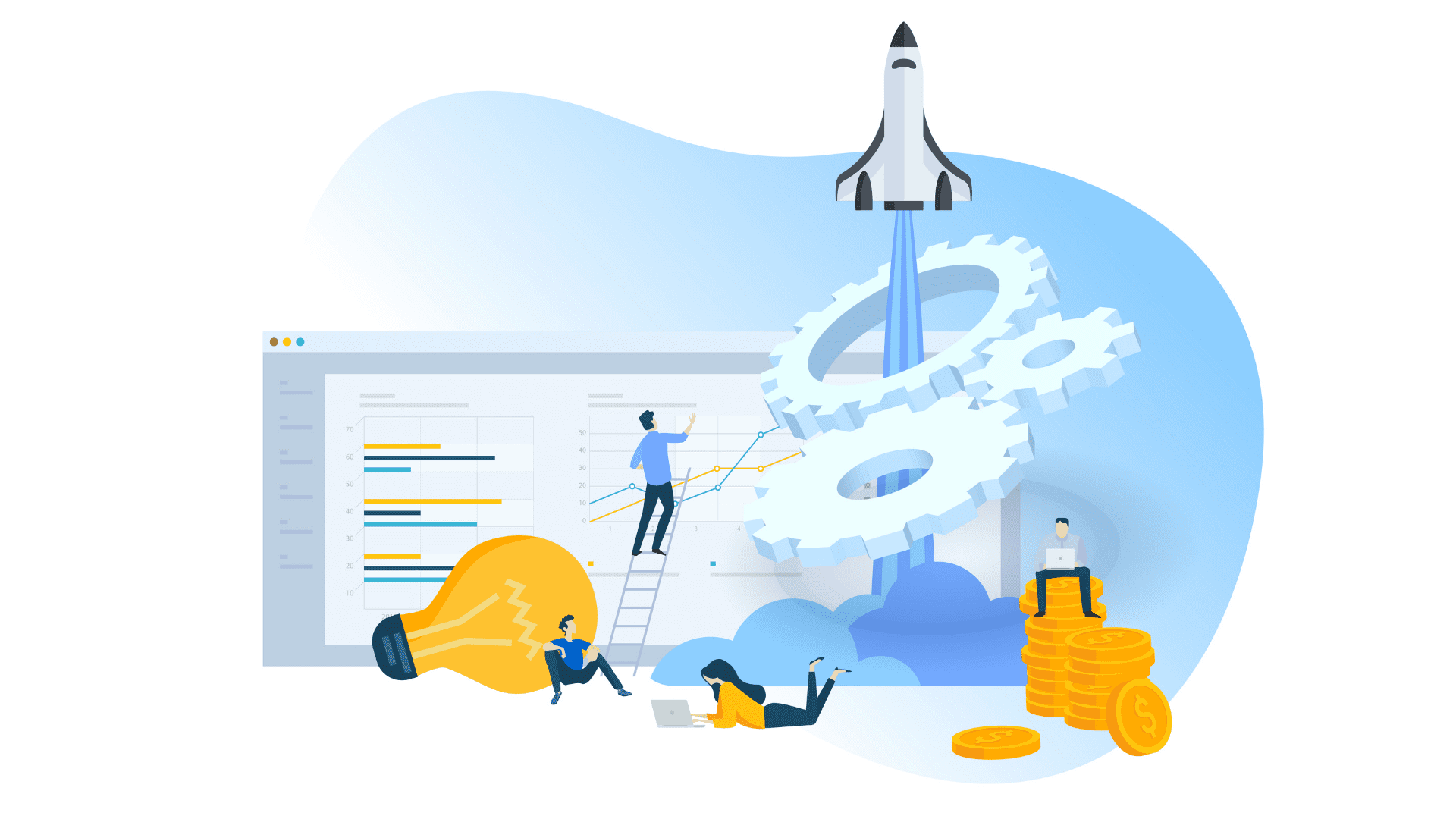 This was our elaborate guide to help you settle and excel in the food blogging industry. It is high time you turn your hobby into a full time profession and rule the online market.
Set up a food blogging website and proceed to convert WordPress to Android app and iOS apps. Explore the free online app maker by AppMySite and the add-on tools that complement the app builder.
Enter the food blogging industry with a holistic solution and start earning readers, followers, and subscribers already.
Also Read: How to start a travel blog? Start a travel blog business and make money
Fuse your talent and creativity with our technological support and let the magic happen! Get going! Go ahead and grab the opportunity now!