Squarespace is one of the most popular CMS platforms today. It has been making striking progress and growing constantly ever since its inception. While WordPress covers almost one-third of the CMS market, Squarespace is one of the best among other contenders.
Today we will share some insights and data related to Squarespace and its market share. Let's explore how extensive and popular the CMS platform is and learn more about it. Stay tuned till the end and know how Squarespace compares with other CMS platforms.
What is Squarespace? 
Squarespace is essentially a website building and hosting company which is based in New York City, USA. It is a SaaS platform (Software as a Service) that allows users to create and modify webpages in a drag and drop environment.
As far as the beginning is concerned, Anthony Casalena founded Squarespace as a blog hosting service in his dorm room in the year 2003. This happened while he was attending the University of Maryland, College Park.
Until 2006, he was the only employee and took the company to USD 1 million in revenue. It grew from 30 employees in 2010 to 550 by 2015 and today it boasts to be a team of more than 1600 professionals.
By 2014, Squarespace had raised a total of USD 78.5 million in venture capital. It had also added e-commerce tools, domain name services, and analytics and had become a no-code drag & drop builder by this time.
Ever since then, there has been no looking back for Squarespace. It has been giving tough competition to many CMS platforms and eCommerce technologies and has been steadily growing in a market where platforms like Drupal and Joomla recorded a massive fall in the past years.
How big is Squarespace?
Squarespace is one of the most popular CMS platforms. In fact, it ranks on the fourth position in W3Techs list of popular CMS platforms. While WordPress leads the list with a massive share, Squarespace closely competes with the rest of the four CMS platforms.
Let us go through some statistics and facts and understand how Squarespace performs on the scale of usage and popularity.
Overall CMS market share
Squarespace is used by 2.0% of all websites in general, and by 3.0% of all the websites powered by a recognized CMS. It remains in close contest with Wix, that is yet another powerful CMS platform.
In comparison, the CMS usage percentage of its competitors stands as follows:
WordPress: 43% of all websites, 64.2% of CMS-based websites
Shopify: 4.2% of all websites, 6.2% of CMS-based websites
Wix: 2.3% of all websites, 3.4% of CMS-based websites
Squarespace: 2.0% of all websites, 3.0% of CMS-based websites
Joomla: 1.6% of all websites, 2.5% of CMS-based websites
Drupal: 1.2% of all websites, 1.8% of CMS-based websites
Adobe Systems: 1.1% of all websites, 1.6% of CMS-based websites
As evident, Squarespace is one among the top five CMS platforms and one among the top four if we exclude the market leader WordPress.
eCommerce market share
Squarespace has several competitors in the eCommerce space as well. However, as per Datanyze, it has maintained its position in the list of top eCommerce technologies and ranks in the second position in this category. Several users turn to Squarespace online stores to fulfil their eCommerce goals.
Go through the table below and understand how Squarespace competes with other eCommerce platforms and technologies:
As evident, Squarespace even leaves behind Shopify, which happens to be one of the most popular eCommerce platforms and only ranks behind WooCommerce.
In fact, as per Statista's 2021 report on eCommerce technologies, Squarespace ranked on the top with a 23.51% market share while WooCommerce was second in the list with a share of 23.43%, Wix (6.16%) ranked on fourth after 100sklepow (15.13%) and Shopify (3.69%) ranked fifth in the list.
Suggested Read: Squarespace vs WordPress: Which is the better CMS for you?
Share among top ranking websites by traffic
Squarespace not only has a strong hold in the CMS and eCommerce space, but it is also the home to some of the top-ranking websites by traffic. As per the trends by BuiltWith, the share of Squarespace stands as follows:
You can also refer to the blog below and understand where Squarespace stand when compared against other eCommerce CMS platforms and top-ranking websites across the web.
Suggested Read: Global eCommerce market share and platform distribution statistics
Squarespace revenue related stats
Squarespace is a multi-billion dollar company. It has more than three million unique subscribers and makes good year-on-year profit. In fact, Squarespace went public on the New York Stock Exchange in May 2021 where it was evaluated at USD 7.4 billion. 
Today, around 70% of Squarespace's revenue comes from the US. In 2019, it was USD 343.05 million and in the year 2020 it was USD 430.12 million, showing a distinct increase. The numbers for international revenue stood at around USD 191.03 million for the year 2020.
Squarespace's annualized revenue run rate was at a value of USD 754.2 million in the first quarter of 2021. Whereas, if we are to compare, in 2018 it was valued at USD 425.85 million. It generated an annual revenue of USD 621.15 million in 2020 which was an increase of around 28% as compared to the previous year.
Hence, we can say that Squarespace's revenue has grown by around 60% in the last four to five years. This demonstrates that the platform is constantly growing and has great prospects in the near future.
Squarespace demographic stats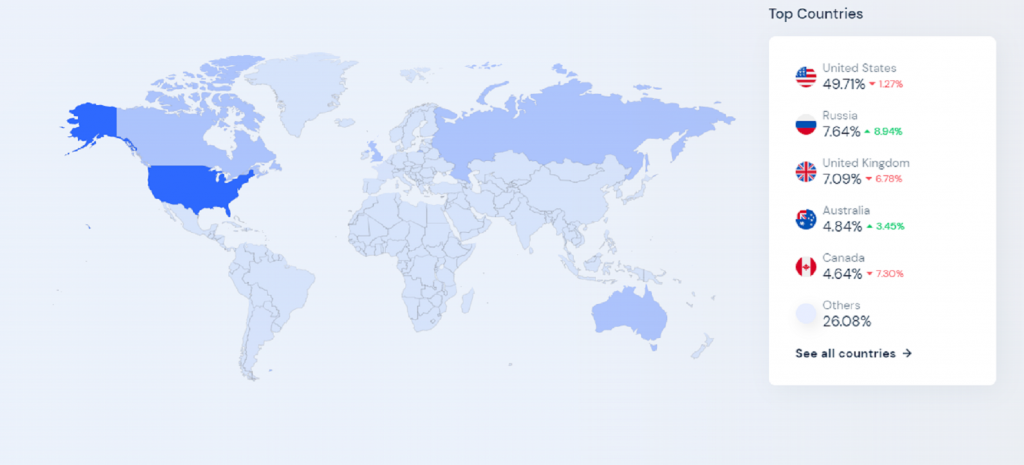 In this section, we will unveil some demographic statistics related to Squarespace and understand its distribution and popularity based on gender, location, and other related factors.
To begin with, Squarespace is popular across several countries of the world. As per SimilarWeb, the top countries using Squarespace, are as follows:
United States: 49.71%
Russia: 7.64%
United Kingdom: 7.09%
Australia: 4.84%
Canada: 4.64%
Others: 26.08%
Clearly, the US is the biggest market and Squarespace attracts almost half of its entire traffic from here. In fact, some websites like BuiltWith, assert that the around 75% of Squarespace's global market is in US. It is the third-largest CMS in the US market and holds the most popularity here.
As far as the gender and age-wise distribution is concerned, Squarespace is more popular among the female audience. It attracts around 51.95% female visitors and around 48.05% male visitors. The age-wise popularity of Squarespace is as follows:
18 to 24 years: 20.06%
25 to 34 years: 32.04%
35 to 44 years: 19.86%
45 to 54 years: 13.64%
55 to 64 years: 8.85%
65+ years: 5.55%
As evident, Squarespace is most popular among the age group of 25 to 34 years. This group mostly considers young professionals, entrepreneurs, and tech-savvy people. In addition to that, it is also quite popular among young adults who are either planning to or may have just entered the online commercial space.
Suggested Read: Boomers to Gen Z: Top app marketing tips & statistics for all generations
Top industry verticals
Squarespace is popular across the globe and all kinds of businesses, individuals and organizations are using the platform to power their websites. This is true even for different kinds of industries. However, Squarespace is particularly popular among some specific industry verticals.
For instance, Squarespace is the most popular in the Food & Beverage industry. As per SimilarTech, the distribution of this CMS goes as follows:  
Food & Beverage: 2.84%
Arts & Entertainment: 2.25%
Science & Education: 1.16%
Lifestyle: 1.13%
Others: 92.62%
Moreover, according to Enlyft 314,708 companies are using Squarespace. This platform also recognizes the food industry as Squarespace's biggest market. As per this platform, the distribution of Squarespace shapes up in the following order:
Restaurant: 17,544
Hospital & Health Care: 14,837
Retail: 13,659
Construction: 12,378
Religious Institutions: 8,755
Design: 7,879
Non-profit Organization Management: 7,425
Marketing & Advertising: 6,930
Consumer Services: 6,876
Civic & Social Organization: 6,030
While the actual number of websites across the globe may differ, the statistics above give a robust idea about the popularity of Squarespace across verticals.
Popular brands using Squarespace
Despite being quite undermined in terms of the search volume, Squarespace is actually really popular. In fact, it is trusted by a diverse range of platforms. Squarespace technology is powering several great brands across the globe.
Some popular brands using Squarespace are as follows:         
Accenture
HBO
Avocode
Wattpad
Discovery
Focus21 Inc.
Yale University
Nomad Games
Blue Dog
PayPal
TechRadar 
Mailchimp
These are only some of the many websites that are using Squarespace technology. However, the list does not end here. If you know of other interesting names that are using Squarespace, then let us know in the comment section below.
Wrapping up!
That was all about Squarespace for now. It is a promising platform that has been constantly growing. It gives strict competition to many other popular CMS platforms in the run and outdoes several of them on many parameters.
As far as the future trends and prospects are concerned, Squarespace has been showing positive growth amidst a few lows and highs every now and then. However, if the platform keeps delivering and serving right, the sky will be the limit.
You can explore our other blogs on different CMS platforms like WooCommerce, Magento, Shopify, etc., and compare them to pick a website builder and Content Management System that suits and simplifies your needs.
Once you have your website, you can sign up for AppMySite's app creator and build an app that complements your website and boosts your business to new heights. If you want any have or have a feedback, drop your comments in the section below and will entertain it at the earliest.