The eCommerce industry is growing unprecedentedly. In fact, the global ecommerce market is expected to reach the value of USD 5.55 trillion in 2022 showing an increase of almost 400% in the last seven to eight years.
Shopify is a key player in this rapidly expanding eCommerce industry and is itself growing in leaps and bounds. Even among older and stronger contenders like WooCommerce and Squarespace, it has maintained its position and stronghold through the years.
We love Shopify too and it is in our list of the CMSs (Content Management Systems) that we aspire to support on our free app maker platform.
However, today we are here to share some interesting statistics and facts related to Shopify and its market share. We will also discuss stats related to traffic, revenue, global reach, and more. So, stay tuned and learn all that you need to know.
In this blog
Shopify: A brief introduction
Shopify is essentially a proprietary eCommerce platform that offers a suite of services and tools for online payments, marketing, shipping, and customer engagement. However, primarily, it is the platform for creating eCommerce and retail-based websites.
Founded in Ottawa, Canada, Shopify has become a global brand over the years. Today, it offers several products like Shopify Lite that aims at smaller businesses looking for affordable solutions, Shopify Plus that is an enterprise solution for large scale businesses, and even Shopify POS for point-of-sale needs for businesses with physical stores.
Basically, it is an end-to-end solution for online sellers and makes it easier for them to set up, run and grow an online store. There are several apps and plugins designed to make the experience on the platform richer and smoother. All-in-all it is a smart and sophisticated platform that is immensely popular.
The history of Shopify
Shopify was founded in the year 2006 by Tobias Lütke, Scott Lake and Daniel Weinand as an online store "Snowdevil" for snowboarding equipment. Yes, you read that right! Dissatisfied with the then existing eCommerce products, Lütke, a programmer by profession, decided to build one of his own.
This is the cliched "necessity is the mother of invention" story behind the origin of Shopify and the rest is history. Ever since then, there has been no looking back and Shopify has continued to grow and expand as a platform to become so much more than just a website for snowboarders.
Milestones achieved by Shopify
Now that we know what Shopify is and where it all began, let us turn our head towards the past and checkout how the journey shaped up for one of the most popular eCommerce platforms. It was envisioned in 2004 and launched officially in 2006.
Ever since then, Shopify has achieved several milestones, and some of the most significant ones are as listed below:
2007: Several new sales channels were added to Shopify
2009: Shopify App Store and API was launched
2010: Free mobile app for store management was launched on the Apple App Store
2013: Shopify payments was launched to facilitate third-party online payments
2014: The retailer count went up to 120,000
2014: Shopify was listed as number 3 in Deloitte's Fast 50 in Canada
2015: Shopify IPO was released, and the stocks have grown 50 times since then
2016: Shopify launched the Frenzy mobile app for facilitating flash sales in 2016
2017: A Bluetooth enabled credit card reader was released for physical stores
2018: Shopify's first brick & mortar store was opened in Los Angeles
2020: The eCommerce platform processes USD 5.1 billion in sales
These are some of the many mileposts achieved by Shopify over the years. It continues to thrive and grow and add more feathers to its cap.
Overall market share of Shopify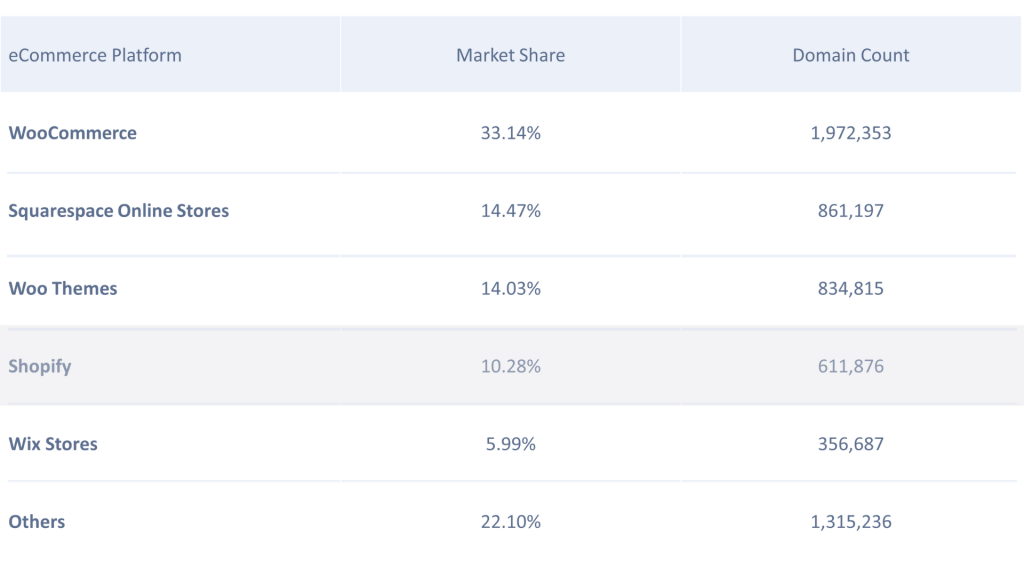 The number of websites in general and the number of websites opting for a CMS has been constantly growing. While WordPress emerges as the leader in this category and powers around 43% of the entire web, others fight for the remaining share and Shopify is one of them.
In fact, it comes just next to WordPress and holds a market share of 4.3% while the next best Wix is at 2.3%. This implies that 4.3% of the web is being powered by Shopify which is a pretty good number considering Shopify is a standalone proprietary CMS platform that is limited to the eCommerce industry.
As per statistics, there are 5,733,759 websites using Shopify, out of which 3,747,956 are live websites. In terms of eCommerce alone, Shopify holds a market share of around 11% and ranks among the top five eCommerce technologies of the world.
Interestingly, there are millions of Shopify merchants that are spread over 175 different countries and are bringing in billions of dollars' worth of revenue and contributing a great deal to the global economy (we will read about it in detail later in the blog).
Shopify's share among the top websites
Shopify hosts some of the top-ranking websites in the world that earn the most traffic and revenue. Let us learn about its position among the top websites in the world with respect to the top three eCommerce technologies in these categories, and understand where Shopify stands in the list:
Usage distribution among the top 1 million sites
There are 339,014 eCommerce websites when we consider the top 1 million sites by traffic. The market share distribution of top eCommerce platforms in this category is as follows:
WooCommerce: 29% of all eCommerce websites; 3.97% of all websites; 39,747 websites
Shopify: 19% of all eCommerce websites; 2.68% of all websites; 26,796 websites
Magento: 8% of all eCommerce websites; 1.13% of all websites; 11,340 websites
Usage distribution among the top 100 thousand sites
The number of known eCommerce websites among the top 100 thousand sites stands at 46,156. The market share distribution of top eCommerce technologies in this category is as follows:
Shopify: 19% of all eCommerce websites; 2.95% of all websites; 2.952 websites
WooCommerce: 15% of all eCommerce websites; 2.3% of all websites; 2,295 websites
Magento: 8% of all eCommerce websites; 1.33% of all websites; 1,334 websites
Usage distribution among the top 10 thousand sites
The number of detected eCommerce websites among the top 10 thousand sites by traffic is 6,398. The market share distribution of top eCommerce platforms in this category is as follows:
Shopify: 19% of all eCommerce websites; 2.95% of all websites; 2.952 websites
WooCommerce: 8% of all eCommerce websites; 2.3% of all websites; 2,295 websites
Magento: 8% of all eCommerce websites; 1.33% of all websites; 1,334 websites
Clearly, as we climb the ladder up and put up our magnifying glasses to scrutinize the top websites of the world, Shopify captures most of them, thereby establishing itself as one of the most powerful eCommerce technologies in the world.
Shopify vs its competitors
Shopify has several competitors when it comes to the eCommerce platforms. However, Shopify has maintained its position in the list of top eCommerce technologies. Go through the list below and understand how it compares against its top competitors:
WooCommerce: Share of 33.14% with 1,972,353 domains using it
Squarespace Online Stores: Share of 14.47% with 861,197 domains using it
Woo Themes: Share of 14.03% with 834,815 domains using it
Shopify: Share of 10.28% with 611,876 domains using it
Wix Stores: Share of 5.99% with 356,687 domains using it
Others: Share of 22.10% with 1,315,236 domains using it
Please note that the 'others' section here includes the eCommerce platforms not listed here. This includes names like Magento, PrestaShop, MonsterCommerce, etc.
As evident, Shopify ranks fourth in this which is not at all bad for a standalone eCommerce platform that is mainly focused on the US market. However, it emerges the winner in several other categories. For instance, Shopify ranks above WooCommerce when we consider only the top 100 thousand or 10 thousand websites in the world.
As per Google Trends, the keyword Shopify earns more searches than WooCommerce and Magento. Clearly, Shopify is doing many things right and has created a stronghold in the eCommerce market. It is home to the top websites of the world and thus continues to grow at a great pace.
Shopify usage, sales, and revenue statistics
Shopify stores earn huge revenue. Let us look at some stats that highlight the same and understand the traffic and usage and also the sales and revenue-making power of the platform:
Shopify has contributed USD 319 billion to global economic activity.
More than 1.75 million merchants sell on Shopify.
Shopify statistics show there's been steady merchant growth ever since 2012 with more people wanting to sell their products online. Here's a breakdown of its merchant count over the past few
457 million people bought from a Shopify store in 2020.
Shopify generated over USD 2.9 billion in 2020.
The average conversion rate of email marketing campaigns launched by Shopify merchants is 4.6%. This is followed by search (3.04%), direct (2.93%) and social (1.81%).
The Black Friday weekend is a busy time for Shopify. In 2018, it made USD 1.5 billion in sales during the BFCM (Black Friday Cyber Monday) campaigns. Peak orders were at 10,978 per minute and peak sales volume USD 870,000 per minute during this period.
Packages from sales on Black Friday 2018 were to be shipped by Shopify merchants over 30 billion miles. This would be ten times the distance between the Earth and Pluto.
Over 50% of Shopify stores see repeat purchases.
Shopify posted a total revenue figure of USD 4,611.9 million for the year of 2021. That is a 57% increase over its revenue in 2020.
In 2021, Shopify merchants sold USD 175.4 billion on Shopify's platform which is up by 47% from 2020.
The average revenue per Shopify customer in 2020 was USD 72.
79% of the total traffic to Shopify is driven by mobile devices, and 69% of all order traffic comes via mobile.25 percent of Shopify's recurring revenue comes from Shopify Plus.
Location and Language based stats
The ultimately popularity of a global product is actually the sum of its strength spread across geographic, demographic, and linguistic boundaries. In this section we will look at some Shopify stats related to language and location spread to get a better understanding of the platform. Let's begin:
Shopify supports over 20 languages including English, Chinese, German, French and Spanish among the others.
Shopify has millions of merchants spread over 175 countries.
The top 5 countries with the maximum number of Shopify websites are:

United States: 2,511,279 websites
United Kingdom: 159,184 websites
Australia: 106,899 websites
Canada: 94,998 websites
Germany: 83,575 websites
As of September 2021, Shopify was the biggest name in the US eCommerce software market, used by around 30% of websites using eCommerce technologies. In fact, two-third of all Shopify websites are based in America.
Based on Gross Merchandise Volume, Shopify stores in the US claim an 8.6% market share of all retail e-commerce sales nationwide. This is more than Walmart (5.8%) or eBay (4.9%).
Shopify holds 20% of the market share in the UK with WooCommerce in the lead with 25% share.
57.6% of UK-based Shopify stores use Instagram. Facebook comes second at 51.5% and Twitter ranks third at 22.3%.
52% of Shopify customers are women and about a third of all customers are millennials.
Popular brands using Shopify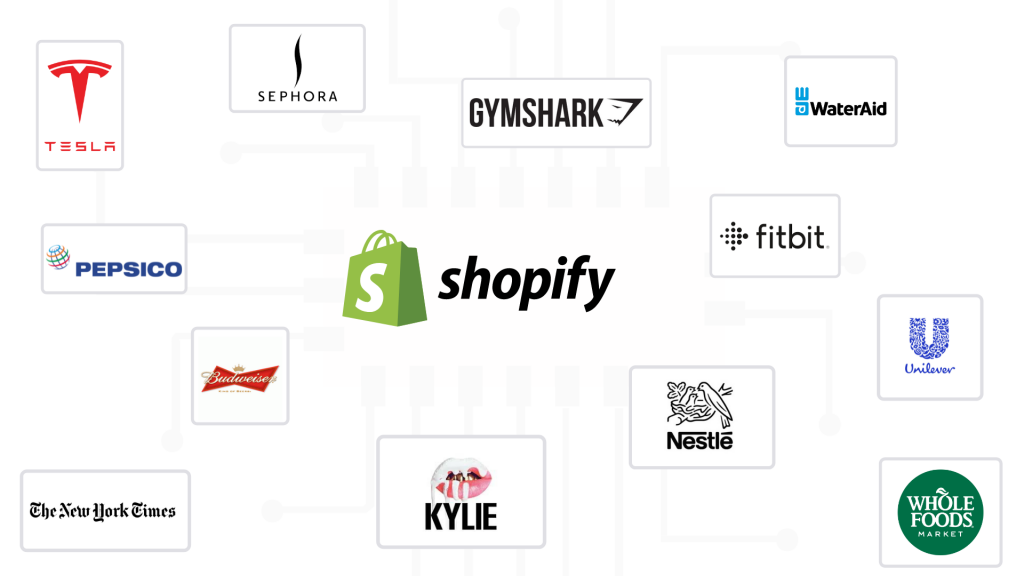 Shopify has a premium and esoteric appeal. When compared with competitors like WooCommerce and Squarespace, this proprietary eCommerce platform has fewer customers. However, they are probably the most dedicated ones and are spread across the globe.
In fact, many powerful, heavyweight, and popular brands rely on Shopify and use the platform. This list includes some captivating names, some of which are as follows:
Tesla
Sephora
Nestle
PepsiCo
Budweiser
Red Bull
Gymshark
Unilever
WaterAid
Kylie Cosmetics
Fitbit
Whole Foods Market
The New York Times
Colourpop
These are only some of the million websites that are being powered by Shopify. There are many others, and the list is continuously growing and expanding.
Some additional interesting facts
It is now time to uncover some out of the box, interesting and intriguing facts, and statistics. Go through the stats listed below and know some fun facts about Shopify:
Most Shopify sellers (more than a million) are first-time entrepreneurs. Every minute, a new Shopify admin makes their first sale online.
Shopify has paid ethical hackers over USD 850,000 between 2015 and 2018 to secure its customer transactions and data.
Shopify has hundreds of themes that make user experience richer. For instance, eCom Turbo, Booster and Konversion are three of its best converting themes.
There are 6,000 mobile apps available on Shopify App Store in 12 different categories.
Between 2% to 5% of people who launch a new Shopify store abandon it immediately.
57% of online customers tend to make purchases from stores located overseas.
Shopify has more than 7,000 employees and contractors. The company has increased its employee count by 40% over the past year.
Shopify is home to a variety of eCommerce stores including clothing, fitness, home décor, etc.
75.5 thousand Shopify stores sell clothing, making it one of the most popular industries, with t-shirts and tops being the most sough-after products.
27.5% Shopify stores sell clothes in the United Kingdom alone. 14.9% sell home and gardening products, 11.5% sell beauty and fitness products.
Growth and future projections
Now let us understand what the future for Shopify looks like. Most of the forecasts are made on the basis of the past performances of the platform and Shopify has been doing pretty good for itself in this department, despite a few decelerations every now and then.
For instance, as per statistics, in 2012 Shopify had 42,000 merchants; in 2016 there were 377,000 merchants; in 2019, the platform had over 1,000,000 merchants; and in 2020 it reported 1,749,000 merchants. Clearly, more and more people are partnering with the platform every year.
Moreover, as per the Shopify's financial reports for Q1 (January 2022 to March 2022), total revenue in the first quarter grew by 22% to USD 1.2 billion, which represents a two-year compound annual growth rate of a massive 60%. This was obviously more than the 50% growth it recorded in online sales in the year 2019.
The Gross Merchandise Volume (GMV) for the first quarter was USD 43.2 billion. This shows a two-year compound annual growth rate of 57% and an increase of USD 5.9 billion (16%) over the first quarter of 2021. Additionally, the Gross Payments Volume (GPV) grew to a whopping USD 22.0 billion, which accounted for 51% of GMV processed in the quarter, as compared to USD 17.3 billion (46%), for the first quarter of 2021.
Not just the revenue, but the price of the stocks has also increased by thousands of times ever since the Initial Public Offering (IPO) was released in 2015. According to recent analytics, one in five Shopify experts admitted to being sure that the stock prices of Shopify will grow manifold by 2025.
All these factors indicate that the future for Shopify is bright and glorious. Despite having only a small share in the CMS industry and a competitive foothold in the eCommerce industry, the platform is thriving and growing continuously.
Wrapping up!
That was all for today! You can also checkout our statistical blogs on WordPress and WooCommerce and stay tuned to this space for more. We will share many more interesting blogs in the coming days that will help you gain significant insights about the online industry at large.
While you are at it, do not forget to checkout AppMySite's mobile app builder and create premium Android and iOS apps for your business. Here, you can create premium mobile apps for your websites and offer a mobile-friendly experience to your customers.
So, go ahead and try it for free now. Also share your feedback with us in the comment section below and let us know what else you would like to read and learn about. Drop a line and we will make sure that all the interesting suggestions make it to our list!