The world is transitioning from eCommerce to mCommerce rapidly and smartphones have become our go to solution for almost every need. The trend of mobile shopping has particularly increased through the years and continues to grow.
Businesses are also loving this transition and adapting to it, as it has become easier to build an app without writing a single line of code. If you own an eCommerce store, it is high time you turn your website into an app and offer your customers the ease of one touch availability and access.
You should make their end to end journey smooth and free of any kind of friction. Did you know that forcing customers to login to an app immediately after launch can actually become a hurdle in this frictionless journey?
It can turn them away and lead to app abandonments. So, what is the solution, how can it be implemented and how propitious is it for your business? Stay tuned with us and find all the answers in our elaborate article.
Guest browsing & checkout: Introduction and significance
Yes, you guessed it right! The solution to the above discussed issue is offering guest browsing and checkout feature in your mobile app. While many apps require users to sign in and create an account, offering this feature can be pretty advantageous for businesses.
Guest checkout enables a customer to explore the app, make purchases and checkout without logging into the app or creating a user account. This means that as the brand owner, you do not really save or retain any information that the customers enter during their checkout process.
Unlike forced account creation, here you do not compel users to create account and save information which as per Shopify, is one of the top four reasons of cart abandonment. The list also includes concerns of security and privacy, which may again arise due to the fact that users are forced to provide sensitive data for the brands to retain.
Thus, compelling users to create accounts to use your app cannot be a fruitful and healthy approach. Instead, they should be provided with an alternative option, and guest browsing and checkout can come in handy for the same. It can affect your interactions and engagements dramatically whilst offering a smooth and friendlier experience to your customers.
Suggested Read:How to reduce your mobile app uninstall rate and minimize app abandonments
Guest checkout vs Account registration: A comparison
While we are totally batting for guest checkout, it is important to know about registration and signup too. Hence, we have decided to keep the two against each other and compare the pros and cons. Let us begin:
#1: Faster first time purchases vs Easy repeat purchases
While guest checkout enables users to make faster first time purchases, signing up saves their time during repeat purchases. As users skip the process of signing up, the onboarding process gets cut short. This expedites the first time purchase, making it simpler and faster.
However, as no data gets saved, when customers return for their next purchase, they have to follow the same process again and again. This is not the case with signups.
As the data already gets saved during registration, repeat purchases can be made faster with saved order history. Hence, the customers can get to decide whether they want to shorten the sign up time or the time spent on re-entering data during repeat purchases.
#2: Lower cart abandonments vs Increased customer loyalty
As discussed above, forcing customers to sign up can lead to cart abandonments. On the contrary, offering the guest checkout feature can lower the risks of cart abandonments and boost conversions.
However, proper sign ups and registrations can give a boost to your consumer loyalty. As customers are already onboard and they have their data and preferences saved, they are likely to make more return purchases, thereby increasing the sales and CLV (Customer Lifetime Value). In fact, such customers can also automatically be enrolled for loyalty reward programs.
#3: Lesser commitment vs Lesser information
Guest users often require lesser commitment as and when compared to regular users on-board who have signed up and created an account on your platform. This stands true for users as well, as they remain less invested and committed to the platform.
However, lesser commitment also leads to lesser information. As the brand, you cannot save their information and it becomes tough to personalize offers, suggestions and marketing endeavors. Also, customers enjoy less personalization and dedicated offers.
#4: Account fatigue vs Order history fatigue
Forcing users to sign up may lead to account fatigue. This means that they are required to save their account and password details and set a new password if they forget it or for any other reason.
However, once they are in, other details like order history, tracking, delivery information, etc., can be all revoked from the saved profile, billing and shipping data and it can also be managed effortlessly.
On the contrary, if users do not create an account, they are required to enter the required information every time they interact with the app or make a purchase. Thus, depending on your targeted prospects, you can choose accordingly.
Suggested Read: Tips to offer the best onboarding experience to your mobile app users
Guest Checkout + Customer Account: The best approach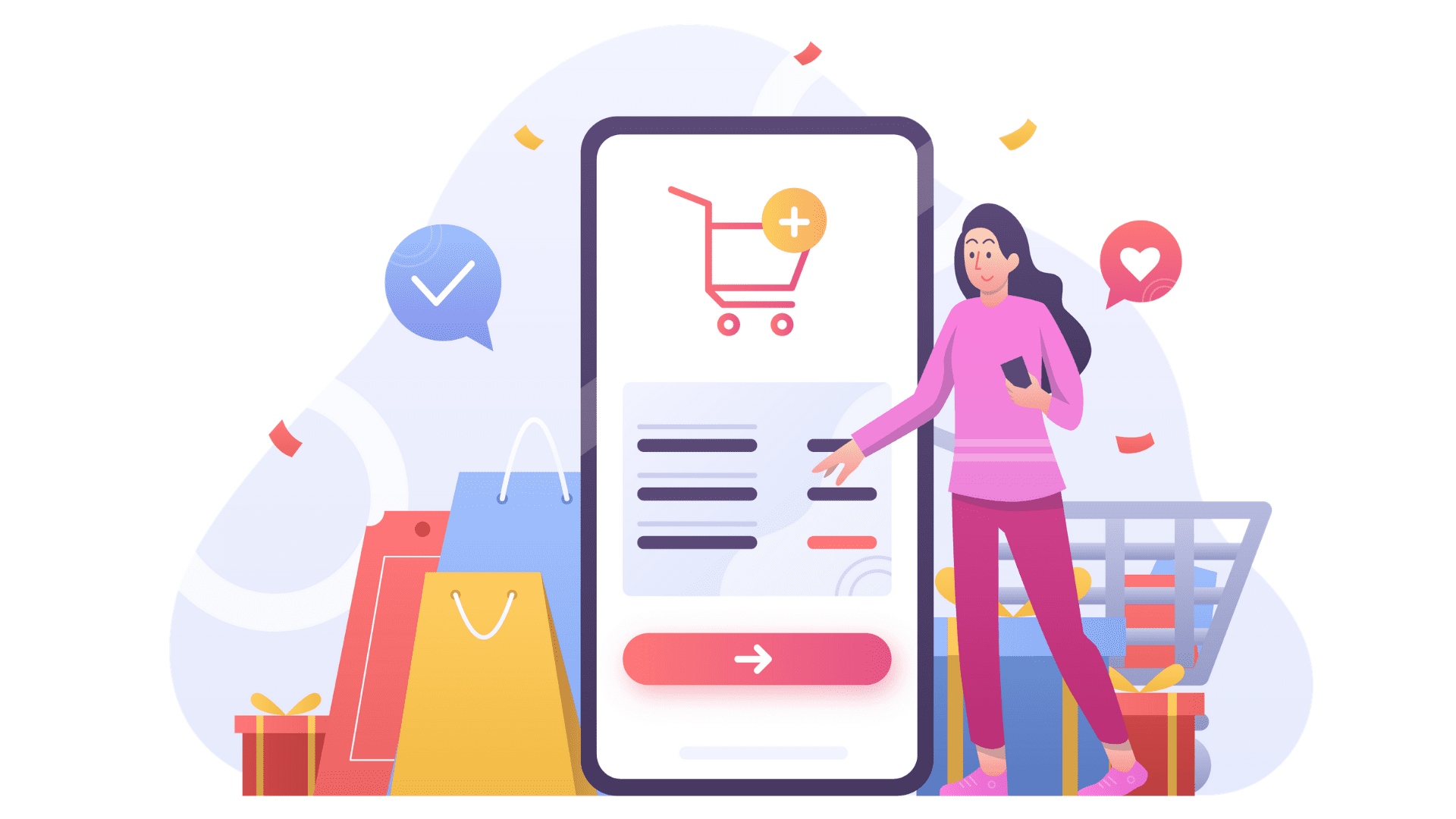 Guest checkout and saved consumer accounts both have their own set of advantages. While guest checkout is beneficial for those who have lesser chances of getting frequent orders from the same customers, saved accounts are important for dealing with recurring customers, collecting data, and offering personalized support. Hence, the best way to tackle this dilemma is to offer both the options to your customers.
Offering only one of the two options listed above might not work in your favor. In fact, there are some brands that allow their users to explore the app as a guest, but force them to sign up when they proceed to checkout. This approach can also backfire and lead to cart abandonments if users are suddenly compelled to create account at this stage.
Therefore, ideally, you can convey the advantages of having an account, and then encourage your customers to create accounts at a favorable point of time. However, this should be not forced upon them, and they should be presented with both the choices.
Go ahead and offer both the options to your customers. Try to win them over by offering an awesome experience. When satisfied, most of them will likely get onboard themselves and might create an account on your platform.
Suggested Read: Customize your app checkout with the WooCommerce Checkout Field Editor – A Guide
Make the most of guest checkout option in apps
Kudos for still being with us! Now we will share some tips and tricks to help you make the most of the guest checkout feature. Offer this feature to users and ensure multiple advantages by implementing the following:
#1: Enhance first contacts and impressions
Use the guest checkout feature to make the first impression and offer an easy and smooth experience to your app users. As the users establish the first contact with your app, make sure that they get access to it like any other user. Offer frictionless navigation and make their shopping journey effortless and rewarding.
#2: Rope in and convert impulsive buyers
Guest feature can come in handy if you wish to convert impulsive buyers. You can run lucrative deals and marketing campaigns that attracts such quick decision makers to your shopping app. As they land on the app, you can fuel their impulsiveness by offering them the guest shopper option, and hence boost sales.
#3: Design clear and compelling CTA buttons
Design an attractive on-boarding screen that has clear and prominent CTA (Call to Action) buttons with various options. This may include options like "Sign Up", "Sign In" and "Browse as a Guest". All options should be made clearly visible to users. You may also design the buttons based on the preference you want to give to each option.
Suggested Read: Call-to-Action buttons – All you need to know about high conversion CTAs
#4: Accelerate the checkout process
The guest checkout process is best suited for users wanting to expedite their shopping journey. You can help them accelerate it further by making it easier to move ahead in the purchase funnel and shop for the desired products without any friction.
#5: Encourage account creation with reasons
Do not just settle with users signing up for your app as guests. You can wait for the right time and then encourage them to create an account as it can be more profitable for your business in the long term. You may list out the benefits of signing in as a customer or use lucrative loyalty rewards to rope them in.
Offer it all with AppMySite DIY app maker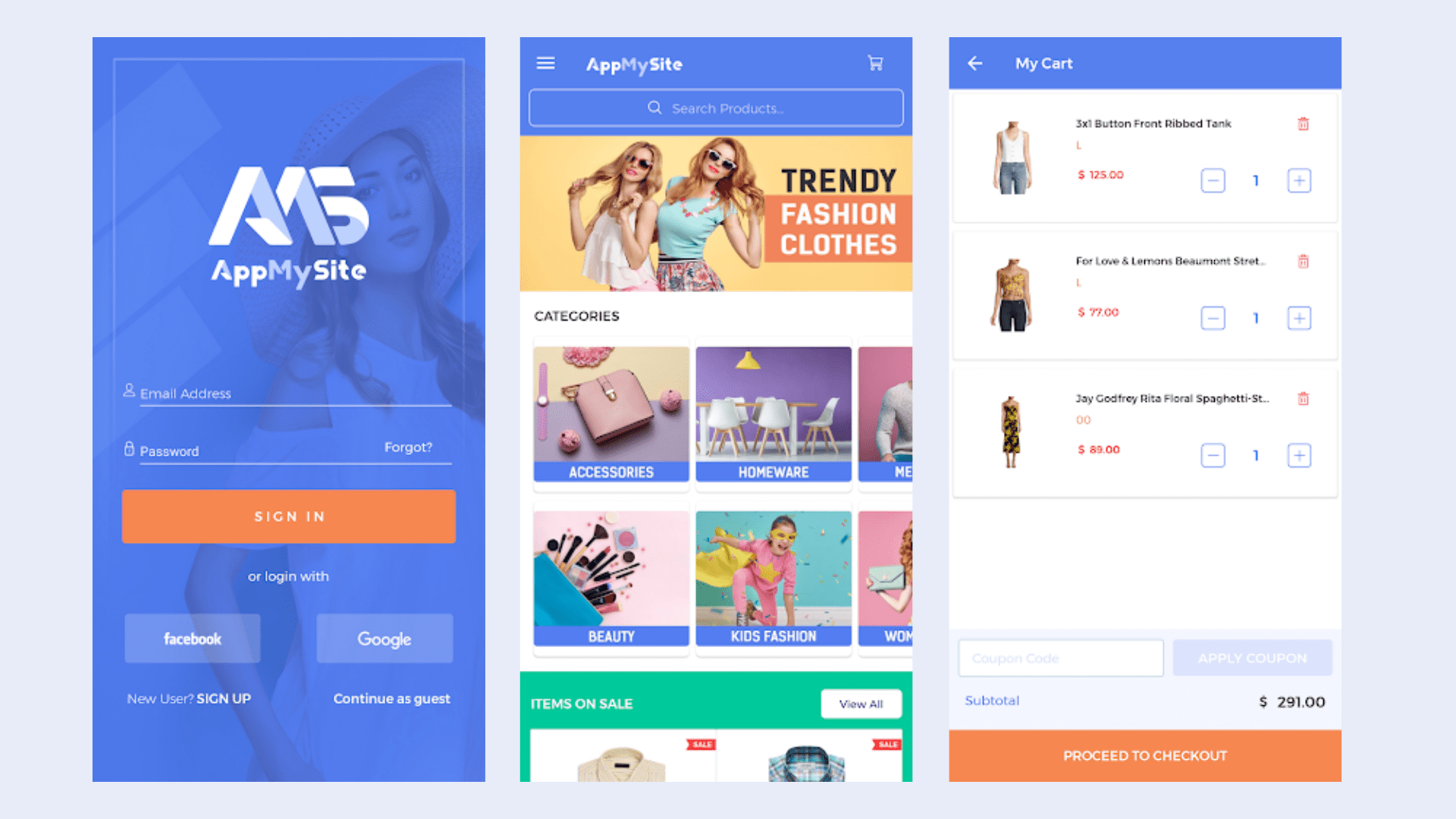 As discussed above, the best approach towards user onboarding and checkout is to offer them with both options and let them choose one for themselves. While this may sound complicated, AppMySite makes it really easy.
You can create premium retail apps with AppMySite without writing a single line of code. Here, you can enable both, sign up and guest browsing and checkout. You can enable these settings while building the app and manage it with your account effortlessly.
This is not all! There are many added features and benefits that you can put to use, and offer a wholesome mobile shopping experience to your customers. In fact, you can create, customize, and preview your premium native Android and iOS apps for free and pay to publish only when you are satisfied.
So, what are you waiting for? Go ahead and sign up for AppMySite android app maker and make the most of the rising mCommerce industry. Offer the ease of apps to your customers and scale your business to a new height!