The journey of a mobile app from its inception to designing, to developing and launching it on the app stores and even implementing updates, is a long-drawn and complicated process.
It involves many complex steps and all of them must be covered for a wholesome and favorable result. One such step is ASO or App Store Optimization that is again a sum of several different steps.
Whether you are planning to create an app and launch it on the app stores, or already have one live, A/B testing the app store listing elements can give your app the extra push it needs to outperform other apps from competitors.
Testing these elements can help you in perfecting every aspect of your app store listing and ultimately have a viable impact on your app download and conversion rates.
So, let's get into the details and learn how it works. Stay tuned till the end and discover all the essentials of creating a powerful page with optimized elements on the Google Play Store and Apple App Store.
What is A/B testing?
Let us first start by learning about the basics of A/B testing.
As the name suggests, essentially A/B testing is the process of comparing two (or sometimes more) premises, options, products, designs, elements, etc., and then finally narrowing it down to the best one.
This is usually done to get a third-party opinion on the available options so that it becomes easier to quantify the results and list the pros and cons and strengths and weaknesses for each option.
Let's say you have designed two CTA buttons for a specific feature like "Install" or "Add to Cart". You can divide people into two groups and ask them to respond to the available options. At the end of the experiment, you will be able to tell which button performs the best.
While developers use A/B testing mostly to test web pages and the overall performance and features of the app, we believe that you can also test your app store listing elements and perfect each element for the best results and higher conversions.
After all, what inspires your testers, is likely to inspire your potential users too. Whereas, what fails to impress your experiment groups is likely to get a cold shoulder from your actual audiences as well.
Why is A/B testing important for app store listings?
The answer to the above question is pretty obvious and simple. You need to A/B test your app store listings to perfect each and every element that goes on the app store page. Only then you will be able to catch the attention of every user effortlessly and inspire them to act.
A/B testing the app store elements can ensure multiple benefits and have a significant impact on many crucial aspects and success metrics of your app.
Some of the reasons why A/B testing is important for any app store listing are as follows:
1. Evaluate the app listing elements
The first and the most important advantage of app store listing is that it helps app owners in identifying the best assets for app store listing. This in turn, also contributes to the overall image, aesthetics, and performance of the app.
For instance, if you are testing the app icon and optimizing it for the app stores, it also helps you establish the best logo or icon for your app in general.
The app icon not only appears on the app stores, but also on the users' devices and elsewhere, thereby showcasing the best image of your app. Similarly, it helps you in optimizing other elements that matter for your business.
2. Strengthen app positioning
As you test your app and involve a group of people to complete the process, it also helps you create and understand different kinds of user personas. This in turn, gives you an idea of your potential audience and helps you in the right positioning of the app.
A/B testing can also help you understand how welcoming the targeted audience is towards the updates and changes you might want to implement on your app store page. It could be an updated screenshot that displays new features or just a small in-app button. Whatever the change is, you will be able to assess its impact beforehand.
Suggested Read: What are user personas and why are they important?
3. Identify and validate traffic sources
Some users land on an app by searching for it directly, some get to it through a link, and some might also spot it through an ad. The source of the traffic tells a lot about the potential intent of the user and helps you in redirecting your efforts in the right direction.
For instance, when users find your app through paid ads, they land on the app store page and the screenshots might play an important role in their decision-making. On the other hand, users that land on your app store page directly might give more attention to the app name and icon.
A/B testing your app store listing on a large scale can help you identify your exact channels and potential audiences. User acquisition managers can understand how users coming from different channels react to the content and thus ultimately identify the strengths and weaknesses.
4. Assess the behavior of potential users
A/B testers are nothing but a group of people mimicking or similar to your actual audience. Allowing them to interact with various app assets, test it and share their feedback helps you understand diverse viewpoints and identify the loopholes.
Keeping a track of these factors can help you with timely resolutions of problems, if any, and help you present a flawless and perfect app store product page to your actual audiences and potential app users.
5. Attract more installs & conversions
Sometimes success is just a change away. Let us elaborate it! Imagine that an app has an icon that looks fine otherwise but does not appear as attractive on certain device or screen types. In this case, just changing the icon can give the app a boost and attract more eyeballs and downloads for the app.
This is just one example. However, all the factors listed above boil down to the fact that optimizing your app store listing assets and elements can help eliminate the bottlenecks and give a boost to your downloads and conversions.
The goals and significance may vary and be different for different businesses. However, the bottom line is that testing app store elements is critical for any app, and this remains the same for all.
What are the app store elements that can be tested?
Now that we know about the importance of testing app store elements, let us now decipher the term "elements" for you.
When optimizing your product page for app stores, you can work on enhancing several assets by A/B testing them. This includes the following elements:
1. App Name or Title
An app name or title is what describes your business. There is hardly any scope of change when it comes to the app name as this is usually derived from your brand or business name that must remain uncompromised.
However, there can be exceptions and you can have an app name and brand totally different from your parent brand. What matters is choosing the right name, and if you are indecisive about it then A/B testing can be your resort.
You can also couple the app name with a subtitle that describes the purpose of your app in a phrase. For example, Duolingo – Language Lessons is the app name, whereas Learn Spanish, French and more is the subtitle.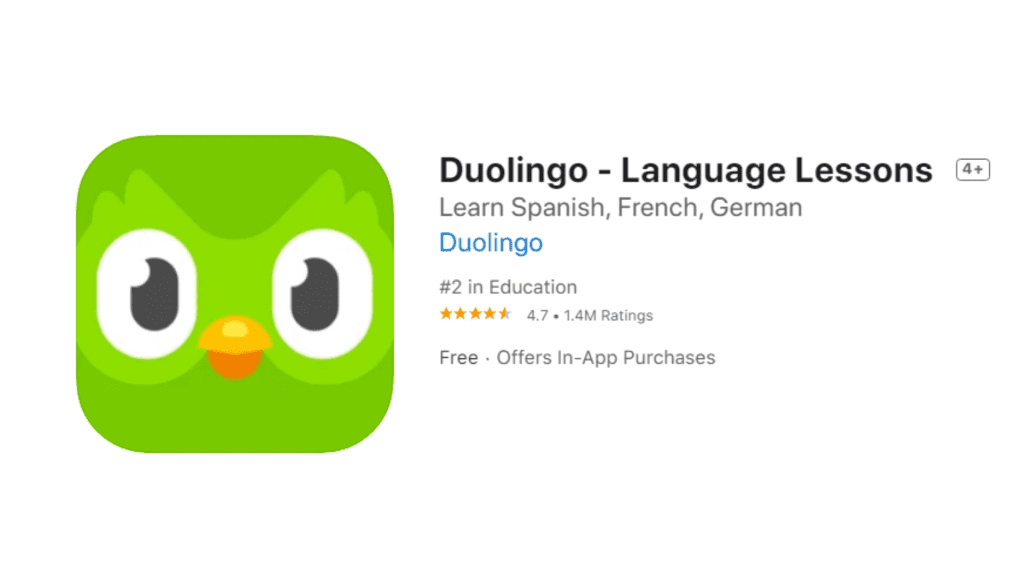 Similarly, you can also use both title and subtitle and add relevant and descriptive keywords where suitable. Dump all your best ideas and see what works best for the group of your testers.
2. Icon
The next important thing that you can A/B test for your app store page is the icon. An icon can be your brand logo or something similar to your logo that helps users identify your brand and your app on the app stores and elsewhere.
Test the size, colors, shapes, etc., and see what works for you. You can also check whether you should add text to the logo or not, whether the corners should be sharp or blunt, and more. Find the best icon for your app that has the potential to grab users' attention and inspire downloads.
3. Screenshots
Screenshots are an extremely crucial aspect of any app store listing. It can make or mar your listing as your potential users will judge the contents of your app based on these screenshots.
Therefore, you can create two or more sets of screenshots and see which ones work best and are likely to impress the potential users. Instead of using promotional snaps, make use of actual app features and finalize the ones that inspire more interaction and responses.
You can also test and understand whether landscape screenshots will work best for you, or portraits will be more favorable, or a mix of both should be the way to go. Just choose your test premise and go ahead with it to find the perfect set of screenshots for your app store listings.
4. Description & Promo Text
App descriptions are similar to a brand talking about its qualities in a few words and impressing the customer in a few seconds.
The app store visitors do not usually read the full-length long descriptions. But whatever they do go through, should be impressive enough to attract them and convince them to download the app.
A description can contain a list of your features with elaborate details, social proof, link to your websites or other resources, etc. You may choose to keep the language universal or go for localization. You can add some statistics for proof or just focus on app features.
Basically, A/B testing can help you decide which way to go. You can present your testers with varied options and see which descriptions and promo texts manage to attract the most attention and positive feedback.
Apart from these elements listed above, you can also test the preview videos if you want to add it to your app store product page. Also go through some sample pages and examine your competitor pages to get some inspiration and ideas for designing various test premises.
Suggested Read: Creating videos for App Store and Play Store listings: The complete guide
Best strategies for A/B testing your app store elements
Now that you know all about A/B testing your app store elements, let us quickly go through some helpful tips and strategies that you must keep in mind during the process:
1. Conduct research & set clear goals
Brainstorm different ideas and conduct ample market research. This will help you in creating the best variations and test elements and move ahead in the right direction. List your goals clearly before you start making efforts to achieve them, and only then proceed to running the tests.
2. Formulate your hypothesis
The success of your tests and all your results will depend on your hypothesis. Therefore, identifying logical premises and formulating the right hypothesis for the tests is extremely important. You can list different premises for different elements and proceed accordingly.
3. List all the possible variations
Having all the possible variations laid out beforehand will save time and resources and fetch the best results. Do not wait for the last moment for creating the variations and make all your samples and options ready beforehand.
Conduct your own research and narrow down the list to two or three variations and do not leave everything upon the testers.
4. Run the tests & find the best variants
Communicate your goals clearly to the testers and establish easily accessible and frictionless channels for collecting and analyzing the feedback. Proceed to run the tests in the defined time and find the best variants as per the tests.
Try to list concrete reasons behind your choices and random selections will not do any good. Every final selection should be backed by strong deductions and logic.
5. Conduct follow-ups & keep enhancing
Remember, testing is not a linear but a dynamic and continuous process. You can run the tests more than once and then infer the results accordingly. Implement what works best for you and test again for responses and feedback.
Also, A/B is not just important for app launch. You can also test various aspects when you launch a new feature, rebrand your app, push an update, etc. Keep testing your app store assets at regular intervals and keep your listing up to date.
Suggested Read: Mobile app testing – A complete guide to testing Android & iOS mobile apps
In conclusion
App Store Optimization is not a one-day process. It demands constant dedication and regular efforts on various fronts.
A/B testing your app store elements can help you in perfecting your listing on the stores, power your ASO efforts, and give your rankings and visibility a boost.
So, go ahead and implement all that you learned today and create a strong impression on your potential users.
Do share your views and feedback with us in the comments section and let us know if we missed out anything.
If you are still exploring options for developing an app for your business, then do not forget to checkout AppMySite. Ditch the traditional methods and build your own app with our WordPress app builder for the best results.
You can also checkout our other blogs on mobile app development and app store optimization and update yourself of all the latest information and trends of the industry.