The growing number of smartphone users has also led to an increase in the demand for mobile apps. The significance of websites has become somewhat limited and mobile apps are overtaking them in almost every realm and industry.
As a matter of fact, there are around 2.87 million apps on Google Play and around 1.96 million apps on the App Store. These numbers denoting the roaring success and popularity of apps are increasing every day in leaps and bounds.
Detailed Read: 10 statistics that show why you should create an app for your business
Clearly, apps are ruling everywhere and have become mandatory for businesses willing to make the most of the market. While it has become easier to turn a website into an app, acquiring conversions can be tough. As evident by the numbers stated above, the competition is stiff.
There are millions of mobile apps on the top app stores and getting noticed by potential customers and app users is tougher than it seems. You must be consistent when it comes to making efforts at gaining better visibility and ranks on the app stores.
Every aspect of your app listing should speak of perfection, quality, and commitment. This stands true for the app store icon, screenshots, content copies, videos, and more.
Today, we are here to tell you all about the app store videos. Explore the blog and stay with us till the end to learn all about the app store listing videos in detail. Create awesome videos for the app stores and boost your app popularity and performance.
In this blog
The significance of adding videos to the app stores
App Stores are like the online market for apps. Just like an eCommerce customer, potential users search for what they want, scroll through their options, and pick whatever appears to be best.
Hence, just like any eCommerce or online vendor tries to generate sales by making the store and products look lucrative and authentic, as an app provider your aim should be to list your app on the store in the most striking and inspiring manner.
As we know, videos can be more influential in conveying a message to the online audience. Besides, it can make your message clearer and more impactful. In fact, a video ensures roundabout benefit for your app and makes it stand out on the app stores.
We have listed some significant advantages of adding videos to your app store listing. Go through the list of primary benefits and know more in detail:
#1: Establishes the first impression
Videos are the first thing that the viewers see when they visit your product page on the Play Store. The App Store also gives immense importance to the video on the listing page. Clearly, a great video becomes essential to make that required first impression on your audience.
#2: Boosts the visibility & performance
Videos are not a section that are present on the app stores just for the sake of it. They are an important aspect of your app store listing. Hence, videos can also impact your ranking, visibility, and success rate directly or indirectly. This can ultimately affect your engagement and conversions.
#3: Makes engagement easier
The human psyche is such that we tend to perceive attractive visuals better than ordinary textual content. Hence, videos can help you give out clear messages in a more robust and effective manner. When consumers process your messages easily, it becomes easier for them to trust your app and interact with it.
#4: Attracts more conversions
Statistics show that videos can skyrocket your conversion rates (stay tuned for statistical evidence). This stands true for both the Google Play Store and Apple App Store. Adding videos to your app store listing can actually inspire more conversions. The rate of your installs and downloads can spike up, thereby giving a boost to your rankings as well.
#5: Tells a cohesive brand story
This might seem less important, but is actually crucial if you want to paint a professional and quality picture of your brand on the app stores. Videos help you tell your entire brand story and list out your unique selling points in seconds. Thus, it tells what your app is all about and makes the messaging more authentic.
Apart from all this, you should also note that most brands today are ready to walk that extra mile. Hence, where almost every brand is offering a visual treat to their potential users, you should not be left behind. Creating unique and catchy videos is essential if you want to excel in the competition.
Suggested Read: Best practices for writing app store listing copies that inspire downloads
Statistics that reiterate the importance of app store videos
Alert for arithmophobics! It is time to crunch some numbers! In fact, numbers can be helpful when you wish to comprehend and analyze information.
As promised above, we will now share some more wonders about app store videos by giving you a statistical overview or related facts and information. Go through the statistics and facts listed below and enrich your knowledge bank:
60% of businesses use video as a marketing tool. (Source: Biteable)
A good video can potentially lift conversion rate by 40%. (Source: StoreMaven)
52% of consumers confirmed that watching videos grew their confidence in the products they planned to purchase. (Source: Business of Apps)
Only 2% of users read the full app description.

(Source: Splitmetrics)
Apps with videos tend to get 20 percent more conversions in the Apple App Store, and 35 percent more conversions on the Google Play Store. (Source: StoreMaven)
Around 50% potential app users decide based on the first impression. (Source: Apptamin)
69% of users watch videos with the sound off in public places. However, 80% of viewers are more likely to watch the entire video if captions are available. (Source: ASOdesk)
In the iOS App Store, 68.01% of users start watching the video if it is in portrait, and 74.96% of users if it is in landscape. (Source: StoreMaven)
Only 4.84-5.04% of users ever reach the end of a video. (Source: StoreMaven)
Product pages with videos can have up to 19.8% higher drop rates for decisive users. (Source: StoreMaven)
These are some facts that highlight the importance of videos. It also shows that you can actually avoid putting up a video if your app does not have enough features and functions to showcase.
On the contrary, if you have a brand story to tell and you can actually do justice to the visual space, you must put up a good video as it can do wonders.
As you scroll through the entire blog and discover various aspects, you can keep these facts in mind. This can help you learn from the competitors and experts in the industry and enable you to perform better.
Suggested Read: Top 45+ Mobile app marketing and advertising statistics – How do companies sell apps?
App Store Videos vs Play Store Videos: The major differences
Now that you have a robust idea about the importance of videos, it is time to know about the difference between the Apple App Store videos and Google Play Store Videos.
Conventionally Apple App Store videos are called Preview videos and Google Play Store videos are known as Promo videos. The names somewhat establish and define the purpose of videos on each of the stores.
Similarly, the video thumbnail of iOS apps is known as the poster frame, and for Android apps it is known as the feature graphic. There are some other differences as well, that you can discover discussed in detail below:
#1: Difference in store listings
App Store allows three videos on its platform. The videos auto play as users swipe through them. Thus, if you have an iOS app, you get more area to display your app features and functionalities.
On the contrary, Play Store allows you to have only one video for an Android app. The videos might not auto play unless otherwise specified as per the device settings. It becomes a part of the gallery and when the users tap on the icon, the video is played which is originally listed on the YouTube and can be viewed there as well.
#2: Difference in search result appearance
By search results, we mean the appearance of videos when users search for your apps on the store or land at your app product page. For instance, an iOS app preview video auto plays on mute in the search results.
In landscape mode it takes the full space whereas in the portrait orientation it gets coupled with the first two screenshots. On the other hand, Google Play Store does not enable auto play or even display of videos on the search page, but the videos appear on the app's product page.
#3: Differences based on limitations
Apple App Store and Google Play Store have different limitations when it comes to videos. The most significant ones are as discussed below:
V

ideos for the iOS apps get manually approved by the Apple experts, making it more subjective. Whereas promo videos for Android apps have no such limitation.
App Store has length restriction and the videos for iOS apps should be between 15 to 30 seconds. Play Store allows you to keep the video anywhere between 30 seconds to two minutes.
Apple wants developers to use real footage from the app describing its features and functionalities. Using vague illustrations can actually lead to rejection. Apple also encourages publishers to add short and legible text that enhances the messaging of the video. On the other hand, Play Store has no such limitations.
You can update the iOS app video only when you update the app. Whereas, Google streams YouTube video that can be updated anytime.
These are the important limitations that must be considered while creating app store videos.
#4: Differences based on device type
iOS app preview videos are highly device specific. It means that you need to be more cautious about the orientation on the App Store. In fact, Apple expects you to create videos based on the type of the iOS device.
On the other hand, you do not really need device specific videos for Android. Play Store actually streams a YouTube video, thereby making landscape (ratio = 16:9; recommended resolution = 1980×1080) the best fit if you do not want your users to rotate the phone and watch it.
These were the primary differences between the app store videos on both the platforms. The videos vary on these platforms by nature and characteristics. However, the essence and purpose of the videos remain the same for both the app stores.
Conclusion
The points above establish that Apple is more concerned about precision and customization of the video and its content. It wants you to give a visual journey of your app to the potential users. On the other hand, Google offers more flexibility as it streams YouTube videos. You can leverage this fact to actually create a video with relevant content and include some essence of promotion.
Suggested Read: How does App Store Optimization differ for Google Play and Apple App Store?
How to create the perfect Preview Videos for Apple App Store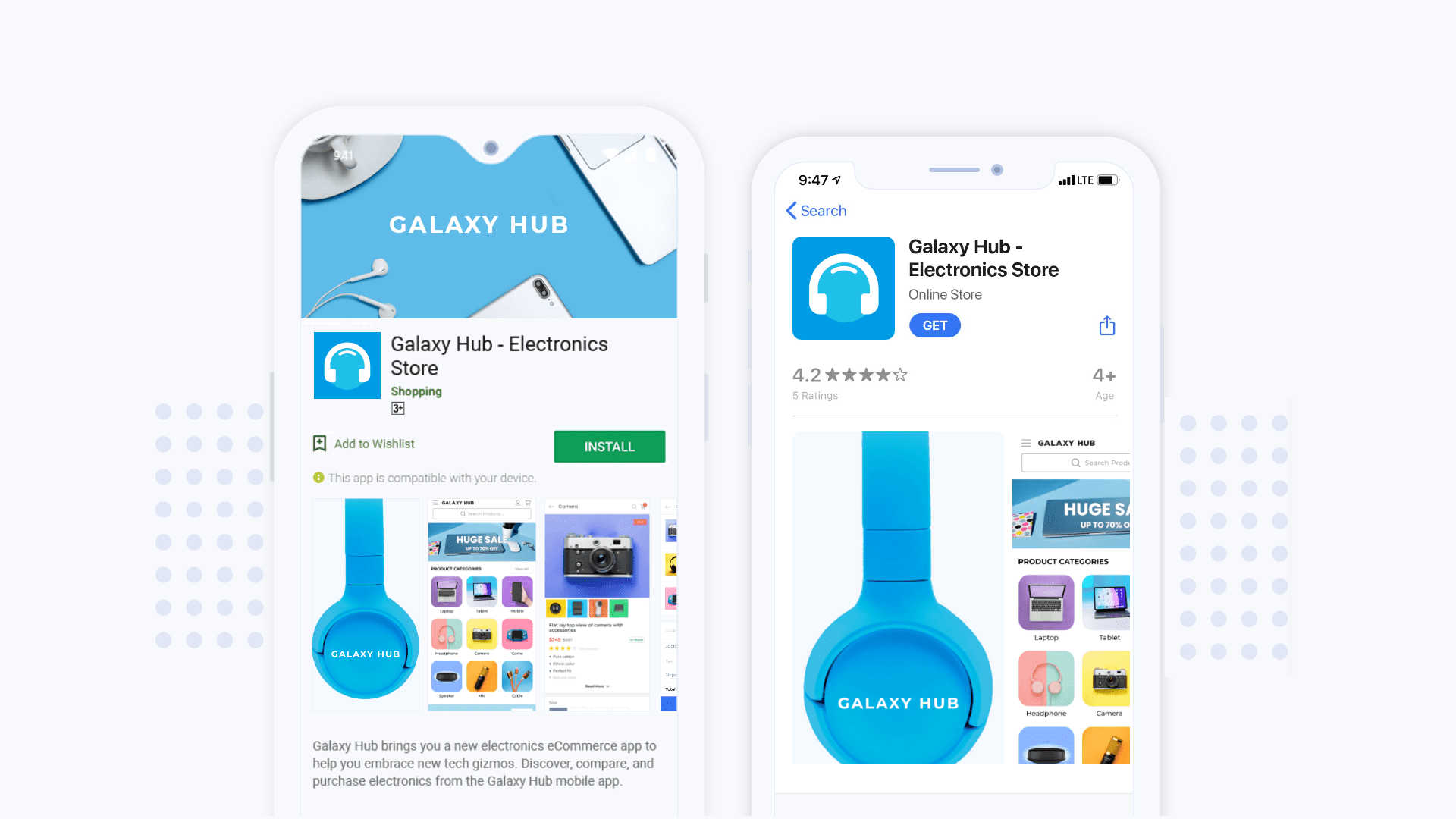 Apple App Store is very fastidious when it comes to approving the app submissions and listings. This also affects the ranking and visibility of the apps on the app stores. Hence, you must focus on the meticulous details when creating videos for an iOS app listing.
Go through the suggestions and tips listed below and make the most of it:
Get acquainted with Apple's guidelines
Videos created for iOS apps get placed directly on the Apple App Store. Hence, it must be created keeping the platform in mind. Follow all the size, length, resolution, orientation, quality and content guidelines and limitations as elaborated in the sections above.
Keep the length of the videos between 15 seconds to 30 seconds and add multiple videos to adhere to various iOS device types. Instead of using promotional content, focus on highlighting the features, functionalities, and key highlights of the app. Use actual footage from the app to give the viewers, an insight into the app.
Prepare for manual approval
App preview videos get manually approved by Apple. This makes the selection process more subjective as there is a fair chance that instead of an AI (Artificial Intelligence) system, an actual Apple expert is scanning the videos.
Hence, it is possible that what might have worked for other apps might not really work for you. However unfair this may sound, not much can be done about it. You can only aim to make your video more engaging and informative. So, browse through some standard examples and create exceptional videos that entertain and engage.
Design for different Apple devices
Depending upon the portrait or landscape mode, you must adhere to the following three specifications:
iPhones: Resolution = 1080×1920 or 1920×1080
iPhone X: Resolution = 886×1920 or 1920×886
iPad: Resolution = 1200×1600 or 1600×1200
You can take your targeted audience into consideration, and design the content accordingly. Also scroll through the official Apple developer website and community, and try to gain as much insight as possible.
Leverage for pre-orders and ads
You may list your iOS app on the store and enable pre-orders if the app is paid. If the potential users opt for your app, it gets downloaded on their phone automatically upon launch. Hence, in this case you may want to create your videos in a way that inspires advanced orders.
Apple also has Search Ads feature which means that you can run ads on the app store and attract more leads and conversions. When creating a video, you may also keep this factor in mind. The idea is to think beyond the basic app listing and add various dynamics to your preview video.
Suggested Read: Nutrition labels on App Store – How is Apple's privacy policy changing?
How to create the perfect Promo Videos for Google Play Store
Google Play Store is comparatively more lenient than the Apple App Store. However, it is not free of challenges and has its nuances that you may have to deal with. In order to make it to a top spot on the Play Store, you must optimize your Android app listing.
When creating promo videos for the Play Store, keep the following things in mind:
Get acquainted with Google's guidelines
Following the guidelines is as important for Google as it is for Apple. Moreover, Google Play Store actually embeds and streams a YouTube video as the app promo. Hence, when creating a video for an Android app, you must also keep YouTube's guidelines and standard practices in mind.
You may want to leverage your YouTube channel accordingly. If users end up landing at your original channel, they should not end up discovering a dormant or dull timeline. Create a lively video with apt descriptions and title and make the most of the space.
Give videos the utmost preference
Videos are the first thing that users see when they land on the product page of your app on the Play Store. Therefore, give it enough preference and do not treat it like any other promotional video.
Avoid using portrait view or iOS interface for the video. Create videos in resolutions suitable for both YouTube and the app preview on the Play Store. Also focus on creating good content copy and supporting text for the video.
Design for the Play Store ads
If you are placing ads on the Play Store, your listing must be suitable for new users who know nothing about the app. In fact, your app may end up getting viewed by people who did not actually come looking for it.
So, design the video in such a manner that it can be leveraged for ads and other purposes as well. For instance, the " How to create an app without coding" video by AppMySite is one of our top viewed videos on our YouTube channel and it also makes it to the listing of the Android app of AppMySite on the Play Store. Besides, it also works as an app making tutorial for our viewers.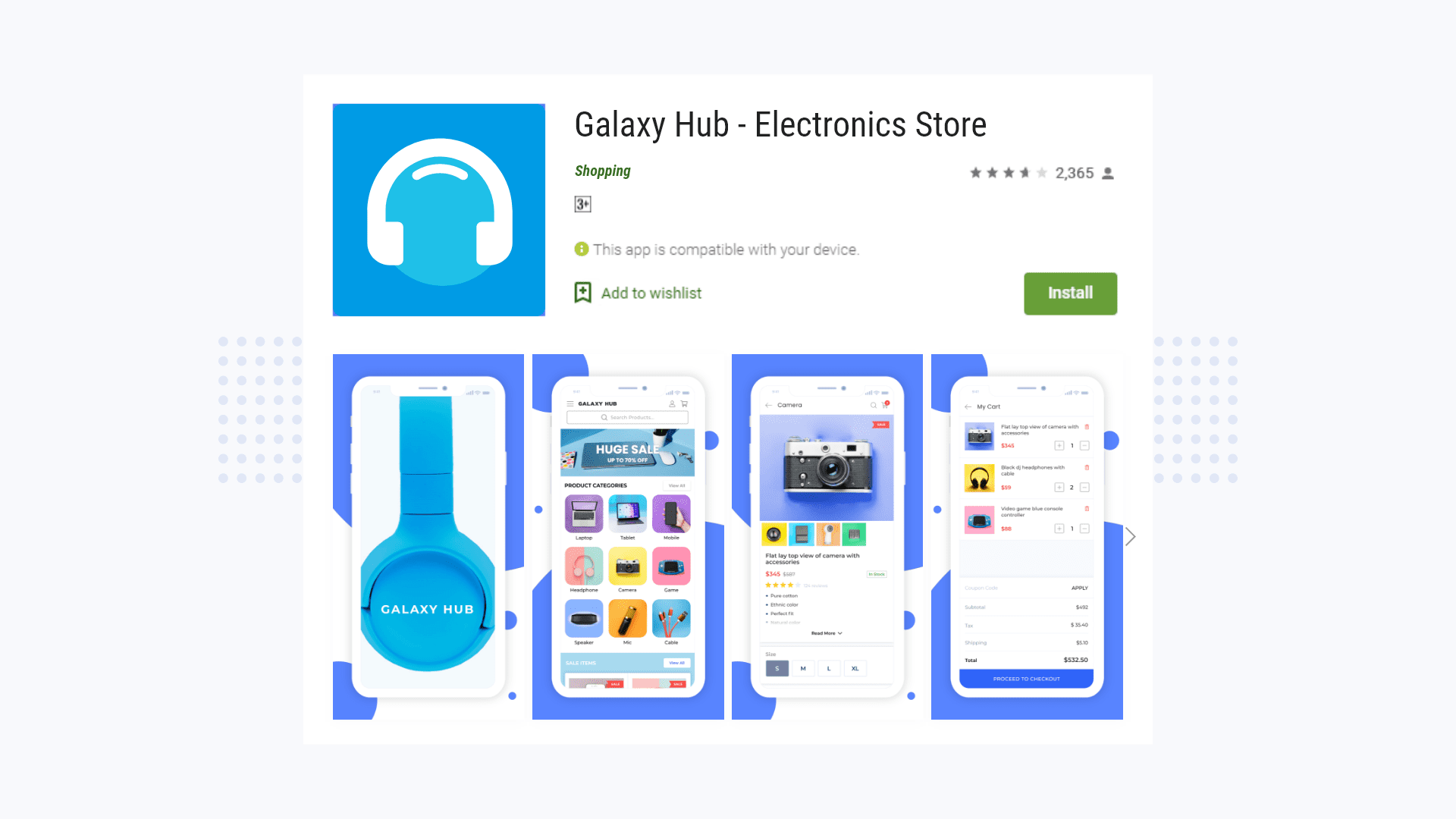 Fuse information with promotion
As discussed above, promo videos for Android apps are not just about highlighting the app previews. You can leverage this flexibility and freedom in your favor to experiment with the content of the video and play around a little.
Make the video informative and entertaining while keeping in some promotional elements. However, do not make it appear like a sales pitch. Instead, focus on listing an issue and telling your consumers how you can address or solve it with your app.
Suggested Read: How to use the Google Play Console internal testing feature and launch the perfect apps
Quick sum up of tips to create outstanding videos that matter
Kudos for staying with us! Now we will give you a quick brief of tips that you must keep in mind as you create the videos for app stores. Follow the suggestions below and create videos that inspire app downloads:
#1: Quality should be the priority
Your app listing is a preview of your actual app which in turn defines the experience users are likely to have with your brand. Thus, you cannot risk compromising the quality of the video.
You must hire professionals to create the videos, slides, etc. In fact, you must also get experts to write the script for the video, and for the content copies supporting and describing it. You may also optimize it to include keywords without stuffing too much.
#2: Do not ignore the thumbnail
Most people ignore the importance of thumbnails. However, studies show that thumbnails can actually determine the engagement and success rate of a video, and may act as the first screenshot that the users spot. Therefore, give special attention when designing the poster frame for iOS apps, and the feature graphic for Android apps.
As you work on this, remember that thumbnail could actually be the first thing that the users notice about the video. In the case of Play Store, it will also appear on your separate YouTube listing. Therefore, design a catchy thumbnail keeping the app features and brand message in mind.
#2: Respect format and guidelines
As discussed in the sections above, both the app store platforms have their own format and content guidelines that you must strictly follow. When it comes to creating or optimizing the video, you will need to treat the two app stores as separate entities.
Create two different videos based on the format recommendations and guidelines of the two platforms. Remember, you should only use the original badge of the platform. For instance, Google will not permit an App Store badge on its platform. Similarly, the Android video should not display an iOS interface and vice versa.
#3: Highlight significant features
Apple App Store and Google Play Store both want you to offer meaningful and authentic content to your users. Avoid including any false or misleading information in your video as making tall claims and not living up to it can lead to abandonments.
However, do not hesitate in showcasing the best features and functionalities of your app. You can also include your brand's USP (Unique Selling Proposition) if you are offering it to the app users as well. In fact, the video should be a window to the upcoming experience for the users.
#4: Make the most of the first few seconds
The stats discussed above show that an extremely rare percentage of users bother watching a preview or promotional video till the end. Most of them skip the video after a few slides. This makes the first few seconds really crucial.
Make the most of the first few slides and try to make it gripping and interesting from the very first second. Either aim to make users watch the entire video or give away the most promising information in the initial slides. Accordingly, make your content captive, creative and interesting.
#5: Think about the muted audience too
The numbers discussed in the statistics denote that there is a high possibility that your video will be watched on mute. Thus, you should also design it for the audience for whom the value of audio of the content stands negated.
You may include a supporting audio or copyright free music but make the value of the video independent of the sound. Optimize the content for mobile screens and use large fonts where necessary. You may also use captions if the audio has functional and informational importance.
#6: Include a strong Call to Action
Call to Action prompts emphasize your message and tell users how to proceed. You must include a clear CTA prompt in videos for both the app store listings. For instance, you can go with "Install Now", "Download Now", or anything that you deem fit for the space.
When creating for iOS, you may avoid including the website address or using a badge or logo of the App Store as it is already placed on their platform. However, you may include your website address and a Play Store icon for Android apps as the video originally gets uploaded to the YouTube.
#7: Carry out tests and enhance
A/B testing your videos and enhancing the content is as important as updating the app with desired changes, updates, etc. This ensures that your video is chiseled to perfection and is ready to tempt the potential users to download the app.
You can leverage Google Experiments to test your video and optimize your app listing. Go for the built in split testing and assess various versions to pick the best one. However, in the case of Apple, you may have to rely on some third party tools to test the video. This includes tools like SplitMetrics and Storemaven.
Suggested Read: Call-to-Action buttons – All you need to know about high conversion CTAs
Food for thought: Some more important factors to consider
Apart from the factors listed above, there are several other things that you must consider as you create audio, visual or textual content for your potential users. We have discussed them below:
Exploratory vs Decisive Users
The customers on the app stores are not much different from customers on any other online store. They have different kinds of goals, consumer behavior, decision-making tendencies, preferences, and what not.
Hence, it is important to assess the persona of your potential users and design your app store listing components accordingly. Broadly, the users can be divided into the following two categories:
Exploratory users
Decisive users
Let us explore them in detail below:
Exploratory users browse through most of the available details on the platform and head to seek more before finally committing to the brand or converting (installing the app in our case). On the other hand, decisive users are the ones who skim through the content that is easily available, and make a quick decision based on their first impression.
Exploratory visitors are likely to scroll through your entire gallery and play the video. In fact, most iOS users check out the App Store screenshots while Android users are more likely to play the App Promo video. Hence, you should design the thumbnail and the entire layout in such a way that it facilitates the exploratory users to scroll further.
On the other hand, videos can help you in engaging the decisive visitors who otherwise bounce off and exit quickly. As they are skeptical about skimming through the content or going in detail to read through elaborate descriptions, videos can help in conveying the message to them in a fun yet concise manner.
Portrait vs Landscape View
You must remember that the users view your app listings on the stores on their mobile devices. This implies that a number of factors may affect their viewing experience. One of the most crucial factors among these is the orientation of the video.
When it comes to the orientation of the videos, you get to choose between portrait view and landscape view. In fact, you may have the following choices:
Landscape app preview with portrait screenshots
Portrait app preview with landscape screenshots
Portrait app preview with portrait screenshots
Landscape app preview with landscape screenshots
In this case, the choice may completely depend upon what the particular app stores' guidelines and experts recommend and what your app demands. However, a hybrid listing approach is the best way to move forward.
We recommend that you pick one of the first two options (first being the most favorable) depending upon your app type. For instance, landscape previews and portrait screenshots are best if you want to give an idea of the interface with the screenshots but wish to give an overarching picture with a video.
However, in the case of Play Store, using a landscape video is the only reasonable option as it the best suited style for a YouTube video, from where it originally gets streamed. You can couple it with some screenshots in the portrait mode and give a mixed experience to your users.
Suggested Read: Discover the key industry secrets and best tips to market your app on YouTube
Need the perfect apps for your business? Try AppMySite for free!
That was all about creating the best preview and promo videos for the App Store and Play Store. However, this is just one aspect of it. The most significant thing that you need to excel in the mCommerce industry, is a high-performing feature rich app.
You cannot make it to the top with a basic app that fails to keep up with the times. Hence, it is high time to give your mobile app an upgrade or build a new one.
Are you worried about the development budget? Well, you can brush it off because we have the most affordable and advanced native app building solution for you.
Sign up for AppMySite free app maker and build your own app without writing a single line of code. Create, customize, and test your Android and iOS apps in a real-time mobile environment.
Does it sound too much? Try it for yourself for free, and then decide. Subscribe to our app builder and build premium apps for your business now! Enter the mCommerce industry with ease and be ready for the mobile-friendly future. Get, set, grow folks!