Content is and will always be the king. The importance of good, compelling, and quality content has increased over the years. It has become even more significant in the age of digitalization.
From broadcasting information to providing education and entertainment, content plays an important role everywhere. The success of a marketing and promotional campaign is often determined by the strength of its creative copies.
This stands true for app stores as well. Smartphone users exploring the apps on the app stores often make their decision about trying an app, based on its contents and listing style.
Today, when there are millions of apps on the app stores, consumers have multiple options for each need or demand. Hence, your app's listing must stand out on the app stores and have an edge over other apps in the competition.
While it has become easier to make an app with DIY and code-free app building tools like AppMySite, optimizing the apps for the app stores and listing them the right way can be tougher than it seems.
Let us help you conquer the challenge with ease. Stay tuned till the end and discover the best practices for writing compelling copies for your app store listing.
The significance of writing good content for the app stores
If you are aware of the term App Store Optimization, you must already know how important it is to optimize your app listing content for the app stores.
App Store Optimization is important if you want to enhance your visibility and rankings and make your app easily discoverable for your potential users. The first step towards this direction is optimizing the content.
It should be a perfect combination of aesthetic visuals and text complementing the visual. Also take into consideration, the on-meta data factors (textual fields and visual assets), and the off-meta data factors (uncontrollable performance based factors like reviews, ratings, downloads, etc.).
The content should meet all the specific guidelines and standard practice norms of the respective app stores. These preparations will help you curate awesome content and ultimately help you achieve the following:
Power your ASO (App Store Optimization) endeavors
Highlight salient features and characteristics of the app
Communicate your messages to potential app users
Make your app noticeable and inspire more downloads
Boost your visibility and ranking on the app stores
Evidently, writing helpful and optimized content copies for the app stores can do wonders for you mCommerce business. So, stay with us and learn to make the most of the content space available on app stores.
Suggested Read: How does App Store Optimization differ for Google Play and Apple App Store?
Significant elements of Apple App Store listing
Apple App Store has some strict guidelines and norms when it comes to publishing apps. Discover the most important meta information that you can fill in and optimize:
a. App Name (Title)
The app name, as evident, is usually the name of your brand. However, many brands also experiment and give a new but relatable name to their apps. So, pick a name for your app that resonates well with your audience and reflects your brand identity. Apple App Store allows 30 characters in the name, but try to keep it as short, simple, and meaningful as possible.
b. Subtitle
Subtitle, as the name suggests, is a self-explanatory tagline or added text that conveys the purpose or nature of your app. It appears below the app title in the search results, and below the screenshots on the app page. When writing the subtitle, you should always take two elements into consideration, i.e., the goal of your customers and the nature of the app. For iOS apps, the subtitle should be within 30 characters, so follow the principle "less is more".
c. Description
This is the space where you can play with your content and express it elaborately. It is advised to list out the core features of the app and the highlights of your brand in a bullet form. In short, make it easily readable and understandable for the audience. Write the content in such a manner that the content speaks for your brand and compels people to download and try your app.
d. Keyword field & Promotional text
This is an exclusive feature of the Apple App Store. It requires you to list the targeted keywords and tags in a field separately dedicated for this purpose. Besides, there is also a dedicated promotional text section that you can update from time to time, depending upon your brand updates, campaigns, and more. So, use the spaces strategically and always try to put out concise but meaningful information.
Apart from the sections listed above, you may need to add other things like developer details, details of the updated versions, nutrition labels, and more. Add every required information and try to use the spaces in your favor. Also back the content with attractive screenshots, app previews and clips, and other visual elements.
Suggested Read: Nutrition labels on App Store – How is Apple's privacy policy changing?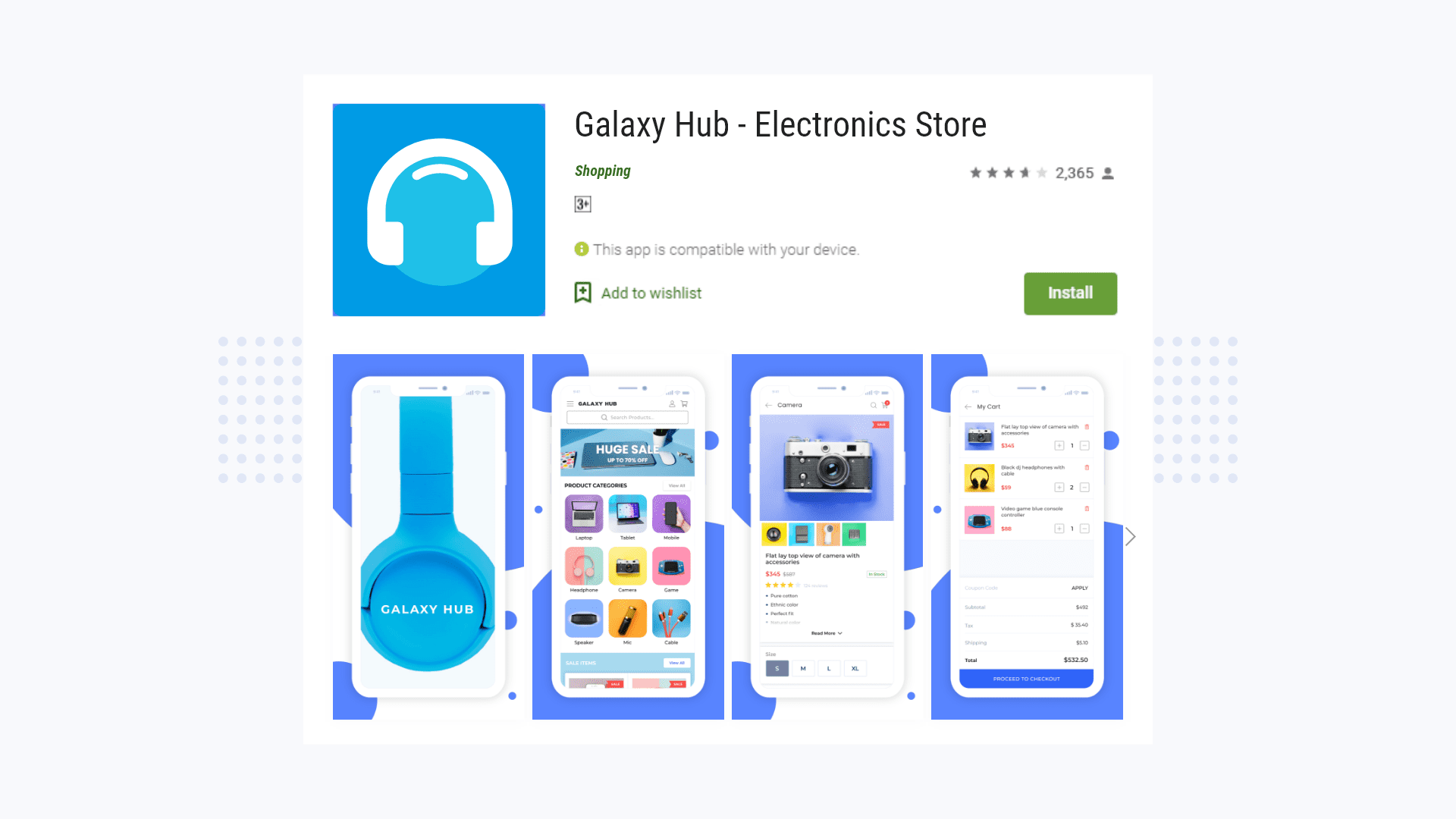 Significant elements of Google Play Store listing
Google Play Store hosts the greatest number of apps as compared to any other app store. Keep reading and find out how you can optimize the main textual content for listing your Android apps:
a. App Name (Title)
If you are creating apps for both Android and iOS, their names should be identical. While Google Play Store allows 50 characters, try to keep the name short and simple. It should be easily recognizable and linger in the minds of people.
b. Short Description
Short description has a more elaborate placement on the Google Play Store and serves a bigger purpose than just being a short explanatory phrase. It appears on the app page below the screenshots, just above the long description. Treat it as a TL; DR (too long, did not read) content and use it to highlight the core features of the app for more impulsive customers.
c. Description
Use this space to explain the features and benefits of your apps to the audience. This section is particularly important on the Google Play Store as the keywords you use here can affect your ranking. Maintain a strong keyword density without stuffing unnecessary, irrelevant, or excessive keywords.
Apart from the essentials listed above, you may need to add some more information like the developer details, copyright information, etc. Be transparent and precise about these things and convey every significant detail. Add more value to your content by complementing it with relevant visuals like featured video, screenshots, and more.
Suggested Read: How to use the Google Play Console internal testing feature and launch the perfect apps
Best practices of writing copies for app listing
Now that you are aware of the key requirements of app listing on the two most popular app stores, let us share some handy tips for the same. Go through the best practices listed below and make your app listing content creative and compelling:
#1: Keep your audience in mind
Your interests and goals can only be fulfilled if you manage to please your potential users. Hence, when writing the content, put yourself in your users' shoes and then curate accordingly.
Instead of using complicated jargon, explain things in simple terms that can be easily understood by your target audience. Use a tone that exhibits authenticity and concern for the users' demands and needs.
#2: Write simple & effective copies
Even though this may seem like something basic, many app developers and marketers tend to overlook this. The content deserves as much effort, investment, and scrutiny as any other aspect of the app or ASO.
So, carry out a bit of research and see what is working out for your competitors' brands and other apps in your niche. Use all the information to write straightforward, but simple, original and effective content for different sections of the listing.
#3: Avoid stuffing keywords
While keywords and popular search terms make your content more relatable, too much of it can make it worse. So, do not try to play stealth with the app store reviewers or customers by inserting unnecessary keywords.
Use terms that actually fit in the content and make it clearer and more effective. However, do not shy away from listing critical information about your app and your brand. Besides giving information, also try to build trust and brand authority.
#4: Localize the content if needed
Based on your operative location and targeted audience, you can also put up the content in the local language. This can narrow down your audience list, but boost your conversion rate as you will be targeting the people who really matter.
Localizing can also have added benefits that go beyond merely inspiring app installs. It can boost your ASO efforts, boost your brand image and also show that you really care about your language, culture, and people, thereby making your brand a hit.
#5: Add essential proof and links
While there might not be much scope of CTA (Call to Action) buttons and URLs when the ultimate aim is to get the app installed on the user's phone, you can still add the ones that are important and matter for enhancing the content.
Besides, you can add some social proof or use statistical data (average installs, downloads, etc.) that does not look like an oversell, but manages to solidify your brand message and image in the eyes of the potential app users. In short, you can make your content believable and authentic to add more gravity to it.
Suggested Read: How to enter a new mCommerce market: A guide to mobile app localization
Wrapping up!
That was all we had to share for today! Sounds overwhelming? Well app development and listing are not as complicated as it sounds. Or should we say, it has been simplified by app builders like AppMySite.
The process of building code-free DIY apps has become easier with AppMySite. It enables anyone to turn WordPress to app without writing a single line of code. You can create, customize, and test the app for free, and pay to publish it only when you are ready to go live.
There are plenty of other added solutions and advantages that you can make use of. Like we said, it is absolutely free. You can go and subscribe to the platform and start building your app now. Make the most of the flourishing mCommerce industry and grow your business.