Technology has always been a fuel for the growth of businesses. Especially in the recent years, it has opened new horizons for all the industries and niches and propelled many brands towards growth.
Businesses that understand this power of technology and take measures to harness the same, earn better prospects than their competitors. For instance, AppMySite has a subscriber family that includes thousands of businesses.
These businesses have turned their WordPress sites to mobile apps and built their own mobile apps without coding. There are several other examples of businesses getting powered with technology that you can seek around you.
Affiliate Marketing is one such example as well. It is connecting businesses and customers around the globe, enabling merchants to amplify their networks, and allowing affiliate marketers to earn additional revenue.
However, like any other marketing technique, there are many myths floating around affiliate marketing as well. Today we are here to bust ten such popular myths and help you make an informed decision. Stay tuned till the end and know more.
10 popular myths about affiliate marketing
Let us get to the chase and discover the most popular myths about affiliate marketing, from both the merchants' and the marketers' point of view. Continue reading and find solution to all your queries and doubts about the same:
#1: Affiliate marketing is a thing of yesteryear
It is a common myth that it is too late to start affiliate marketing. This is not true at all. The world has only started realizing the full potential of affiliate marketing since a few years now. It is now steadily reaching its zenith, making it the best period to invest time and resources in affiliate marketing.
Let us explore some facts and statistics to get a clearer and data-backed picture:
81% of brands rely on affiliate programs to enhance their business prospects
The U.S affiliate marketing spend is expected to reach 8.2 billion U.S. dollars by 2022
Affiliate programs contribute towards 30% of the revenue for companies
The affiliate market's content pool has grown by 175% in recent years
The global estimation of affiliate marketing stands at $12B
As evident by the data above, affiliate marketing is only going to become more popular in the near future. Hence, if you are planning on finding an affiliate partner, this is the best time to start.
#2: Affiliate marketing is the same as advertisement
It is not! Advertising is more like a one way communication where you study the market, create campaigns and place ads without having much to consider about the engagement and results on a wider level. However, affiliate marketing is a bigger responsibility and an endorsement practice based on trust, communication, and brand value.
Affiliates are expected to recommend products that they themselves align and identify with. Only then the partnership will come out as strong, meaningful, and viable for both the parties, as well as the customers. It is somewhat like an expert recommendation where you become the ambassador of the brand that you trust in and recommend people why and how to use it.
#3: Affiliate marketing is extremely complicated to begin with
If the huge words like trust, responsibility and value have left you intimidated then we would recommend you to snap out of it quickly. Yes, affiliate marketing is more personalized than advertisements and requires more than just placing advertisements on your platforms. However, it is not an enigma that you cannot solve.
In fact, affiliate marketing can be one of the least complicated options to begin with. It is an effortless way of building an additional revenue channel. Often, most affiliate programs only require you to enter basic details and let you get started immediately for free. For instance, AppMySite's affiliate program is really easy to sign up for. It offers a dashboard to its partners, where they can manage all the visits, earnings, etc.
#4: Affiliate systems affect your brand image
It is true that sometimes the audience may fail to differentiate a platform from its affiliate partners. However, it is not all about risks. Netizens have now become smart in the digital age and understand the underlying messaging being broadcast by brands.
If you put the right filters and choose your affiliate partners cautiously, you will have nothing to worry about. Remember, communication is the key to success. Communicate freely with your partners and customers and enjoy productive results with your affiliate marketing campaigns.
#5: Customers hate affiliate marketing
Not when done the right way! Leave this excuse for those who are too lazy to create a proper strategy and execute it. Besides, instead of selling products you need to sell solutions for your customers' problems and concerns as an affiliate marketer.
Customers will love this approach and may also turn more loyal towards your brand as you could be offering a myriad of solutions under one roof. In fact, you can make them fall in love with your platform by picking the right solutions to endorse on your platform.
#6: Affiliate marketing works only for popular niches
Lest us unravel yet another popular myth that affiliate marketing is only good for selling clothes and shoes. Yes, some niches attract more traffic than the others, however, this has nothing to do with the success rate of that niche. In fact, the more common the niche, the more competition you will face.
On the contrary, if you succeed in selling a less common, but unique and beneficial product or service, then you can earn more profits in a concentrated market as compared to a wider but dispersed one. The best approach would be to identify what your platform aligns with, what could appeal to your existing customers, and what would offer extended solutions to your visitors, customers, or audience.
#7: The higher the commission rate the better
The term "more" has been the most misunderstood and misused word in the online space. However, terms like earn more, get more, the more the better, can sometimes be deceiving and may actually end up giving you less in the long term. Look for options that offer colossal commissions but do not make it your only goal.
Also explore other aspects and avenues like how many of your customers can the given product or service attract, how reliable and popular it is in the industry (it does not have to be number one but should be growing steady and be bankable), and more. Besides, the earning will also depend on other factors like the targeted audience, your platform traffic, etc.
#8: Content marketing is not necessary
Many myth-busting articles related to affiliate marketing will tell you that the role of content marketing for affiliate programs is overrated. The truth is that content is the king in the age of information boom and it must be harnessed well.
Not every other article, content or blog on your platform needs to be about your affiliate. However, you must give considerable importance to content marketing and mention your partners from time to time. Remember, you will have to draw your consumers towards the affiliate's brand.
#9: Only marketing experts can manage affiliate programs
If the points listed above have confused you and led you to think that you will probably need a full fledged marketing team to accomplish it, then brush off that thought immediately. It is true that big businesses have dedicated marketing teams for managing their affiliate programs and partners, but not every partnership has to be that enormous.
You can start small and partner with brands that offer free and easy solutions and passages. In fact, find brands that themselves do the heavy lifting and leave only the endorsement to their affiliate partners. Nowadays many brands come with dedicated affiliate sections and platforms where one can easily sign up and manage their roles and responsibilities as affiliate partners. Look for such brands that suit your scale and goals, and become a professional affiliate marketer without much expertise.
#10: Success depends solely on the merchant
Do not live under the impression that an affiliate marketers job ends after signing up for an affiliate program. You can partner with multiple brands or limit it to a few based on your capacity and caliber. However, it will still require you to get involved on a personal and professional level.
You cannot expect the merchant to carry out everything. You will have to make some effort to ensure that you are endorsing the brand in the right manner. Remember, even minute details like where you place the affiliate link on the platform, can have a huge effect on your campaign's success. So, do not overburden yourself but be prepared to do more than the bare minimum if you want to make the most out of affiliate marketing.
Suggested Read: Reseller Programs vs Affiliate Programs: Here's all you need to know
As per Statista, more than 168,000 affiliate marketers generated at least $100000 worth of Amazon marketplaces sales alone in the USA in 2019. This number is far bigger if we consider the global statistics. Clearly, the power of affiliate marketing is huge, and it can only truly be unleashed by giving it a try.
So, do not let some myths hinder your chances of earning revenue and ensuring growth. Welcome deserving affiliate partners open-handedly and become their brand ambassadors to earn commissions and build fruitful networks.
Looking for an affiliate partner? Checkout AppMySite's affiliate program!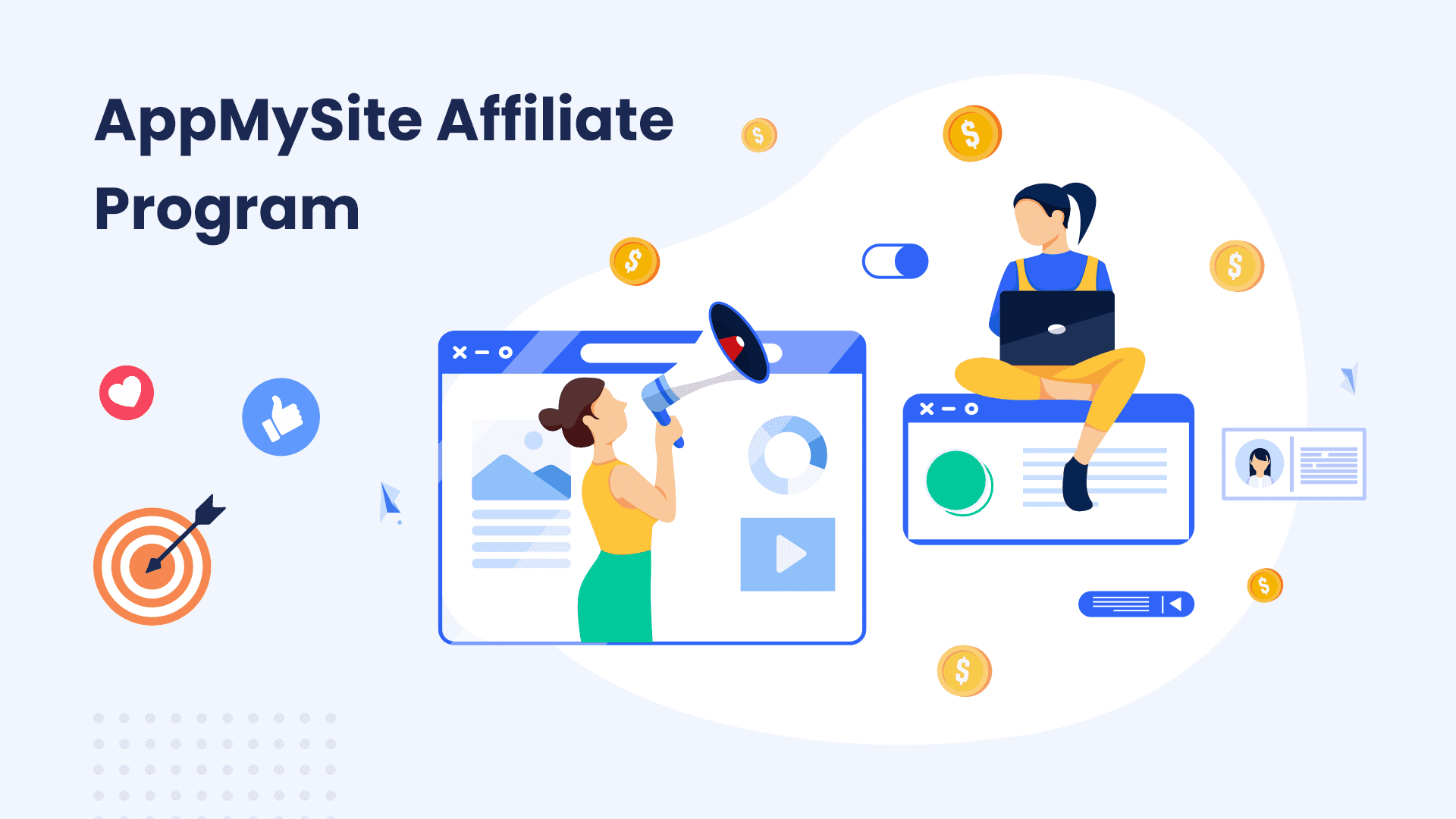 That was the list of myths and the actual facts behind them that you should remain aware of. Now that everything is demystified, you can proceed with confidence and sign up for an affiliate program of your choice.
If you are looking for a meaningful and viable partnership, then you can sign up for AppMySite's affiliate program without thinking twice. What AppMySite offers to its customers is neither very common nor very concentrated and exclusive.
It is a platform that enables customers to build an app for their business without writing a single line of code. It is a unique product that appeals to all and also adheres to the much rising demand and niche of code-free app development, thereby qualifying as one of the most promising businesses. After all, statistically speaking, more than 50% of the affiliate traffic also comes from mobile devices.
Clearly, AppMySite is the thing of present and future in the app development scenario with endless prospects in the pipeline for its customers and other stakeholders. It is here to democratize app development and make apps available, affordable, and accessible for all the businesses.
AppMySite's existing consumer base incudes individuals, organizations, developers, agencies, businesses, WordPress website owners, and lot more. So, if you are looking for an affiliate partner belonging to a related industry then go ahead and sign up for AppMySite's affiliate program. Earn by recommending AppMySite to your audience and reap endless profits.