Smartphones are the new address to almost every business, brand, organization, and entertainment unit. We are using our mobile phones for almost every day to day need of our lives.
Most of us tend to open an app when we need to make an online purchase, play a game, seek some information, avail a service, or more. Even for accessing websites, we are more likely to open a search engine on our mobile phones, as compared to other devices.
It is for this reason, that businesses are making a rapid transition from web to mobile. It has become mandatory to convert WordPress website to Android app or iOS app if you want to keep up with the times.
However, in the due course of making this progress, you may encounter some tricky challenges and confusing jargon of technical terms that may hinder your journey or at least cause some dilemma.
If the terms web view and native view have been confusing you then you have landed at the right place. Let us take you through an insightful journey and introduce you to the various aspects of the web view and native view technology.
Web View and Native View: An insight into the concept
Mobile app development industry incorporates a number of technologies. There are different paths to development and maintenance of applications that are being created for the mobile-friendly world.
In general, people use the umbrella term mobile apps. However, based on the development technology, an app can belong to any path like Web View Apps, Native Apps, Hybrid Apps, Progressive Web Apps, Xamarin Apps, React Native Apps, etc.
However, today we will stick to discussing only two of them, i.e., Web View and Native apps. While these are two separate paths, a native app may or may not include some sections displayed as web view, in some special cases. This is done for the sake of flexibility and accessibility.
Web view and native apps are two separate paths of app development that are different in terms of performance, functionality, and several other factors. We will discuss the nuances of each and get a more detailed insight as we proceed.
Suggested Read: Native app vs WebView app – Which Path Offers Better Odds of Success?
Introduction to the Web View technology in mobile apps
As the consumerization of technology took place, we were introduced to web browsers before mobile apps. We went to the search engines, entered our query in the user interface section and got related results displayed on the engine. This is essentially what web view does for us, but the results appear on an application.
In simple terms, web view technology enables you to open a browser within a mobile app. Instead of a search engine, we enter our query in an app-like interface and the information gets pulled from the website and gets displayed as it is.
Web view path can be chosen if you want to offer an extremely basic experience to your users in a cost-effective manner. Let us explore further and discover the advantages and disadvantages of web view apps.
Advantages
Web-view apps have the following advantages:
Cost effective, can be built on a small budget
Easy to maintain and less technical nuances
May not need approval from app stores
Gets automatically updated to the newest version
Disadvantages
However, web view apps have more disadvantages than benefits. It is merely a mobile display of a website and has the following limitations:
Unable to leverage device features
Not fit for the true mobile experience
Puts more cognitive load on the app users
Makes app usage complicated and dense
Fails to provide a coherent experience
Likely not listed on the app stores
Suffers poor discoverability
Lags behind in performance and speed
Far less intuitive and responsive
Cannot be accessed offline
As evident, web view basically means accessing the website pages within an app. There was a time when even the top companies like Facebook and Amazon used a web view interface on their apps.
In fact, even today when you explore these platforms on a browser, chances are that you may actually open a web view application instead of their website. However, when it comes to mobile apps, web view is not really deemed fit in today's fast paced world where speed, performance and dynamism are everything.
Suggested Read: How to build a Web View app on AppMySite?
Introduction to the Native View technology in mobile apps
The native path of mobile app development technology is less of a view, and more like a wholesome and multi-faceted solution that brings the true mobile experience to life.
In fact, essentially when we say mobile apps, we inherently mean native mobile apps. These apps are built for specific platforms and operating systems (Example: Android & iOS) and written in the specified languages.
It might interest you to know that both Apple and Google provide app developers with their own development tools, elements for the interface and SDK (Software Development Kit). These are used to create the best mobile suited apps for your smartphones and other advanced mobile devices.
Native apps offer the truest mobile app experience in terms of speed, performance, customizability, functionality and more. Let us discover the advantages and disadvantages of native apps in detail and get a clearer insight:
Advantages
Native apps offer the best experience and ensure the following advantages:
Best in performance as compared to other paths
Extremely responsive apps with faster speed and less load-time
Distributed via app stores and completely optimized for them
Unlike web view, native apps do not get rejected by app stores
Better discoverability and marketing potential
Facilitates smooth user engagement with easy input-output
Eases cognitive load on users with an intuitive interface
Richer in terms of features, functionalities, security, and compatibility
May support additional features like offline exploration
Potential to leverage device features and optimize the experience
Disadvantages
Native apps do not have many disadvantages except a few constraints that may concern some people. Some common limitations are as discussed below:
Development and coding process can be intricate
More upfront expenses as compared to other paths
Requires version updates for enabling new features
Conclusion
As evident, web view has a longer list of disadvantages and native apps have a long list of advantages. Clearly, native apps are the unbeatable winner when it comes to offering the true mobile experience.
A native view of interface, screens and other elements in an app can make it more enhanced and superior in terms of user experience, quality assurance and other related benefits. If you want to offer a rich experience to your users, you must get a native app.
The few disadvantages discussed above are not really a problem if you know the right way out. The concerns about the budget and expertise required for building native apps can be conquered if you ditch the traditional ways and build your app with an affordable yet native DIY app builder.
You can think beyond custom app development and create your own app with a code-free app maker like AppMySite. AppMySite enables you to create premium native apps that are superior in terms of quality and performance. Besides, it also lets you enable web view for desired sections on the app. Keep reading and know about this in detail in the next section.
Suggested Read: WordPress to Mobile App: How to turn a simple blog into a Native App?
Enabling Web View on AppMySite's native mobile apps
As discussed above, AppMySite enables users to create premium native apps as these are the best when it comes to responsiveness, quality, security, and performance. You can create code-free native apps and offer a true mobile experience to your users.
In fact, you can create, customize, and preview the apps for Android and iOS for free. You only need to pay to publish when you are satisfied and ready to go live on the app stores. The app will get connected to your website and mirror the data to offer a coherent experience to your users.
However, AppMySite also gives you the option to enable web view for your apps. This is recommended if your website has custom features or functionalities added to the pages. You can turn on web view for all the screens of the app.
Else, you may also pick specific pages that you wish to enable web view for, and add them to the bottom navigation bar menu. This can be effortlessly enabled with a few toggle buttons and easy to manage settings on the app builder. You can read the blog suggested below and know about the process in detail.
Suggested Read: How to optimize your website for seamless app performance in Web View?
Build premium native mobile apps that boost success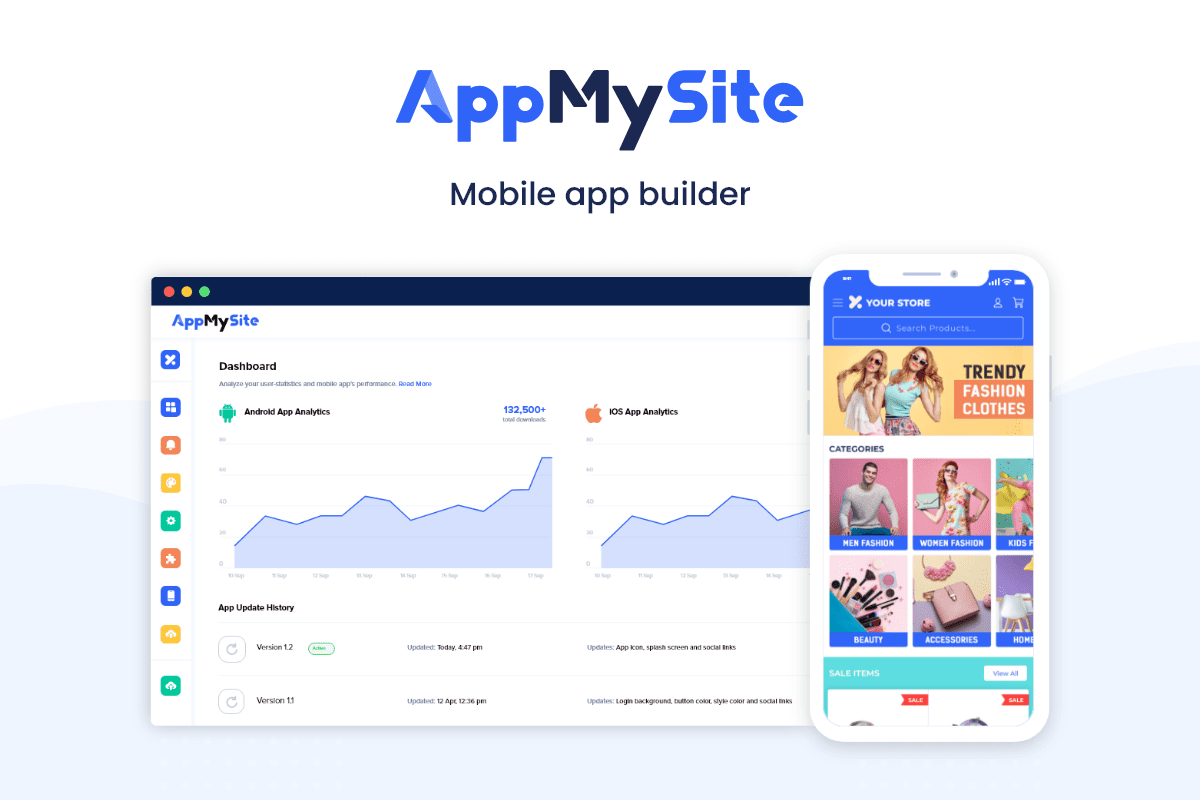 That was all from our end today. Before signing off, let us tell you that AppMySite is your go-to platform if you desire the performance quality of a native app but also want the flexibility of web views.
The online app builder enables you to create premium apps for Android and iOS users on an affordable budget in no time. You can build feature-rich apps for your WordPress and WooCommerce websites and enter the mobile-friendly industry without going through the intricacies of custom app development and without creating a hole in your pocket.
The world is going mobile and there is absolutely no reason to wait when you have all the essential tools at your disposal. Go mobile and offer the ease of apps to your customers. Inspire more conversions and grow your business by tapping into the mobile friendly industry.