Mobile apps and social media are the two most fascinating tools of the twenty-first century, that have taken the world by storm and have also become an indispensable part of our lives.
As the powerful combination of the two tools is getting even stronger, businesses are innovating and testing new ideas that can help them to leverage their benefits to the fullest.
While any one can create a business account or page on different social media platforms and promote their business, creating apps has also become easier and more affordable with the DIY online app builders like AppMySite.
However, as the market has become more accessible for all businesses, big and small, the competition is also increasing. In order to stay afloat, you must be aware of the innovative marketing and branding techniques that are trending across the globe.
One such unique, but highly beneficial technique is Moment Marketing. So, stay with us till the end and learn all about moment marketing to make the most of the opportunities that come your way.
Suggested Read: What is microinteraction and why is it significant for your mobile app UI and UX
An Introduction to the concept of Moment marketing
Moment Marketing is a dynamic and spontaneous branding and promotion technique that focuses on leveraging the trending issues, events, occasions and more. As the name suggests, it is the method of finding the marketing and branding scope in the "moment".
While the technique has been popular among many brands since ages, the advent of social media has made it more dynamic, prevalent, and relevant in today's day and age.
With terms like "virality", and "real-time" becoming more significant in the digital age, moment marketing is doing wonders for brands. It is capturing the attention of the "content and news hungry" audience and inspiring them to make contact with the brand that manages to trigger their brain and tickle their bones.
Every day, many advertisers and marketers are taking advantage of the ongoing events, trending matters of public interest, special or regular occasions, etc., and are developing ad campaigns and content around the same.
The relevance of moment marketing is compelling brands to become more aware of the ongoing events, occurrences, etc., in order to make the most of the "moment". As a result, their executives are always on heels and often force their way into the ongoing conversations and try to become more "visible".

It is noteworthy that moment marketing relies highly on real-time or recent events. The ones that manage to make news headlines, become especially significant and beneficial. As a combined result of all these benefits, this technique strikes an immediate chord with the audiences and makes the brand more captive and relevant.
Top brands that are giving goals in Moment marketing
More brands are realizing the significance of real-time marketing and leveraging moments for the same. In fact, some of them are so active and competent, that they are setting new benchmarks and giving goals to other brands.
We have picked a handful of examples of the brands, that have managed to create a buzz with their moment marketing initiatives in recent times or in the past. Let us go through these examples and broaden our understanding of the concept:
#1: Amul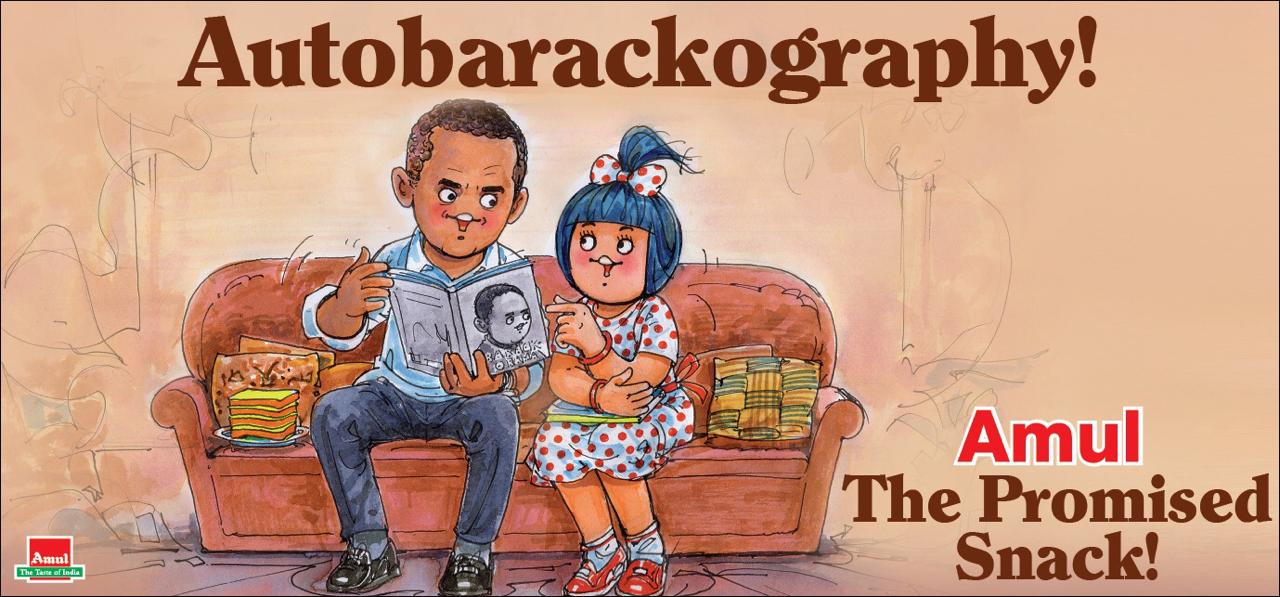 The Indian dairy brand Amul can be arguably called the pioneer in the field of moment marketing. This brand has been acing the technique since ages, for more than 50 years to be precise. The brands' iconic mascot, popularly called the "Amul Girl", has become an eye candy and touched people's hearts over the time.
Amul has been making the most of moment marketing even "before it was cool"! Earlier, they used to roll out giant hoarding ads in a month and now they roll out around four ad creatives every week on their social media platforms.

Hundreds of illustrations will pop up if you search for "Amul Moment Marketing" as it explores and comments on almost every major event, whether national or international. The image above illustrates the latest from the brand and depicts the event of the launch of the Former US President Barack Obama's biography.
This book launch created a global buzz and Amul has again astonished everyone with its creative and intriguing approach towards the event. Amul's moment marketing achievements are invincible, and brands can surely learn a thing or two from their legacy.
#2: Zomato
Zomato, the restaurant aggregator and food delivery app, is another champion when it comes to making the most of the "moment" on social media, and other marketing and communication platforms. Taking Zomato as an example, restaurant app development is a viable alternative for F&B businesses.
There are multiple examples of the brand's humorous and satirical approach towards marketing that has inspired many case studies. For instance, the image above, is a creative put out by the brand during the IPL (Indian Premier League) season that tickled the bones of cricket fans.
They tweaked the name of a team "Kings XI Punjab" playing in the IPL and used it to highlight their special playing eleven mouth-watering Indian dishes from the cuisine of Punjab. Even the people rooting for the other team would have felt tempted to try a dish or two! What a delicious example of Moment-Marketing! Isn't it?
#3: Netflix
The social media account of the popular OTT streaming platform Netflix is something most fans, followers and competitors look up to. The executives and handlers often put out some really quirky posts and engage in friendly banters with other brands.
For example, this tweet, that is a perfect pun! As Mumbai, the financial capital of India was experiencing heavy rainfall, Netflix put out a tweet that read "Mumbai Rains. Now streaming."
#4: Oreo
Oreo, the cookie brand, has also been quite active when it comes to moment marketing and making the most of the ongoing events and trends. In fact, it especially made headlines with the tweet depicted in the image above.
During the 2013 Super Bowl, Oreo decided to comment on the huge power outage inside the Mercedes-Benz Superdome in New Orleans. The somewhat satirical phrase "You can still dunk in the dark", went popular and created a buzz.
#5: Spotify
Spotify has made it to our list because it often goes out of its way to catch the moment and make the most of it. In fact, it often does not wait for a global event or mega happening, but turns the tweets from its followers into a moment marketing opportunity.
This music playing application misses no chance to promote a song and urge people to tune to it. For instance, this humorous take on the problem of mosquitoes trying to ruin sleep, is both simple but smart at the same time. Now howZZZZZZZZZZat?
Best strategies to use Moment marketing for mCommerce
In order to make the most of any opportunity, you must proceed to act with the right planning and strategy. Follow the tips listed below and get the undivided attention of your potential consumers:
#1: Develop a keen eye for moments
The first step is to look out for opportunities of moment marketing or create them. Be active on all your social media platforms and stay updated of the trends. Find the possibility of a content and create it whenever you can!
#2: Understand the value of "timing"
Making the most of the moment is all that it takes! Practice immediacy and cash the trend before it cools down or perishes. Take the initiative at the right time and get an edge over other brands.
#3: Unleash the creative artist in you
Entertainment and creativity are as important as immediacy in moment marketing. Unleash your creativity or hire experts who have the knack for it. Use humor, satire, sarcasm, emotion, and more, to write engaging copies that get stuck with your followers.
#4: Leverage the popular memes
Memes is the one trend of the pop-culture that has emerged in the past years and is now just refusing to go out of vogue. Use the most eye-catching and trending memes to convey your branding message in a fun and striking way.
#5: Create content that benefits branding
Always keep branding and marketing at the core of the initiative. Create concise, crispy, and eye-catching content, and end it on a note that encourages users to interact with the brand or make a purchase.
#6: Join conversations on social media
Social media is a pool of moment marketing opportunities. Explore it to hijack an ongoing trend on the popular platforms and join the trending conversations. You can also engage in friendly exchanges with other brands, or even your followers.
#7: Always be considerate and real
While it is important that you experiment with fun and frolic, never go beyond your brand ethics and values. Be considerate towards the beliefs and feelings of other people and avoid hurting sentiments. Also, try to be as realistic and sensitive as possible.
Suggested Read: Popular mobile app marketing techniques – The complete guide to success
Make the most of the festive season!
Now was that intriguing and interesting or what! Moment marketing is an absolutely easy and effortless technique, that when utilized well, can work wonders for gaining brand benefits like traffic and sales.
However, do you know what is the time of the year when you get the most opportunities to leverage moment marketing? It is the festival and holiday season!
Both buyers and sellers stay amped up in this season and you can get plenty of marketing opportunities each day. Just look out for the right moments and create an ad that aligns with the brand idea and proceed to implement it!
This is the best time as the festival season is almost here! However, if you still do not have a vibrant and frictionless app for your business, you may miss out on many opportunities. Do not let that happen!
Convert WordPress to mobile app with AppMySite right away and power your business with premium and native Android & iOS apps. Hurry! Go ahead and ensure your place in the app industry now!