Mobile apps are one of the best things to happen to mankind in terms of recent technological developments. Every leap in this direction is facilitating growth and bringing major changes in our lives.
From AI (Artificial Intelligence) to IoT (Internet of Things), smart devices to smart home automation, there are plenty of options to be harnessed, and that has only been possible due to the power of internet and technology.
Similarly, smartphones and mobile apps powering these smart devices have become an indispensable part of our lives. Almost every industry is using mobile apps to connect with their audiences and customers, and to offer them the convenience of mobility.
In fact, apps are not just for shopping and booking on-demand services. Mobile app technology has become a source of education, entertainment, information, and lot more. Apps are actually doing wonders in the academic and educational realm.
The world witnessed the power and role of mobile apps in the education sector when the COVID-19 pandemic hit us. However, the era of apps will not end even after the pandemic subsides. On the contrary, it is wise to assume that it has just begun and will continue to shape our lives hereafter.
If you own an institution or your business centers around the education industry, then going online with a website can be the first big step that you can take for your business.
The next step will be to build your own app for your organization and go mobile. Read our blog and understand how a mobile app for your school can help you reap multiple benefits through varied usage. Stay tuned till the end!
Multiple uses of apps for schools & educational institutions
Schools, academic institutions, educational organizations, etc., are not oblivious of the developments going around in the technological universe.
In fact, thanks to websites, mobile apps, and affordable internet services, many educational entities have gone completely online and are leveraging the tools in a full-blown manner.
However, many institutions, especially schools and universities are still not utilizing the benefits of mobile apps completely. AppMySite is trying to change that by making apps affordable and feasible for all.
Today, we will tell you about the versatility of mobile apps with respect to the educational realm. Read through and implement the ideas that you find relevant and interesting. Discover the varied benefits of mobile apps for schools and make the most of app technology. Let us get started!
#1: Conduct online classes
Online classes and distant learning have gained an altogether new dynamic and definition in the post pandemic world. Nowadays, online learning is not just being put to use for correspondence or distant courses, but also for regular school learning.
In fact, even kindergarten children are being taught with the help of digital tools like apps. While there are many video communication apps and meeting apps available on the internet to facilitate the same, having a full-fledged school app of your own can impart more functionalities, flexibility, power, and control. It can also impart a branding benefit as you will not have to rely on a third party tool.
#2: Leverage teaching aid
Teaching and learning through websites and apps also means that the vast pool of resources available on the internet remains at your disposal at any time. These resources can be invoked as required and lessons can be made easier. This can also streamline day to day activities of the institution and make it more organized.
For example, you can integrate digital libraries, add video collections, etc., that your educators and teachers can put to use. It can aid the teaching and learning process and save precious countless hours that are spent on assembling documents and resources. Additionally, you can also make these resources available for the students at their fingertips.
#3: Make learning more interactive
Apps can also be put to use to make learning fun, advanced, interactive, and engaging. In fact, studies show that children can learn and respond better if multiple media are used for curating and designing the lessons.
Digital educational content can be made visually more appealing and interesting by adding creative infographics, motifs, animation, and more. This level of vibrancy cannot be achieved through books, but handy and portable apps can make it more fun and fruitful. Additionally, you can also organize fun quizzes, seminars, etc., and help students hone their extra-curricular skills.
#4: Boost interpersonal communication
Most of us are addicted to our smartphones and are already using multiple messaging and community apps for engaging and conversing with people. The education scenario is no different. Mobile apps can help boost communication within and beyond the organization.
It can bring people closer and facilitate easy communication between staff of different departments, parents and teachers, teachers and students, management and parents, management and students, and more. Moreover, you can also schedule alerts and notifications, enable messaging, etc., and communicate ideas directly without any friction.
#5: Create an online store for essentials
School apps often get people thinking about books, lessons, webinars, and lectures. However, there are infinite ways to use mobile technology for schools. You can also integrate an online store with the app and make shopping easier for parents of school children.
Here you can sell endless commodities like school uniforms, books, courses, customized stationery, school supplies, and more. It will help you make that extra money and save the parents from the exhausting task of hopping from store to store for their school going children.
#6: Ensure 24×7 availability
It is a fast moving world where limiting things to a six hour school-time can cause hindrance of all sorts. On the other hand, creating an app can enable round the clock connectivity between the management, children, staff, teachers, parents, and other stakeholders.
This means that even if the children and teachers are not on the campus, they can connect and co-ordinate with each other, seek help, resolve issues, clear doubts, communicate concerns, issue urgent notices, and more.
#7: Connect with experts globally
Creating an app for your school can help you connect the management, teachers, staff, students, and parents with all kinds of experts situated around the globe, on the same forum. This can enable you to offer an unmatched academic and institutional experience to your stakeholders. For instance, you can connect them with academicians, teachers, career experts, counselors, legal advisors, industry leaders, influencers, activists, etc.
You can also organize talks about sensitive and important issues like prevention of bullying and harassment, mental and physical health, gender equality, environmental issues, etc. This can promote a healthy environment where people feel informed and secure. Additionally, you can also organize online exchange programs where students and teachers get to connect and interact globally and learn from each other.
#8: Monitor and record growth digitally
Say no to all the manual paperwork that was a part and parcel of maintaining educational records and issuing certificates. Create dynamic and native apps and digitalize such activities for the good.
Using mobile apps can help with easy recording and monitoring of data, ensure transparency, ease calculations and record maintenance, and also make the system more frictionless. Besides monitoring and recording academic data and growth reports effortlessly, it will also become easier for you to share the data with students or parents when required.
#9: Promote paper-less learning
As per findstack, online learning is reported to reduce energy consumption by 90%. If you have also been planning to cut down on the carbon footprint and reduce waste generation in your institution, eLearning can be your go-to solution. Using school apps for education can promote paper-less learning and reduce stationery requirements.
Additionally, most of the industries have gone digital and require their workforce to be tech-savvy and well-equipped with the knowledge of handling gadgets and software instead of papers and pens. Therefore, by digitalizing your educational infrastructure, you can also prepare your students for the real world.
#10: Join the league of smart schools
As per Skill Scouter, the eLearning industry has grown by over 900% since 2000. Most schools, colleges, universities, and other academic institutions have already adapted to the digital revolution and gone mobile.
Over 20 million students are already using Google apps for education and the market for eLearning is constantly expanding and evolving. Clearly, going mobile is the need of the hour and is the only smart road that institutions can take in the age of smartphones. You can also join the league of smart schools by creating an app and leveraging advanced mobile technology to the fullest.
Suggested read: Build an education app and make online learning fun
How to get a feature-rich school app on a budget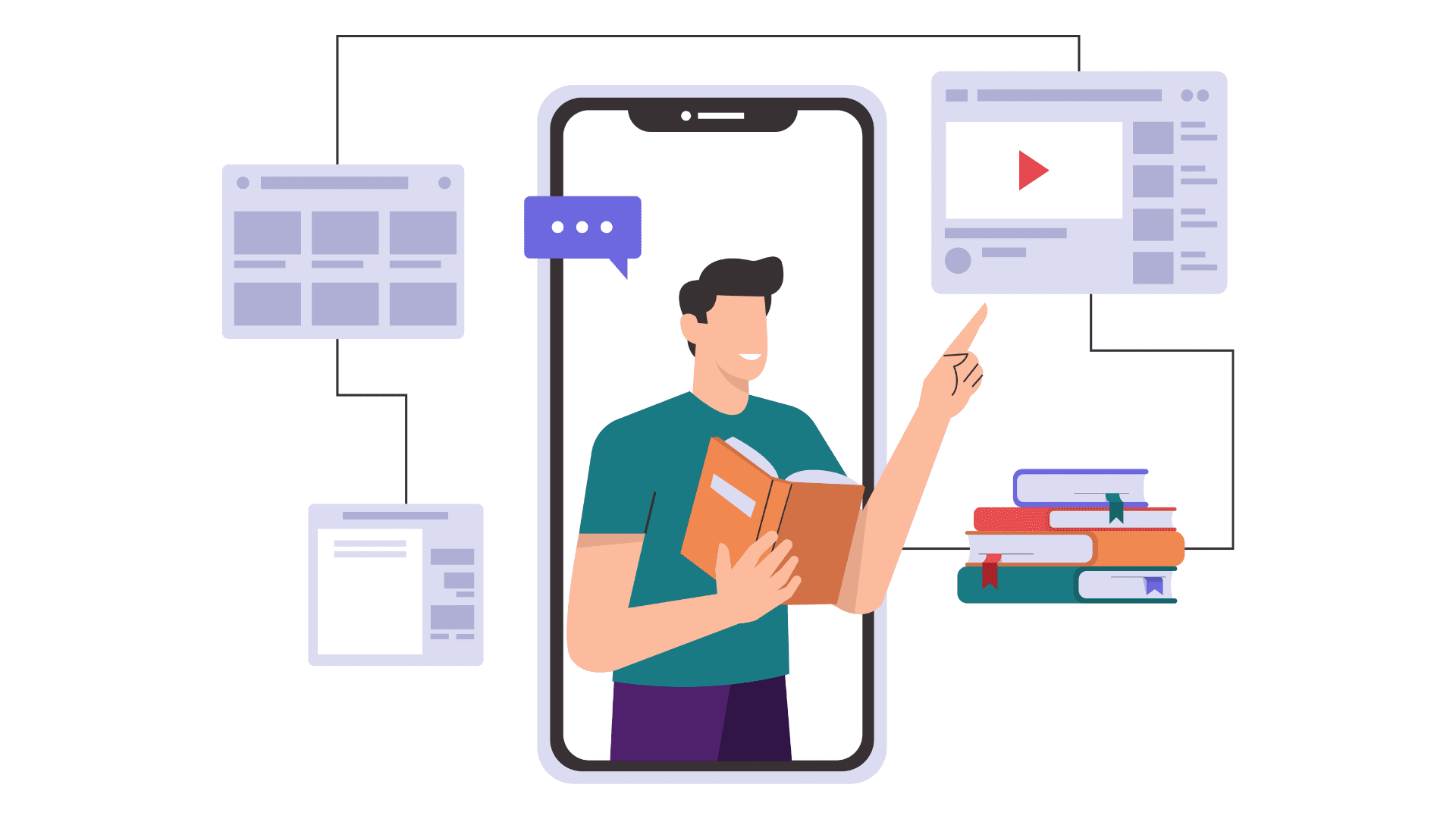 The answer is: create it yourself! Don't worry! We are not asking you to learn coding in a day. It is not feasible even for the smartest of academicians. Wondering what is the solution then? It is the education app builder by AppMySite.
Start with creating a WordPress website based on your requirements and goals. You can use WordPress taxonomy to create custom post types on your website and shape it the way you want to. (Refer to our guide suggested below.)
Next, proceed to sign up for AppMySite's mobile app builder specially designed for WordPress and start creating your app immediately for free. Here, you can build, customize, and test your app without writing a single line of code.
AppMySite also enables you to sync your website with the app, and auto-populate your website content, menu, etc., to the mobile app. It means that you can create a consistent experience for your school staff, students, parents and all the other people who are involved in whichever way.
You can point and click to add features and unlock many additional benefits such as enabling push notifications, monetization through Google ads, and more. When done, you can preview the app in simulated mobile environments and pay to publish for Android and iOS.
Suggested Read: A guide to WordPress taxonomies: All you need to know
Wrapping up!
That was all about today! Go ahead and create an app for your school and make learning more streamlined, organized, and effortless.
Build your premium native app on a budget and launch it for your users. Think outside the box and pave your way in the mCommerce industry. Be ready for the mobile-dominant world and get an edge over your competitors as well.
You can follow this space to learn more about the mobile app development and marketing industry. You can also scroll through our blogs to get insightful information and knowledge about WordPress and WooCommerce. So, stay tuned to stay informed!