The web has become the ultimate solution for each and every need or demand of the humankind. From finding the best wedding dress to finding a compatible partner, the internet is the go-to place for everything.
All such eCommerce, on-demand and other businesses and services are powered by websites and apps that together make our life easier and more convenient. There are millions of websites and apps that together bring multiple brands and businesses within our reach.
A major chunk of it is governed by WordPress as it is the leading and the most popular platform for creating websites. Hence, WordPress websites and mobile apps are dominating every industry and realm on the internet.
One such industry that has evolved and expanded immensely in recent years and has been trending since then, is the online dating industry. If you are planning to venture into this realm, then you might have made the right decision as the dating industry signifies a promising future.
However, before you get started with your business and launch a dating website, do your thorough groundwork and research. Go through this blog and discover some helpful strategies to make a robust start.
Statistics indicating the growth of the dating industry
Before we get to the tips and strategies, let us first discover some statistics and facts that will help us understand the significance and trends of the dating industry.
Some notable facts and numbers are as described below:
The online dating services collectively have a user base of around 3 million consumers around the globe
In the year 2020, the global revenue of online dating services was around 655 million U.S. dollars
The revenue generated by the global dating industry is estimated to be around 2.5 billion U.S. dollars by 2024
There were 270 million dating app users in the year 2020 and the number is constantly increasing
(Source: Statista)
Suggested Read: Top 75+ mobile app statistics – Market size & usage
10 tips and strategies that can keep your dating website in trend
Now that we are done with the number crunching, let us get to the more significant part. We have made a list of some tips and strategies that can help you make a smart start in the online dating industry.
So, go through the points listed below and implement as many strategies as possible:
#1: Find a niche and USP
It is the age of extraordinary and out of the box thinking. This should reflect in your business ideas as well. Before you venture out and start investing your resources and time, you must carry out intensive research to study the market.
Try to adhere to a path that has not been walked by other brands and find a unique selling proposition. Also try to narrow down the targeted audience base by finding the right niche for your dating services. The more concentrated your targeted market will be, the better results you will reap.
#2: Pick the perfect brand name
The name of your brand can play a more important role in propelling your growth and building your image than what you can ordinarily imagine. A name that creates a buzz and conveys your message in a concise yet creative manner, can help you grow infinitely.
So, conduct a detailed research and pick an original name for your brand that is easy to pronounce and remember. Go ahead and reserve a domain name for your website accordingly. Use the name to establish your brand image and market it intensively.
#3: Design an aesthetic UI & UX
The UI (User Interface) and UX (User Experience) can have a huge impact on your users' journey and determine the span of their engagement with your platform accordingly. While a good UI and UX will engage them and keep them intact for a long time, a poor design and experience will only increase your bounce rate and compel your users to abandon your platform.
You can uplift the UI by using suitable themes, adding captive aesthetics, and offering a smooth navigable environment. It should be absolutely effortless for your users to reach from one point to the other on your platform, without any friction. Also, integrate features that are easy to grasp and understand.
#4: Demand a detailed profile from users
Try to make your site as safe for the users as possible and compel them to share authentic and verified information. Although this may sometimes lead to a pestering experience for your customers, you can make them understand that it is for their collective good and safety.
Besides, you can always compensate for it by offering a smooth and effortless on-boarding experience. You can also offer them the portability and convenience of mobile apps. However, do not make any compromises when it comes to collecting the authentic information related to your users and protecting it.
#5: Be inclusive and respectful
Dating is a sensitive topic. So, when you design your website or app or spin your brand messaging, always try to be inclusive and respectful towards all kinds of audiences. Ensure that in no way, your content shows any bias or disrespect towards any individual, culture, belief, etc.
While pleasing everyone might sound tricky, you can overcome the challenges if you have the wits and perseverance for it. For instance, if you are designing a new campaign, you can use gender neutral terms to make your messaging suitable for people of all kinds of sexual orientations and choices.
#6: Boost communication & localization
The right kind of messaging and communication strategy can work wonders for any business. In the world of services where there is no tangible product to use and test, people rely highly on the messaging and the image of the brand.
So, when you choose your brand message or story, create a marketing campaign, or tap into the press and promotion tools, be cautious to send out the right messages. You can also enhance your user's experience by implementing localization and serving content in their local language.
Suggested Read: How to enter a new mCommerce market: A guide to mobile app localization
#7: Think beyond match-making
It is true that dating websites and apps are about matchmaking. However, this is only half the truth as the dating industry is not only about suggesting the perfect partners anymore. A basic and vanilla approach can do no good for any business and this stands true for the dating industry as well.
It is for this reason, that the brands are ready to go that extra mile. Some are providing relationship consultation services, some extend horoscope and fortune reading services, some also share dating guides and tips, among other examples. You can also add more value to your services and spike up the engagement rate.
#8: Build an authentic and trustworthy image
People show a lot of courage when they trust a dating website with their personal information, preferences, details, etc. This trust-worthiness can only be earned by building a bankable brand image overtime. However, you must start making efforts in this direction from day one.
For instance, you can tell people how you use, collect, and process their data and how can they be sure that it is secure. Also, try to be as transparent as possible when it comes to sensitive matters and your privacy and other significant guidelines.
#9: Harness the power of smartphones
Mobile is the present and future of all businesses. This stands true for the dating industry as well. When you design your platform, brand image, marketing campaigns, etc., do not forget to incorporate the fact that most of your potential consumers might be on mobile.
So, capitalize on the fact that they will be just a touch away from you. In fact, do not forget to optimize your website for the perfect mobile usage experience. You may also want to take the experience a step ahead and create an app for a more holistic and 360 degree experience for your users.
Go a step ahead and utilize the power of Push Notifications and Social Media by integrating these features in your app. Design robust campaigns and do not ever let the buzz around your brand subside.
#10: Learn from the competitors
One of the best ways to succeed in the online industry is to learn from your competitors and the existing heavyweights of the industry. We are not talking about plagiarism but learning from the best is only reasonable.
In fact, it is smart to learn from other's mistakes (or perfection). You can analyze what went right or wrong for them and act accordingly. So, as you research the market and find your targeted audiences, you might also want to take a look at how other businesses are working and performing in the industry.
Suggested Read: How to make a dating app: The complete guide
Complement your website with a dating app in no time!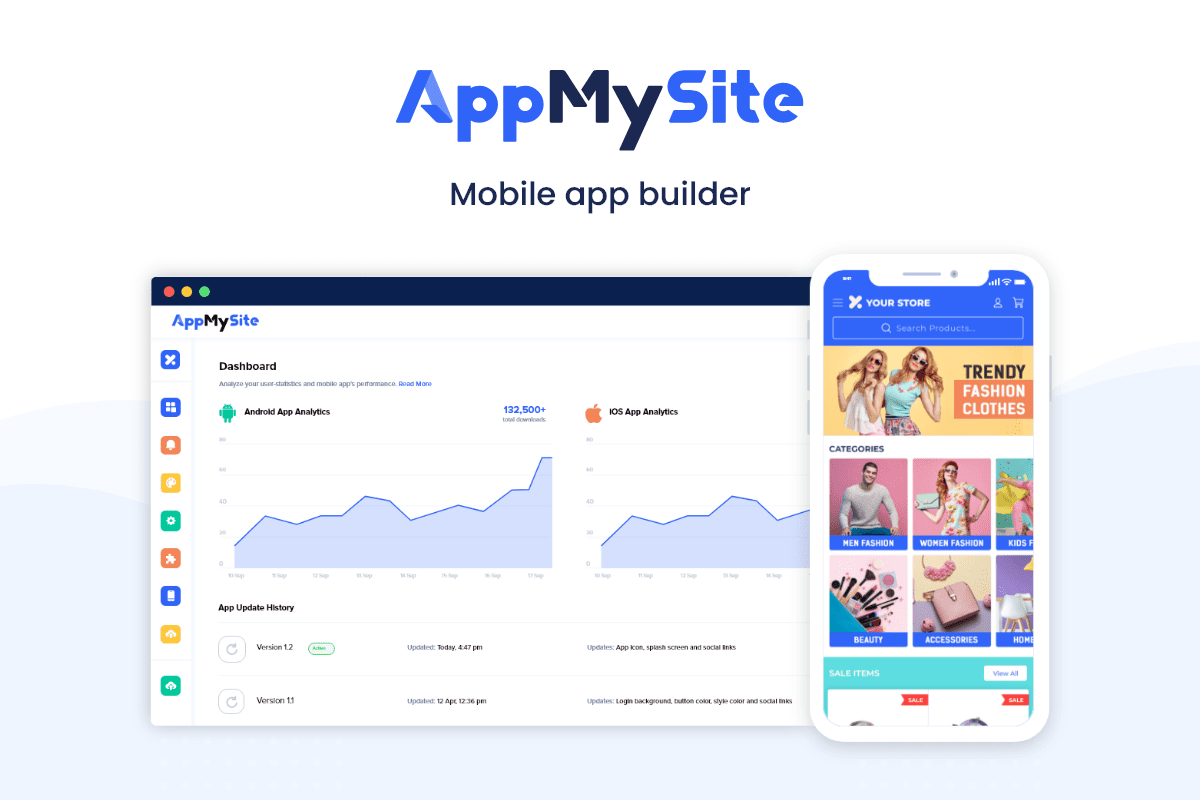 That was all about creating stunning websites for your business. Go ahead and create a stunning dating website on WordPress using its taxonomy feature. You can refer to our guide suggested below for more details and make your journey easier.
Suggested Read: A guide to WordPress taxonomies: All you need to know
However, do not limit yourself with just a website for your online dating services and business. Websites are definitely important for excelling on the web marketplace but not enough. It is the age of smartphones, and every brand, business or organization needs an app for wholesome success.
We do not need multiple references, examples, or analogies to illustrate the importance of mobile apps. Almost every person with a smartphone and even a little bit of awareness of the internet knows how significant it is.
However, most businesses skip creating an app at the start because app development is demanding in nature. It requires a lot of your time, involvement, resources, and on top of all that, a huge budget. But you do not really need to compromise and miss out on the wonderful opportunities of business growth and expansion because you do not have an app for your users.
Instead, you can go ahead and make your own app online with AppMySite's DIY app creator. It is the perfect app builder for all kinds of WordPress and WooCommerce websites as it enables customers to build premium native apps on an affordable budget.
The no-code platform is absolutely DIY and super easy to use. Anyone can seamlessly sign up for it and create an Android and iOS app for their business. The best thing is that you can build the apps for free and only pay to publish when you are satisfied with what you have built and tested.
Wrapping up!
That was all from our end today. Go ahead and create the best dating website with a signature USP and claim your space in the match making market. Build a website and complement it with an equally smart and feature rich app without making extravagant investments.
You can explore the other blogs by AppMySite and learn all about the website and mobile app development industry, gain useful insights about mobile app marketing and analytics, study about industry trends and a lot more.
Just remember to do your research properly and put your best foot forward as you embark upon this awesome journey. Make a robust start with your website and app your way to success. Get, set and grow!