The emergence of DIY app builders has challenged the monopoly of custom app development agencies and made the process more democratized.
Many people are switching to this affordable and quick route of app development. As a result, there is a flood of online tools that are enabling people to turn website to app without coding.
However, not all DIY app builders that exist in the market are efficient and capable of offering a seamless experience. Only some can enable you to build apps that are at par with what the professionals and a big budget can help you achieve.
AppMySite is one such advanced app builder that has become the choicest DIY solution for businesses and brands across the globe. It has already gained a family of thousands of subscribers in a very short time.
So, what are the features that make AppMySite special and exclusive! Stay with us till the end and find out. Discover the unique features of the app builder that can power your online business like none other.
Suggested Read: How to create an app in 10 simple steps? Make an app without coding
5 unique features that make AppMySite best in the league
AppMySite comes with a myriad of features that make it a competitive app builder. It has all the great features, tools, and technical aid that consumers expect.
Some of the amazing features that make it desirable and reliable are:
Dashboard that is easy to understand and use

Absolutely code-free DIY environment

High quality native Android and iOS apps

Affordable packages & pricing plans

Complete sync between website & app
This list of features goes on and beyond when it comes to meeting your expectations of a seamless experience and an amazing app.
However, there are some features that are exclusive, outstanding and especially noteworthy. Today, we will introduce you to five such features of AppMySite app maker. Stay tuned and read about them in detail:
#1: Endless free features
AppMySite comes with endless features that power your journey right from the sign up to publishing the app build on the desired app stores. Most of these crucial features are free and absolutely easy to use and implement.
For instance, subscription to AppMySite is free for the lifetime. It means that once you have created an account on AppMySite, you can come back at any time and build an app for your business.
Apart from this, all the design and customization tools are also free. You can immediately start building your own app and use either custom designs or build app from scratch on the builder itself.
For this, you will get access to a free image library with endless images to suit every business niche, brand and industry. You can also add blogs, CMS pages, product categories, and more, without any hassle.
Support for many other additional and extended features like guest checkout, social media integration, affiliate product listing, etc., is also free.
You only pay for the fixed package price and the add-on solutions that you choose with your package. Everything else comes for free and can be easily accessed without any hassle.
Suggested Read: The best tips to design mobile app landing pages that inspire conversions
#2: Live preview support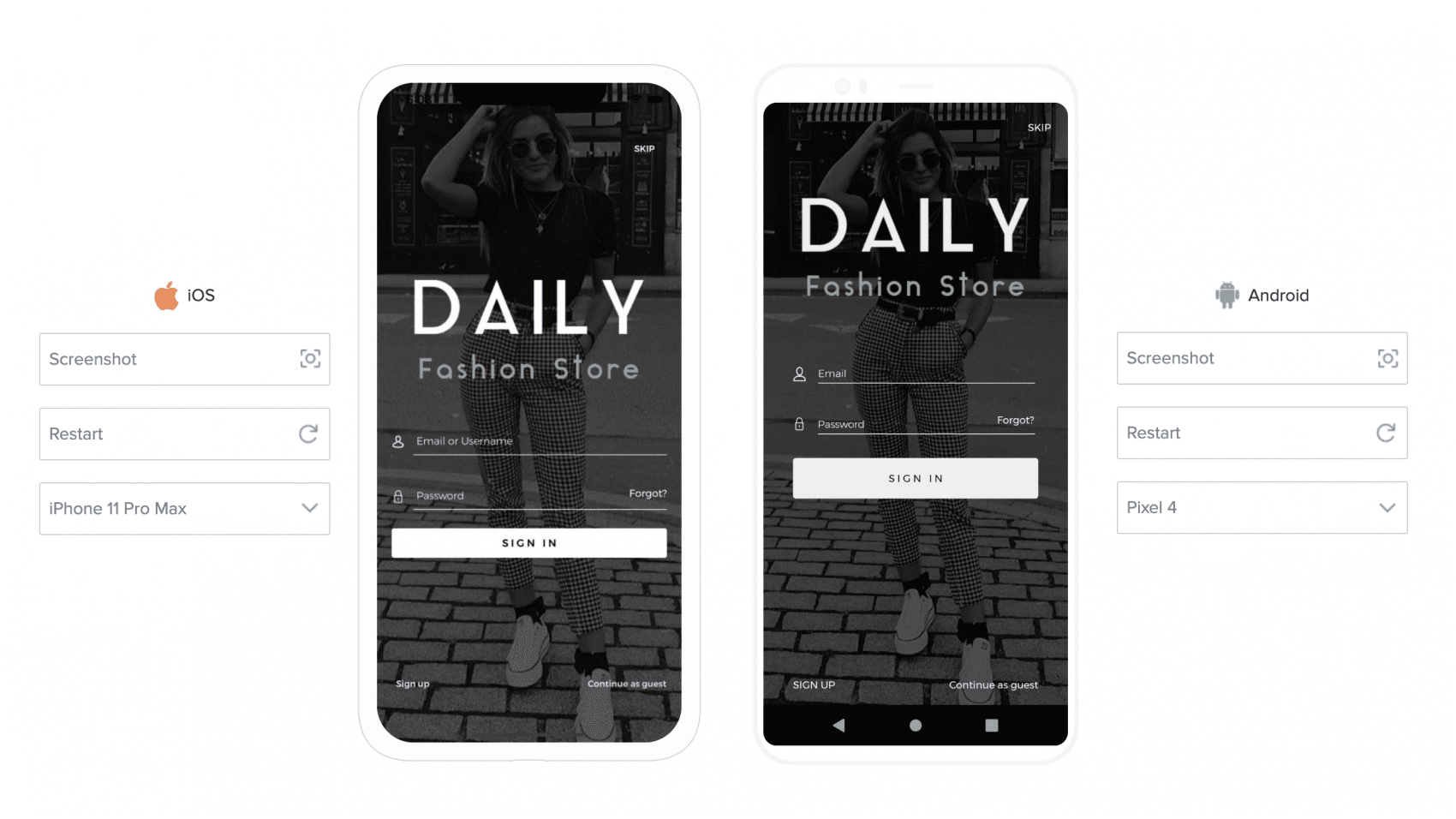 This is yet another unique feature of the app builder. AppMySite has a live preview support that enables you to monitor every development and change you make to the app design and layout.
The preview pane is located at the right side of the app builder screen. Every change or update that you make to the app design, can be viewed here in real time.
This live preview feature enables users to create flawless and well-designed apps. It also enables them to eliminate any errors or unwanted design changes they make, at that very moment. This saves time and effort as you do not struggle with changing the fully built app for silly design mistakes.
Besides the live support feature, you also get a rigorous testing platform to check your fully built app. You can test your app's compatibility, design, etc., on a mobile device simulator.
The testing can be performed for different kinds of operating systems (Android and iOS) and different kinds of devices. This level of dynamism of app preview and testing is hard to find elsewhere!
#3: Free to build and test
Most app builders offer hybrid or web-view apps, but AppMySite takes it several notches higher. It enables its users to build premium apps that are NATIVE!
There is a firm commitment towards mobile app quality and customer satisfaction. Thus, you get high performing apps that are free to create, customize and test!
You can subscribe to the platform for free and start building your app immediately. The same app build can be published for both Android and iOS, thus you save time and resources.
You also get ample free assistance to design, build and customize your app. The app builder is backed by a vast help centre that includes supportive articles, blogs, videos, etc., all created to make your experience seamless and flawless.
AppMySite ensures value for money and thus offers a range of pricing and payment options to customers. Besides, you only pay to publish the app when you are completely satisfied with what you have built.
Suggested Read: Native app vs WebView app – Which path offers better odds of success?
#4: Universal payment support
Payment Gateways are a crucial feature for every eCommerce website and app. In fact, many online brands, businesses and even organizations, often need this feature to facilitate transactions.
To ensure seamless and secure transactions, AppMySite offers universal payment gateway support. This means that AppMySite will support all the payment gateways that your website supports.
This ensures wider coverage of demography and ease of doing business across the globe. As the existing payment gateways on your website are facilitated on the app by default, you do not have to do anything extra.
The app remains capable of processing order payments and deliveries just like your website. This ensures that all your prospects and favorable avenues are wide open.
#5: Unlimited add-on solutions
Besides the dynamic and powerful app builder, AppMySite also offers a range of add-on solutions that make the experience even more robust and propitious.
These add-ons are a collection of some added features and benefits that can meet the additional demands of businesses and make your apps even more dynamic and powerful.
The add-ons enhance the functionalities of your app and also ensure many other benefits. The solutions have been classified into several products that can empower your app and give a boost to your online business.
Customers can pick the add-on that they need and add more functionalities to their mobile app with ease. Go through the list of all these add-ons in the blog suggested below and know more!
Suggested Read: 11 Add-on solutions by AppMySite that can supercharge your online business
Try out AppMySite app maker for free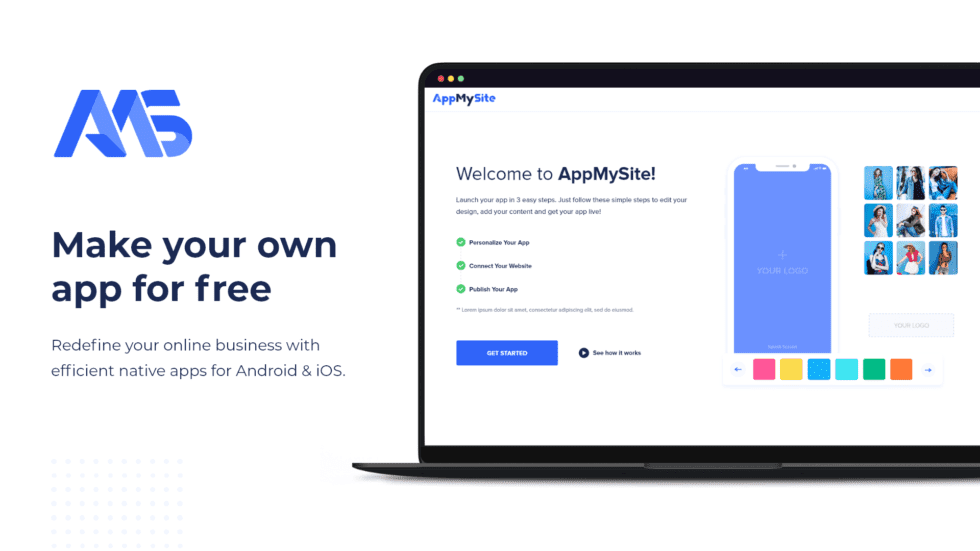 AppMySite is the ultimate new age solution that has the quality, power and efficiency of custom app development, but offers the affordability, features and ease of use of DIY app making.
As discussed above, "build first, pay later", is its unique feature that makes it a "must try" tool for every business. You can subscribe to the platform, create your app and test it for free.
You can explore the tutorial video by AppMySite and make your app building journey even more effortless and easier. Watch the video suggested below and build your own app within minutes!
Suggested Watch: How to make an app for free without coding
Try out AppMySite free online app maker and only pay to publish your apps when you are completely satisfied with what you build.
When done, publish your apps on Google Play Store and Apple App Store, and join the mCommerce industry without any hassle.