Mobile apps have become the go-to solution for all businesses, organizations and even individuals. The exceeding demands of apps is being met by DIY app builders.
Code-free app makers are challenging the monopoly of custom app developers. These DIY app builders have made it easier to create WooCommerce apps and WordPress mobile apps online.
However, many people still live under the impression that DIY app makers are not capable and efficient enough. This has given rise to many myths that surround online app making.
But AppMySite has been busting these myths ever since its launch. Read the article further and find out how it is changing the perception about DIY app builders.
AppMySite: The trusted app builder for all
AppMySite is a new age app building solution that has reinvented the DIY app development scenario. It is absolutely code-free, effortless, and affordable.
Anyone can sign up for the platform and create Android and iOS apps for free. It is super easy to turn WordPress and WooCommerce websites into WordPress mobile apps and WooCommerce apps.
Whether you own a blogging website, a CMS website, or a shopping website, you can easily turn it into a native app. The apps contain all the features that can give a boost to your engagement and conversions.
It is trusted by the WordPress leaders and heavyweights of the industry. It is for this reason that AppMySite has earned a family of thousands of subscribers real soon, and the list is continuously increasing.
Suggested Read: AppMySite is now vetted by WP Engine and listed on their solution center
Myths about app builders that AppMySite is busting
AppMySite is busting all the myths that surround DIY app makers. Go through the common myths as discussed below and discover how AppMySite is eliminating them all:
Myth #1: DIY app builders are not efficient
It is a common misconception that DIY app creators cannot deliver premium quality apps. This is not completely a myth. Many drag and drop builders suffer this kind of inefficiency, but not AppMySite.
In fact, AppMySite comes with a more advanced dashboard that makes the process more intuitive and efficient. Customers can build premium quality apps that are at par with the apps built by custom app developers or professionals.
The power of designing and customizing the app comes in the hands of the customers. The apps built with AppMySite are native and are directly powered by the website. Hence, you get a native app that is high-performing and fully functional.
Myth #2: DIY app builders do not offer customizability
Yet another common myth about DIY app builders is that they do not offer customizability. It is believed that the app will be limited to a few features only and that it will not replicate the qualities of the website.
However, AppMySite has challenged this notion too. It ensures that you get complete customizability and control over the app design and layout.
The app is connected to the website and remains in complete sync with it. As a result, the data also gets easily and automatically updated to the app without any hassle.
Myth #3: DIY app builders do not have enough features
It is believed that since DIY app providers try to create an affordable system, they ration on the features. However, this is not the case with AppMySite.
It offers an amazing palette of some outstanding features that make your app robust and fully functional. The builder comes sufficed with all the new-age features that make an app likeable for your users.
Whether you create a shopping app or a blog app, the list of endless features in the app makes the experience a breeze for your app users. You can refer to the blog below and discover some exclusive features that make AppMySite the best app builder!
Suggested Read: Five outstanding features of AppMySite that make it the best app builder
Myth #4: DIY app builders can turn out to be costlier
Custom app development burns a hole in the pocket as the experts charge you for app design, delivery, maintenance, makeover, update, and more. It also takes a lot of time and hence you run the risk of exhaustion, tediousness and delay.
However, mobile app creators can turn out to be more transparent and cost-effective. There are fixed payment cycles, consumers do not bear all the costs at once and the issue of hidden charges is also rare.
In fact, AppMySite is the first choice of many customers because of its affordability and cost-effectiveness.
Anyone can create apps for free and then only pay to publish the app on their preferred platforms. The paid packages are also the best as per the industry standards and offer complete value for money.
Myth #5: DIY app builders do not offer scalability
The DIY technology has evolved to such an extent that adaptability and scalability are also not an issue anymore. This becomes especially easy and effortless with AppMySite.
AppMySite offers immense scalability and ensures that your app evolves as your business grows. For instance, new versions of the app can be updated and launched at reasonable costs.
The app builder is also evolving everyday and new features and functionalities are being added to it. Thus, it becomes easy to scale your business to greater heights with apps built with AppMySite.
Try first and pay later!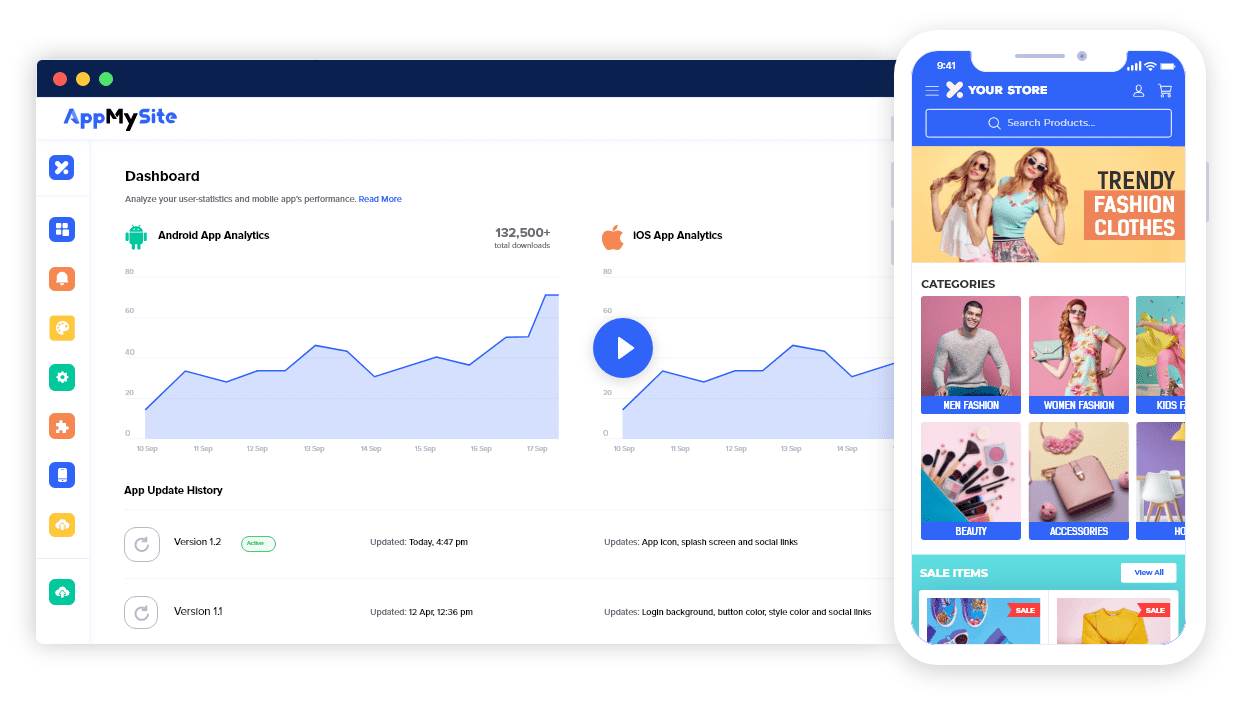 As discussed above, AppMySite provides complete value for money. You do not need to trust this app builder blindly, even though by all means, you definitely can.
Anyone can sign up for this mobile app creator and build premium apps for free. You can create and customize your app, connect it with the website and then test it on a free subscription.
Suggested Read: How to create an app in 10 simple steps? Make an app without coding
Basically, you get the first-hand experience of the complete app without spending any sum. Thereafter, you can proceed to publish the app on Google Play Store and Apple App Store, when completely satisfied.
Most of your potential customers are on mobile today. So, refer to the blog suggested above to create a premium native app and take your business several notches up. Hurry! Get, set, grow!