Digitalization all over the globe has also led to a rise in the number of technical products and services that are making our lives easier and better. There is some or the other kind of online solution for almost any problem or need under the sun.
Whether you are looking for a tool to build a website or wondering how to create an app, there are answers available out there. For instance, you can easily build a website with WordPress, the ultimate CMS (Content Management System) solution and create an app with AppMySite, the ultimate code-free app development solution.
Same goes for LMS (Learning Management System) software and plugins that have made it easier to set up a learning website and start a course online. Today, we will give you a brief about the top LMS plugins for WordPress that are ruling the industry. So, let's begin!
Why go with an LMS plugin?
From upgrading skills in education to advancing in a career with an added degree or even just learning a new language as a hobby, people are looking at the online education industry for a variety of reasons. In fact, eLearning is what kept the knowledge-hungry souls going even during the pandemic.
The trend has grown widely over the past few years and an Allied Market Research shows that eLearning or online learning industry is now worth billions of dollars. As a matter of fact, the global eLearning market was valued at USD 197 billion in 2020 and is projected to reach USD 840.11 billion by 2030.
This shows that the industry is growing at a CAGR (Compound Annual Growth Rate) of 17.5%. This number is only expected to rise in the coming years as the demand for online education is constantly growing. If you have faith in the numbers, then it is the best time to cement the decision of creating an education or eLearning website.
Suggested Read: 10+ Reasons why WordPress is the best for creating websites
Features to look for in your LMS plugin
Now that you have already started exploring the idea, let us help you get started. We recommend WordPress for setting up your website as it is the best and the most popular CMS in the world. It is easy to create a website with WordPress and there are endless free and paid options when it comes to picking suitable plugins and themes for your website.
There are several LMS plugins designed for WordPress users. You can use these plugins and get almost all that you need to set up a learning website. This may include features like:
Uploading and creating courses
Learner enrolment & sign up
Managing student profiles
Student & tutor management
Monitoring course progress
Support for content dripping
Support for conducting tests
Support for quizzes, activities, etc.
Support for chats & forums
Generating progress reports
Support for badges & certifications
Support for tasks & assignments
Support for marketing activities
Payment gateway support
Reporting and statistics support
You can add or takeaway a few features from the list above depending on your niche targets, business goals, audiences, etc. However, the choice of the LMS must be based on a calculated approach as it will play a critical role in determining the success of your eLearning platform.
Suggested Read: The Top 13 Must Have Plugins for WordPress Websites
8 best WordPress LMS plugins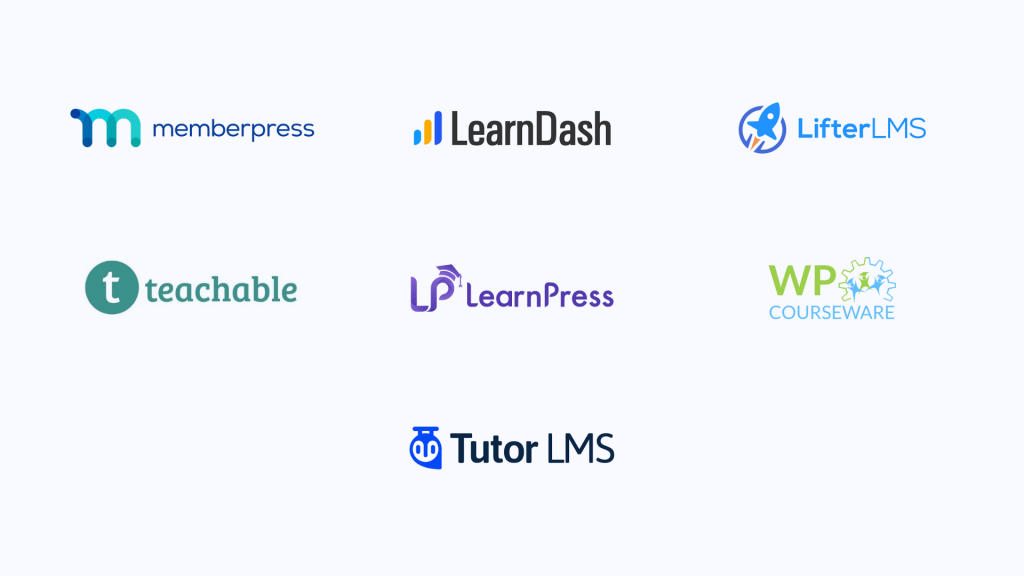 Tutor LMS
MemberPress Courses
Masteriyo
LearnDash
LifterLMS
Teachable
LearnPress
WP Courseware
Let us delve deep now and uncover all the significant details about the above listed LMS plugins in detail. We have covered all the essentials you need to know. Here it goes:
Tutor LMS
Tutor LMS is the prized LMS of Themeum. With over 60,000 active installations it has created a name for itself amongst the industry leaders. Create, manage, and sell eLearning courses with Tutor LMS and all the features it's packing under its belt. Use the plugin endorsed by industry leaders with a plethora of advanced features to ensure a top-notch eLearning experience.
Key Features
Frontend drag-and-drop Course Builder
Drag and drop quiz builder with 10+ unique quiz types
Advanced reports and analytics
Multi-instructor support with built-in revenue sharing
Multi-media courses with live classes on YouTube, Google Meet, and Zoom
Powerful certificate builder
Multilingual support in 27 languages
Q/A and student forums for interactive learning
Advanced functionalities with powerful add-ons & integrations
Adapted for mobile learning
Exclusive built-in email templates & template editor
Extensive security with social login, 2FA, email verification, and fraud protection
Supports popular page builders like Elementor, Divi, and oxygen builder
Pricing
The basic package is free, and the pro packages start at USD 199/year offering a single site license. The prices can vary depending on your customized requirements, so be sure to contact the Themeum team to get the pricing that suits you.
Remarks
Tutor LMS while being a comparatively newer LMS is going toe to toe with many of the older plugins in the industry. It earned its way up to the big leagues with its amazing features and very competitive prices.
MemberPress Courses
MemberPress is essentially a membership plugin that enables WordPress users to create websites that work on membership model. Since membership and educational websites have many features in common, MemberPress is also known as one of the finest LMS plugins. It has built in features that make creating, managing, and selling courses a bliss, and that too without writing any code.
Key Features
Multi-faceted plugin with added LMS support
Endless features rolled into one product
Multiple courses with advanced creators
Interactive classroom designs with smart tools
Easy membership level management
Content dripping and progress monitoring
Access control with members-only dashboard
Support for one-time & recurring payments
Effortless checkout with discount redemption
Email marketing integration
Universal WordPress theme compatibility
Forum & community support with bbPress
Pricing
The basic package starts at USD 179/year offering a single site license. The prices can go up to USD 400/year or even more depending upon your customized requirements.
Remarks
MemberPress is one of the best membership plugins. Its versatility and feature-rich infrastructure makes it one of the top choices for course-based websites as well. The set-up can be done within minutes and the platform also ensures intuitive integrations and ample flexibility.
Suggested Read: Memberships Apps: Purpose, Features and Tips to build for Android and iOS
Masteriyo
Masteriyo is a free comprehensive learning management system for WordPress that allows you to create, manage, and sell courses online – all without any coding. It's ideal for educational institutions, online tutors, and anyone looking to build an e-learning platform. It offers a range of features like the intuitive course and quiz builder, grades allocation, student management, in-built order system, and more.
Key Features
No coding required
Unlimited courses, sections, lessons. and quizzes
Distraction free learning page for students
Q&A section in the learning page
Compatible with any WordPress theme
Responsive design
Supports WooCommerce and Elementor integration
Accept payments via Stripe and PayPal
Offline payment available
Drip feed course content to students
Add Wishlist and Review feature to courses
Pricing
Masteriyo is a freemium plugin. Hence, it has both free and premium plans. You can use the plugin completely free of cost or upgrade to a premium version. The starter plan of Masteriyo costs you $49/yearly for a single site. The prices can go up to $149/year depending on the plan you choose.
Remarks
Masteriyo stands out as a LMS plugin due to its innovative features such as the course builder that's independent of the WordPress post system. You can build lessons, quizzes, and customize them from a single builder interface. Its easy setup process, coupled with its customizability and seamless integrations, makes the plugin a top-tier selection.
LearnDash
LearnDash is one of the most popular LMS plugins and is known for its ease of usage and versatility. It gives administrators and tutors absolute control and lets them run the show effortlessly. It made to the list of Capterra's top 20 training software and is trusted by big brand names like Yoast, University of Florida, etc.
Key Features
Drag & drop course builder
Multi-tier course support
Pre-designed course templates
Front-end student profile
Student group level-management
Advanced quizzes & assignments
Certification and badges
Interactive forum support
Drip-feed content support
Integration with advanced tools
Automated email notifications
WordPress multisite support
One-time & recurring payment support
Effortless checkout & marketing support
Universal modern-theme support
Pricing
The basic package starts at USD 159/year offering a single site license. The prices can go up to USD 330/year or even more depending upon your customized requirements.
Remarks
LearnDash is one of the most sought after LMS plugins available on the web. It offers a user-friendly, dynamic and feature-rich experience to customers under categories like courses, monetization, administration, and technical. It is also quite mobile-friendly and makes it easier to offer portable courses.
Suggested Read: Build an app for your LearnDash website and go mobile!
LifterLMS
LifterLMS endorses itself as the most flexible WordPress LMS for online learning website. It fairly lives up to the promise and offers a one stop solution for creating courses and setting up educational websites. It supports multi-tier courses with full-fledged degree programs that makes it suitable for an organization or entity of any scale.
Key Features
Drag and drop course builder
Essentially free for use
Support for multimedia courses & course bundles
Versatile membership support
Support for course import, export, and more
Support for selling courses with WooCommerce
Content drip and progress monitoring
Advanced quizzes & assignments
Certification and badges
Access control with separate dashboards
Smart forum & social community support
Effortless payment and marketing options
Personalized email notifications
Pricing
The basic package starts at USD 120/year offering a single site license. The prices can go up to USD 1200/year or even more depending upon your customized requirements. Individual add-on features may cost around USD 99 each for one site or you may go with a universal plan for USD 299 for a single site licence.
Remarks 
LifterLMS is one the top ranked choices when it comes to WordPress LMS plugins. It is easy to use and comes with an interactive demo. The pricing can go a bit high as you purchase more add-ons but the overall experience may makeup for it.
Teachable
Teachable is the only name in the list that is not essentially an LMS plugin. However, it can be easily integrated with your website directly and you can also use it on a sub-domain or a custom domain. It is an amazing platform for entrepreneurs and offers premium services and solutions for setting up wholesome educational websites.
Key Features
Stand-alone code-free course builder
Unlimited multi-media course creation
Intensive customizability support
Live tutor-learner engagement
Integration with Zapier
Support for feedback collection
Payment gateway support
Secure & dynamic infrastructure
Pricing
The basic package starts at USD 29/month. The prices can go up to USD 249/month or even more depending upon your customized requirements. Teachable also charges 5% to 10% transaction fees on its free and low-priced packages.
Remarks
Teachable is a stand-alone platform and is not essentially a plugin for WordPress. However, it is a wholesome eLearning and course solution that is capable of handling any number of students and courses. Although it is expensive as compared to other options, it offers robust security and smart infrastructure.
LearnPress
LearnPress is yet another powerful LMS plugin that comes with a range of robust features. It offers the most customizability and control and lets you take the wheel in your hands. The plugin is also very easy to use and makes it easy to create dynamic courses. You can also export the content to other websites using LearnPress and ensure complete compatibility with any WordPress website.
Key Features
Essentially free for use
Flexible set-up options
Aesthetic page builder tools
Content dripping and quiz support
Certification & grading certificate
Multiple instructor support
Support for student Wishlist
User-generated reviews
Universal WordPress theme support
WordPress multisite support
Multiple payment gateways
Integration with multiple tools
Pricing
The basic package is free and the LearnPress Theme bundle costs USD 49 to 69 for the additional support and advanced features. The prices for PRO bundle with three site licences can go up to USD 250.
Remarks
LearnPress is one of the simplest WordPress LMS plugins out there that despite being flexible and beginner-friendly, has a unique feature-rich infrastructure. While the support is limited on the free option, it is still a viable option for small businesses or individuals with a rationed budget.
WP Courseware
WP Courseware is an affordable yet powerful platform for creating course-based websites. It is one of the best tools or WordPress website owners and suits both small scale set-ups as well as large enterprises. It also supports smart monetization features, thereby enabling more revenue-generation. It is trusted by premium universities of the world including University of Illinois and the University of Wisconsin Madison among others.
Key Features
Affordable pricing plans
Drag and drop course builder
Intensive customizability and control
Built-in shopping cart
Payment gateway support
Integration with smart tools
eCommerce and seller support
Interactive classroom-design
Content drip feeding options
Multilingual translation support
Universal WordPress theme support
Pricing
The basic package starts at USD 129/year offering a dual site license. The prices can go up to USD 200/year or even more for a 205-site license and advanced features.
Remarks 
The best thing about this plugin is it uncomplicated pricing and a beginner-friendly approach. It comes with flexible infrastructure that makes it fit for any kind of WordPress website.
Complement your website with an eLearning app
While you are at it, you may also want to offer a mobile learning experience to your web visitors as more people are choosing apps over the web when it comes to fulfilling their day-to-day needs. The education industry is not alien to these changes.
In fact, most learners prefer access to portable material that they can scroll through on the go. Therefore, it has become important for eLearning websites to complement their platform with an equally powerful app.
So, give your audience the power of mobile and they will fall in love with you. The chances of turning a visitor into a paid subscriber can also increase with an app. If you are anxious about the budget, then shed your worries now!
You can make an app from scratch instantly with AppMySite and that too on an affordable budget. It may sound too good to be true, but it is not. AppMySite has been designed for the love of WordPress and it supports most of the plugins.
Additionally, the web view feature imparts a platform-agnostic appeal and makes the app builder suitable for all kinds of LMS plugins. Once your website is up and running, you can immediately go ahead and build an app for it and launch it in no time.
Suggested Read: How to make an app for your course-based WordPress website?
Wrapping up!
That was all! This was our list of the top seven LMS plugins for WordPress. Pick the one that suits your brand voice, targeted audience niche and business goals and get started. Whether you are an individual looking to offer educational solutions online or an entire institution, WordPress LMS plugins are the way to go.
Set up your website and then subscribe to AppMySite to build your own WordPress app. Take the code-free route to app development and effortlessly sail your way to success. Create a full-fledged education and learning platform from scratch and help people learn and grow.