Do you find yourself mulling over the idea of getting an add-on for the app you're building on AppMySite?
Any prospect that asks users to meet a price naturally invites analysis. Even a simple transaction such as buying a pair of socks online involves a fair amount of comparison and analysis. Buying add-ons thus invites a high level of consideration and scrutiny.
Your app building train on AppMySite would undoubtedly pull over at the add-on station at one point. The urge to use an add-on in order to add a premium feature or get high-value services would undoubtedly make you consider the prospect.
AppMySite enables you to create premium apps for Android​ and iOS. There are plenty of in-depth customization options and preview features available to users without the need for add-ons.
The general desire for high-quality features is like a deep pit that consumes mud forever. Thus, even though you can build great apps without add-ons, you'd still want to add new features and functions.
This piece provides AppMySite users guidance on how to know if their app needs an add-on. Furthermore, readers can also learn about the various add-ons on AppMySite and the specific features of each.
The Add-ons on AppMySite
It is first important to study the add-ons currently available on AppMySite. The details and features of each add-on covered here will enable readers to learn how an add-on can help their mobile app.
AppMySite offers a number of add-ons which bring additional features and functionalities to the apps built on the platform. The following sections highlight all the add-ons currently available on the platform.
#1- White Label
The White Label add-on enables users to white label the apps they build on the AppMySite platform.
All apps built on AppMySite contain its branding name and logo in the footer section. This add-on enables users to remove the branding from their apps and give it a singular brand tone.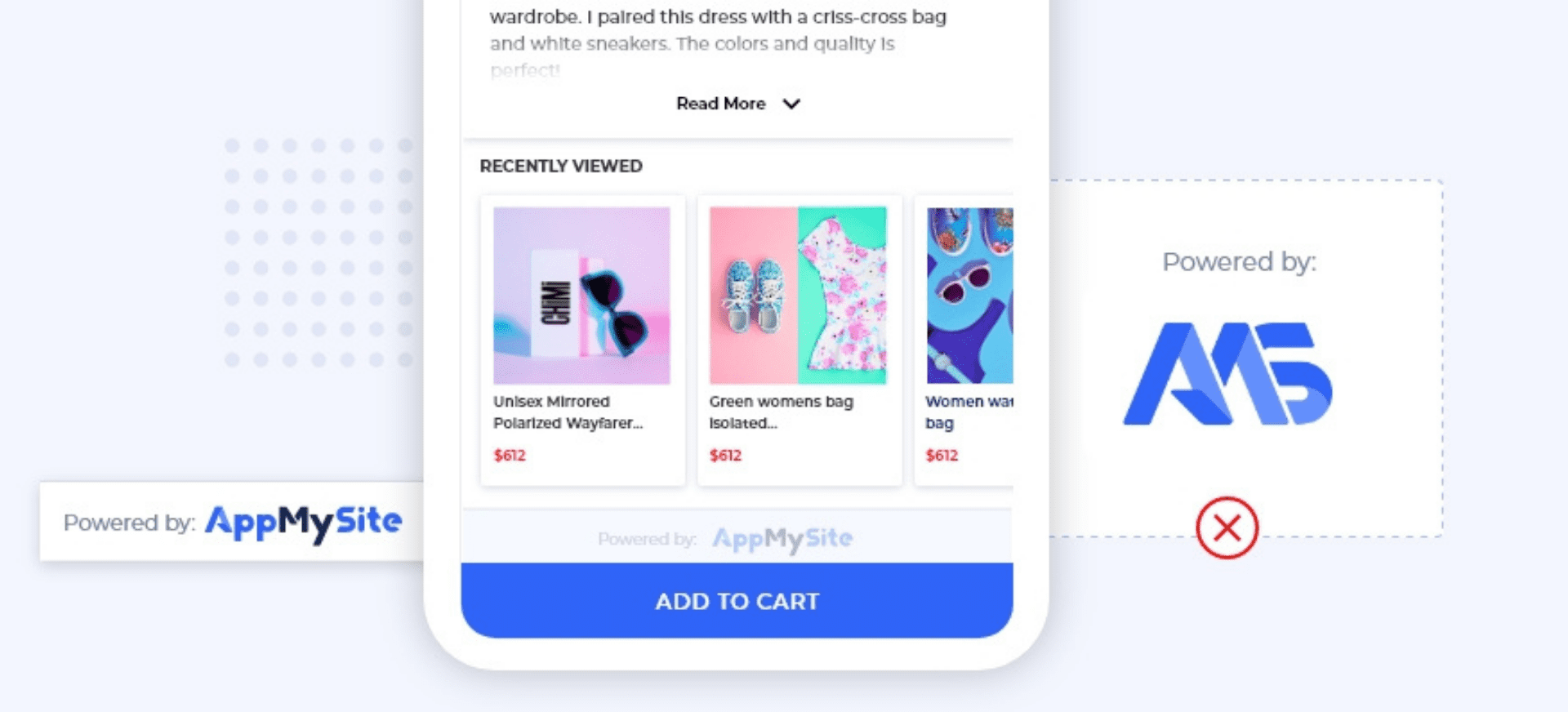 The white-labelling of the app is completed automatically after the purchase of the add-on.
Users subscribed to the pro plan get the White Label add-on for free. They don't need to separately purchase the add-on separately.
#2- Upload to App Stores
The Upload to App Stores add-on provides users the option to forgo the burden of performing the tedious task of submitting an app to prominent app stores.
The process of submitting an app to the app store is very tedious and requires users to be aware of many technicalities. Not every entrepreneur has a lot of time to invest in the process.
With this add-on, AppMySite users let app experts handle the process of submitting their app builds to the Google Play Store and Apple App Store.
#3- New App Version
The New App Version add-on enables user to update their app name, icon, and launch screen.
Generally, AppMySite enables users to make unlimited changes to their live app without the need to create a new build. However, the app name, icon, and launch screen cannot be changed.
The New App Version add-on enables users to update these elements. After changing these elements, users have to generate a new app build and upload it to the app store.
The add-on is available for free. Users don't have to pay a dime to avail the features of this add-on.
#4- App Store Optimization
As the name suggests, the App Store Optimization add-on helps users improve the app store visibility of their mobile apps.
App store optimization (ASO) provides users the ability to improve the organic visibility of their app on the app stores. This can help drive organic downloads and work wonders as a marketing measure.
This add-on provides users app store meta information optimized with the right keywords. The meta information is crafted by ASO experts who research the right keywords for your app to rank on.
Optimized meta fields can also increase the visibility of an app on various sections of an app store. From getting featured on the app store home page to landing on the similar app carousel, the add-on can help users drastically scale visibility.
#5- Mobile App Design
AppMySite is the ideal platform for people who don't have a background in programming and design. The mobile app design options available in the Appearance section are easy to understand and implement.
However, there is a good chance users still want professional help when designing their apps on AppMySite. A good mobile app design translates into positive in-app metrics and better app store conversions.
The Mobile App Design add-on enables users to revitalize their app design with the assistance of professional designers. This add-on provides users the ability to give their app a truly professional design.
#6- Consent Form
Not all apps are meant for everyone. It is possible your app content has a high age rating or is specifically targeted to a certain demographic. It is naturally unviable to selectively test the eligibility of every app user.
The Consent form add-on provides users the option to add a content form to their apps. This form makes app users confirm their eligibility to use the app and view its contents.
This add-on is ideal in case you wish to meet certain compliance requirements. You will have the ability to frame the contents of the consent form as you see fit.
#7- App Store Design
A sound app listing is one which manages to convert a large chunk of visitors.
Imagine all the effort you put in to make people arrive on your app store listing. Not making these people download the app is a great loss for a marketing team.
Thus, making the app store listing conversion-worthy is essential.
The App Store Design add-on provides users the ability to present the best possible version of their app on the app store.
Users get professional artwork for various elements of an app store listing such as the banner image, app icon, and screenshots. This eventually helps improve the aesthetic power of their app store visibility.
#8- WordPress Web Hosting
Every entrepreneur bringing an app to the market wants to see it perform well and provide the ideal user experience. Unfortunately, app speed and performance have always been tough nuts to crack.
Even the biggest app companies in the world invest huge sums of money to supercharge their app speed. At AppMySite, we too understand the clear need for our users to build a blazing fast app.
The WordPress web hosting add-on allows AppMySite users to supercharge the performance of their mobile app. The add-on migrates the website and app of users to WP Engine, one of the most trusted WordPress hosts in the world.
Should you consider buying app add-ons?
The section above provides a highlight on all the add-ons currently available on AppMySite. There might be some of them which suit your app. There might be others which you don't really need.
The point is this – should you consider buying app add-ons?
The answer to this question lies in the reason the add-ons exist in the first place.
The AppMySite mobile app creator provides a range of features and functions which provide users the ability to create premium mobile apps independent of add-ons. Note the last words in the previous sentence.
Yes, you can create premium apps without add-ons. Nevertheless, there is always a need to improve an app beyond a certain point.
Each add-on provides users a service which enhances the overall app building experience. Getting add-ons is not simply a question of getting features and designs.
Let's take an example. Assume you buy the Upload to App Stores add-on. The add-on essentially ensures you don't have to worry about submitting your app to the Google Play Store and the Apple App Store.
This add-on doesn't specifically improve your app. However, it gives you more time to deal with other burning matters such as finding the right app launch strategy and creating a marketing plan.
Thus, an add-on contributes to the overall experience of building an app. As your simple app without add-ons gains users, you can gradually improve user experience with the same.
Should you consider buying add-ons? Yes. You should weigh the benefits an add-on can bring to your app and the overall development experience
The following section covers how you should choose an add-on, namely the factors involved in the decision.
How do you choose an add-on for your app?
A previous section in this piece highlights all the add-ons available on AppMySite. Each can contribute something to your app building experience. The list will keep growing as AppMySite always seeks to build upon the prevailing standards of app experience.
Some add-ons are likely to be a better fit for your app than others. For example, you don't need the Consent form add-on in case your app content is perfectly suited to all age groups and demographics.
Every add-on on AppMySite can help your app in a significant way. It thus makes sense to choose the right add-ons which end up having a strong impact on your app. The following sections discuss four factors AppMySite users should consider when getting an add-on for their app.
#1- Know your limitations
AppMySite is a free app maker designed to help those who don't coding and other tedious app-related prerequisites. It is thus natural that you as a user may not be aware of the important processes which are a part of making an app.
Let's say you plan on launching your own blogging app with AppMySite. Your main skill as an entrepreneur is writing. Thus, you naturally are not the foremost authority on things mobile app design or submitting an app to the app store.
When building an app, it is important to know your limitations. Anything you're deficient in is something the add-ons can cover.
If the deadline to design and upload an app is short, it makes sense to get both the Mobile App Design and Upload to App Store add-ons.
It is not wise to let your limitations have an impact on your app. Your focus should be on doing what you do best. Add-ons can cover up any limitation you face and make sure your app is a completed model of excellence.
If you're a seasoned app designer, you probably don't need the Mobile App Design add-on. However, you can still benefit from the WordPress web hosting add-on and not worry about your app performance. Each add-on provides a specific service. Make sure the one you choose helps cover up gaps you can't cover.
#2- User behaviour
When you launch an app, you will begin to get imperious insights on user behaviour thanks to mobile app analytics tools. These tools will help you see the areas of an app which have poor engagement and cause app churn.
How does this data help?
Let's say the main reason for your growing app churn is slow app speed. Every app built on AppMySite depends on the website it is connected to for performance-related matters.
You can naturally spend hours working on improving your website speed to improve app performance. The other easy option is buying the WordPress web hosting add-on to get blazing fast app speed.
User behaviour and feedback will thus help you see the areas of your app which need improvement. This can mean problems with your app design and performance or even your app store listing.
Each of these problems will probably have a solution in the form of an add-on on AppMySite. Thus, studying user behaviour and feedback can directly point you to the add-on your app needs.
#3- App necessities
There are some features and additions which are absolutely necessary for the working of your app. Some of the necessities are available in the form of add-ons on AppMySite.
The White Label add-on is a perfect example of the same. If your website brand has a sizable following online, you cannot afford to ignore white-labelling your app. Thus, the white label add-on is an app necessity in such a case. You can either buy it or migrate to the pro plan to get it.
Similarly, the Consent form add-on is also an app necessity when you need to meet certain compliance guidelines regarding app usage.
The definition of app necessity is not absolute. Some users are willing to compromise on app design and thus the mobile app design is not a necessity for them. For other users, app design is crucial from the moment the app hits the app stores.
Identify your app necessities and make an informed decision while choosing the add-ons.
#4- Cost benefit analysis
There are many add-ons on AppMySite and each brings its own set of advantages. However, it is perfectly working if you're working on a budget and cannot afford to splurge on all the available add-ons.
In this case, the best course of action is choosing add-ons based on thorough cost-benefit analysis.
Let's take an example and assume you launch a WordPress app. You plan on buying an add-on to give your app a boost in certain key areas. After studying your app, you're confused between choosing between the Mobile App Design and App Store Design add-on.
Both add-ons sound similar, but are fundamentally different. The mobile app design add-on will help improve app retention while the app store design add-ons enhances user acquisition.
Also read: Retention vs Acquisition – Where should app startups focus their efforts?
Will the improvement in app retention thanks to the app design add-on match the benefits of getting new users thanks to the app store design add-on?
This is a classic case of measuring the quantifiable benefits of two options. The one that benefits more is naturally preferable.
A cost-benefit analysis is crucial for users who cannot make grandiose spending decisions on add-ons. It is a sign of discipline on the part of users who plan on ushering sustainable app growth.
In conclusion
App add-ons are the crowning jewels that can elevate your app and the associated experience of building it. Since AppMySite offers so many great add-ons, choosing one can be a challenge. After all, who doesn't want to buy all the available add-ons and supercharge their app?
This piece provides a complete breakdown on the add-ons available on AppMySite. Readers can learn the features each add-on brings to an app and its contribution to the overall app building experience.
The latter sections of the piece discuss the reasons you should consider buying an add-on. Lastly, the final sections provide a tactical guide of weighing each decision to buy an add-on. Readers can walk away from the piece with the perfect context in mind on when and which add-on they should consider buying.