How important is mobile app design to the success of an app?
We all judge websites and apps based on how they look.
So, one must ace mobile website design and mobile web design for the ultimate success.
We can help you understand this with example.
Bloggers would understand this better than anyone else. The first time bloggers create a blog and make their own little space online, they try to make sure the blog meets their own aesthetic standards.
This is interesting because the visual appeal of a blog doesn't really contribute a lot to its success. Yet, seasoned bloggers spend hours and days trying to tinker and improve the overall aesthetic of their blog.
There are notable examples of companies that prioritize design and user experience and then walk back to development. Apple is the most popular name on this front. Making design the front and centre of a product strategy is not uncommon. From constructing a building to creating a mobile app, a design-first approach can pay off.
However, this approach requires a firm grasp of key mobile app design guidelines.
It's well and good to promote a design first approach while creating a mobile app. Without the application of essential app design ideas, it is impossible to go backwards towards development with a design idea in mind.
Besides, a mobile-first design approach can help you attract the smartphones users who are probably the biggest consumers in the world today.
First, let's get the basics out of the way.
In this blog
What is mobile app design? A simple definition
How does one define app design? App design professionals work on so many things during mobile app development that it's difficult to demarcate their exact role.
Here's a simple way of thinking about design if you're new to the world of mobile apps.
There are two big questions professionals ask themselves when creating an app.
Q1: What will a user do on the app?
The answer to this lies in app development. Developers have the power to mandate what a user will do.
Q2: How will a user do something (the primary function) on the app?
The answer to this lies in app design. Design professionals decide how users perform an action.
Let's take an example. Assume you start an ecommerce app. You develop the app using a free Android app maker.
The development side is responsible for creating a mechanism for people to browse and buy products.
The design side is responsible for improving the mechanism to the point that users find it easy to buy a product.
Now let's come to the technical definition of mobile app design.
Mobile app design involves the optimization of an app's interface (UI) and the experience of an average user (UX). In fact, mobile app UI design and mobile app UX design are the two most important elements of it.
Mobile app design – Where should you start?
The definition above is simple and concise. The next natural step is getting started with mobile app design.
This brings up another question – where do you begin with app design?
It is a legitimate question and especially relevant for a beginner.
The best way beginners should think about app design is this – how will my app look?
The answer to this question will lead them in the right direction. Here is a step-by-step process on how beginners should start mobile app design.
Make a list of all the screens on your app.
Create a wireframe layout detailing when each screen will appear
Try to optimize the primary operations your app will allow users to complete
Visualize your app screens. You can use existing mobile app design templates to get some much needed inspiration
Start designing screens using a range of tools and software. If you're new to design, Canva is a good tool to start with. The ideal app design software are Adobe XD and Photoshop.
These steps will help you get started. However, this is hardly the end. The only way to consistently create solid app designs is to take a more strategic approach.
There are many factors that a designer has to consider. It's not possible for professional app designers to design each app screen without considering factors like developmental challenges, audience needs, and so on.
Most professionals working at any given mobile app design agency follow a strategic approach to app design.
The following section provides a guide on mobile app design. The approach discussed in the following sections is the ideal way for app designers to approach mobile app design.
How to design a mobile app? A step-by-step approach
The sections discussed earlier bring to light some of the basics of app design. They are ideal for beginners in the field to get started.
In the following section, we'll take a more in-depth look into the process of designing an app. Remember app designers never work in isolation. They have to deal with developers, marketers, and other teams to bring everyone on the same page.
The following sections are framed keeping in mind the same reality.
Step #1 – Research
Bad mobile app design examples are often very soothing to app designers. They gain confidence from the mistakes of others because they have the benefit of hindsight.
Looking at bad examples is important for an obvious reason.
Those who don't know history are bound to repeat it. The same is true for app designers. Professionals who don't know the kind of mistakes other designers generally make are bound to repeat them.
Studying bad and good designs is a part of research. It helps designers imbibe some important lessons before designing something new.
Research doesn't end at studying designs either. The following sections cover the kinds of research a designer must participate in during mobile app design.
a. Audience research
What does the audience want?
There is no shortage of entrepreneurs, marketers, designers, and developers who want an answer to the same question. Anyone who knows the answer to this has a natural advantage in the short and long run.
The only way to know what the audience wants is research.
In the world of mobile apps, the audience is a sum total of all the people who've downloaded a given app and all those who could download an app.
How does audience research work for app designers? It basically comes down to the UI and UX expectations of the audience.
The best way to gauge expectations is to visit an app store and check user reviews. Audience research is basically a practice in working out the expectations of the target audience.
The app review section provides direct insights on the kind of performance and design standards an app has to reach. Designers can also learn the type of features and apps users generally like, and the ones they don't.
b. Competitor research
Competitor research is as straightforward as it sounds. Designers have to specifically study the UI/UX patterns followed by other competitors.
Let's say you're designing and developing an app for a bakery business. Your first target audience are the people already using a bakery app and turning them over to your app. Designers in such a case must study other competing apps and do an analysis of their positive and negative aspects.
The main point to remember about competitor research is that it never really ends. Designers must always remain updated about other competing apps. This helps this stay in touch with new design trends and never let another app offer better experience and interface.
Here is a visual guide discussing the approach you should take to design your mobile app:
Step #2 – Study templates for mobile app design inspiration
There is an undeniable artistic element to app design. Choosing the right color scheme or creating a splash screen is not just a matter of getting technicalities right. Visual appeal is a consequence of artistic impression.
From app design to ad design, creativity is an absolute essential
This is why it is essential for app designers to look for inspiration. Generally, designers study existing design templates from a range of apps and websites to produce something new. Every little part of design, from icon size and color to the overall optimization of key operations can come alive with the right design inspiration.
One of the main takeaways from this step is establishing a color scheme. Every good app has an established color scheme. Facebook for example uses white and blue as its main color scheme. Netflix goes with black and red.
Also read: The significance of colors in mobile app development and marketing
The color scheme of an app speaks to its overall personality and perception. The right design inspiration can help professionals find the right color scheme for a given app.
Step #3 – Work with developers to create and optimize wireframe layout
After establishing a color scheme, the next step is working on a wireframe layout. It is important for designers to work with developers to create the best possible layout.
What is a wireframe layout? It essentially is a skeletal representation of every screen of the app. Designers use wireframes to lay down key tenets of an app such as user flow, user action, conversion areas, primary function layout, and so on.
It basically shows when each screen will appear based on user input. Wireframes don't contain any color or design variation. They represent the overall structure of the app without the visual essence.
How does a wireframe layout help in mobile app design?
The point of mobile app design is not simply making the app look good. User experience derives itself from more factors than just aesthetic brilliance.
Let's take an example. Assume you want to build your own ecommerce app. You create app online without coding using a mobile app builder for WordPress.
What is the action you want your users to perform the most? Ideally, you'd want your users to regularly purchase products. It then makes sense to expedite the purchasing process as much as you can.
The wireframe layout helps showcase all the actions users take on an app. In this example, you can use a wireframe layout to visualize a faster purchasing process.
For mult-function apps, wireframe layouts are essential as they help designers and developers visualize the app.
Developers should work with designers in this step because they ultimately have to build the product.
Step #4 – Design each app screen
Once the design inspiration and app structure are in front of a designer, it's time to design each screen.
This step is where the subjectivity of app design takes over. A person without any experience in app design can easily perform the steps discussed before. This is the point where designers have to let their experience and talent shine through.
Also read: Zero state: A crucial but overlooked element of mobile app design
The following points provide some points designers should remember while working on each screen –
Never forget the research

– The time designers spend combing over audience preferences and competitor analysis bears fruit at this stage. From something as small as the position of a button to the overarching color scheme of the app, findings made in research can improve the design process many times over
Prioritize clarity above all else

– Users must understand the functions and features an app is offering. Designers should make each feature and function abundantly clear. There are moments where designers may have to sacrifice aesthetic appeal for user clarity. It is important to do so if clarity and ease of use are on the line.
Never fall away from the color scheme

– Every screen must follow the same color scheme. Not doing so confuses the users and disrupts the overall experience of using an app.
Don't design in isolation

– The overall efficiency of a design process improves many times over if designers simply get regular feedback. Working in isolation means repeating the same mistakes and disregarding other practical issues.
Step #5 – Work with developers to establish design viability
Let's come back to the example we covered earlier. You create app online without coding using a free Android app maker for your ecommerce store.
To expedite the purchase process, you add a direct checkout button along with each product. This significantly reduces the number of steps a user would need to take to complete a purchase.
Can you unilaterally take the decision to add this option? No.
As mentioned previously, designers don't work in isolation. They have to work with developers and establish the viability of the designs they create.
Some design decisions can upset the overall working of an app. The introduction of a new feature or a change in the position of a button can change an app's working. This makes the association of developers and designers crucial. Together, both teams can remedy viability issues and make sure the whole app runs smoothly.
Step #6 – Create comprehensive testing standards to check app performance
Once the viability of the app design is complete, the next step is testing. This is the final stage of a typical design process.
Testing an app's design is really all about setting some standards and making sure the app delivers on them. These standards can be based on performance, design quality, and user experience. The following points highlight some types of design testing –
Functional testing

– To verify whether the app performs each function smoothly. This type of testing typically highlights

navigational issues

that slow down the general user flow
Usability testing

– This is a more general type of mobile app design testing. It typically evaluates the overall experience of using an app
Interruption testing

– To check how an app performs during an interruption. Interruptions can vary from incoming phone calls to low battery or slow internet
Performance testing

– Measures the app against various performance standards. This includes testing the app performance under different stressful conditions.
These testing mechanisms help app designers identify the problems within their app. The ultimate aim of design testing is to remove all possible bugs and issues harming the experience of an average user. It is important to have a good overall app strategy in place to ensure smooth design testing.
New design trends you should be aware of
The previous sections discuss the process of designing a typical app. In a field like design, it is impossible to not talk about new trends.
A good design isn't just aesthetically pleasing or functionally simple. It is also in keeping with a prevailing set of standards. This makes it necessary to account for new design trends.
What are the trends currently engulfing the design world? We've listed out some of the more popular design trends you should be aware of. These trends signify the prevailing expectations users have when it comes to app and graphic design.
Also read: Mobile Application Technology: Trends that will rule 2020
#1 – Swipe-enabled areas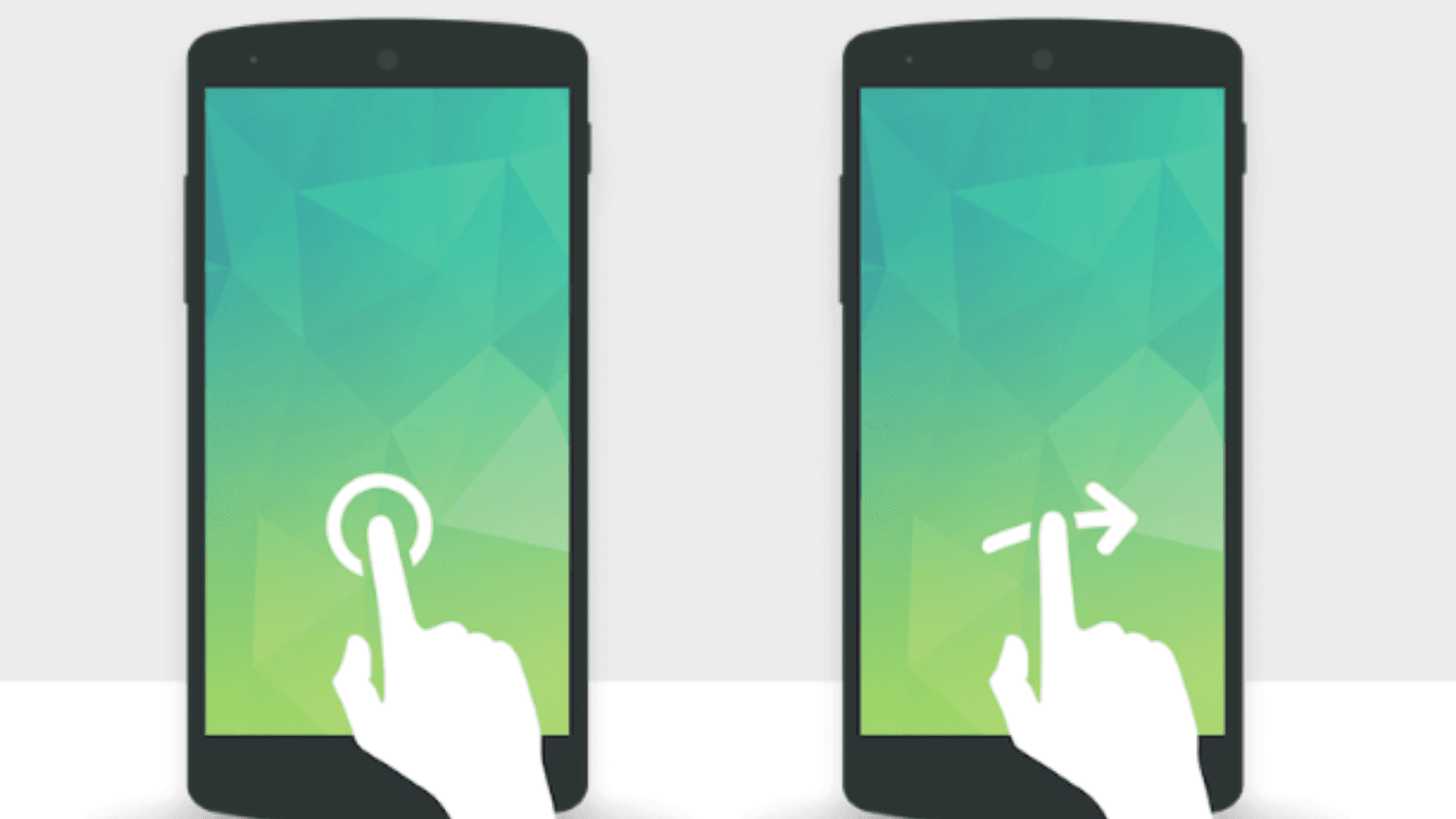 It is difficult to access small buttons for every little function on the app. This is why both Android and iOS devices are built to respond well to swipe touch commands. Imagine how different your mobile experience would be if you had to press a button instead of swipe for viewing a set of pictures or simply opening a menu.
Needless to say, adding swipe-enabled functions and areas improves the overall experience of a user.
Designers must then try to enable swipe-enabled features within an app. It's not possible to enable swipe options for every screen of the app. However, adding swipe areas on high traffic screens can enhance user experience many times over.
#2 – Designing for bigger screens
The screen size of premium smartphones has grown in the last few years. Mobile users in general prefer larger screens to enjoy a more wholesome experience. Given how many functions smartphones offer, it makes sense for users to prefer larger screens.
This changes a lot of factors in mobile app design. Take for instance the fact that less than one fourth of a screen's area is comfortably accessible to a user. This means designers have to create an impeccable mobile navigation system that is within the reach of a typical user.
Fitting action buttons within the reach of a user's thumb is a big challenge. Again, this is a trend designers have to overcome rather than inculcate,
#3 – Futuristic colors
The use of earth colors like brown and green is slowly fading away. Colors that don't occur naturally such as purple, pink, and blue are now more commonly used in app design.
This signals a movement towards the future. Designers prefer overloading apps with non-natural colors as a tactic to sell the app as being more futuristic and cutting edge.
Another reason to choose non-natural vibrant colors is the ability of smartphones now to do them justice. Modern smartphone screens are able to depict futuristic colors and their gradients in all their glory. It thus makes sense to use the hardware quality available now to depict futuristic colors
How to design an app on AppMySite?
The process we covered earlier is a general take on mobile app design. Any given mobile app design company would probably follow the same approach to app design.
How does mobile app design on AppMySite differ?
AppMySite is a mobile app builder for WordPress and WooCommerce users. It essentially allows users to create app online without coding.
How can professionals design an app on AppMySite?
AppMySite enables designers to upload their own designs for some key design elements. They are listed as follows –
App icon –

Users are provided the option to upload their own app icon design or create one on AppMySite
Launch Screen –

Users can upload their own background design and logo to display on the launch screen
Log-in and Sign-up Screens –

Upload background design and logo for the user onboarding screens. Users can also alter the color scheme of the buttons and other elements
Color Theme –

Set the ideal color theme to match other designs on the app
App dashboard –

The app dashboard offers a whole range of design customizations. Designers can first establish their color scheme with the help of the

Section colors

This establishes a common color theme across the home screen. The option to create a banner design also enables users to personalize their app. Various

category management

options and the ability to shift change the arrangement of different sections also enhances the overall customizability of the platform.
In conclusion
App design has lately come into the spotlight as the obsession to optimize UI and UX grows. Mobile apps naturally want to gain an advantage any way they can. Coming up with an optimal app design is a great advantage.
This piece presents a complete guide to mobile app design. Readers can learn how to get started with app design. The latter sections take a more professional approach to the process of app design in the industry.
The final section covers the design of mobile apps on AppMySite. The mobile app builder enables designers to focus on the design aspect without worrying about the development side. Any designer working in the industry would understand the obvious advantages of such a platform.