Mobile apps are the new age marketplace for all kinds of businesses. Name a business, product, service, industry or niche, and there are likely a dozen of apps for the same.
However, despite millions of apps already active on the app stores, there is ample demand and need for more. This rise in demand for creating new apps and converting websites to apps is being met by DIY mobile app builders available online.
The significance of on-demand, food-delivery and other service based mobile apps has increased further in the pandemic-stricken world, where people are cautious about going out in the public and interacting with others. Today, consumers want everything to be available at their fingertips.
So, if you own an F&B business, you must leverage this trend and consider mobile app development for restaurants. Stay tuned to know more about building apps for no-contact orders, digital menus, effortless payments, and more.
In this blog
Why are mobile apps important for your restaurant?
Most restaurants have a website for their business. So why is a mobile app necessary? After all, most websites are responsive and it's easy to deliver a sound experience via an optimized mobile site.
So why should you build a mobile app for your restaurant business? The following sections provide three main reasons you should create an app for your restaurant.
Growth in smartphone and app usage
Smartphone penetration has nearly reached its full potential now. According to TechJury, there are 3.8 billion smartphone users in the world. That's almost half of the world's population. Smartphone usage has only helped accelerate the demand for mobile apps. Apps are the ideal medium to promote your business on smartphone devices.
Mobile websites, even highly responsive ones, are built to work on browsers. Mobile apps are built to integrate with the native device specs of typical smartphone devices. Apps are thus able to provide a more holistic experience to smartphone users when compared to mobile websites.
Growth in smartphone and app usage has thus made it crucial for businesses to build an app and deliver an ideal mobile experience.
Need for better accessibility
Accessibility is a key factor in delivering an ideal experience to your customers. If customers can easily access your menu or services online, they will have a better experience dealing with your business. Offering better experiences is how you retain customers in the long run and ease the burden of customer acquisition.
For smartphones, mobile apps are the most accessible assets you can develop for your business. A mobile website is not as easily accessible as an app, because customers have to navigate to a browser first to access the former. Apps are available at the touch of a button.
Better accessibility allows your customers to view your restaurant's offerings with a few simple clicks. Furthermore, apps can be designed to be easily navigable with bottom bars and other types of app-related sections.
Better user experience for your customers
It is important to deliver the best possible experience to your customers. A mobile website is not the ideal solution if you wish to deliver premium mobile experiences to your customers. Websites are not built to fully sync with the native specs of smartphones.
Mobile apps, on the hand, are built to work with smartphones.
Apps are fast, offer premium features, and are easily accessible to your customers. They're perfect for user retention as customers can easily view and access your app with an instant click.
Why are app builders ideal for building restaurant apps?
if you're running a restaurant, you may not want to spend a lot of money on developing a restaurant app. Mobile app development can be expensive and if you're still a growing restaurant business, making a huge bet on a custom-built app can be a huge risk. In such a case, it makes a lot of sense to build a restaurant app using a mobile app builder.
With an app builder, you can create an app sustainably. There are some other advantages too.
You can build an app with little to no coding. Most app builders are either low-code or no-code, making it easy for you to build an app. These platforms also shorten the time required to build a mobile app from scratch.
No contact ordering and payments is the new normal
COVID-19 has affected almost every industry around the world. However, the food and entertainment industry has observed some peculiar and never seen trends in the pandemic affected world.
As people are home-bound, and skeptical about going out in the public and interacting with others, websites, mobile apps and other digital tools and services have become more significant overtime.
For instance, many top QSR (Quick Service Restaurant) apps including McDonald's, Burger King, Domino's, and Pizza Hut registered a huge number of first time users on their platform in the year 2020. There was also a rise in orders placed through websites, apps and other digital medium.
Clearly, digital solutions are the new normal and many restaurant and food-based businesses have already introduced contactless dining solutions that allow customers to scan a QR code to scroll through the menu and place orders with their phone.
Comfort food has attained an all new definition in 2021 and now it less about the food that you are having and more about the convenience while having it. So, you can also offer the convenience of online ordering, no contact-payments, etc., to your customers and make every dish, a comfort food for them.
Suggested Read: How to start a food blog – The complete guide with bonus tips for marketing
Restaurant App Builder with trending features that you can incorporate
Why limit yourself to just offering QR codes and digital tools for ordering and payment when you can offer much more to your customers by building a full-fledged feature rich app on an optimal budget?
You can build a dynamic mobile app and integrate the following features to keep up with the trends and demands of your customers:
#1: Easy on-boarding for quick access
Offer an app that allows customers to get on-board within seconds. The app should enable users to create an account using their email or social media accounts. You can also enable guest browsing and checkout for users who do not want to go through the sign up process.
Keep in mind that most users abandon an app after a few minutes due to poor onboarding experience and below average UI & UX. Avoid losing potential customers by designing an awesome app with an intriguing theme, aesthetic screens, and more.
#2: Digital menus for in-house customers
Do not just design the app keeping the online orders in mind. You can also consider designing menus for your in-house customers and guests as digital menus are the new craze.
Customize the menu, layout, description, etc., to suit your restaurant, website, and overall theme of the brand. Design creative banners and home screen to endorse latest offers and deals for your customers and increase the sales.
#3: No-contact checkout and payments
Add easy sorting, filtering, cart, and checkout features to the app and make the end to end experience of your customers smooth and frictionless. Make their checkout easy and effortless and also enable your users to claim rewards, add discounts, redeem coupons, and more.
Moreover, integrate multiple payment gateways into the app to facilitate easy and limitless transactions. Keep your website and app payment gateways consistent to avoid confusing your customers.
#4: Easy review, rating, and feedback collection
Collect reviews, ratings and feedback for your dishes, services, and the overall experience. Also inspire your app users to drop ratings and reviews on the app stores to give a boost to your ranking and visibility.
Additionally, you can add these ratings and reviews as testimonials to build brand authenticity and social proof. You can also add a share button and encourage app users to become your brand ambassadors and share the app in their circle.
#5: Effortless communication and marketing
Ensure that the app you build also supports your marketing and communication endeavors. For instance, you must be able to integrate your social media channels to the app and also add and schedule push notifications and blogs for your app users. This will enable you to share regular updates, announcements, etc., and boost the communication between you and your customers.
Additionally, you can also get an app with in-app monetizing and advertisement feature to make an extra profit by showing relevant ads to your users.
Integrating these trending features will ensure that your app incorporates all that your users may need or demand. It will also offer absolute convenience and ease of use to your customers. A dynamic and feature-rich app will also amplify your chances of success and profits and give a boost to your conversions and growth by making the business easier for you.
Suggested Read: All you need to know about mobile app Push Notifications – A complete guide
How to create a trendy app for your restaurant business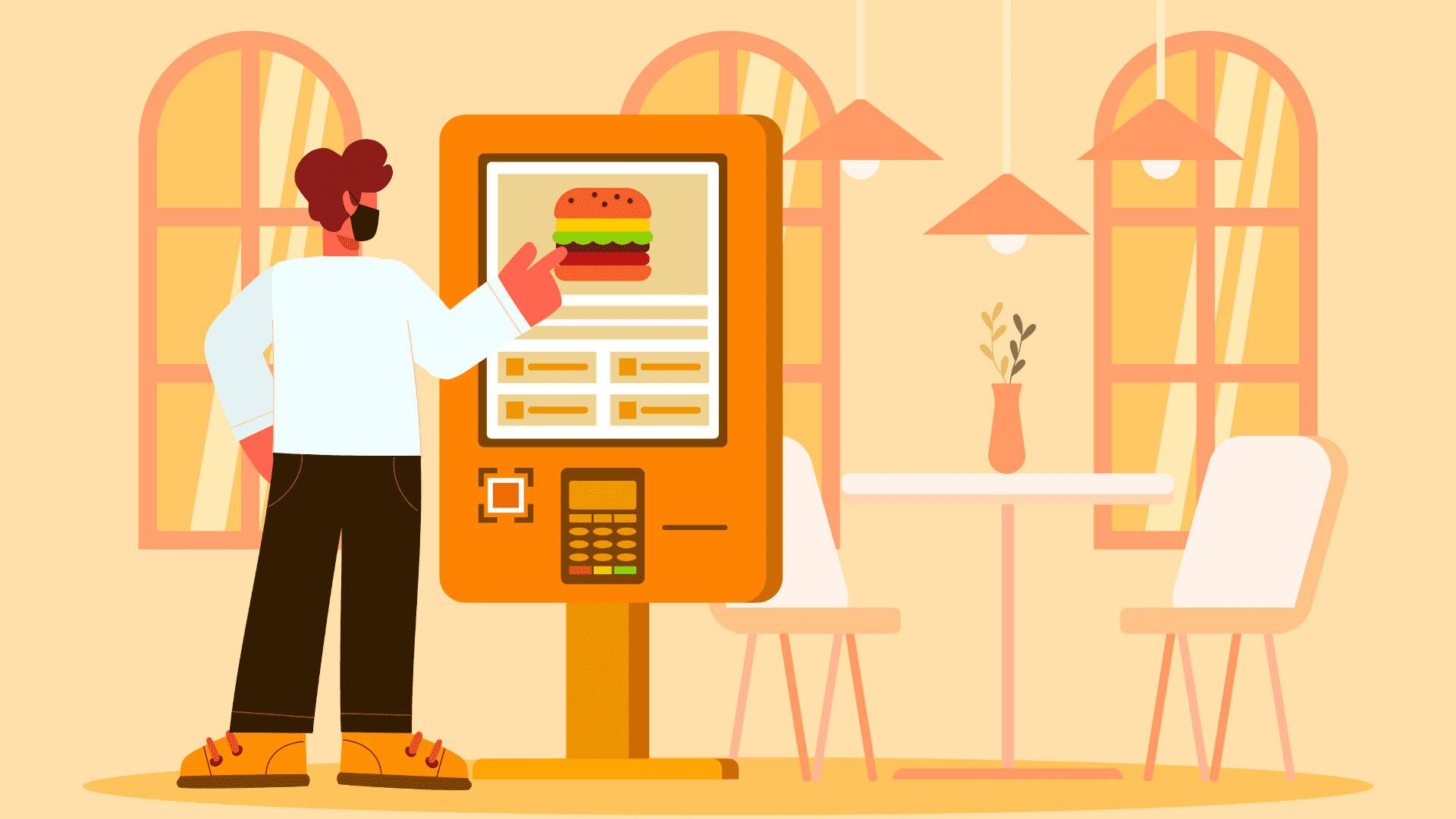 Now that you have stayed with us, it might have become evident to you that mobile apps are the ultimate tool of success in this day and age. Especially in the restaurant and food-ordering business, apps are the go-to solution for all. Even if you have a cafe business, you can build a coffee shop mobile app with no-code tools like AppMySite.
You can create a trendy app for your restaurant business without writing a single line of code and without burning a hole in your pocket. All you have to do is sign up for AppMySite free app maker and get started.
Build, customize and test your apps on the app builder itself. You can go ahead to pay for the apps and publish them only when you are completely satisfied.
You can manage all the settings related to various aspects and sections of the app on the app builder itself, and offer the mobile experience to your customers without going through a strenuous process.
Additionally, you can also integrate marketing, communication and monetization features like Social Media integration, integration of Push Notifications, App Monetization, and more. In a nutshell, AppMySite offers everything that you need to excel in the current app-friendly market.
Suggested Read: How to create an app in 10 simple steps? Make an app without coding
Over to you!
That was all from our end today! Now that we have done our bit and given you some quick insights about creating restaurant apps, it is now your turn to go ahead and turn your dream into a reality.
Create your own app with AppMySite's restaurant app builder and offer ease and convenience to your customers. Enable no-contact ordering and effortless payments and amplify your engagements.
You can also go through the other blogs by AppMySite and learn all about code-free and affordable app development. Stay tuned to this space for regular updates and tap into the mCommerce industry like a pro!
Frequently asked questions
Have questions about building a mobile app for your restaurant business? Here are some answers to commonly asked questions about restaurant app development.

How to build a restaurant app?
Building a restaurant app is easy. If you're working with a no-code app builder like AppMySite, you can create an app for your restaurant app in minutes. 
Here's how you can build a restaurant app:

Connect: While setting up your app, connect your website and app. If you have a WordPress-based website, you would need to install the AppMySite plugin and grant access via application passwords. If it's a non-WordPress website, you don't need to take any steps to connect the site and app
Personalize: Style your app's color theme and screens with the options available on AppMySite. You can upload your own artwork for certain sections and screens. 
Publish: Submit your app to the app stores. You would first need to create developer accounts for Google Play and Apple App Store. AppMySite apps are carefully constructed to get approval from the app stores.
How much does it cost to build a restaurant app?
The cost of creating a mobile app can vary depending on the type of features and functionalities you need. For a restaurant app, the average cost of development can be somewhere between $40-50K. This can naturally vary depending on the type of app you need. For example, if you don't want order delivery features within the app, the cost of creating an app may be lower than the average estimate.

Read: Mobile app development costs: How much does it cost to create an app?