Mobile apps have become the most significant and popular tool for businesses across verticals. It is one of the most lucrative industries today and almost every business and organization wants to launch an app or reap the benefits of the ever-growing market.
Whether you are an app developer, a business owner planning to make your own app, or just an onlooker intrigued by the idea, app monetization is a topic that interests us all. How do apps generate revenue? How do free apps make money? Are ads necessary for app monetization? Can a free app ensure a profit? If these are the questions that tickle your brain, you have landed at the right place.
In today's piece, we solve and decrypt the enigma and tell you how free mobile apps generate steady and reliable sources of income. Stay tuned and get a holistic knowledge of the free vs paid app industry, mobile app monetization, and more.
Suggested Read: Mobile app development costs: How much does it cost to create an app?
In this blog
Free vs Freemium vs Paid Apps: Important Statistics
The line between free and freemium apps is now blurred. There are a few apps that are totally free to use. Most app owners now follow the freemium model of monetization where the app is free to download, and the essential content and features of the app are also available for free. However, users have the option to pay and unlock an upgraded level where they can get access to premium content and functionalities.
Contrarily, there are some apps that require users to pay upfront. These are known as paid apps. Such apps usually come with a one-time fee and the apps offer premium content without ads. However, freemium apps are more popular than paid apps.
In this section, we will share some notable facts about app monetization and revenue. Go through the statistics listed below and know how free and freemium apps compare against paid apps, and more: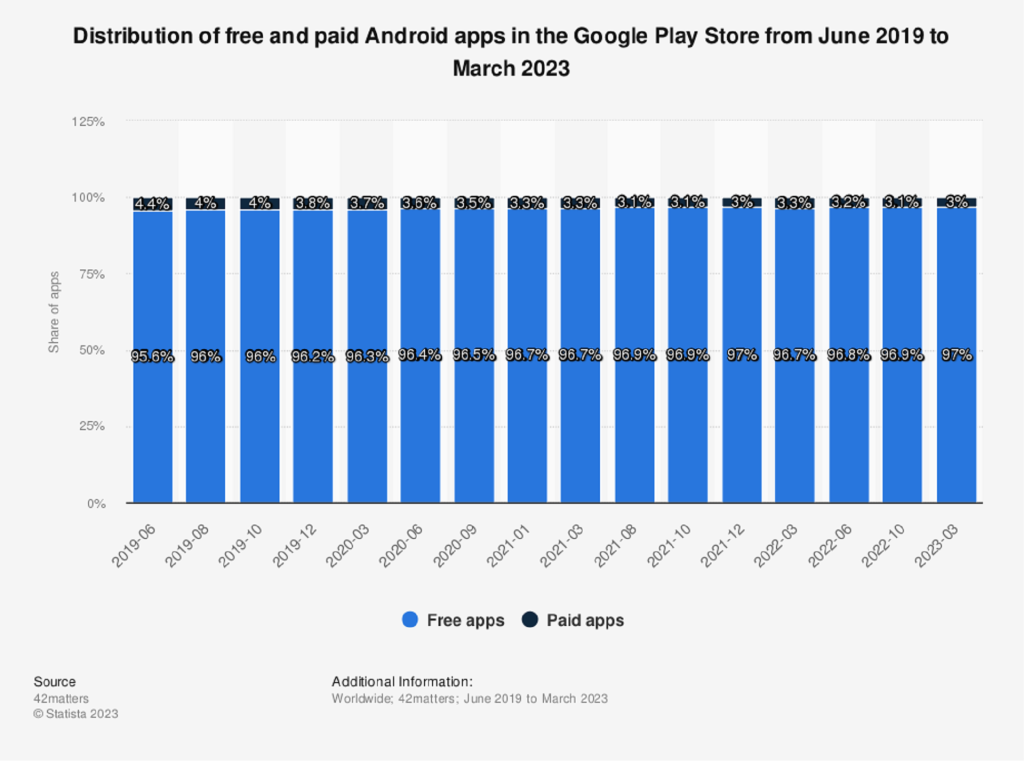 As evident by the numbers above, free apps rule the app stores and make a significant contribution to their revenue and growth. Therefore, free apps can even outperform paid apps as they can harness several other avenues of income without forcing users to pay for the app right at the start.
Pros and cons of offering free apps
Before we learn how free apps make money, let us first discover the pros and cons of offering free apps to users. This will give you an idea of the bigger picture and tell you about the advantages and disadvantages of offering free apps. Here we go:
Pros
Offering free apps to customers comes with the following advantages:
Wider customer-base
As discussed in the statistics section above, the free app market is far more significant than paid apps. Moreover, it goes without saying that customers prefer free apps over paid apps. Therefore, offering an app for free gives you exposure to a wider user base.
Lower user expectations
We do not mean to say that users do not have expectations from free apps. However, a paid app will compel the publishers to ensure more accountability as compared to those who offer free apps. An app with simple features and functionalities can also gain acceptability when offered for free.
Better reviews and feedback
A user who has paid for an app is more likely to get triggered and frustrated easily and drop negative reviews and feedback at the slightest inconvenience. Contrarily, free apps will have a larger user base and will be more likely to garner positive reviews and favorable feedback.
Cons
Besides an erratic and unreliable revenue stream, offering free apps can also have the following disadvantages for app owners and users:
Competitive market
The free app market is densely populated with numerous apps. Evidently, it is more competitive as customers have a range of options to choose from. Any dissatisfaction can cause them to migrate, thereby leading to lower customer loyalty and retention.
User frustration due to ads
In-app ads are the go-to solution for app owners when it comes to ensuring revenue for free apps. However, the ads can cause user frustration and impel users to uninstall and abandon the app. This defeats the whole purpose of having an app. Therefore, in-app advertisements must be strategic.
Security issues
Most free apps collect and sell user data without their explicit consent. Android users are more likely to face this issue as compared to iOS users. This can lead to security concerns and cause users to lose confidence and trust in your product. Be conscious of their privacy and take user consent for data collection.
Top methods for monetizing free mobile apps
This is the section you are probably here for. The myth that only paid apps can ensure steady income has long been busted. Free apps are making money and ensuring relentless growth and widespread presence in the mobile app market. Stay with us and find out how you can instrumentalize monetization for your free app:
In-app advertisements
We know that this can be the least preferred method of monetization. So, let us discuss and get it over with. However, we insist you to not discount in-app ads completely. When planted and streamed strategically, in-app advertisements can turn out to be the most rewarding monetization method. Pick the right app monetization tools to ensure that the ads that are streamed in your app are relevant to your targeted audience. Do not frustrate users with too many ads but make the most of the available opportunities.
In-app purchases
IAP or in-app purchases are one of the most popular methods of monetization of this day and age. If you want to think beyond the sale and purchase of physical products, then in-app purchases are the way to go. Here, you can sell digital products and charge users for unlocking special features and functionalities. Remember that app stores will charge a commission on your in-app purchases. Take all factors into consideration and then implement in-app purchasing in your app.
Freemium upsells
Freemium is a portmanteau of free and premium. A huge percentage of free apps follow this method of monetization. Here, the basic content and features of an app are offered for free. However, users need to upgrade to a premium account if they are willing to unlock special features and functionalities. This method is popular across industries as it favors most app categories. Note that in-app purchases can be used to implement the freemium model.
Subscriptions
Subscriptions are a suitable monetization method for those who want a steady and recurring source of income. Instead of forcing users to make huge one-time payments, app publishers can offer the option of subscriptions. Here, customers can choose between periodic (weekly, monthly, yearly, etc.) plans and enjoy premium content. Subscriptions can also be levied on specific app features and content. You can study a few examples and then decide how you want to implement it in your app.
Transaction fee and commission
Most aggregator and on-demand apps follow this method of monetization. While they offer the app for free, they levy a transaction fee on users and charge commissions from businesses for each transaction made through the app. For instance, a restaurant aggregator app can levy long-distance charges on users and take a share of the earnings made by the restaurant. Based on your industry, you can implement a similar monetization model.
Selling commodities
We are not talking about traditional eCommerce. However, several non-commerce apps also sell products to their customers. For instance, you can sell your brand merchandise or partner with a different brand and sell their products on your app. This will ensure revenue while popularizing your brand at the same time. However, ensure that you have proper payment gateways and channels for the same.
Sponsorships
While this method is not highly popular, it can still be considered by several app owners. Look for sponsors who might have the same target audience or brand values as yours. Remember, research is the key to finding viable sponsors. Offer advertising space to those sponsors and get funded for the same. You can add exclusive offers and discount coupons of the brand on your website or take the partnership to the next level by offering something grander and more valuable.
Affiliate & referral marketing
Affiliate or referral marketing is a popular monetization method as brands believe in networking and widening their circles. There is ample demand for affiliate marketers, and you can leverage the same. Partner with third-party brands and drive clicks, impressions, and sales for them. You can do a small-scale brand shout-out within some segments of your app or widen it to multiple pages and screens. Endorse other brands without compromising the user experience on your app and earn additional revenue.
Data monetization
Apps get access to endless user data points. This may include demographic data or information related to user behavior, demand, and preferences. You can use the data to implement several monetization tactics and show relevant ads and sponsored content to your users. Else, you can offer the data to third parties and make profits. However, make sure that you are not violating any rules or guidelines and respect the consent, privacy, and security of your users.
Crowdfunding
If you feel that your app has the ability to capture user attention and bring a substantial change, then you can also make efforts to generate crowdfunding. Here, you directly ask the public to become patrons and donate money to fund your app. Several news and media apps that do not show ads follow this method of monetization. You can also share your ideas on crowdfunding platforms and generate funds to keep your app up and running.
Wrapping up
Free apps are more popular than paid apps. With apps becoming a prominent tool of business and marketing, app publishers need not worry about monetization and earnings. New ways of making revenue through apps are emerging and you can explore all those avenues. Just be strategic in your approach and give preference to user experience and convenience.
If you have more questions about the monetization of free apps, or apps in general, then scroll down to our FAQ section and get all the answers. We have covered all the popular questions related to the subject. Make your apps profitable and earn revenue.
However, if you are new to the industry and looking for options to launch your own app, then checkout AppMySite's Android and iPhone app builder. Here, you can create and preview your apps for free.
Build and launch premium apps without any coding. Reduce your time to market and reach your customers faster. Offer your apps for free and earn with in-app monetization. For more queries, you can reach out to us in the comment section below.
Frequently Asked Questions
What are free apps?
Simply put, free apps are apps that are available for free download. Unlike paid apps, they do not come with an installation charge. Evidently, users can download them from app stores (Google Play Store and Apple App Store) for free.
Do free apps still make money?
Yes, as discussed above, free apps can make money in a variety of ways. The popular methods of free app monetization include in-app advertising, subscriptions, in-app purchases, freemium upselling, affiliate marketing, and more.
How do free apps make money without advertising?
Free apps that do not stream ads go with other methods of monetization. This includes the implementation of in-app purchases, offering subscription-based content, referral marketing, and generating crowdfunding, among others.
How to make money with apps?
You can monetize your app in many ways. Stream in-app ads via popular ad networks, implement an in-app subscription model, sell physical and digital products, acquire sponsorships, and more. Go through the ideas listed above and pick monetization methods that suit your app category, business, and targeted audience.
What are some popular app categories that make money?
Gaming apps, social media apps, and entertainment apps are some of the highest-earning app categories. Fitness, retail, and education apps are also considered a profitable and safe investment. However, the overall success of an app depends on a range of factors that go beyond the industry category of the app. If you are planning to launch an app, you must research and study the market accordingly.