Over the years, mobile apps have evolved to an unimaginable scale. From ordering a pizza to switching on the lights in our room, there are apps to facilitate almost everything. However, the best thing is that apps have become a robust tool for setting up a business and earning revenue.
You cannot just earn by putting a price tag on your app or by selling physical and digital products. You can also create an app and make revenue through in-app purchases, one of the best recurring service and revenue models for mobile applications.
Today, we will tell you all that you need to know about in-app purchases and how it is administered and processed on different app stores. So, stay tuned with us till the end and get answers to all your queries regarding in-app purchases.
Overview
What does in-app purchases mean?
Even if you are not a developer, you must have come across the term "in-app purchases" on some platform or the other. You may have read "Offers in-app purchases" or a similar phrase while downloading an app from the app marketplace (Example: Google Play Store and Apple App Store).
Nowadays most applications, especially gaming apps, contain this feature. Over time, in-app purchases have become one of the most popular models for app monetization and for selling advanced features or services to app users.
By definition, 'in-app purchases' (also known as IAP) is a term that collectively describes any kind of purchase made by a user while using the app. The purchase or expenditure made by the user depends upon the type of the app, features, services, etc.
In-app purchase feature can be implemented across free apps, paid apps, freemium apps, and so on. For instance, users can download several gaming apps for free, but they may need to pay for a level upgrade, for extra lives, or even for purchasing a costume or avatar of their choice.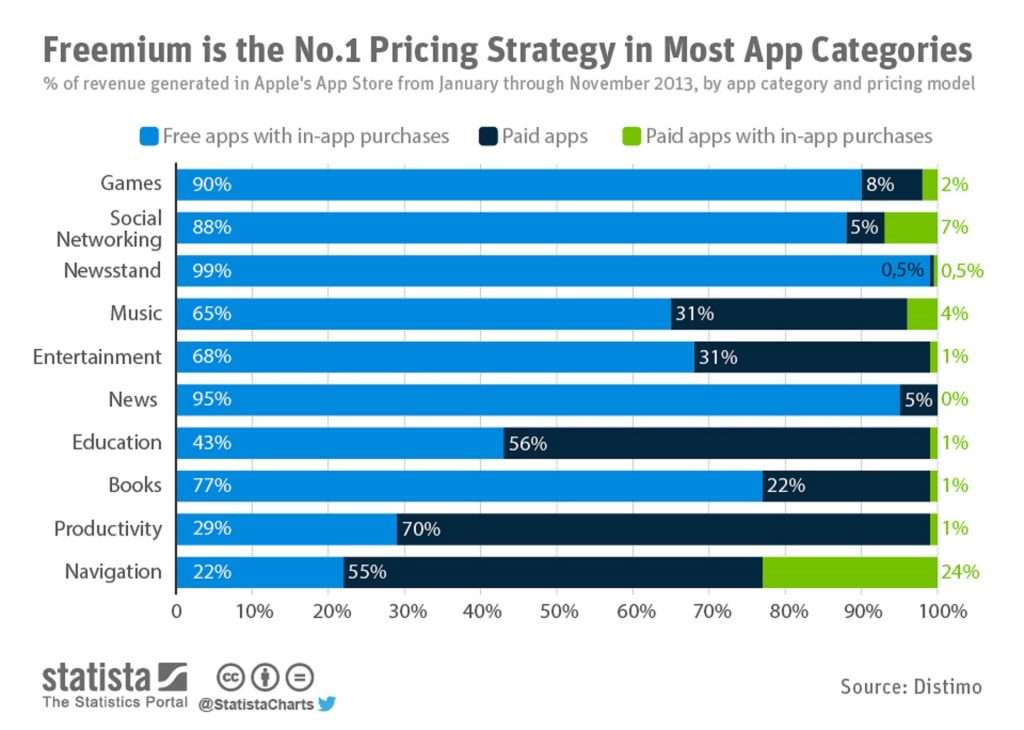 How to spot in-app purchases on app stores?
As evident, in-app purchases are like upgrades or add-ons that one may need to unlock added features of an app. This technique is used by developers and app publishers on both Google Play Store and Apple App Store, the two most popular app marketplaces.
However, both the app stores proactively inform users that the apps they are viewing on the store contain in-app purchases. Apple shows a related disclaimer next to the price tag of a paid app and beside the Get button of an app that is initially free. One can also scroll to the information section of the app details page and tap on 'in-app purchases' to see the full list of available in-app purchases.
On the other hand, Google Play Store displays a label that reads "Offers in-app purchases" on the app's page. While Google Play does not offer a detailed list of all in-app purchases like Apple does, users can still see the prices of in-app products under descriptions provided by the developer or publisher.
What are the types of in-app purchases?
"In-app purchases" is an umbrella term for all kinds of monetization and sale-purchase models implemented within an app. In this section, we will tell you about the different kinds of in-app purchase models that you can come across as a user or that you can implement as an app owner.
In general, in-app purchases can be of the following two types and sub-types:
1. Subscription based
Almost every internet & smartphone user is aware of the term "subscription". It constitutes a huge share in the app market realm and is a popular revenue and monetization model across the globe.
When purchasing a subscription, users get access to some app content, feature or service for a given period of time. For example, you can purchase a monthly subscription of a music app like Apple Music or Spotify.
Based on the type of purchase and payment cycle, subscriptions can be further classified into the following types:
Auto-renewable subscriptions
There are several apps with features that rely totally on subscription and its renewal. They give users the option to set up an "auto-renewal" feature besides allowing them to manually update their subscription once it ends.
The purpose of this model is to let users enjoy continued services and access to premium and dynamic features without worrying about manually updating their recurring payments. For instance, in order to watch YouTube videos ad-free or to watch the shows on Netflix, you will have to update your payment in order to renew your subscription every once in a while.
You can sync the app's payment gateway with your wallet and set up auto renewal to let users enjoy interruption-free services. Based on the choice of the user and the type of app, services and features, renewal of subscriptions can be scheduled for weekly, monthly, yearly, or any other fixed period.
Non-renewing subscriptions
There are several apps that offer one-time subscription to a range of added benefits, services, features, etc. Such in-app purchases are known as non-renewing subscriptions. This could be a one-time game pass, one-time access to an eBook, etc.
If the service or content offered by the app is static and is only applicable for a month or so, then this can be the go-to in-app purchase model. Basically, you can select this subscription model for your app as a developer if you are offering a one-time service to your users.
If needed, the subscriptions can be renewed manually by the user. For instance, several nations and administrative bodies disallow "auto-renewal" for some use cases, in order to protect users from involuntary payments and deductions.
2. Consumption based
Google makes no difference between consumable and non-consumable in-app purchases. However, Apple makes it mandatory for developers to specify the type of in-app purchase in App Store Connect.
This classification is done to tell apart one-time features, products, or services from the re-usable ones. In simple words, based on the type of commodity or service, consumption based in-app purchases can be divided into the following types:
Consumable
These are the items, services, features, etc., that can be purchased multiple times and get used up or depleted once purchased. For example, several gaming apps require you to purchase food or energy boosters that get used up during the journey. Such purchases will fall under "consumable" IAPs.
Non-consumable
Non-consumable items or services are commodities or features that are purchased once and don't expire or perish. Such items are usually associated with the user account and can be revoked throughout the lifetime of the app. For instance, once you buy an avatar for a game, additional filters for a photo app, or an ad-removal feature for a music streaming app, it will not perish with usage.
These were the types of in-app purchase models that you may come across or implement on your app. Both Google Play Store and Apple App Store let you publish apps with IAPs, and you can refer to their respective guidelines for doing the same. You can refer to these guidelines and learn to implement or enable in-app purchases for your own app.
How do app stores earn through in-app purchases?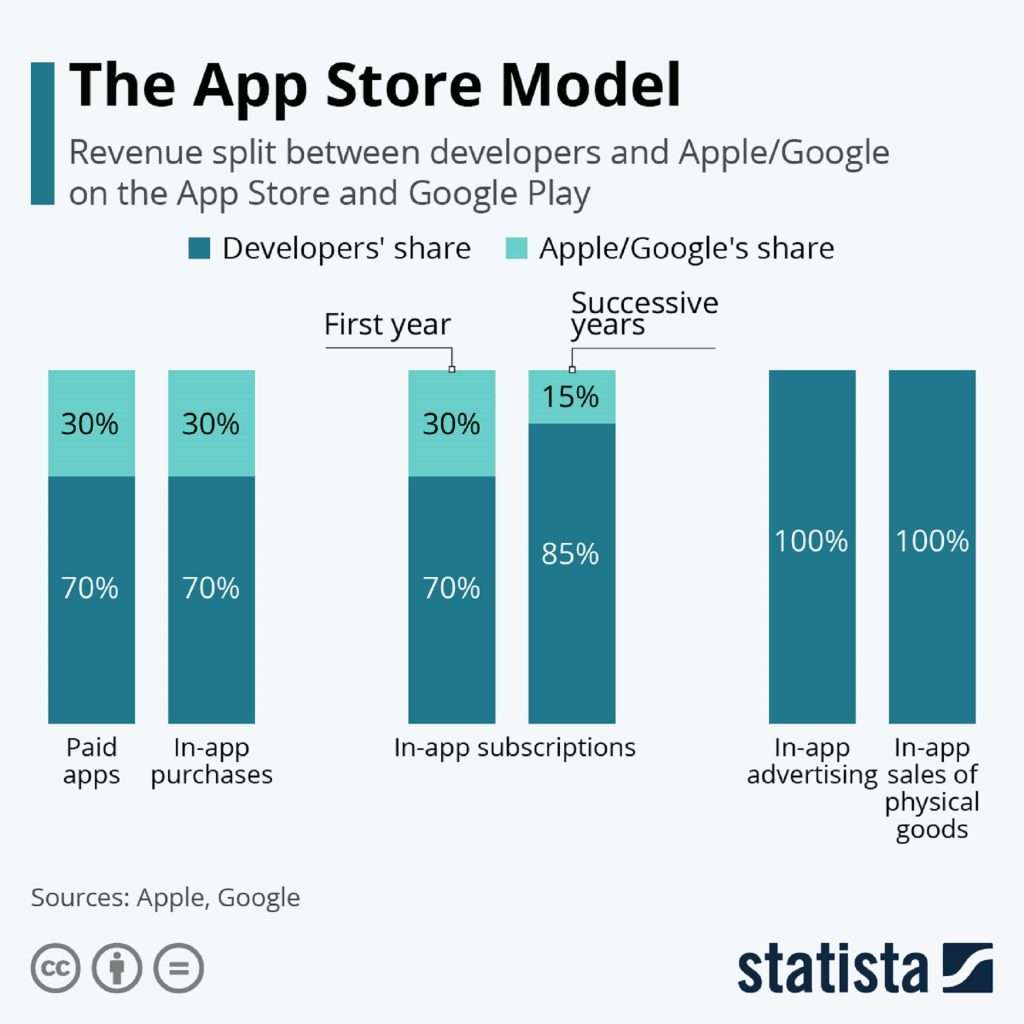 "Does in-app purchase cost money?". App owners often have this question. As a user, one may have to buy apps that are paid and then pay for in-app purchases based on the app category, feature, etc. But do you know how much it costs developers or app publishers to publish free or paid apps with IAPs?
Both Apple and Google levy commissions for publishing apps with in-app purchases on their app marketplaces. Currently, both the marketplaces charge a 15% cut for apps that earn less than USD 1 million in revenue. For apps that earn USD 1 million or more, the charge goes up to 30% of sales from in-app purchases for the first year.
This is also a matter of conflict between app owners and app stores. Subscription-based apps claim it as a bias. This argument sounds fair when compared with zero commission charge on apps that earn through in-app advertisements or through selling physical goods. This is an important factor to consider when implementing IAPs for your mobile apps. Therefore, you must know how you should approach in-app purchases in your app without compromising your revenue and your end user's experience.
How much do app stores earn from in-app purchases?
Now that you know what in-app purchases are, let us give you a statistical overview of how much app stores earn through in-app purchases and how much customers spend on Google Play Store and Apple App Store. These numbers are actually quite interesting. Despite being the app store that attracts the greatest number of app downloads, Google Play Store is far behind the Apple App Store when it comes to earning revenue through apps.
As a matter of fact, during the second quarter of 2022, Android users were able to choose between 3.5 million apps, whereas Apple App Store was the second-largest app store with roughly 2.2 million apps available for iOS. As far as download statistics are concerned, in the second quarter of 2022, users downloaded approximately 27 billion apps from Google Play and around 7.4 billion apps from Apple App Store.
Interestingly, the numbers differ largely when it comes to revenue-making, and this has been the trend for years now. As per Statista, consumers spent around USD 85 billion on Apple App Store and USD 47 billion on Google Play Store in the year 2021. As per forecasts, consumers are expected to spend USD 161 billion on iOS apps and USD 72 billion on Android apps in the year 2026. These numbers show that Apple emerges as a leader when it comes to earning revenue through apps. iOS app owners are more likely to pay for apps and in-app purchases as compared to Android owners.
Now you must also know that in-app purchases are one of the most common monetization models and users across the globe are spending USD 380 billion on in-app purchases alone. In fact, in-app purchases account for 48.2% of earnings through apps when compared to 14% from ad-based revenue and 37.8% from paid app downloads. Additionally, revenue through apps is expected to rise to around 1 trillion US dollars in the year 2023.
As trends show that users will continue to increase their spending on the app stores, it is only safe to assume that in-app purchases can be a great source of revenue for app owners. It will continue to be one of the best app monetization models in the coming years as well.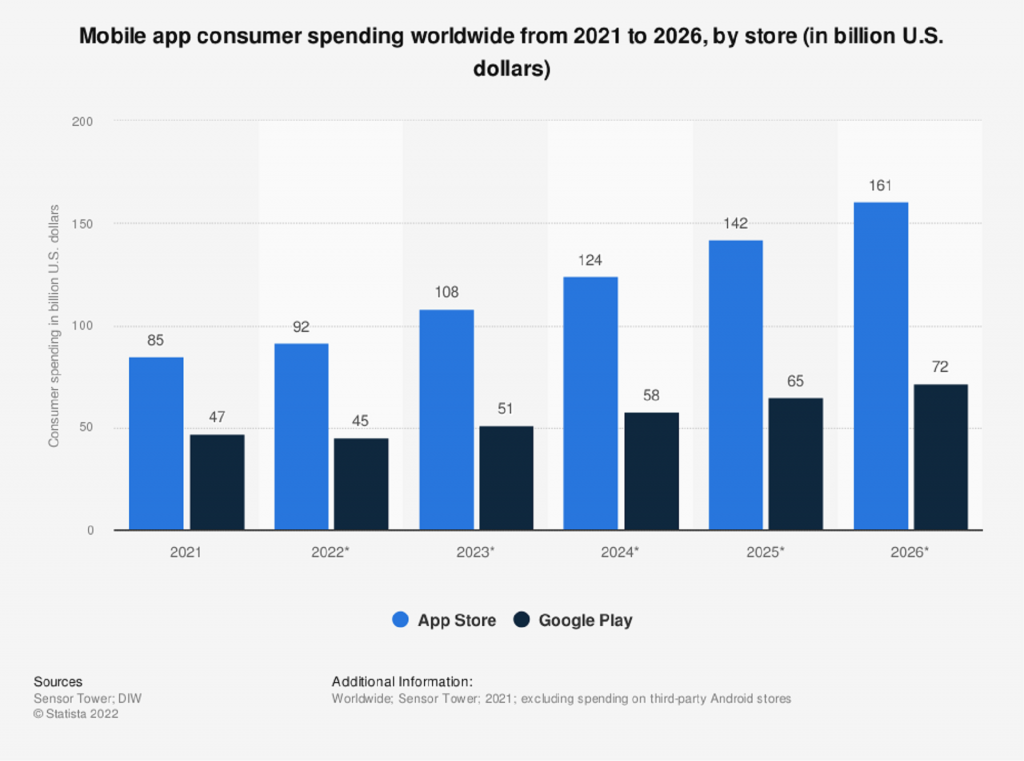 Suggested Read: Consumer spending on apps is higher than ever! Here's how you can increase it too
Which app categories attract more in-app purchases?
As per Statista, global revenue from mobile apps increased to over USD 318 billion in the year 2020. This was an increase of over USD 60 billion when compared to the year 2019. These numbers were a sum total of earnings made through different apps across various industries.
Leading in the run were mobile games with a revenue of more than USD 200 billion. Notably, an estimated 50% of non-game apps and 79% of game apps use in-app purchases for revenue generation. In fact, games have been topping the chart of revenue through in-app purchases for years now.
Second in lead were social networking mobile apps which generated a revenue of around USD 31 billion, followed by Entertainment apps, Photo & Video apps, Lifestyle apps, Music apps, and more. These trends continue as people spend the most on gaming and entertainment apps even today.
On the Google Play Store, gaming apps are to account for 80% revenue between 2019 and 2015. Others would be social apps with 4%, entertainment apps with 3%, comical apps with 3%, productivity apps with 2%, and health & fitness apps with 1% revenue respectively. This trend is only slightly different on the Apple App Store where gaming apps account for 66%, entertainment apps for 7%, photo & video apps for 5%, social networking apps for 5%, music apps for 3%, and book apps account for 2% share of revenue.
What are the advantages of in-app purchase model?
In-app purchase model of monetization has several advantages to its credit. We have discussed some of those advantages to help you understand why it is so popular and why it is important for app-based revenue.
Some benefits of the in-app purchase model are as follows:
Aligns with the FREEMIUM model
Freemium (Free + Premium) has emerged as one of the most popular monetization models across verticals. App owners prefer this model as it lets users get access to some features and content of the app and experience it for free. Whereas it also presents owners with the opportunity to earn as the users' interests and demands grow.
Lower barrier to entry
Offering apps for free and letting users pay for their desired services, features, content, etc., helps businesses in breaking the ice and penetrating through the densely competitive app market. Such monetization models are also easier to apply and execute, thereby offering a win-win situation for all.
Ease of payments and usage
Not every user is capable or even sure enough to make huge payments at once. Breaking up the fees or cost into several chunks or dividing it into subscription cycles makes it simpler for users. This paves the way for better conversion rates and also gives app owners enough time and instances to convert their users and qualify more sales.
These were some of the many advantages of implementing an in-app purchase model. It keeps your users engaged and also encompasses an element of surprise and reward for them that they can experience every time they unlock a new feature or content.
What are the disadvantages of in-app purchase model?
If you are not strategic enough and force your users to pay for too many IAPs, it can cause user frustration. This can lead to uninstalls and app abandonments. Therefore, you must be cautious and weigh the pros and cons.
Some cons associated with the in-app purchase model are as follows:
Deduction of commissions by app stores
As discussed above, app marketplaces like Google Play Store and Apple App Store do not charge apps for selling physical products or running in-app ads. But they levy huge commissions on in-app purchases and a huge share of your cut will be taken by them.
Increased backend maintenance
If you are building apps with code-free tools, you may not have much to worry about. However, if the app is built the traditional way, then in-app purchases can add to the task of coding, maintenance, designing, etc., as the user-journey will get divided into stages and will depend on the success of payments.
Additional support requirement
Added features and complexities in app can lead to an increase in user queries, complaints, etc., related to those features, payments, and renewals. This will put an extra burden on your support staff and leaving such issues unresolved can also affect your brand image. However, this can be tackled if your app is designed well and puts less cognitive load on users.
All said and done, we cannot ignore the fact that apps with IAP models constitute of highest grossing apps across the globe. Clearly, in-app purchase is a popular and powerful monetization method, and it can have a positive impact on your growth and revenue when planned well.
FAQs
What does in app purchases really mean?
In-app purchases (also known as IAP) is a term that collectively describes any kind of purchase made by a user while using the app. In-app purchases are usually done to unlock a special feature or get access to premium content. However, one must not confuse it with the physical products that can be purchased through the app as IAP is not applicable on physical merchandize.
Do I get charged for in app purchases?
The short answer would be Yes. Both Apple App Store and Google Play Store charge app publishers for activating the in app purchase feature in their app. Depending on the revenue and age of the app, you may get charged somewhere around 15% to 30% of the revenue.
Are apps with in app purchases free?
The cost of downloading, installing and using an app is exclusive of in-app purchases. In-app purchases correspond to the purchases that users make on their journey with the app. An app with in-app purchases can be both free or paid.
What happens when you buy in-app purchases?
Buying in-app purchases may mean different things for different apps. It usually unlocks the desired feature and content for the user that was otherwise hidden or inaccessible. For example, in a gaming app, an in-app purchase could unlock a new avatar or a weapon for your gaming character.
Does Apple take 30% for all in-app purchases?
No. Apple may charge anywhere between 15% to 30% as a commission for all in-app purchases. This depends on the age of the app and the revenue it generates. Developers that make less than USD 1 million per year owe only 15% commission to Apple. Those in the 30% bracket can also avail a 15% discount in the second year of business.
What does turning off in-app purchases do?
For end users, turning off in-app purchases can stop any recurring payments and disable some features. It can also prevent them from spending money on the app and keep them away from getting their credit card charged for the purchase involutarily or accidentaly. Whereas, if developers disable "in-app" purchases, the feature will become unavilable for end users.
In conclusion
In-app purchases is a vast topic with endless nuances. We have tried to cover every major aspect related to it and hope that you now have all the answers to your questions related to in-app purchases for Android and iOS.
For more queries, you can also drop a comment in the section below and we will try to resolve it as early as possible. You can also refer to our other blogs and learn about WooCommerce website development and maintenance, WordPress app development and maintenance, mobile app marketing, and more.
While you are at it, you can also download AppMySite's app-making software and experience code-free app building for free. When satisfied, you can go ahead and publish your own app on the app stores and start your mobile-based business in no time.