Pizza Hut is believed to be the pioneer of online food ordering and the first order for a pizza was placed in 1994. Then came the first holistic online food ordering service, World Wide Waiter (currently known as Waiter.com), which was founded in 1995.
Ever since then, there has been no looking back. Today, there are hundreds of online food ordering services across the globe attracting millions of customers every day.
Technology has been contributing to this expansion and the industry has been flourishing ever since it has become easier to build a website and make an app. In fact, 95 percent of restaurant owners agree that technology helps them run their business with more efficacy.
So, if you are a restaurateur or have anything to do with the food and beverage business at large, you have landed at the right place. Go through our colossal list of statistics and get some inspiration for taking your business online or expanding it.
Some general statistics and facts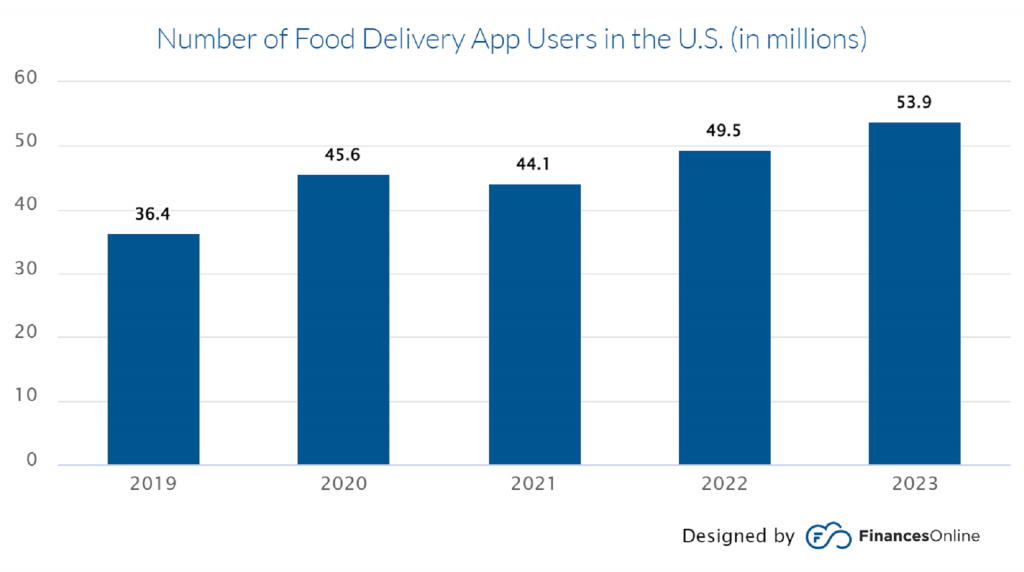 Let us start with discovering some general statistics related to the online food delivery business and get a hold of the overview of the online food and beverage industry:
Suggested Read: How to start a food blog – The complete guide with bonus tips for marketing
Statistics related to spending and revenue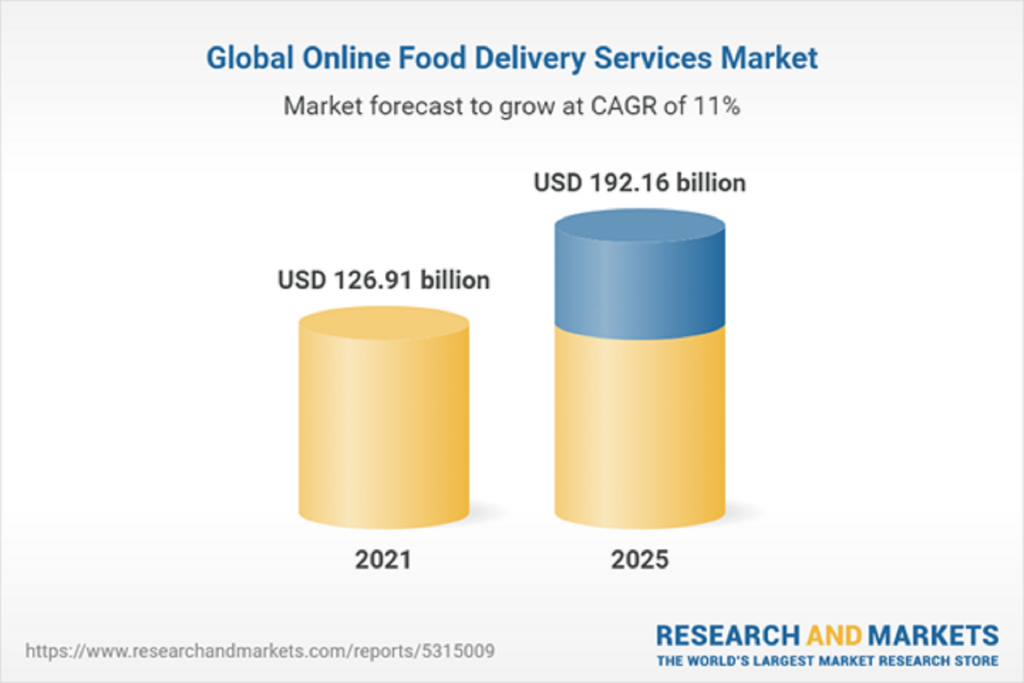 The food and beverage industry is not very far behind in terms of user spending and revenue when compared with other retail sectors and businesses. Let us find out how much users are spending on online food delivery and get a better understanding:
Market revenue for the food delivery industry has increased by 20 percent in the past five years. (Lavu)
In the United States, the revenue has tripled in the past five years. It's predicted to grow to USD 43 billion by 2025. (Statista)
China is the leader when it comes to revenue through online food delivery and is valued at around USD 158,137 million this year. (Statista) 
34 percent of consumers spend at least USD 50 per order when ordering food online. (Upserve)
27 percent of people say they would be willing to pay extra for their food to arrive faster. (HotelTechReport)
The Y-O-Y (year on year) projected value for global food delivery is as follows:
2020: USD 100 billion
2021: USD 120 billion
2022: USD 140 billion
2023: USD 165 billion
2024: USD 200 billion
2025: USD 230 billion
2026: USD 265 billion
2027: USD 300 billion
Suggested Read: Top 75+ mobile app statistics – Market size & usage
Social media & marketing statistics

Online food delivery businesses and aggregator platforms spend a huge amount on advertising and marketing that goes on to show how successful the industry is. The image above shows how much some popular food delivery apps spend on social media promotions.
Here are some stats related to social media and marketing that throw more light on the subject:
Suggested Read: Effective tips to create Carousel Ads for boosting mobile app downloads
Statistics related to the effect of pandemic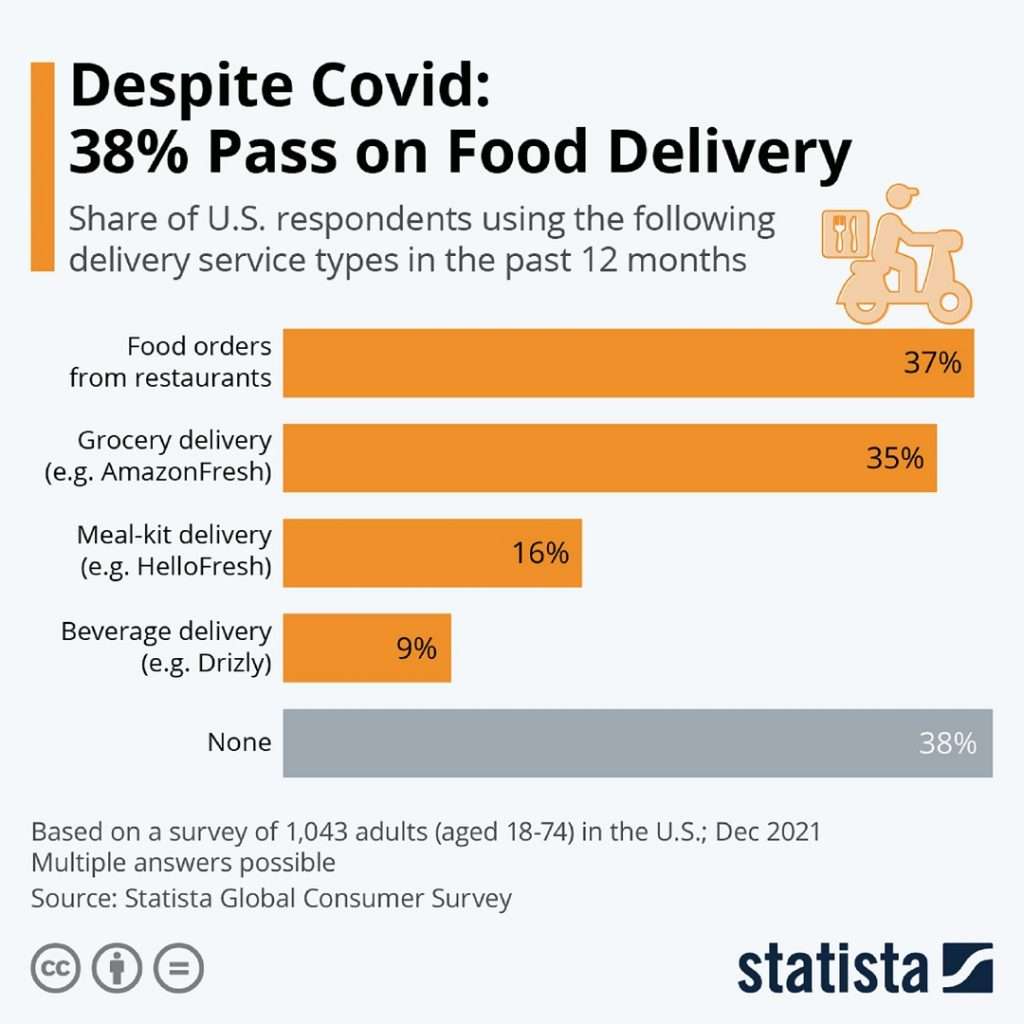 The COVID-19 pandemic led to a lot of turbulence in the online food and beverage delivery industry. Some believe that it got hit and some believe that it stayed afloat despite all odds. The image above also depicts that the number of people opting in for delivery is more than the number of people who passed.
Discover all the stats listed below and know for sure:
Suggested Read: Create a restaurant app and offer no-contact eMenu to your customers
Online food ordering statistics: Web vs Mobile App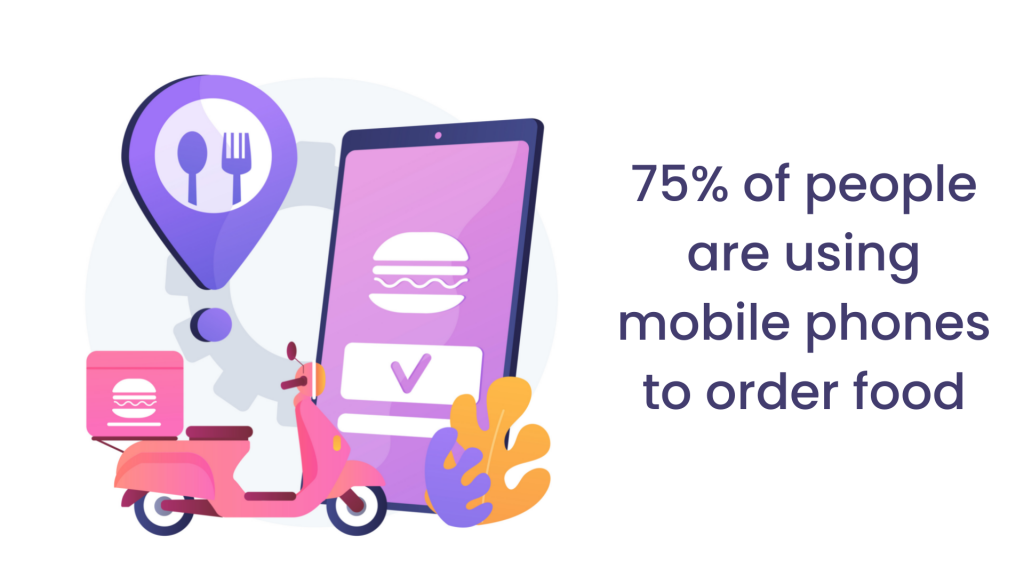 Businesses often wonder whether they should stick to websites or are mobile apps more powerful. Let us discover some statistics related to the same and resolve that conflict.
Nearly 75 percent of people are using mobile phones to order food. (HotelTechReport)
92 percent of all top-performing restaurants in 2020 offered mobile order-ahead feature and/or loyalty rewards programs. (FinancesOnline) 
Using digital menu boards that can be viewed on phones can increase yearly store sales per unit by USD 16,000. (FinancesOnline) 
In 2019, 51 percent of diners ordered directly from a restaurant's website, 38 percent used an online ordering aggregate site, while 29 percent used an app. (FinancesOnline) 
As of March 2020, 38 percent of American consumers had ordered food via a food delivery app. This number went up to 41 percent in 2021 indicating a constant growth. (HotelTechReport)
49 percent of restaurant operators think that a mobile payment option is a must-have technology for diners. (FinancesOnline) 
Around 50 percent of consumers are open to using a QR code as a mode of payment in bars and restaurants. (FinancesOnline) 
58 percent of consumers in the US prefer cashless payments. (FinancesOnline) 
70 percent of a restaurant's total digital orders come from its branded app or website. (FinancesOnline) 
Orders placed via smartphone and mobile apps became a USD 38 billion industry in 2020.
Most online orders, about 60 percent, are made on smartphones. (Upserve)
Orders placed via mobile app make up nearly a quarter of all sales at Starbucks locations in the US. (GeekWire)
As of late 2020, mobile orders comprised around 75 percent of all Domino's sales. (HotelTechReport)
Pizza chains reported an 18 percent increase in customer spend from online/mobile orders vs. phone orders.  (Upserve)
On average, people have two delivery apps on their phones and use them three times per month. (SevenRooms)
Food delivery and online ordering apps were some of the most popular app downloads in 2020. UberEats and the McDonalds app both saw 82 million global downloads in 2020 which was more than what Google Maps, Tinder or eBay managed to earn. (HotelTechReport)
Suggested Read: 10 statistics that show why you should create an app for your business
Online food ordering statistics: Aggregator platforms vs Own platforms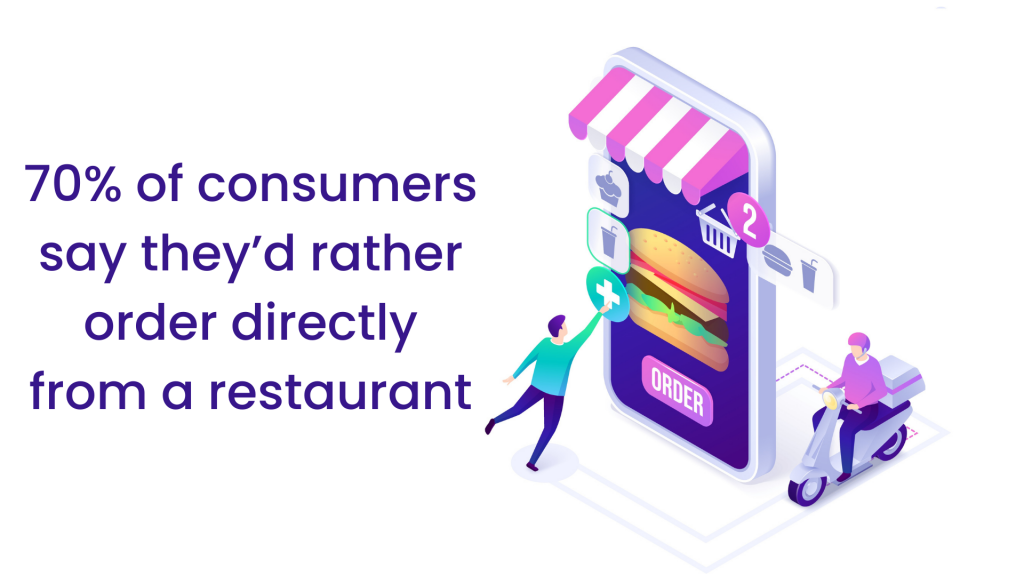 Whether I should go with third-party food ordering platforms or launch my own app? This is the question that causes anxiety among many restaurant owners. Explore some statistics and arrive at a conclusion accordingly.  
Suggested Read: Selling on platforms like Amazon vs setting up your own online store
Some miscellaneous statistics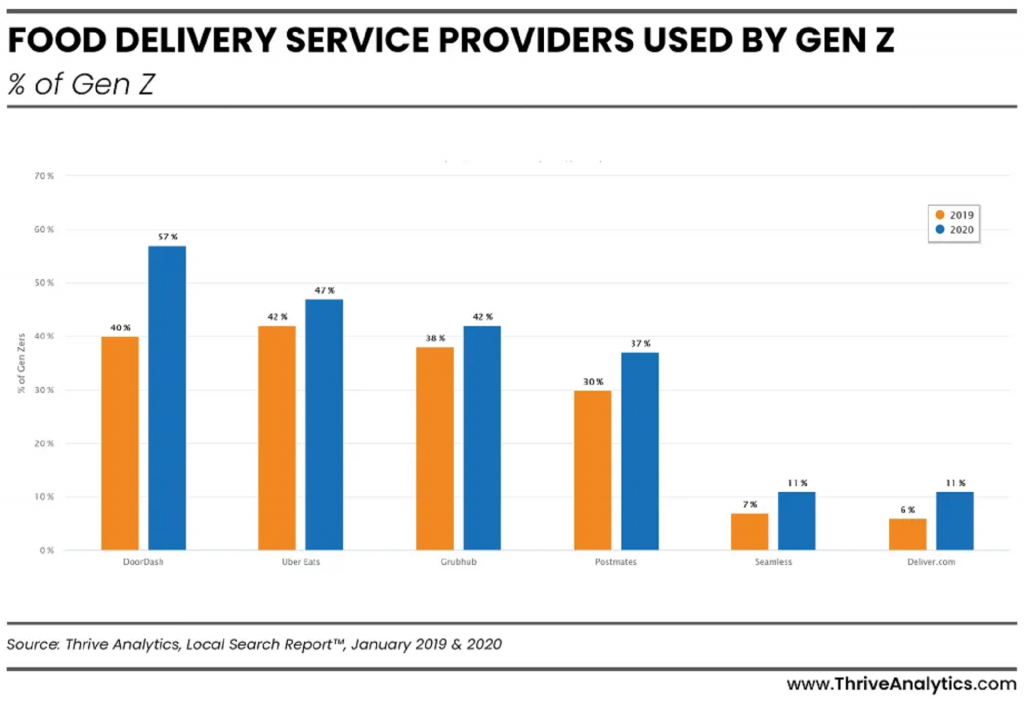 During our study, we found some statistics that were interesting enough and worth all the extra minutes to spare. Go through those additional statistics as listed below and savor extra treats:
Up to 59 percent of millennial orders are for off-site dining. (Fundera)
57 percent of millennials want restaurant food delivered so they can watch movies and TV shows at home. (Upserve)
64 percent of millennial respondents say that food delivery and takeout are essential part of their living. (HotelTechReport)
Americans who have not used a third-party restaurant delivery service say fast delivery (31 percent), restaurant selection (28 percent), low order minimums (27 percent) and first-use coupons (26 percent) can inspire them to try it. (Upserve)
33 percent of consumers say they would be willing to pay a higher fee for faster delivery service. (Upserve)
French fries were the most popular menu item in the US on UberEats in March 2020, while cheesecake was the most frequently ordered dessert. (HotelTechReport)
Mother's Day, New Year's Eve, and Halloween are the most popular holidays for food delivery. (HotelTechReport)
53 percent of millennials are more likely to pick a restaurant if they offer alcoholic beverages with their to-go order. (Hospitality Technology)
Ghost kitchens are commercial kitchens that serve food to customers exclusively via delivery. Predictions show that ghost kitchens will grow to a trillion-dollar industry by 2030. (Euromonitor)
Top food delivery apps across the globe include Uber Eats, Just Eat, Grubhub, Doordash, Takeaway, Deliveroo, Zomato, etc. (BusinessofApps)
Suggested Read: The ultimate list of 70+ eCommerce facts and statistics for 2022
Wrapping up
That was all from our end today. All the statistics indicate that the online food ordering industry is on the trajectory of growth and will continue to amplify in the coming years.
However, it is better for restaurateurs to launch their own app rather than relying on a third-party aggregator platform for doing business with online customers. It eliminates the need for giving commissions on every sale and enables you to interact with your consumers directly.
If you are worried about the hefty costs and complicated development methods, then shed all your worries right away. AppMySite's app building tool is an all-rounder, and the restaurant app builder is especially equipped to take care of all your online business needs.Go ahead and checkout the app builder for yourself. You can build an app for free and then subscribe to pay only when you are content with the platform. So, try it out now and tell us about your experience in the comment section below.